Trump Thinks He Can Use His Coronavirus Diagnosis to His Advantage. He Can't
8 October 2020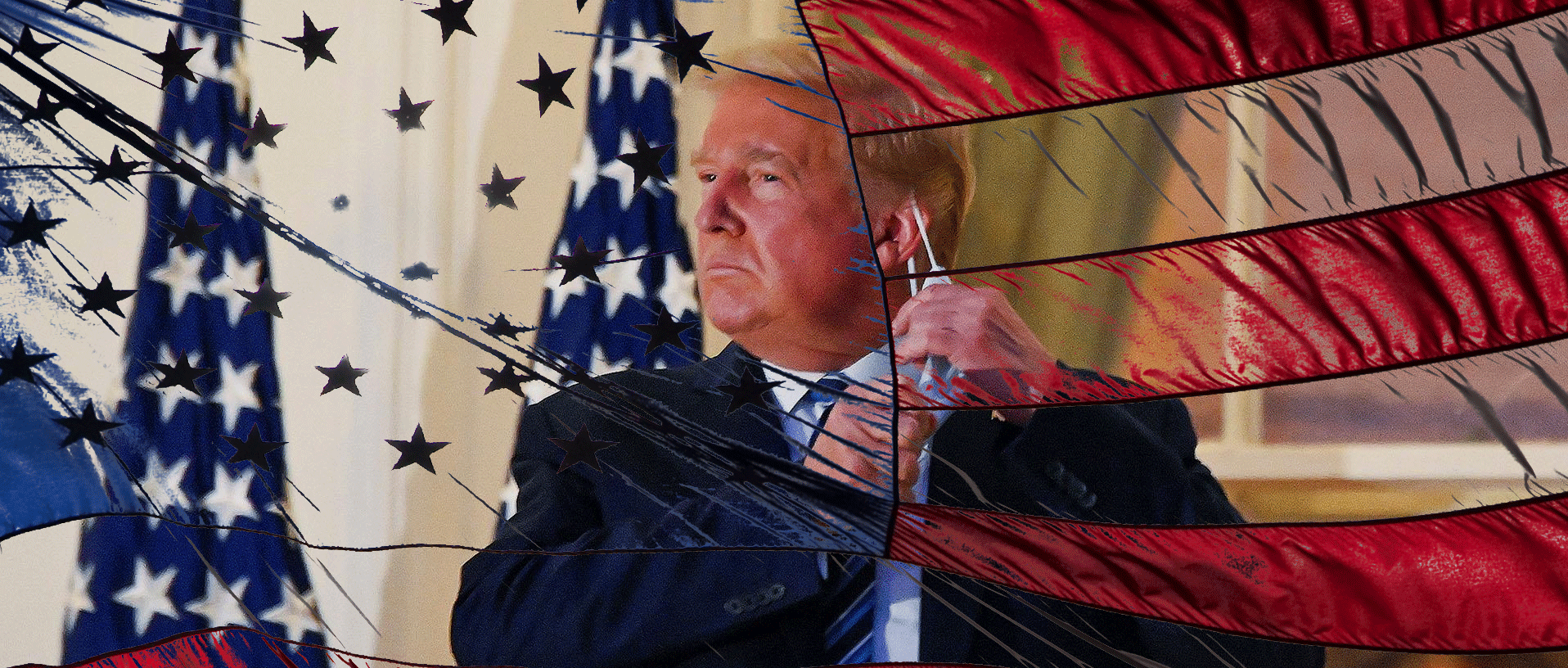 Erin Scott, Reuters/ composite by Bronte Dow
While Americans have been forced to adjust to the swirl of reactionary chaos, blatant disregard for human life and outright madness of Donald Trump's tenure in the White House, nothing could prepare them for this past week, when, after months of downplaying the dangers of Covid-19, their president caught it. 
An ordinary president might have felt backed into a corner by such a development, his virus denialism exposed as fraudulent by his brush with death. But this is no ordinary president: in true Trump fashion, he has spun his diagnosis as a good thing — a "blessing from God," he even called it on Wednesday evening from the White House. 
A MESSAGE FROM THE PRESIDENT! pic.twitter.com/uhLIcknAjT

— Donald J. Trump (@realDonaldTrump) October 7, 2020
Trump is attempting to do the only thing he knows how to do: weaponising his diagnosis. But, after three and a half years of general insanity, seven months of a grotesquely insufficient response to coronavirus, and a Covid-19 diagnosis coming just weeks before election day, it's doubtful such a strategy will lead to a reelection victory.
Doubling down. 
Despite being particularly vulnerable to coronavirus, and still well within the timeline in which serious and even deadly symptoms can rear their head, Trump has insisted on repeatedly downplaying the virus's severity through a series of reckless political stunts. 
Having been admitted to hospital and given a cocktail of experimental drugs and steroids, Trump went against doctors' advice and insisted on leaving to do a quick spin around the block to wave at his supporters gathered outside (possibly exposing secret service agents to Covid-19 in the process). 
The recklessness continued, when, after four days of hospitalisation, and again, in disregard of doctors' orders, Trump sprung himself loose. Despite being extremely contagious, he returned to the White House, where he proceeded to stage a dramatic removal of his mask on a balcony — a stunt that backfired as his breathing was visibly laboured. That same day, he gave a speech diminishing the seriousness of the virus and telling viewers: "Don't be afraid of [coronavirus]…Don't let it dominate your life". 
Given the president's repeated shows of disregard for the virus, it's no surprise that the New York Times is now calling the White House itself a "virus hotspot", as the list of infectees in Trump's orbit keeps growing. Tragically, that list includes many service workers and journalists. It also includes three Republican senators and numerous top staffers to the president, including his press secretary Kayleigh McEnany, who has refused to wear a mask during press conferences even after knowing she was exposed to others who tested positive, and close aide and white nationalist Stephen Miller.
"We love what's happening," Trump ended one video dispatch from Walter Reed hospital on Sunday. Indeed.
Far from back-pedalling on any of the dangerous claims he's made about the virus, Trump's actions show him doubling down on the approach he's taken throughout the pandemic; macho chest-puffery in the place of any substantive policy response, recognition of the seriousness of the virus, or meaningful guidance for the American people. 
Of course, this approach has worked before; it was what brought him to the presidency. But with just weeks to go before the election and Americans appearing to understand just how reckless and dangerous Trump's tenure has been, his tried and tested strategy now seems unlikely to work.
Has Trump already lost?
First off, it may have been too late for Trump even before he caught coronavirus. According to CNN, Democratic nominee "[Joe] Biden has, for much of the past few months, held a high single-digit/low double-digit lead over Trump" in national polls. "The truth of the matter is that this race hasn't been all that close for a very long time."
Trump's sickness has only made those numbers worse. Multiple polls show Biden with a widening double-digit lead; a CNN poll from Tuesday shows him up by 16 points; an NBC News/Wall Street Journal poll from Sunday shows 14. Meanwhile, his numbers among older voters have tanked, with a CNN poll over the weekend showing him down 21 points to Biden. Significantly, Biden is also leading in the swing states, which, on account of America's broken electoral system, are crucial for victory. 
Such polls suggest that Trump's attempted shows of strength in the face of coronavirus have only made things worse for him. His die-hard base may find his joyride around the hospital or White House balcony pose manly and badass, but most Americans seem to recognize the obvious: his wanton disregard for basic science and commonsense is putting the entire country in extreme danger.
What's more, the virus has wrought incredible human and economic devastation in the United States and Trump has steadfastly refused to alleviate either. 
Americans have received only one $1,200 stimulus since the pandemic began; expanded unemployment benefits that dramatically reduced poverty in the country dried up in July and were not renewed. The unemployment rate itself is still double what it was before the pandemic, and Trump unexpectedly pulled the plug on a new round of stimulus spending on Tuesday. And all of this in a country in which enormous numbers of citizens were on the brink economically before the pandemic hit.
Digging his own grave.
Today, the virus is still ravaging the country, with cases picking up steam in regions like the midwest and parts of New York city as fall gets underway. But with inadequate health and safety provisions still the norm in workplaces and schools, far more than 210,000 will have been killed by the time coronavirus runs its course. Despite this, Trump has continued to call for lifting restrictions across the board, tweeting yesterday that the state of Michigan should "Open up your Churches and your Schools" before instructing residents to "Have fun!" Again, Americans seem to recognise this for the nightmare it is — and will likely hold the president accountable for it.
Trump cruised to the White House in part on vague gestures towards defending American workers, projecting a sense of strength through his tough-guy persona, and offering disenchanted voters in middle America the libidinal pleasures of "owning the libs". However, at this point, his appeals to workers have been shown to be devoid of any substance at a time of massive crisis, his macho act has been called into question — and he can't "own" liberals when he himself has been owned by Covid-19.
Who knows what fresh horrors the next week will bring. Trump will no doubt find new ways to leave us aghast — and he certainly won't change course on his coronavirus strategy. With that said, it's still possible that Biden could commit a calamitous last-minute blunder; that our uniquely undemocratic political institutions could deliver the election to Trump even if he loses the popular vote; or that Trump's attempts to suppress the vote and stoke violence in the streets could succeed.
Still, right now, the president only seems capable of digging his own grave deeper.
Micah Uetricht is the deputy editor of Jacobin magazine and host of its podcast The Vast Majority. He is the author of Strike for America: Chicago Teachers Against Austerity (2014) and coauthor of Bigger than Bernie: How We Go From the Sanders Campaign to Democratic Socialism (2020), both from Verso Books. He lives in Chicago.