Keir Starmer Has Launched an Unprecedented Crackdown on Rebel MPs
by Rivkah Brown and Aaron Bastani
16 October 2020

As dissent mounts on Labour's front and backbenches, Keir Starmer is cracking down on rebel MPs, with formal reprimands issued for infractions as minor as breaking a one-line whip.
Novara understands that all of the MPs who defied the whip on the overseas operations bill and the covert human intelligence sources bill (CHIS), also known as the spycops bill – both of which the party whipped to abstain on – immediately received letters from opposition chief whip Nick Brown.
The letters break significantly with party protocol. A one-line whip is the least strict instruction on how to vote, often considered advisory or non-binding, compared to tougher two or three-line whips. According to Labour's standing orders, "minor breaches" by MPs should first be met with a verbal warning from the whips' office. If a member continues to vote against the party, this should be escalated to a verbal warning from the chief whip. Only after these two steps have been taken would MPs usually receive a written reprimand. "They've gone straight for the harshest steps," said one letter recipient. "It's really heavy-handed."
A spokesperson for the whips' office said: "Whipping matters are between the chief whip and individual members of the parliamentary Labour party, who are all treated consistently. We do not make public comment on these matters." The leader's office did not respond when approached for comment.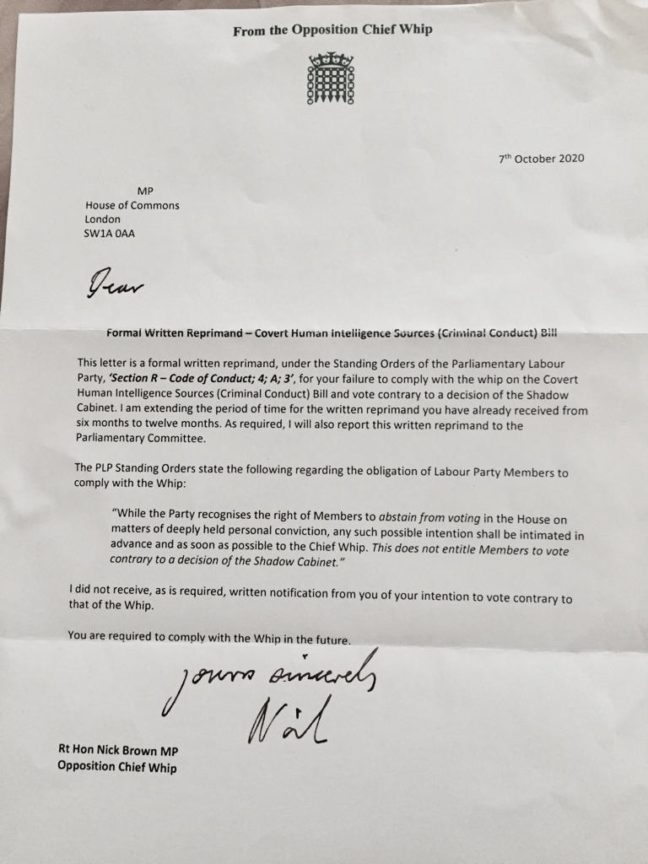 The letters stipulate a reprimand period of six months, to be extended to twelve if the recipient continues to break the whip. They have been shared with Labour's parliamentary committee – a group of backbench MPs elected by the parliamentary Labour party (PLP), and currently dominated by the right – which will determine whether to inform the MP's constituency Labour party (CLP), as well as the party's national executive committee (NEC). This information could then be considered when an MP seeks reselection ahead of a general election. "That's the fear factor," one MP told Novara Media. "This could impact your reselection [and] it might be over a one-line whip. It's intimidation plain and simple." A number of those who received letters are seeking legal advice from union representatives, the MP added.
Several MPs who spoke to Novara Media insisted that while they valued party discipline – "nobody becomes a Labour MP to rebel," said one – they felt the spy cops and overseas bills presented them with little alternative. "I don't want to be a serial whip-breaker, lots of us don't," said another MP, "but this is around really serious issues".
However, some MPs told Novara Media that the reprimand letters had made them cautious about voting with their conscience in future; having the whip withdrawn was not an inconceivable consequence of breaking it. One MP speculated that "many more would have voted against the [spy cops and overseas] bills but didn't, because of the threats".
The Overseas Operations Bill
The #SpyCops Bill
The Rule of Six

Does Labour have an abstention addiction? @michaeljswalker and @aaronbastani discuss.#TyskySour pic.twitter.com/zhclQ1LCdH

— Novara Media (@novaramedia) October 8, 2020
Such behaviour from the whips' office appears unprecedented. "I don't recall this scale of operation before," one longstanding Labour member told Novara Media, "even under Mr Blair". The MP compared this with the whips' softer strategy during last year's pivotal votes on the EU Withdrawal Bill: "Over Brexit, Nick Brown would say, 'I want to maintain unity, I'm using a light touch'. People would get away with far worse than anything happening now."
Indeed, the letters struck one veteran MP as hypocritical given Starmer's own record of toeing the party line. "Starmer's [conference] speech in 2018 [in which he insisted 'campaigning for a public vote must be an option' in any second referendum, despite this not being the policy of the shadow cabinet] was an act of gross disloyalty. Now he wants people to be punished for minor examples by comparison."
A source close to the former leadership remarked that this alignment between the leader's and whips' offices represents a marked shift from the time of the Brexit votes: "They [the whips' office] were opaque and PV [People's Vote]-ish… indeed they operated autonomously from the leader's office." It was during these votes, the source added, that "the whips' office and Keir's team worked closely… the relationship between them now looks extremely tight".
Several MPs believe that the whips' newfound authoritarianism has been authorised by Starmer in the hopes of preventing the rebelliousness his predecessor faced, culminating in the attempted coup of 2016. "Perhaps the PLP was too rebellious under Jeremy," speculated one former leader's office staffer, "and they [Starmer's office] want to run a tighter ship". Yet with a number of MPs resigning from the opposition frontbench on Thursday in order to vote against the spy cops bill, it is unclear whether this tactic will prove effective in quelling factionalism or will simply inflame it.
It is with a heavy heart that I resigned as a PPS before this afternoon's vote on the #CHISBill.

I will continue to support @AngelaRayner and @Keir_Starmer from the backbenches and do all I can to help secure a Labour Government 🌹 pic.twitter.com/4O1RiZhHtc

— Navendu Mishra MP (@NavPMishra) October 15, 2020
To some, the letters escalate an ongoing campaign by the leadership against the party left, epitomised by the dismissal of Rebecca Long-Bailey earlier this year. These same people note that no disciplinary action has been taken against the chair of the Women's PLP, Rosie Duffield, for her repeated comments regarding trans people – despite mounting criticism.
Keir Starmer's favoured refrain is that he is "putting the government on notice". Yet while the leader instructs his party to abstain on important votes, the only people he appears to be threatening are his own MPs – particularly those voting against the government.
Rivkah Brown is a writer and the editor of Vashti.
Aaron Bastani is a Novara Media contributing editor and co-founder.