Democracy Looks Set to Return to Bolivia. What Next?
19 October 2020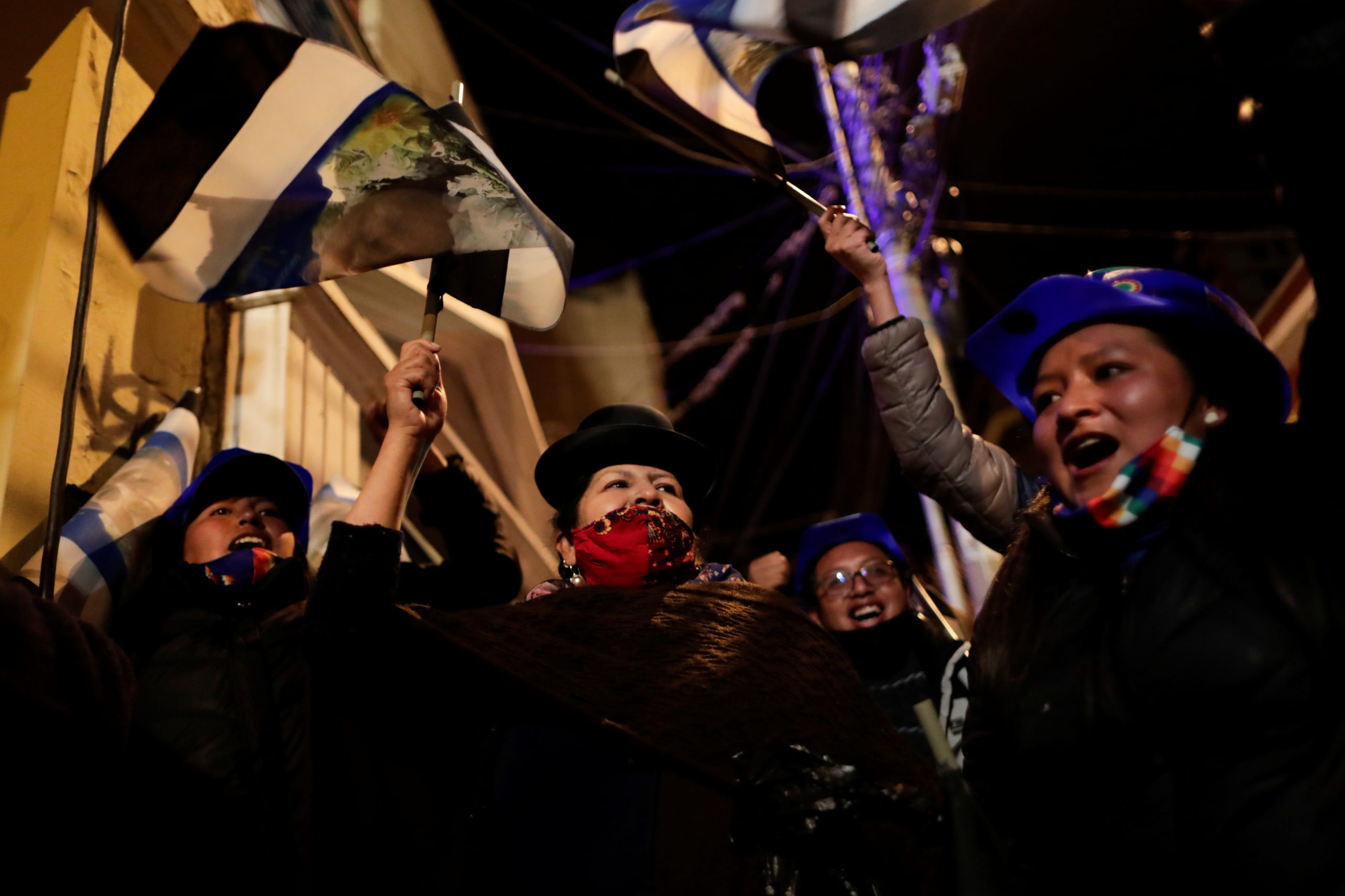 Ueslei Marcelino/Reuters
Exit polls suggest a decisive victory for the left-wing Movimiento al Socialismo (MAS) in Bolivia, with Luis Arce Catacora set to become the country's next president. After a year with an unelected government which has presided over massacres, vicious political repression and corruption scandals, the election heralds a dramatic return to democracy for the plurinational state.
The Unitel exit poll predicts Arce will scoop 52.4% of the vote, with closest rival Carlos Mesa from the right-wing Comunidad Ciudadana (CC) party on 31.5%. This would mean an outright victory for Arce and no second round vote. Under Bolivian electoral regulations, to win the presidency outright, a candidate must achieve at least 40% of the vote, plus a ten-point lead over their closest rival.
This looks set to bring to an end the right-wing regime of Jeanine Áñez, who took power after ex-president Evo Morales was forced to flee the country last November in a police-military coup following the mobilisation of right-wing protestors in urban centres after the October 2019 elections.
While the political crisis of 2019 allowed Bolivia's elites to grasp state power, peddling a toxic melange of far-right racism and neoliberal economic doctrine, the results of this election signal a robust repudiation of their project. Gratifyingly, the poll also indicates a third-place defeat for Luis Fernando Camacho, a far-right business leader from Santa Cruz with ties to fascist youth groups.
The de facto government had been embroiled in numerous corruption scandals, including the alleged multi-million-dollar fraudulent purchase of unsuitable ventilators at the height of the Covid-19 pandemic.
Although fears of electoral violence intensified when Argentinian politician Federico Fagioli was detained illegally by police upon arriving in El Alto as an electoral observer, the elections took place on Sunday without major incident. In contrast with previous elections, this year there is no rapid count system to provide preliminary results in advance of the official vote. At the last minute, the Preliminary Results Dissemination System (DIREPRE), which replaced the Transmission of Preliminary Electoral Results (TREP) from last year, was scrapped over concerns around transparency. Last year, when the TREP stopped counting temporarily, it was erroneously touted as evidence of fraudulent activity by MAS opponents and the Organisation of American States (OAS).
The stakes for this election could not be higher. Morales was first elected in 2005 and was the first Indigenous president to govern Bolivia. In a country historically structured by race and racial violence, cleavages on racial, class and rural-urban lines have resurfaced in Bolivia in recent months. At least 32 people were killed and 700 injured in the weeks of unrest which engulfed Bolivia after the last presidential elections. Massacres of anti-coup protesters in Senkata, El Alto and Sacaba, Cochabamba in the days remain fresh in popular memory. Even Felipe 'El Mallku' Quispe, a veteran syndicalist and erstwhile acerbic critic of the MAS, declared he would be voting for the party in these elections.
The restoration of democracy will therefore offer relief to the trade unionists, journalists and MAS-political officials who have been targeted by the de facto government, and who have mobilised vociferously in recent months to demand the restoration of democracy.
So what now? The exit polls point to a simple majority in the senate for the MAS, which falls short of the two-thirds majority needed to approve constitutional changes. This may therefore require the MAS to form some kind of pact with the CC at a later stage.
The MAS is also taking power in extremely challenging economic conditions. The economy looks set to contract sharply due to the impact of Covid-19, and since November last year, unemployment has rocketed from 4% to around 12%. Despite significant improvements under the MAS, Bolivia remains Latin America's poorest county, with poverty levels hovering at around 17%. Fear of economic stagnation will likely have boosted the appeal of the MAS under Luis Arce, a UK-educated economist and architect of the strong economic growth in the Morales years.
Natural gas has been a major driver of economic growth in Bolivia, but exports to Argentina and Brazil have been declining. In his plan for government in September, Arce outlined an economic strategy based around increasing biodiesel production. He has also committed to industrialising lithium, after a deal with a German firm fell through last year.
Questions remain around the expansion of the agro-industrial frontier in the eastern lowland regions of Bolivia. In recent weeks, there have been catastrophic fires in this area, greater than last year's fires in the Chiquitania which generated mass protests and served to greenwash opposition to the MAS.
However the MAS' stance on the environment is likely to become a source of contention in the coming years. In 2013, Morales announced a plan to triple Bolivia's farmland to 13 million hectares by 2025. Investment in biodiesel, if it leads to the destruction of forest areas, is also likely to fuel criticism from environmental and Indigenous groups.
A frequent – and not entirely unfounded – criticism of the MAS is that it has co-opted social movements, politicised state institutions and stifled dissent within its ranks. Arce has promised to "govern for all Bolivians", and faced with deep polarisation, the urgent task of the MAS is now to build trust in political institutions, stabilise the economy and ensure the country's powerful social movements retain the autonomy they have recaptured in recent months.
For now, the return to power of a socialist party supported by a broad coalition of miners, land workers, and Indigenous organisations is a recuperation of Bolivian democracy – and a victory for the popular-socialist vision of the MAS.
Olivia Arigho-Stiles is a PhD candidate researching twentieth century Indigenous movements in Bolivia, and a contributing editor of Alborada magazine.