How Protesters in Thailand Are Leading the Struggle Against Authoritarianism
24 October 2020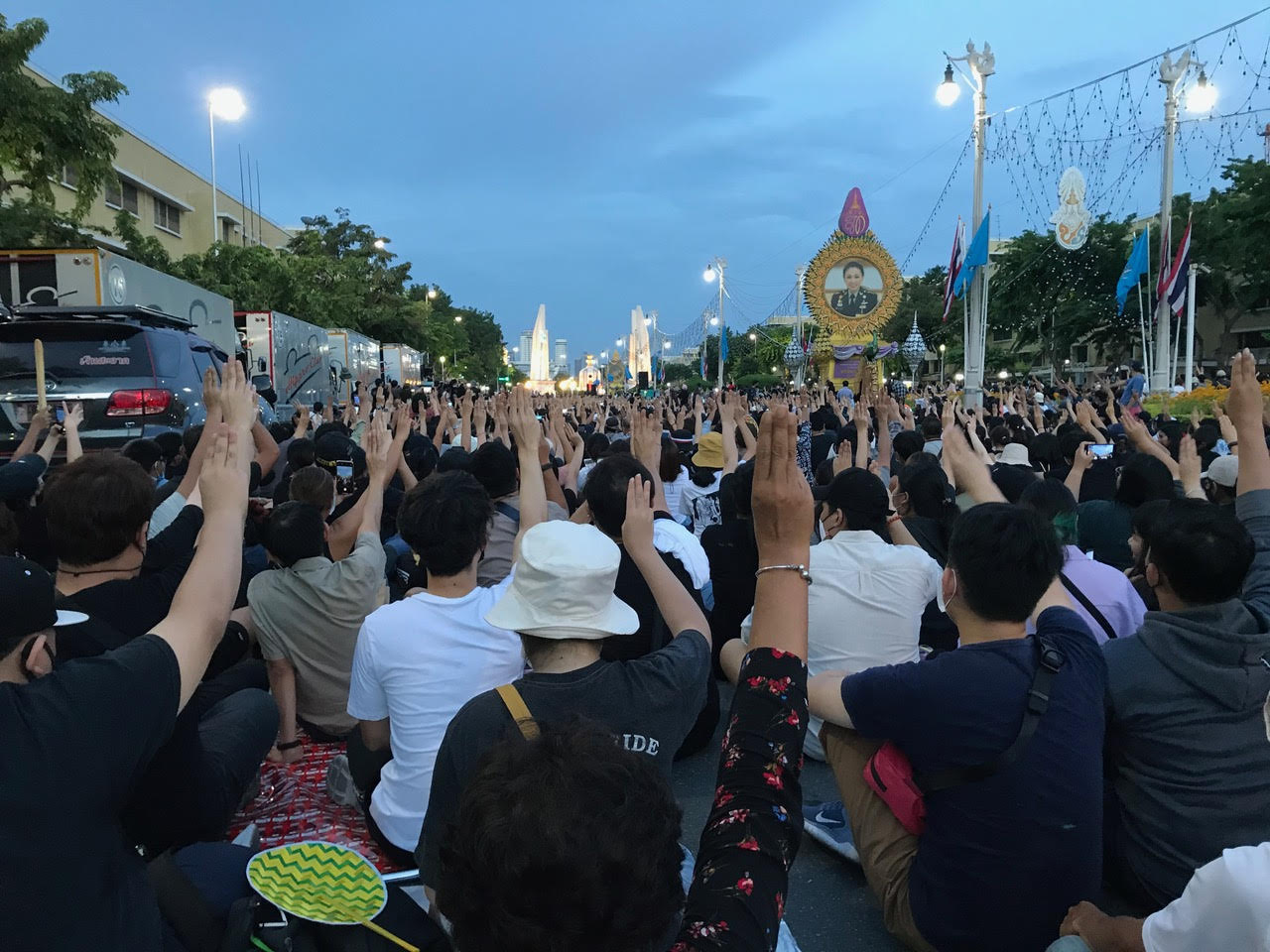 A recent explosion of protests led by Thailand's youth has seen the country become a new front line in a global struggle challenging authoritarianism, inequality and restrictions of freedom of speech.
Despite arrests, threats of violence and a heavy-handed police response that included peaceful protesters being drenched by water cannons firing liquid laced with noxious chemicals, day after day, hundreds of thousands of people are gathering in Bangkok, and around the country, to demand reform of the monarchy that has dominated the kingdom's politics for decades.
Mainstream media, what is happening in #Bangkok (Thailand)?pic.twitter.com/UkEQinHpL6

— Oh boy what a shot (@ohboywhatashot) October 16, 2020
It is an unprecedented moment in Thai history; never before has the monarchy been challenged so openly. The cost for doing so, however, is high and, under the country's draconian laws, those who do dare to call for reform face decades in jail. Despite this, protesters remain undeterred and determined to make a stand for democracy — whatever the cost. 
Protesters at Kaset use their phones to light up the fading light.

The movement will continue until Thailand emerges from darkness#ม็อบ19ตุลา #saveสื่อเสรี pic.twitter.com/EjaNP5o2Lw

— Thai Enquirer (@ThaiEnquirer) October 19, 2020
"Let's end dictatorship in this generation," is one of the movement's slogans. "If not now, when?"
A history of conflict. 
For most of its modern history, Thailand has been convulsed by political conflict. For centuries the country was an absolute monarchy. But this changed in 1932, which saw the Siamese revolution herald the beginnings of democracy, with the monarchy relegated to a ceremonial role. Even so, Thai royalists never accepted their reduced influence and have been fighting ever since to restore the primacy of the king.
For decades, the monarchy and military conspired to undermine democracy. Elected governments have been repeatedly toppled by the army —  since 1932 there have been 12 military coups and seven more attempted ones. 
In spite of this, the palace has long been regarded as a unifying institution in the country — that is, until now. Thailand's new monarch, King Vajiralongkorn, who succeeded the throne following the death of his widely revered father King Bhumibol in 2016, is reviled. Walk into any Thai restaurant and you're likely to see a photograph of Bhumibol prominently displayed; you won't see one of Vajiralongkorn. 
In a country where the king is supposed to be a paragon of Buddhist virtue, Vajiralongkorn has been a constant source of scandal. Now on his fourth wife — former Thai Airways flight attendant Suthida Tidjai — he also recently appointed an official consort, resuming the royal tradition of polygamy — a practice popular among kings in past centuries, but which ended in the 20th century. 
Far from performing his royal duties, Vajiralongkorn instead spends most of his time living in a luxury hotel in the Bavarian resort of Garmisch-Partenkirchen with a harem of around 20 women and has been regularly photographed wearing crop tops and fake tattoos.
Inside the court of the Thai king Maha Vajiralongkorn https://t.co/MwZRUFJRRg pic.twitter.com/b2Lw7Bdskn

— Faizal Mesbah (@FaizalMesbah) October 23, 2020

However, for Thailand's young protesters, the issue is not what the king chooses to wear or what he does in his private life, but his notorious predilection for violence and cruelty, and the monarchy's constant meddling in politics to undermine democracy.
In one particularly disturbing instance, Vajiralongkorn banished his second wife and their four sons from Thailand in 1996, when he grew bored of her. After he divorced his third wife in 2014, she was forced into house arrest and several of her relatives — including her parents, three brothers and a sister  — were jailed.
At least nine Thai dissidents who had fled to neighbouring countries to escape persecution have vanished since 2016, abducted by armed men and presumed murdered. The bodies of two of them were found floating in the Mekong River with their hands bound, their legs broken and their stomachs stuffed with concrete.
The most recent activist to go missing, 37-year-old satirist Wanchalearm Satsaksit, was kidnapped in Phnom Penh in June. Satsaksit was a well-known figure in Thailand's democracy movement and his disappearance fuelled growing anger at the king.
Meanwhile, Vajiralongkorn has increasingly manoeuvred himself to the centre of Thai politics, decreasing the power of both the army and politicians along the way. In 2019, he issued a royal decree placing two army units under his direct control, rather than under the normal military hierarchy. While, in a departure from his father's more covert style, in February last year, the king intervened directly in Thailand's elections, essentially ordering his sister not to run as a prime ministerial candidate, even though she intended to do so as a commoner. The move was unprecedented in the modern era.
Things came to a head in the wake of the 2019 elections, which supposedly marked a return to democracy, but instead saw the government commit election fraud to ensure the Vajiralongkorn-endorsed military would win. 
Despite the vote being held under a new constitution, midwifed by the military and designed to reduce opposition power, in a shock twist, Future Forward, a progressive, pro-democracy party highly popular with younger Thais, did unexpectedly well, winning the third-largest share of seats in parliament, with 80 MPs. 
70+ seats for Future Forward party.
Seats for Mingkwan & Seripisuth.
60%+ voter turnout.
80%+ turnout in major cities.

It's rigged, yes. There's cheating, yes. It's less than what we hope for, yes.

But we will take it.

This is just the beginning.#ThailandElection2019 pic.twitter.com/CdoSHTneAO

— NK (@PunKitira77) March 24, 2019
These hopes for a building a more democratic Thailand, however, were painfully short-lived. In what party leader Thanathorn Juangroongruangkit says was a politically motivated attack, Future Forward was made to face various legal challenges — among them the baseless allegation that Juangroongruangkit was a member of the Illuminati — which ultimately culminated in its dissolution. 
With younger Thais already increasingly disillusioned with the established order, Future Forward's untimely end pushed them to breaking point, inspiring an awakening that has seen the country's political landscape profoundly altered. 
Students gather at Mahidol University following dissolution of Thailand's Future Forward Party #MUNeedsDemocracy pic.twitter.com/TLuTi0VsTl

— Shani Asokan (@shaniasokan) February 25, 2020
The youth are leading the way. 
From their earliest childhood, Thais are fed a diet of incessant royalist propaganda, taught that the nation's kings were responsible for everything good that ever happened in the country. School pupils have to routinely crawl at the feet of their teachers and even university students have to wear a uniform. Indeed, Thailand is one of the few countries in the world in which wearing a uniform at university is mandatory.
In the face of such indoctrination, Thailand's new generation has found a way to challenge royalist myths: social media.
Although the regime blocks hundreds of thousands of websites containing information deemed critical of the monarch, it has not shut down Facebook and Twitter given the outcry it would cause. It is on these sites that millions of Thais have begun openly challenging the royals online over the past year. 
This is a country where people have been jailed for years for uttering the slightest criticism of the monarchy — or even, in one notorious case, mocking one of the king's pet dogs. But with social media enabling millions of people to speak out against the establishment, the regime now faces a dilemma: will it really dare to lock up thousands of young people just because they dared to criticise the king?
👀 Posted today by a Bangkok tattoo remover — Rama IX tattoo being erased #WhatsHappeningInThailand #ม็อบ18ตุลา pic.twitter.com/FAUQvvtZU9

— Andrew MacGregor Marshall (@zenjournalist) October 18, 2020
The coronavirus pandemic has also served to fuel the unrest. Thailand's economy is heavily dependent on tourism, and with the country's borders mostly closed, the collapse of the industry has plunged millions into severe hardship. The country's unemployment rate is expected to triple by the end of this year, with an unprecedented 10m people predicted to lose their jobs.
Despite the unprecedented challenges Covid-19 has presented, the king has been glaringly absent throughout the pandemic, continuing to reside in Bavaria with his harem and rarely deigning to visit Thailand. 
It was in this context, that anger at the monarchy exploded onto the streets this August. In an unorthodox twist, thousands gathered for a Harry Potter-themed rally, which saw young protesters, dressed as the wizarding characters, mock "he who must not be named" —  a tongue-in-cheek reference comparing the code of silence surrounding Vajiralongkorn to that of the fictional villain Voldemort.
As the anti-govt students protests continue, the activists have decided to mix it up a bit: today's theme is "Harry Potter vs You-Know-Who
He-Who-Must-Not-Be-Named."

"Bringing Democracy to #Thailand shouldn't be wizardry," one organizer tells me. pic.twitter.com/ZZQQzsB9oj

— Saksith Saiyasombut (@SaksithCNA) August 3, 2020
The decision to focus criticism directly on the monarchy galvanised the movement, with tens of thousands of protesters repeatedly gathering to demand change. In a huge rally later that month, 21-year-old student Panusaya Sithijirawattanakul read out a list of 10 demands for reform of the monarchy. Never before in history has the Thai monarchy been so openly challenged.
In mounting their attack against the monarchy, Thai protesters have been heavily influenced by the philosophy and tactics of the Hong Kong activists who took to the streets in huge numbers last year to challenge China's authoritarian government. Adopting the Hong Kong protest mantra "Be Water", activists organised swiftly via social media and without reliance on a clear leadership hierarchy, assembling at short notice to evade attempts by police to block their rallies. 
Protesters, most of them young people, have occupied the Kaset Intersection in northern Bangkok. #ม็อบ19ตุลา #Thailand #KE #WhatsHappeninglnThailand pic.twitter.com/B2DfVCFz8D

— Khaosod English (@KhaosodEnglish) October 19, 2020
Recognising the potential for solidarity-building across borders, activists in Hong Kong, Taiwan and Thailand have proclaimed themselves the "Milk Tea Alliance", regularly sharing support for each other's protest movements on Twitter. 
Not China's Cup of Tea: New Online Pan-Asia Alliance Emerges From Thai-Chinese Meme War#MilkTeaAlliance #nnevvy #COVID19 #CCPChina #Wuhan https://t.co/y70bcY7szs

— #MilkTeaAlliance (@MilkTeaAlliance) May 12, 2020
The king could get violent. 
With public anger mounting, events escalated this month after the Thai regime alleged protesters had blocked a convoy carrying the queen. As a result, the government declared a state of emergency, with gatherings of more than five people banned, along with severe censorship of local media. 
Protesters, however, have ignored such restrictions, with tens of thousands of people gathering daily —  announcing event locations at the last minute on social media and encrypted messenger service Telegram to prevent police attempts to shut them down. In the face of such tactics, the government has been plunged into crisis and seems baffled over how to respond.
The risk of a violent crackdown is high. According to royal sources, King Vajiralongkorn and his military allies are furious about the protests and have no inclination to reform themselves or make concessions to the protesters. Over the last 50 years, the Thai military has massacred peaceful protestors on the streets of Bangkok — in 1973, 1976, 1992 and 2010. It is widely feared that history will repeat itself once again. 
But with the world watching, another massacre of Thailand's youth by the military would precipitate a crisis that could well spell the end of the monarchy's authoritarian grip. 
Shocked by the determination and tenacity of the protesters, the regime now appears to be trying to defuse tensions. The state of emergency implemented in response to the political unrest has now been cancelled and the government claims it wants to open talks with protest leaders, who are still calling for the resignation of the prime minister and cabinet.
Whatever happens next, by breaking the taboo over open criticism of the royal family, the protesters have already made historic progress. Thailand can never be the same again.  
Andrew MacGregor Marshall is a journalist, author and lecturer at Edinburgh Napier University. His book A Kingdom in Crisis was banned by the Thai regime and he faces jail if he ever returns to the country.