Deportation Flights to the EU Have Increased Threefold, As the UK Rushes to Return Asylum Seekers Before Brexit
18 November 2020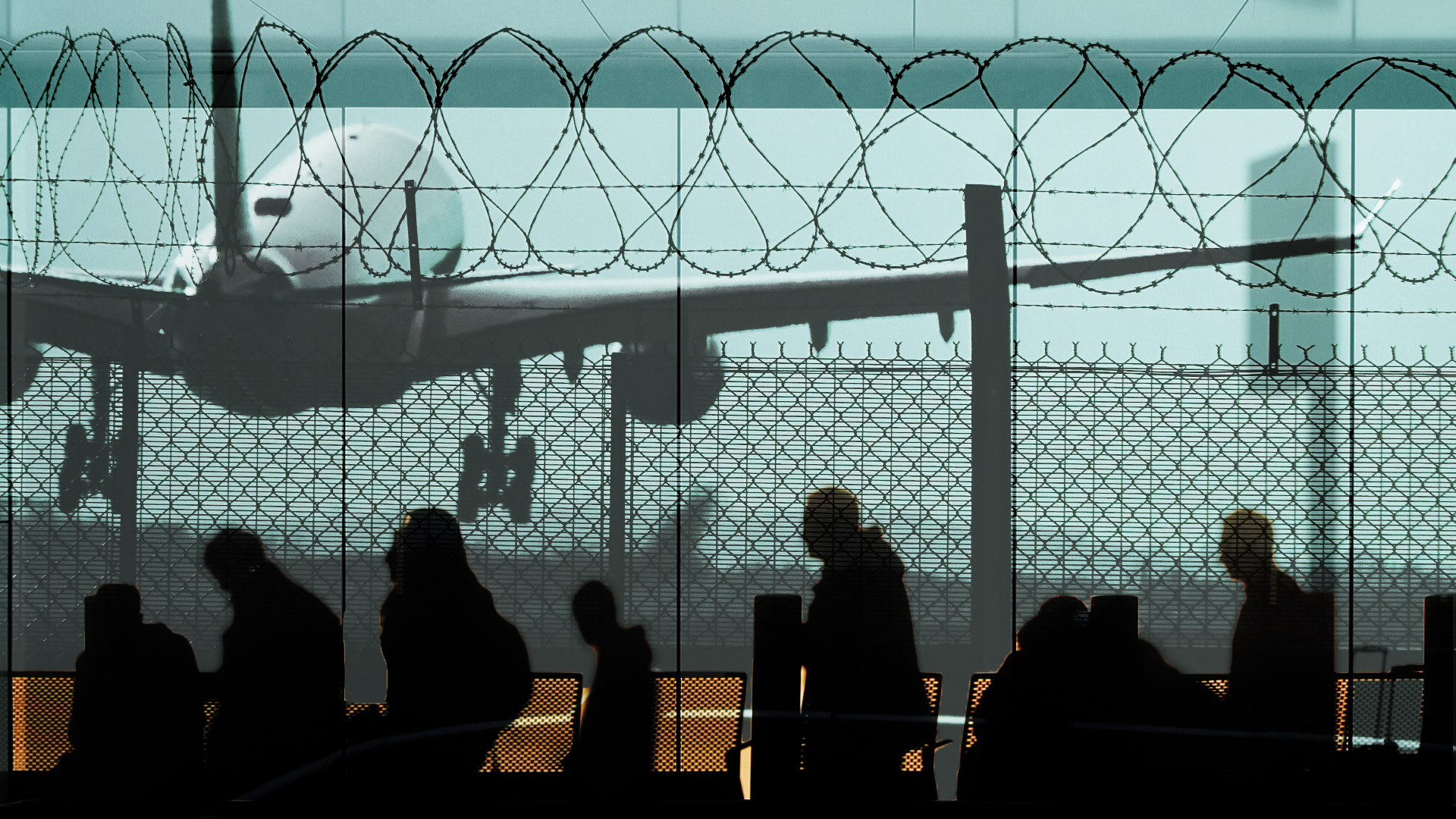 Composite by Bronte Dow
The UK has chartered almost as many removal flights to the EU this year as in the past three years combined, in an attempt to remove the maximum number of asylum seekers before Brexit, Novara Media can reveal.
The UK has so far chartered at least 17 flights to EU member states in 2020, compared with six, five and eight in 2017, 2018 and 2019 respectively, according to data obtained by freedom of information requests made of the Home Office by immigration charities, and data shared with Novara Media by immigration lawyers. This came despite a three-month hiatus in flights between May and August due to the coronavirus pandemic.
It is likely more will be scheduled in the coming weeks, and that there may be other flights of which our sources are not aware.
The majority of passengers aboard these EU-bound flights are asylum seekers being transferred out of the UK under an EU law known as Dublin III.
The so-called Dublin regulation enables EU member states to return asylum seekers to the country in the EU they were first fingerprinted. Yet when the Brexit transition period ends on 31 December, and after failed attempts to extend the regulation, the UK may no longer be able to make use of Dublin III.
The Home Office now appears to be maximising the regulation in order to remove as many asylum seekers to the EU as possible before Brexit, when doing so will become much harder.
Three flights carrying a total of 48 returnees left for EU countries in the first four months of this year. After pausing flights between May and August due to the coronavirus pandemic, the flights have resumed in alarming numbers: at least 14 have been scheduled since August.
This spike in Dublin removal flights mirrors the exponential increase in Dublin transfer requests made by the UK to other EU states this year. On Tuesday, Novara Media revealed that the UK made up to 154% more transfer requests to Germany, Spain, Switzerland, Sweden and Denmark in the first ten months of this year, compared with 2019.
A lawyer at Duncan Lewis, a leading immigration firm which represents a significant proportion of Dublin returnees, described an "onslaught of flights" – some of which, they said, had only one asylum seeker on board; a sign of the Home Office's determination to carry out removals despite inordinate cost.
The lawyer explained that in order to schedule so many flights, the Home Office has been processing removal cases with increasing rapidity. While the removal of even those without strong cases for remaining in the UK would usually take "at least a number of months … we're now seeing people who arrived in August who've already [in October] had their case processed, refused, and been issued a ticket to be removed".
Emma Ginn, director of Medical Justice, an organisation which advocates for the health rights of immigration detainees, said in an interview with Novara Media that she had observed the same administrative acceleration. "It's become a quick process from stepping off a dinghy to going to a short-term holding facility to being housed in a hotel to being put on a flight … I wouldn't just call it 'accelerated'– people's feet don't even touch the ground. The reason is there's a deadline to meet."
This speed-up accompanies a public relations campaign led by the Home Office against asylum seekers arriving in the UK via the Channel. Integral to this has been the department's false contention that asylum seekers who arrive in Britain from the EU have "no right to remain in the UK," since they "can and should claim [asylum] in the first safe country they enter". This is incorrect. Individuals are entitled to seek asylum wherever they wish; the UK is also entitled to return asylum seekers to the EU country in which they first arrived. These rights are not mutually exclusive.
The negative consequences of the UK government's haste to remove asylum seekers before Brexit are many. One is the opacification of due process. Earlier this year, Duncan Lewis secured the deferral or cancellation of 19 (out of an estimated 20) individuals' tickets on a removal flight scheduled for 12 August. With only one returnee due to board, the firm predicted the flight would be cancelled – yet somehow, fourteen people boarded it, "and we have no idea how," says one of their lawyers.
Another harmful effect of this rush is serious procedural errors resulting in the miscarriage of justice: one person represented by Duncan Lewis in August this year was unable to get a full and fair consideration of his case by a judge – leading, in the firm's view, to their unlawful removal from the UK.
The high number of removal flights the Home Office is chartering also seriously compromises asylum seekers' right to legal counsel, as demand for immigration lawyers exceeds supply. "Because there are so many charter flights in short succession, capacity becomes an issue," says the lawyer at Duncan Lewis. "You can't expect a handful of firms to be able to support everyone."
They add that quick turnaround in removals means that many asylum seekers struggle to meet with a lawyer before their flight. "People only have to be given five working days' notice of removal. Often they don't find a solicitor immediately, so you might meet them three days before their scheduled departure… some might not even be able to get an appointment to meet a solicitor at the immigration detention centre's legal surgery within that five-day period."
The increase in flights comes in the midst of a pandemic, and partly as a result of it: before the pandemic, many returnees would be placed on commercial aircraft, of which fewer are running at present.
According to immigration lawyers, the Home Office may have struggled to implement the coronavirus safety measures required on commercial flights, and so chartered their own. A report from a government watchdog, published in August, suggests that the Home Office is failing to protect the physical and mental health of returnees and staff on flights it has chartered during the pandemic.
The report by chief prison inspector Peter Clarke on conditions on a removal flight to Germany and France, made a number of "damning" findings, according to the Duncan Lewis lawyer. "Very little priority was given to wearing face coverings or maintaining distance," Clarke reported, while "escort staff did not have an adequate supply of PPE."
The same report indicated that while some returnees with an identified self-harm risk had been removed from the flight, others had not. "Two with identified self-harm risk travelled, one of whom harmed himself in transit and the other had a concealed blade in his mouth."
Vulnerable individuals such as these may have been missed by the Home Office as, according to a September report by the prison inspectorate, many asylum seekers have been subject to a new "abridged" asylum screening interviews, "which meant they had fewer opportunities to disclose any safeguarding needs."
"At best, this is slapdash," says Ginn, "at worst, a deliberate way of herding people out the door."
The Duncan Lewis lawyer says that the lockdown, combined with the breakneck speed of removals, "is clearly exacerbating mental health issues." They point to a spate of suspected suicides in recent months, as well as to recent reports of skyrocketing self-harm at immigration detention centres. "People are completely terrified," they say.
This terror seems unlikely to abate post-Brexit, as this rush may represent not only the maximisation of our current border regime, but a sign of our future one. Among her plans for post-Brexit immigration, home secretary Priti Patel intends to remove those – including EU citizens born in the UK – who have committed minor offences, including pickpocketing and shoplifting, as well as foreign nationals who sleep rough.
The Home Office was contacted for comment but did not respond.
Rivkah Brown is a writer and the editor of Vashti.
Rivkah Brown is a commissioning editor and reporter at Novara Media.