Sex Workers Denounce Instagram's 'Puritanical' New Rules
21 November 2020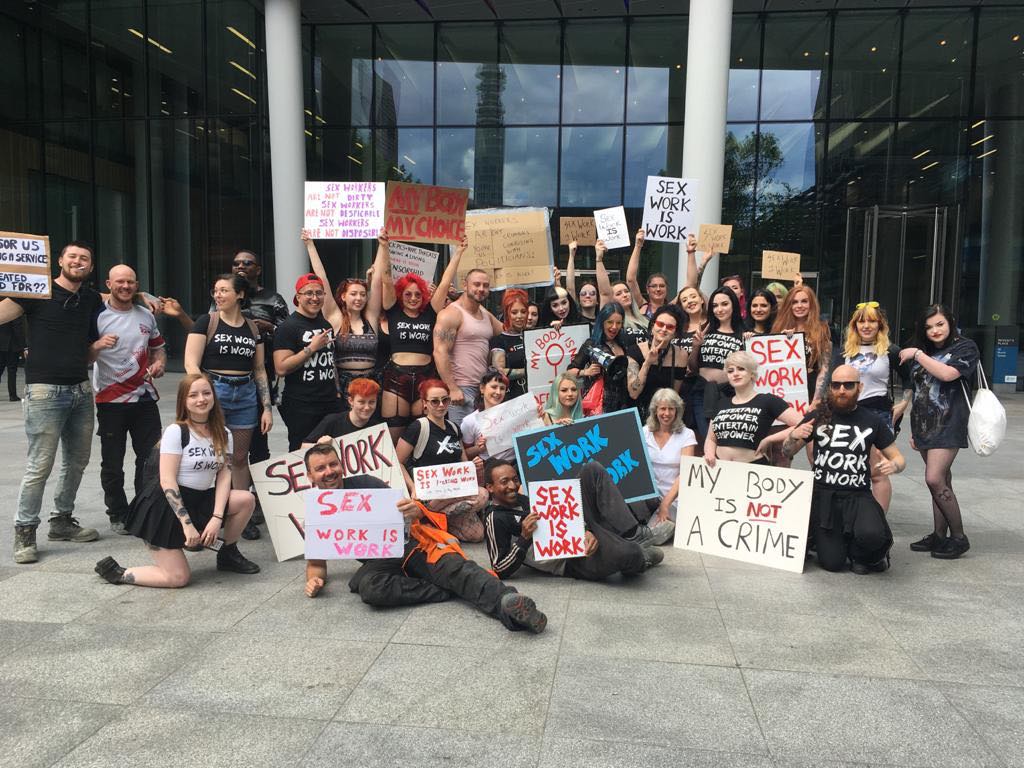 Sex workers are condemning new "updates" to Instagram's terms of use, which the photo and video sharing app announced in an email to users this week. They argue that the changes, which come into effect on 20 December 2020, are designed to eject their already stigmatised and marginalised community from the platform, and could jeopardise income and safety at an extremely vulnerable time.
Many sex workers use social media platforms, including the Facebook-owned Instagram, to advertise their services. While the regulatory climate was already hostile on Instagram, with many workers having their accounts deactivated for posting non-explicit sexual content, these new changes are an intensification of what were previously much vaguer guidelines. 
"[Instagram] gave a notification saying that their terms of service are changing and that if you continue to use the app you are agreeing to those terms," explains Samantha Sun, a sex worker who has used the app for ten years. Sun says the update will mean a crackdown on the kinds of posts sex workers rely on to promote their services.
Has 👏 there👏 ever 👏 been👏 less 👏 sincerity 👏 or👏 integrity 👏 in 👏 one👏 tweet https://t.co/1TsVeTgEsA

— Valerie August (@MsValerieAugust) November 19, 2020
The new guidelines spell out extensive and specific rules regarding "objectionable content." Violations now include "attempted coordination of or recruitment for adult sexual services" and "explicit sexual solicitation." Posts that "implicitly or indirectly" offer or ask for sexual solicitation are also now violations, if they include both solicitation and "suggestive elements" – the latter including not only nudity, but "regional sexualised slang" and "contextually specific or commonly sexual emojis," as well as erotic art. 
This crackdown comes at an especially hard time for sex workers. As well as facing criminalisation, discrimination and poor working conditions, they have seen their industry decimated by Covid-19, which has pushed many into poverty and more dangerous work. Victoria Rose, a sex worker who has been using Instagram for five years, calls the platform's new terms "damaging and dangerous to anyone who's trying to sell sexual services."
Rose emphasises the fact that many sex workers are in highly precarious positions during the pandemic and that, "if they're not allowed to advertise online, it could force them to go into [potentially] more dangerous ways of working." When online spaces become hostile, sex workers' lives are put at increased risk. Online spaces are not only important for finding clients, but screening them and sharing safety information with the community; without them, workers are pushed into finding clients through third-parties, or into working on the street, which can put them at increased risk of violence and arrest.
"Instagram seem intent on censoring sex workers' voices and making it even harder for us to make money during this pandemic," says April Fiasco, a sex worker who began using the platform during the pandemic to recover lost income due to strip clubs and performance venues being shut down. 
Fiasco says that the censorship "disproportionately affects marginalised communities and impacts our livelihoods." Indeed, the majority of sex workers are women and gender non-conforming people, with the community including a disproportionate number of workers who experience intersecting marginalisations – such as trans women, working-class women, disabled women, single mothers and women of colour. 
Sex workers have expressed outrage at the new terms on Twitter, which has fewer restrictions on sexual content, with one user writing: "This is genuinely cruel. The war on s3x work continues, and Instagram seems determined to isolate and cut off SWers at a time when we are all at our most vulnerable."
This is genuinely cruel. The war on s3x work continues, and Instagram seems determined to isolate and cut off SWers at a time when we are all at our most vulnerable. https://t.co/1IcdP8TXym

— tamed_demon (@tamed_demon) November 19, 2020
Another tweeted: "Unbelievably restrictive terms, that if followed so strictly, will censor the dialogue and imagery shared by everyone, not just [sex workers]. Why Instagram has become a church all of a sudden is beyond me." 
Sex workers who spoke to Novara Media about the new Instagram guidelines argued that the platform's approach was "puritanical" and profit-focussed at the expense of sex workers' safety.
"Apps like this are popularised by sex workers," Sun points out, "and [then] they'll just kick you off because you're soliciting." Previously, Snapchat and Tumblr have attracted huge audiences – and therefore profits – because of sex workers' accounts, before banning such activity on the platform. 
This willingness to cash in on sex workers, whilst simultaneously erasing them, speaks to society's general attitude towards the industry. "Sex can be used to sell everything from perfumes to Hollywood movies," points out Fiasco, "yet sex workers are so often swept under the carpet."
Sun also notes that a recent update to Instagram – in which the 'activity' icon was replaced with a 'shop' icon – suggests that the attempt to push sex workers off the platform could be related to the extent to which "they are trying to monetise Instagram." Sex workers mostly use Instagram to direct traffic to other sites, such as Adultwork and OnlyFans – which is the opposite of what the platform wants. "They want to keep [users] on the app for as long as possible, and will flag you for solicitation if you put an OnlyFans [or other external] link up," says Sun. Instagram, on the other hand, will often ignore apparent violations on celebrity accounts, from which they can profit.  
Rose argues that Instagram's treatment of sex workers points to a wider trend where "everything [is] being censored and going two steps back, instead of… creating a safer space for sex workers."  She believes the guidelines are a nod to an abolitionist attitude to sex work, whereby people believe "that shutting something down is going to prevent it from happening." Rose, however, says this will have the opposite effect. "As soon as you try and stop something, it goes more and more underground and becomes more unsafe."
Thanks for all the twitter love! Join the union today to continue the fight alongside fellow sex workers. We are supporting workers across the UK and campaigning with @ukdecrimnow. It takes 2 mins to join https://t.co/DhOZgZoyTy. See you on the streets! ✊🏼🖤

— United Sex Workers (@unitedswers) May 25, 2019
This isn't the first time sex workers have felt under siege by Instagram. Sex worker Rebecca Crow started a campaign two years ago against the site's "discrimination against sex workers." Though her campaign is currently on hold, she says soon she will resume action "to hold Instagram legally accountable." 
"Once again Instagram has failed to uphold promises of community policy improvement made to communities who have consistently been oppressed by the algorithm," says Crow. "These new guideline changes are another knife in our tired backs and, for many sex workers who are already fighting for survival after being denied Covid aid from their governments, this has already greatly harmed our most vulnerable workers."
A Facebook company spokesperson said:
"Instagram is a global platform for people of all ages and we have rules around nudity and sexual solicitation to ensure content is appropriate for everyone. We allow sex positive content and discussion, but we do not allow content that facilitates or coordinates sexual encounters between adults."
Meanwhile, Sun, remains hopeful about the community's resilience, despite her frustration at the treatment sex workers receive. "[We're] treated as if [we're] a cockroach problem, trying to stamp us out at every turn," she says. "[But] the nice thing about cockroaches is that they have lived through the extinction of dinosaurs, ice ages, volcanoes, and the proliferation of the human virus on this planet, and they're still alive… We're going to adapt – they can try, but we will always be able to manoeuvre, to foil their plans."
Sophie K Rosa is a freelance journalist. In addition to Novara Media she writes for the Guardian, VICE, Open Democracy, CNN, Al Jazeera and Buzzfeed.