Can We Go Green Without Plundering the Global South?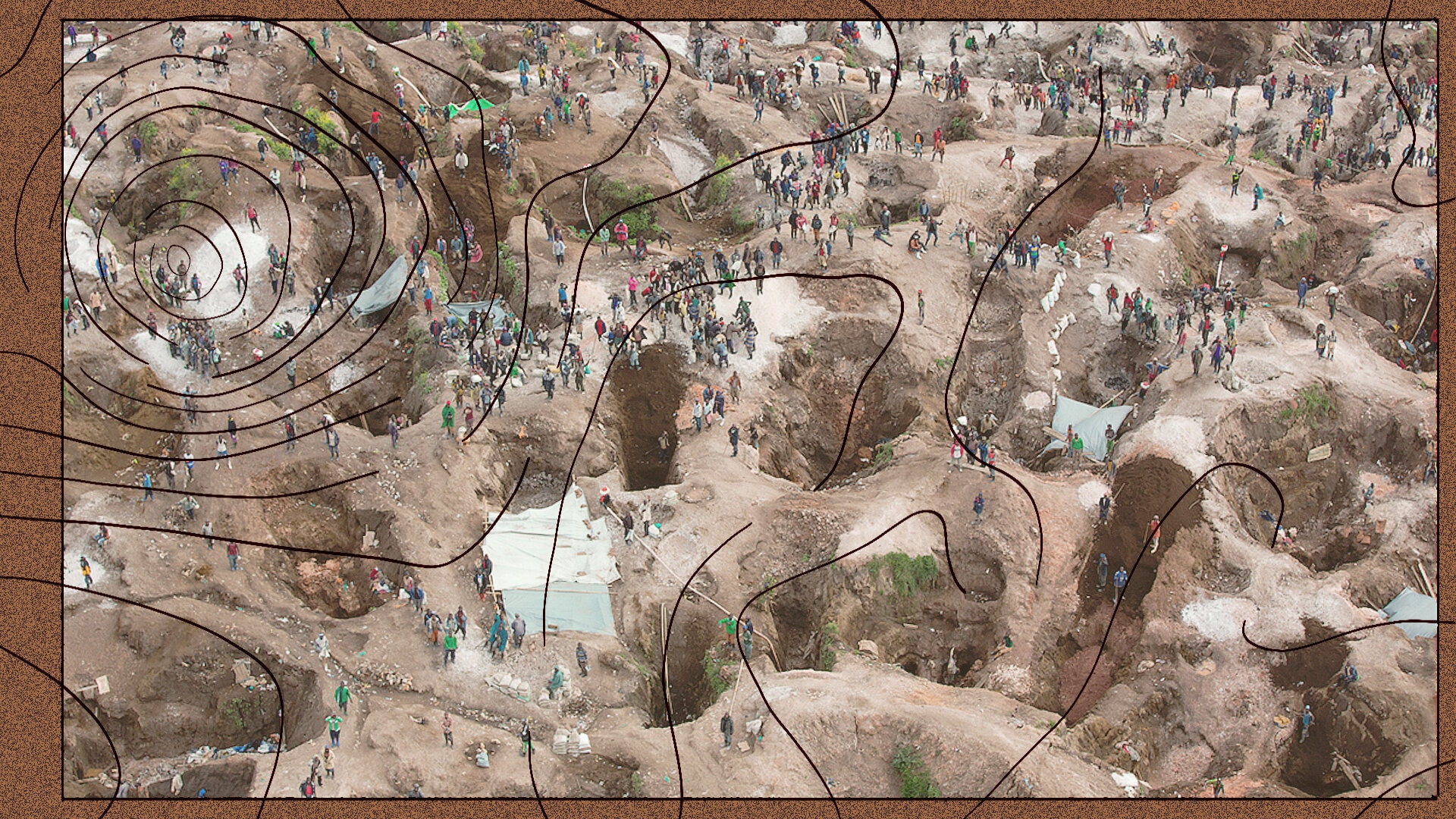 Photo: MONUSCO / Wikimedia Commons Design: Bronte Dow
Across green energy supply chains, allegations of human rights abuses abound. Last year, at least 43 miners died in the Democratic Republic of the Congo (DRC) when an industrial copper and cobalt mine, owned by the Anglo-Swiss mining multinational Glencore, collapsed. Cobalt is currently a key material for electric car batteries, and as such Glencore is positioning itself as a key part of the electric vehicle revolution – despite also ranking amongst the world's highest carbon emitters and being linked to systemic workers' rights issues. Further up the supply chain, Apple, Google, Dell, Microsoft and Tesla are currently facing a lawsuit in the US claiming they knowingly benefited from child cobalt mining in the DRC.
Asad Rehman, executive director of War on Want, projects that plans to 'go green' without consideration of how and for whom energy is being generated will "only result in a new phase of resource and wealth extraction of countries in the Global South". This phase is already incipient: as War on Want and the London Mining Network have documented, communities where minerals are being extracted face displacement, conflict and contaminated air, soil and water. Workers in mineral factories face long hours, poverty wages and union-busting. Health and safety concerns – including reproductive issues for women who work with toxic chemicals – are endemic.
Not sure what extractivism is or why a justice transition is crucial when we're talking about ways to respond to #climatebreakdown? Take a look at this handy infographic and read our new report, with @WarOnWant https://t.co/FLQZVXvyCd #degrowth #GreenNewDeal @_YLNM pic.twitter.com/KRLnAJXYq0

— London Mining Network (@londonmining) September 16, 2019
Most of the Global North's green transition plans rely at least in part on biofuel and natural gas schemes in the Global South (tellingly, there are very few plans for developing monoculture sites in Global North countries; eucalyptus plantations in the Global South are preferred). Yet rather than being a solution to the climate crisis, biofuels have been described as "worse than the disease". Across Latin America, South East Asia and Africa, such schemes have led to land-grabs and deforestation – both of which threaten food supplies – as well as increased carbon emissions. In Kenya, geothermal plants – including in national parks and reserves, like Mount Longonot and Lake Bogoria – not only threaten biodiversity, but have also displaced Indigenous peoples such as the Maasai from their sacred territories.
Meanwhile, the wind, solar and hydropower schemes that often feature in developed countries' green transition plans tend not to promote community-powered local energy projects, which have the potential to create social value rather than profits for already-bloated multinational energy companies. Proposals to cover the western Sahara in solar panels are based on the idea that the desert is just empty space in which European and US companies could generate energy for consumers back home in the Global North. Israel's reputation as a solar hub is built on solar fields in the occupied West Bank, where Palestinians have no consistent energy supply.
There are some things we can do to improve global supply chains. One is to ask companies to embed the non-binding UN Guiding Principles on Business & Human Rights into their practices. Another is to ask public procurers in the Global North to engage in environmentally and socially sustainable procurement in line with International Labour Organisation conventions, as well as with the UN Convention on the Rights of the Child and UN Declaration on the Rights of Indigenous Peoples. Strengthening the Modern Slavery Act to make transparency, worker driven monitoring, due diligence and rectification compulsory, and ratifying a strong UN binding treaty on Business and Human Rights, can help re-centre workers' human rights and environmental justice over the trade and investment regimes that protect profit. What's more, better labour conditions for miners and workers assembling green infrastructure, improved consultations with Indigenous peoples, reduced community land contamination, and the promotion of wind, solar and hydroelectricity over biomass and geothermal energy will no doubt drive improvements.
But these changes alone will be insufficient. In countries like the UK, it's assumed that in transitioning to a green economy, we will be able to replace all our current diesel and petrol vehicles with electric ones. It's assumed that the world has an abundant supply of cobalt, copper, nickel, zinc, steel, copper, aluminium, zinc, lithium and cadmium. However, the reality is that there are not enough raw minerals and metals on Earth to maintain our current level of (differentiated) energy consumption with green alternatives.
More ethical supply chains will not address the fact that unless we figure out how to mine asteroids, maintaining our current levels of consumption will destroy ecosystems, displace peoples and still not result in green vehicles for all. Over 52% of current lifestyle emissions come from the wealthiest 10% of the global population – half of whom live in North America and Europe, one fifth in India and China. By contrast, the poorest 50% of the global population were responsible for just 7% of cumulative emissions between 1990 and 2015. We are extracting minerals and metals for the wealthiest, while communities in the Global South lack access to the resources they mine and make, and are left ill-equipped to respond to the iniquitous impacts of the climate crisis. While rights-compliant forms of green extraction would certainly be less chilling, they would ultimately serve only to entrench the northward transfer of global resources.
This is surely one of the most important climate facts we've learned this year: high-income countries use a staggering 20x more energy than is actually required to ensure flourishing lives for all.

— Jason Hickel (@jasonhickel) October 30, 2020
There is another way. To generate renewable energy within our planetary boundaries, we need to focus on universalising access to the services and activities needed to sustain everyone, rather than prioritising excessive consumption for a minority. Modelling by Joel Millward-Hopkins, Julia K. Steinberger, Narasimha D. Rao and Yannick Oswald shows this is possible.
We could have a food system that nourishes all, rather than starving some and gorging others. Currently, a quarter of greenhouse gas emissions are attributed to agriculture, which also fuels poor health outcomes by prioritising sugar- and palm oil-rich products. It does this while imposing dangerous working conditions on the workers that harvest, package and transport our food. Instead, land access could be democratised. We could learn from traditional agriculturists (often women), as well as modern organic agroecological farming methods, to cultivate nutritious local food that ensures soil health and crop diversity.
We could build homes that could withstand increasingly strong storms, floods and wildfires. Cooperatives of architects, engineers, construction workers, plumbers, electricians and decorators could work together to deliver resilient and dignified housing that generates more energy than it consumes – serving the remainder to free and universal childcare cooperatives, hospitals, galleries, museums, schools and universities. Communities living in places that will not be able to cope with climatic extremes could be ensured dignified lives in new places, while their original homes could be commemorated through art.
Public transport could be green and accessible. Workers cooperatives for air travel could work with engaged community decision-making collectives to equitably allocate flight privileges. Time not spent on sites of gas, oil or coal extraction – or in producing consumer goods that do not serve the social good but end up in landfill – could be spent connecting with communities. We could collaboratively engage in social and ecological restoration and move towards the Māori practice of rāhui, which promotes rest, repair and recovery, and unlearn the growth imperative that got us into this mess in the first place.
Climate action need not require sacrifice. Rather, we might see it as an opportunity for collective flourishing – and for building a planet that can house everyone well.
Harpreet Kaur Paul is a human rights lawyer and PhD candidate at the University of Warwick's Law School, where her research focuses on climate justice. She's a co-editor of the forthcoming 'Global Perspectives on a Green New Deal'.
The

 Climate Focus 

is part of Novara Media's 

Decade Project

, an inquiry into the defining issues of the 2020s. The Decade Project is generously supported by the Rosa Luxemburg Foundation (London Office).