25 Years on From the Disability Discrimination Act, Disabled People Still Face Oppression and Injustice
2 December 2020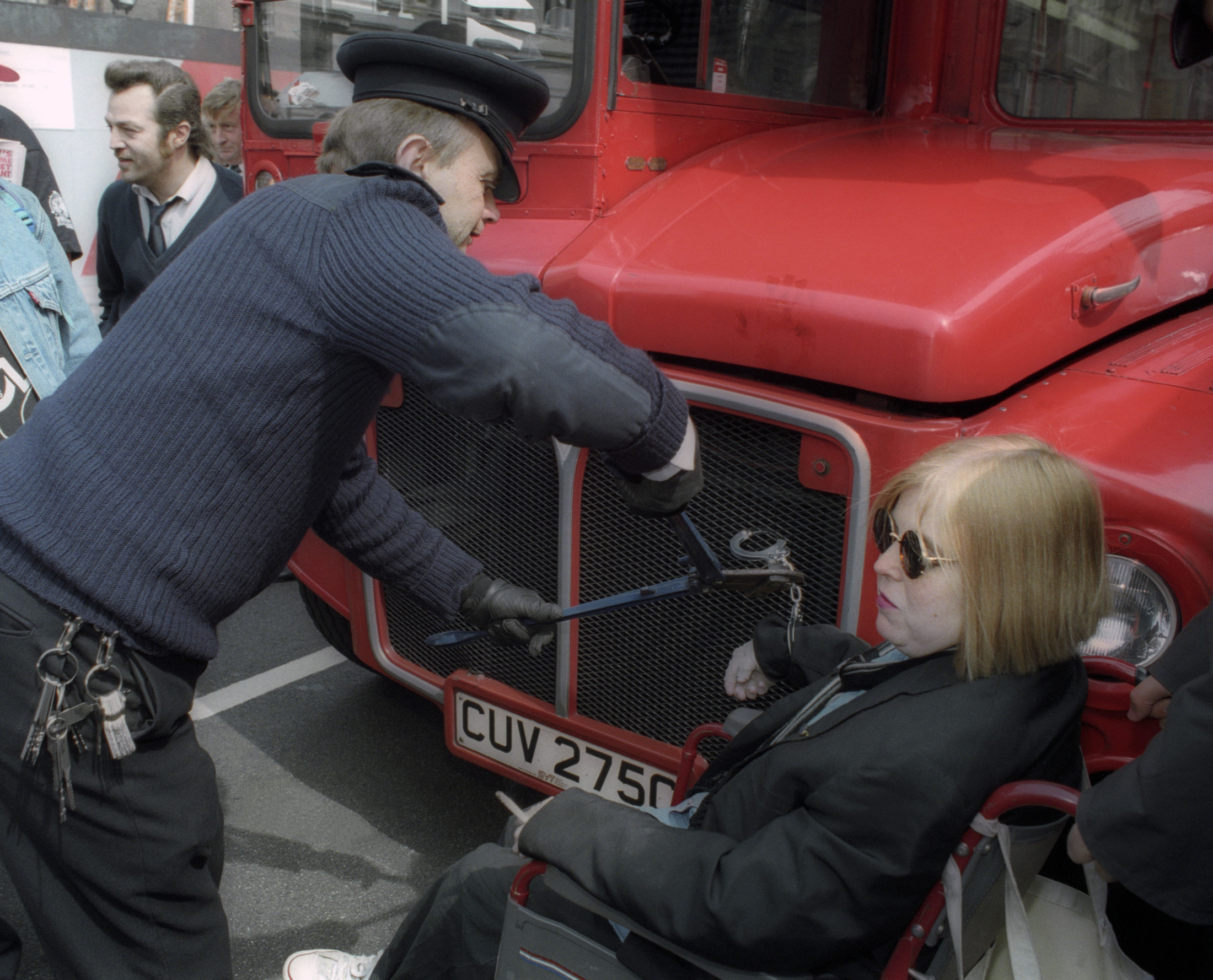 REUTERS/Dylan Martinez (BRITAIN)
The theme of this year's Disability History Month – access – throws a spotlight on how far we've come towards disability equality, but also on what is still left to be done. Access may seem a strange choice of theme to a non-disabled audience, particularly after the dramatic year we've just been through, but the word is key to disabled people and central to the fight for our rights. In order to be free of injustice and oppression, we must have equal access to the same opportunities as non-disabled people. 
The access theme was chosen to mark 25 years since the passage of the Disability Discrimination Act (DDA) but it is also sharply relevant to experiences during the pandemic when disabled people have had to fight for – and been denied – equal access to healthcare. Heralded in 1995 as groundbreaking disability anti-discrimination legislation, over time it has become apparent just how limited the DDA – and later the Equality Act 2010 – is in guaranteeing equal access for disabled people and protecting us from injustice. This has been underlined not only by Covid-19 but, before that, by austerity and welfare reform.
"I went to university, I got a job and with my cerebral palsy have been a successful and independent human being. I am proud of who I am."

Comedian @josierones says her life has "without a doubt" been better because of the Disability Discrimination Act #bbcqt pic.twitter.com/OBpX5nZWKJ

— BBC Question Time (@bbcquestiontime) November 12, 2020
Disabled people unquestionably have greater opportunities now than before the DDA. The legislation established a duty now enshrined in the Equality Act 2010 to provide "reasonable adjustments" to grant access to individual disabled people who would otherwise be excluded from jobs and other opportunities. The comedian Rosie Jones told BBC Question Time last month that her life had "without a doubt" been better because it had allowed her to go to university and get a job. 
This resonates with my own experiences. I remember before the DDA and I know I wouldn't have survived in the workplace without a legal right to reasonable adjustments. But the legislation still doesn't go nearly far enough, with individual disabled people frequently having to personally defend their legal rights, before then fighting to have their individual access needs met. 
Equality of opportunity for disabled people is not simply a case of overcoming stigma and barring exclusion on attitudinal grounds. There are also potentially hefty sums involved in guaranteeing access for disabled people – hence the legal qualification that required adjustments must be no more than "reasonable" to the party incurring the cost. The government's access to work scheme can cover certain additional costs involved in employing a disabled person, but, since 2013, individual awards have been tightened.
Employers can also be resistant to adjustments that require changes to organisational practice – especially when bosses feel allowing special dispensations for disabled staff could undermine measures that raise workers' productivity and lessen their autonomy.
The limitations of anti-discrimination legislation.
Anti-discrimination law was not what the disabled people's movement of the 1980s and early 1990s campaigned for. Their goal was civil rights legislation. The DDA came into being as a quirk of fate when then-minister for disabled people Nicholas Scott was exposed by his own daughter, disability rights campaigner Victoria Scott, as having lied in parliament about the cost of implementing a civil rights bill. Today government ministers such as Esther McVey routinely lie in parliament, but back then it was considered shameful. By way of recompense, the Conservative government introduced the DDA.
One of the key criticisms of both the DDA and the Equality Act is that they must be enforced by individual disabled people. A lords committee investigating the impact of the Equality Act on disabled people in 2016 expressed frustration with the government's failure to take responsibility for disabled people, concluding: "Rights which are unenforceable are not worth having."
Similarly, while the Equality Act has been used to hold back some of the damaging welfare reforms and austerity measures the government has tried to introduce since 2010 – on the grounds that due regard has not been paid to the impact on people with protected characteristics – its impact has been limited by the fact that legal challenges can only be initiated by an individual directly affected and within a narrow three-month window. These limitations place an enormous burden on disabled people and often mean that much unlawful policy is implemented without challenge.
The fact that the due regard duty is often the strongest option open to campaigners, itself says something about the lack of available protections. And while ministerial decisions taken without due regard can be quashed by the high court, the government is then free to simply retake the decision. This happened with the closure of the independent living fund, a source of essential daily living support for disabled people living in the community. A second legal challenge against the new decision was dismissed in 2014 on the grounds that this time the relevant minister "was very well aware… that the impact would be substantial and significant".
The need for transformation.
The failure of rights legislation to free disabled people from injustice and oppression should come as no surprise. The very category of disability owes its existence to the rise of capitalism and the need to identify those of us who are less productive; the system depends upon us having a worse experience of life than those better suited for exploitation. Fear of undermining the work incentive is one substantial reason why full equality will never be gifted to us.
As the disabled American socialist Marta Russell write: "Civil rights incrementalist history tells us that it may not be so wise to rely on a system to generate equality when that system's goals – increasing concentration of private and corporate ownership – are in conflict with principles of equality."
Rights legislation helps individual disabled people to be accepted into and survive within society as it stands. It can also provide compensation for victims of specific cases of discrimination. But when it comes to the socio-economic structures from which disabled people's oppression flows, legislation won't provide the level of change that we need. For that, we need radical transformation.
Ellen Clifford is a disabled activist and author of The War on Disabled People: Capitalism, Welfare and the Making of a Human Catastrophe published by Zed Books.
Ellen will be co-hosting an evening of politics, conversation, music and laughter with DPAC, People's Assembly and guests including John McDonnell, to mark International Day of Disabled People on Thursday 3 December 2020, from 7pm – 9.30pm. Join her on Facebook Live, Twitter or YouTube.