Why Are NGOs So Bad at Saving the Planet?
10 December 2020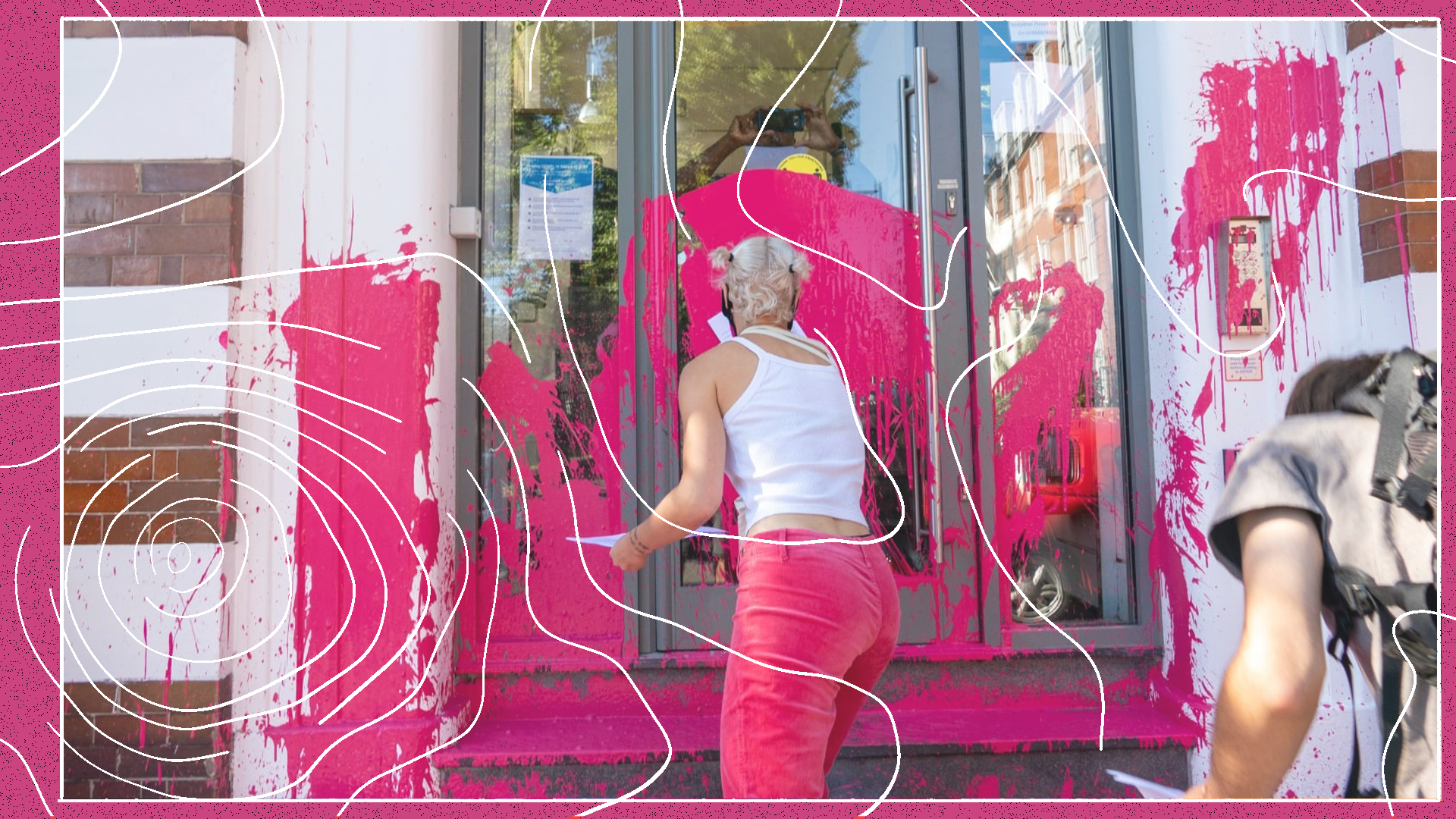 Image: Burning Pink Design: Bronte Dow
Earlier this year, Extinction Rebellion (XR) co-founder Roger Hallam broke away from the group to form a new political party. Initially named 'Beyond Politics', the party changed its name to 'Burning Pink' and promised to spark a revolt against the government. 
At the time, Hallam lamented the inertia of climate NGOs and large environmental organisations, including what he inferred to be a recent lack of radicalism from XR. This new project would, he asserted, be "a line in the sand".
In July, just a week after launching the party with a shoplifting stunt to "highlight food inequality", Hallam and several other members of the breakaway group threw pink paint over the offices of various organisations including Greenpeace and Friends of the Earth. They left notes accusing the organisations of complicity with government inaction on the climate crisis. "NGOs are living in a zombie world of middle-class privileged politeness and denial," Hallam said at the time. "They need to organise hunger strikes, property damage, mass civil disobedience – not petitions, emailing, and quiet words with civil servants. If they are not willing to do this, they should stop deluding people into giving £3 a month to pay their office overheads and get out of the way. Only revolution can save us now."
View this post on Instagram
The action, which happened while the offices were empty due to lockdown, drew widespread condemnation from across the climate movement. Many were angered by what they saw as friendly fire, and XR released a statement distancing themselves from the action.
Ali Brumfitt of XR's press team told VICE: "There's a mix of feelings, as some people will support Roger whatever he does – but I think the dominant feeling is extreme frustration and concern it might undermine what we are trying to do in movement building."
But although Hallam was almost universally criticised, privately there are those who have sympathy for his arguments.
Speaking anonymously to Novara Media, one climate campaigner involved with both established NGOs and grassroots groups expressed real concern at the lack of radical action from major environmental organisations. "It's frustrating because they aren't acting boldly enough. We need them to be more political, but they're incredibly resistant."
When asked why they think this inertia exists, they posited that these organisations fear losing governmental and institutional financial support. Within the climate movement, there is a perception that large NGOs in particular rely heavily upon these funding streams to support their activities. Novara Media's analysis of the accounts and finances of the sector, however, found this to be overwhelmingly incorrect.
Who funds the climate movement?
In the five years to 2019, four major organisations acting to prevent catastrophic climate change have reported raising or being granted nearly £683m between them. In 2018 and 2019 alone, Greenpeace, Friends of the Earth, CAFOD and WWF raised or were granted just over £250m – with the individual amounts varying wildly. CAFOD raised an additional £45.5m in 2020 (the other organisations are yet to publish any accounts for this year).
Greenpeace UK – which operates jointly as a charity and a limited company, and posts separate accounts for each – has reported an income of over £106m over the five years to 2019. Of that, approximately 90% is raised through individual donations or legacies. Greenpeace Ltd reported an income of over £7m in grants received but did not publish specific information on this.
Friends of the Earth UK, which also operates as both a charitable trust and a limited company, has reported an income of over £70m, with approximately 65% of that raised via individual donors – though the transfer of funds between the two entities in the form of grants means that percentage may well be higher. The Friends of the Earth charitable trust reported income from grants of over £6.5m from a variety of different sources, including the now-defunct Department for International Development, the European commission (via its European and international arms), and £19k from the European Climate Foundation.
WWF and CAFOD, who represent approximately £500m of that raised or granted in the five years to 2019, focus their campaigning on climate change and conservation and international development respectively. Both have a seat on the steering committee of the Climate Coalition – a group of over 140 UK-based organisations working together to address climate breakdown – along with Friends of the Earth, Oxfam and others.
Of the joint income in the last half-decade, around £380m has been raised exclusively through donors – whether that be from individual donations, gifts left in wills, membership subscriptions or other assorted individual giving mechanisms. This overwhelming reliance on individual donations has raised questions about why most of these organisations don't make more ambitious demands. With the idea that this is to avoid upsetting establishment benefactors having been disproven by organisations' financial breakdowns, there are those who believe a form of 'donor industrial complex' may be stifling action.
Speaking anonymously to Novara Media, two current Greenpeace employees said there was an institutional anxiety about disrupting their donor base. The worry is that pushing too far or undertaking anything too radical would lead donors to turn away from the organisation and strip it of its vital funding. They spoke of large climate organisations acting as a Potemkin or a proxy for many donors – those anxious about climate change, but willing to have that anxiety quelled by a monthly direct debit.
It is, they assert, easier to sell small, winnable battles or compelling narratives like the plight of polar bears in the Arctic than the larger monolithic fight to fundamentally restructure the global economy away from fossil fuels.
A very cool @Greenpeace polar bear at #COP21 – and it roars! pic.twitter.com/6ZFBAETKO8

— UN Climate Change (@UNFCCC) December 9, 2015
"Big NGOs aren't outsiders or radicals," Nicholas Beuret, a lecturer on environmental politics and science at the University of Essex, tells Novara Media. "They aren't in social movements; most of them don't like social movements. They are staffed by Oxbridge graduates and identify with government. They do policy, not politics."
"The tension here, to be clear, is between policy as a job and social change as a desire and need," he continues. "If, for your job, you need governments and international organisations to listen to you; if for your job, you need to not scare off the thousands of people who give you £5 a month with talk of revolution; if for your job you need to convince the journalists you went to Cambridge with to report on your campaign or use your press release; well, then not rocking the boat, not being too radical is your job."
Because big NGOs rely on access to power, Beuret argues, they will never push too hard for real change. "Big NGOs will always lag behind not only social movements, but climate science."
While big donations from big money aren't the norm, it's testament to the unchallenging relationship climate NGOs have to the establishment that when they do materialise they're rarely seen as a conflict of interest.
One example of this, according to Justin Kenrick from Forest Peoples Programme – a human rights organisation working with forest peoples across the globe – is WWF International. He explains that despite being "an avowedly environmental organisation", WWF International's approach to nature conservation has "for years relied on evicting the very indigenous communities who have been sustaining and being sustained by their lands."
Kenrick thinks WWF's funding is part of the problem, pointing to a recent $100m [£74m] donation given to the NGO by Amazon billionaire Jeff Bezos as part of a $791m [£558m] package for 16 organisations 'working to protect the environment'. Such donations, Kenrick argues, are advantageous to both parties – but nobody else. "For him [Bezos], tossing $791m to corporate NGOs that will get plenty of media coverage – and uphold business as usual to delay the swift, far-reaching changes needed – makes plenty of sense. Meanwhile, Amazon monitors climate activist groups pushing for greater structural changes."
View this post on Instagram
Ending the inertia.
The hole left by the inertia of climate NGOs has, in part, been filled by street movements like XR. Ostensibly not a single organisation but a 'non-hierarchical collection' of different organising groups, XR launched in October 2018 and has seen hundreds of thousands across the world engage in peaceful non-violent direct action to fight climate change since.
Although financial information from the group is patchy, XR claims to have raised roughly £3m between its launch and February 2020. This reportedly includes £2m raised through 'crowdfunding' – including over £500k during the October 'rebellion' in 2019 – with the group stating that 60% of its funding has been acquired this way, with a further 9% made up by direct donations and 31% by 'trusts'. While percentage breakdowns would indicate the group has received approximately £1m from these trusts, no further information on what or who these trusts are is readily available.
Despite only raising around 10% of the approximately £33m Greenpeace raised over the same period, XR were able to capture the imagination of the country and force climate change on to the political agenda in a way not seen before in the UK. Two weeks of action in April 2019 saw thousands gather, demonstrate and get arrested in London, prompting the UK parliament to declare a climate emergency – perhaps the biggest legislative win for the climate movement in the past five years.
There was a time when one might reasonably have concluded that by following XR's example, an organisation with the resources of Greenpeace could be leveraged to have a far greater impact, and bring about the real, material change desperately needed to avert climate crisis. But XR's strategy had its limitations.
"What XR did was successfully mobilise a big constituency, one that in many ways has been resistant to or hard to mobilise in the past," said Beuret. But, he added, there is a limit to what even very successful actions can achieve, in that the government will give so much ground.
"Disrupting the city of London etc is powerful, but it's temporary and indiscriminate," he says. "There needs to be a bridge to other forms of action – actions that target fossil fuel infrastructure, like Frack Free Lancashire and Reclaim the Power's successful campaigns against fracking."
XR's first round of actions saw seismic change but the second, in October 2019, saw decreased popularity and not further legislative wins. The dwindling effectiveness of their tactics is clear from the decreasing press attention around their actions – with their latest stunt at the Cenotaph drawing only a spattering of hate headlines.
Disgustingly disrespectful.
How were these morons allowed to do this?? https://t.co/LChshSAHLC

— Piers Morgan (@piersmorgan) November 11, 2020
Where then does that leave us? With resources in the climate movement overwhelming concentrated within lethargic NGOs, and combative street movements seeing diminishing returns – where next in the fight against the climate crisis? 
"We haven't made the gains we need because we've not been able to produce the leverage we need to force change," argues Beuret. "I don't think the climate movement can do this alone. Everyone else needs to organise around climate change, if for no other reason than self-interest.
"We need, simply, a bigger and more combative movement, one that is able to focus not on convincing governments to act, but on directly intervening into the economy to create change itself."
Organisations with a stake in maintaining the status quo will never fight for the seismic changes needed to save the planet. A street movement that has been largely divorced from all other struggles will never hold within it the strategy, tactics or resolve to truly win. What's clear is that salvation lies in working together – in throwing our weight not behind organisations, but behind each other. It's in taking and exploiting every opportunity to leverage the power needed to effect change. 
But whatever we do, we need to act fast.
Ben Smoke is a journalist and politics editor at Huck magazine. 
The Climate Focus is part of Novara Media's Decade Project, an inquiry into the defining issues of the 2020s. The Decade Project is generously supported by the Rosa Luxemburg Foundation (London Office).