What Does It Take to Win Climate Justice?
11 December 2020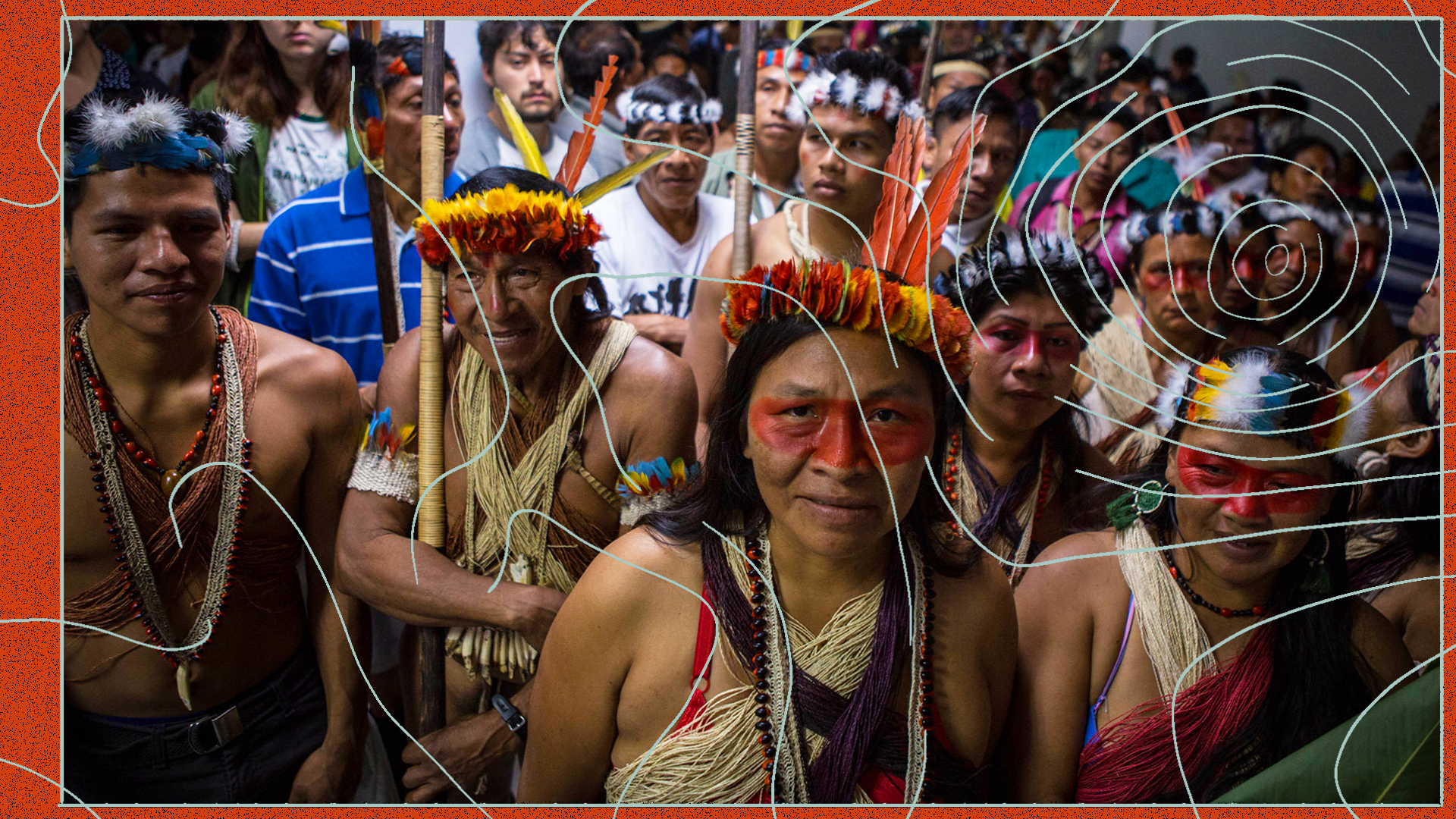 Photo: Amazon Frontlines / Reuters Design: Bronte Dow
Ar scáth a chéile a mhaireann na daoine

(It is in the shelter of each other that the people live)

– Irish proverb
As 2020 lurches towards a close, many of us in the UK will feel little cause for celebration. This was, after all, a year in which our government facilitated the early deaths of over 60,000 people from Covid-19. A year in which underwhelming climate policies were painted thick with greenwash. 
But 2020 also saw fierce resistance around the world, most recently in the Indian farmers' protests. We can look to various parts of the world for inspiration, not only for how to fight, but how to win. 
Ireland.
In 2008, Friends of the Irish Environment (FIE) lost a case against planning permissions being granted for a liquified natural gas import terminal to be constructed in Co. Kerry at the mouth of the Shannon river. Despite the setback they were not defeated, and when the permissions lapsed after ten years without the project breaking ground, they challenged the renewal. In early November this year, the Irish High Court revoked those permissions and awarded costs to FIE after a ruling in the European Court of Justice.
During the ten years between these two legal challenges, local people organised themselves to oppose the project in the face of tactics which extractive corporations deploy the world over. The overarching strategy to divide and conquer the community was similar to that successfully used by Shell in Co. Mayo a few years earlier. Tactics ranged from bribery, to misinformation, to intimidation, to the direct and indirect purchase of 'social license'. Anyone who raised concerns was called a 'nimby'.
For Johnny McElligott – in whose backyard the terminal was to be constructed – there was no choice but to resist. What began as a threadbare, lonely struggle evolved into a tapestry of opposition woven from groups near and far. Each group brought something different: Future Proof Clare brought local opposition from the other side of the river that the corporation had overlooked; FIE helped understand the planning process and law; Fridays for Future Sligo brought the moral voice of youth; Extinction Rebellion Clare took direct action; Food and Water Watch and Love Leitrim helped understand the technical processes of extraction and, crucially, connected local people to the global anti-fracking movement. These connections allowed for the all-important outside pressure to be harnessed in opposing the terminal.
View this post on Instagram
As communities in places as diverse as Argentina, Australia, Morocco, and the US have resisted the industry over the last decade, fracking has become a household word – and a dirty one at that. Following a fierce few years of grassroots campaigning, Dáil Eíreann was forced to ban fracking within Ireland in 2017. One minor but meaningful victory along the way to stopping the Shannon terminal was to force its proponents to refer to it as a 'fracked gas import terminal'.
McElligott sees the shift in terms and narrative as crucial to undermining support for the project. But winning is about more than clever communication. Winning requires a movement, and movements are complicated and messy. "Once you lose control of a campaign, it means you're winning," McElligott tells Novara Media, explaining the tension between independence and coordination. In other words, individuals cannot control a movement. Understanding and accepting this is imperative not only for functional movement ecologies, but also to avoid burnout.
However, working in movements is worth it. With the defeat of the Shannon terminal, a bigger prize came into view: a ban on the importation and sale of fracked gas in Ireland. Such a win seems likely given the Programme for Government agreed by the new coalition government promised to make this policy, and the climate bill currently working its way through the Dáil provides the vehicle for such a ban. The momentum, though, always comes from the ground up.
South Africa.
Environmentalists have also chalked up a recent victory in Lephalale, South Africa, where the consortium behind Thabametsi coal-fired power station backed out following a string of defeats this year. In October, Korean investor Kepco withdrew funding and was soon followed by Japanese investor Marubeni and the Development Bank of South Africa. Shareholder activism had already forced four private banks to withdraw funding.
Since it was proposed in 2015, Thabametsi has been met with all kinds of opposition. On the legal front, the Centre for Environmental Rights (CER) acted on behalf of Earthlife Africa and groundWork to oppose all licensing and authorisations, bring a judicial review, and call for the minister to consider the climate impacts of the project before determining if it could go ahead. In 2017, the High Court agreed with them in a landmark ruling. The minister, unsurprisingly, did not, and so CER challenged again. 
Celebrating a major climate victory: Court sets aside approval for Thabametsi coal power plant https://t.co/8k2et2avwm #RIPThabametsi

— Centre for Environmental Rights (@CentreEnvRights) December 1, 2020

At first glance, this is a tale of environmentalists using the law and appealing to the power of capital to keep fossil fuels in the ground. But as Bobby Peek, lifelong community activist and director of groundWork, tells Novara Media: "Legal strategies are invariably actioned at a particular time. If you start there, you're in trouble. Legal cases capture the imagination of the media, but good strategy is based on much time spent challenging before lawyers get involved. And working to ensure there is a consistent voice on the ground to say no."
That work is done over decades, not days. In the case of Limpopo province, where Thabametsi was due to be built, organisers have been working with local communities since the 2000s, talking to them about the risks, and keeping debate alive amid a climate where political, corporate and union pressure to say yes to coal was immense. In such a fight, victory isn't about numbers – Peek's advice for organisers in other parts of the world is "don't wait for 20,000 people to join your march." Rather, it's about the basics: talking with local people, understanding the context, and being honest – especially about your motivations. 
None of this is as easy as it sounds. According to Peek, "democracy at the local level is very messy: you don't always get everyone pushing in the same direction. You must learn to live with the disagreements without being disheartened by them." But every fight inspires and is inspired by others. Across the African continent the movement against coal is gathering momentum, and can count significant victories this year in Kenya and Ghana. 
The Philippines.
The Korean funders behind Thabametsi suffered a further setback in October in Asia, where the Philippines Movement for Climate Justice (PMCJ) alongside Filipino and Korean allies stopped the Sual 2 coal plant in Pangasinan province. Amazingly, this is the eighteenth coal project to be defeated by Philippine movements since 2014.
Alongside the PMCJ, the fight against coal in the Philippines is being waged by diverse groups from across Filipino society, including the Asian Peoples' Movement on Debt and Development, the Asia Energy Network, Sanlakas, faith-based groups, youth movements, and of course local communities.
Congratulations to @AsianPeoplesMvt @PMCJ_ph and many many others in the Philippines who have fought long and hard for and end to coal and for clean, safe, community energy for all! https://t.co/DfUicqcw4z

— nathan thanki (@n_thanki) October 28, 2020

According to Ian Rivero, national coordinator of PMCJ, "the core of the strategy is the development of strong community resistance." A wide diversity of tactics have been adopted, ranging from "denying the coal developers permits during the application process" to "scrutinising the power supply agreements on the basis of the cost of electricity, the price competitiveness, and adherence of parties to the rules of the energy regulation."
Like in other regions, campaigners have also worked internationally to target the financial support for coal projects: PMCJ joined over 100 civil society groups and affected communities to bring a suit against the World Bank's International Finance Corporation for funding coal expansion in the country. But it's the strength of local resistance which has forced the even greater shift: in the past six years, over 15 local jurisdictions have been compelled to declare themselves coal free and prevent coal plants being built. It is this community-based struggle which makes the headlines that the Department of Environment has issued a moratorium on all new coal plants in the country possible. Their campaigns, Rivero explains, means "coal plants are now more difficult to build compared to six years ago." 
Despite the moratorium, the Philippines government is still allowing new previously-approved coal projects to go ahead. The movements take every victory – and they have seen many – as single steps along a long road. The struggle, as ever, continues. 
Ecuador.
While the above successes against particular projects and industries are extraordinary, recent news from Ecuador may represent a game-changing victory for the environmental movement. In a truly David vs Goliath story, two rare species of tiny frogs (including one previously thought extinct) seem to have totally derailed the Llurimagua copper mining project, which had already stalled after failing an environmental impact study, being found in breach of various laws, and after locals voted to declare the area mining-free. 
The Intag valley, where the mining concession is held, is extremely biodiverse. For the past 25 years it's been under constant attack from extractive industries, which communities have resisted. DECOIN (Organización para la Defensa y Conservación Ecológica de Intag) – a network which even before the days of cell coverage or internet connected communities via walkie-talkie in order to monitor and report on extractive industries in their areas – alongside CEDENMA, is responsible for bringing the case against Llurimagua.
The Rights of Nature have been upheld by an Ecuadorian court in a ruling against the Llurimagua mining concession, which threatens vast areas of biodiversity-rich cloud forest & hundreds of endangered species.

Read the full story https://t.co/8ZANb7Gfn9 pic.twitter.com/2Nkua3hE2f

— Rainforest Concern (@rainforestconce) October 30, 2020

Carlos Zorrilla, the group's founder, literally wrote the manual on how to resist extractivism. DECOIN have taken various approaches to resist mining, including working to create protected areas, buying forest and giving it back to communities, suing a Canadian mining company, its directors and the Toronto Stock Exchange, and developing alternatives to mining such as coffee production and tourism. "Don't depend on one strategy," Zorrilla tells Novara Media. "You have to keep hope spread." 
And there are reasons to be hopeful. Because Ecuador incorporated nature as a rights holder in its 2008 constitution, the country is now awash with communities using the Rights of Nature in legal challenges to extractive industries. Just recently, the Cofán won a case against a mining development due to lack of prior consultation, the Waorani defeated the state in court to prevent oil drilling on their lands, and the Constitutional Court is currently ruling on whether the Rights of Nature would prevent mining in Los Cedros. 
Success in the case against the Llurimagua mine is groundbreaking because, for the first time, a court has actually ruled that mining would threaten the habitats of the rare frog species and other endangered species and that this is in violation of the Constitutional Rights of Nature. It ordered a stop to all mining activities unless the Ministry of Environment can, within three months, prove to independent parties that mining can be done while guaranteeing these rights. This will set a precedent that could see vast swathes of Ecuador become no-go zones for extractive industries. 
None of this would have been possible were it not for the communities who have been resisting for so long. Success in the courts is a result of specific conditions. As Zorrilla explains: "If the courts are independent and if you have resources and patience, then you can win via a legal strategy." However, the foundation for resisting mining, in Zorrilla's eyes, is that people know what is at stake socially, culturally and environmentally – that there is "consciousness about what can be lost." And this can never be dictated from above. 
Thanks to Alex Lenferna, Bobby Peek, Carlos Zorrilla, Clodagh Daly, Hal Rhoades, Ian Rivera, Johnny McElligott, Makoma Lekalakala and Tatiana Garavito for helping with this piece. Thanks also to the people everywhere who spend their lives fighting not just for a better world, but in defence of the world we already have.
The Climate Focus is part of Novara Media's Decade Project, an inquiry into the defining issues of the 2020s. The Decade Project is generously supported by the Rosa Luxemburg Foundation (London Office).
Nathan Thanki is a human ecologist based in Ibagué, Colombia.