Teachers' Unions Won Big This Week. They're Just Getting Started
6 January 2021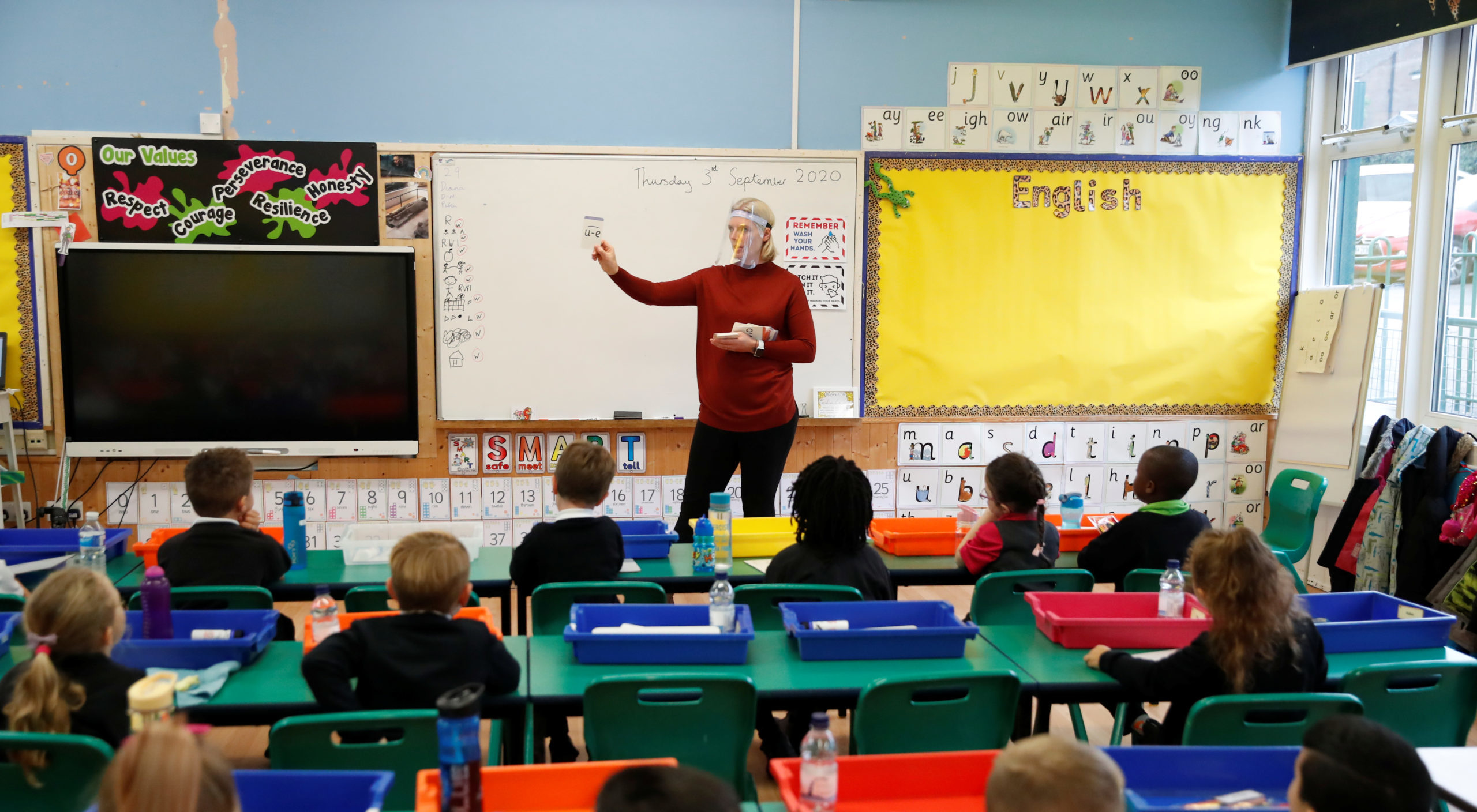 Andrew Boyers/Reuters
On Sunday morning, as Boris Johnson was telling Andrew Marr that "schools are safe" from coronavirus and that "the risk to staff is very small", teachers and governors at Marner Primary School in Tower Hamlets were figuring out how to explain to four-year-olds why Mr Hague, the school's headteacher, wouldn't be coming back this term.
Like all teachers in the UK, Nick Hague had had an exhausting 2020: offering blended learning to (while maintaining social distancing from) 672 young children, in a borough with more than twice the national average rate of coronavirus, was a gargantuan task. Yet as the prime minister insisted on Marr, it was important schools were kept open, as closures are heavily detrimental to the development of young people, particularly the poorest (they are also heavily detrimental to the businesses that employ parents, but that's another matter). Nobody was more aware of this than Marner's 53-year-old head, 31.8% of whose students are eligible for free school meals.
The pandemic had other plans for Hague, however. By late December, he had no choice but to close the school early for Christmas – simply too many of his staff were off sick or self-isolating. "I would urge the whole community to stay safe and look out for each other over the holiday period," Hague told parents in a letter dated 18 December. A few days later, he tested positive for coronavirus. He was dead within the week.
Johnson's announcement on Monday that schools in England will close during the new national lockdown confirmed what the rest of us – indeed, what he himself – already knew: that schools are not safe from coronavirus; that the risk to staff, if not to students, is grave. Exactly how grave is hard to say: the Department for Education insists it has no idea how many school staff have died during the pandemic, an ignorance many in the education sector believe is feigned. What we do know is that school-age children have some of the highest infection rates of any age group, and that the new strain spreads more easily among them; that teachers are up to three times likelier to contract the virus, and that alarming numbers of them, many fit and young, are dying of it.
None of this appears to have motivated the government's recent volte-face on schools.
"Nothing has changed today in terms of the virus," says James McAsh, a primary teacher and local officer for the National Education Union (NEU), speaking to Novara Media shortly after the lockdown was announced. "So why did they wait until today? I wouldn't be surprised if a big part of it was seeing parents vote with their feet." As with free school meals, the Tories were guided less by concern for public health than by fear of public humiliation – though this time not by a 23-year-old footballer, but by thousands of parents, teachers, schools and local authorities threatening to disobey the government and keep children at home.
Unionised teachers from state schools across England forced a bunch of privately educated millionaires to U-turn.

They did it to protect pupils and the communities from a government that is as deadly as the virus #thanksNEU

— Rory Maclean 🍊🍊🍊 (@rory_maclean) January 5, 2021

This was already beginning to happen last term. Marner Primary was one of a number of schools that closed early for Christmas, though many were forced to reopen – often for just one or two days – after threats from ministers. Come January, this trickle of rebellion had swelled to a tide. In Norfolk on Monday, 100 primary schools that were meant to open stayed closed. Rather incredibly, the Conservative-controlled Essex county council advised primary schools in three districts to disobey central government and stay closed. By Monday evening, the PM's was less a statement of intention than of fact: lockdown or not, many schools were not going to open.
Such mass defiance is a far cry from September, when the government commanded schools to reopen and, more or less, they did. Much has changed since then, not least an intensification of the pandemic over the winter months, and decreasing trust in the government's handling of it. Yet perhaps the greatest change has been a surge of teacher organising.
Teachers' unions were slow to mobilise at the start of the pandemic – and when they did, it was from the top down. A month into the first lockdown, Dr Patrick Roach, general secretary of the National Association of Schoolmasters Union of Women Teachers (NASUWT), wrote to education secretary Gavin Williamson with five conditions for schools reopening: cleaning; social distancing; PPE; employment protections; and the recognition of a depleted workforce. Even then, it was unclear whether the message had got through: while Roach's and other unions were integral to ensuring that schools did not reopen as they were due to on 1 June, they subsequently struggled to keep up the pressure.
My message to the Prime Minister: I don't just want all children back at school next month, I expect them back at school.

No ifs, no buts, no equivocation. https://t.co/Q00nsGFH8u

— Keir Starmer (@Keir_Starmer) August 16, 2020

As the summer wore on, and parents wore out, the government – and their most loyal opposition – hardened their line on schools reopening in the autumn. Cases were relatively low then – around 1,000 a day, down from around 5,000 in the spring – and spirits relatively high. So teachers returned, and term began. With bubbles running into the hundreds and social distancing virtually non-existent, the situation in schools rapidly deteriorated. Yet when the unions made demands for government to improve it – with a half-term circuit breaker, a rota system and reduced class sizes – they were roundly ignored. Vik Chechi-Ribeiro, a secondary school teacher who sits on the NEU's national executive, speculates that this may have been because once again, industrial action was emanating from above – "a strongly-worded letter to the prime minister" – rather than below. "The challenge for us as a union," he says, "was that as we started to return, we didn't have that organised grassroots presence we needed to win more significant demands."
These grassroots have taken time to grow, but grow they have. Since the start of the pandemic, the NEU has increased its rep density – the numbers of schools with union representation – by 11%. According to Jackie Schneider, a primary school teacher and NEU member of 30 years, this growth has been been accompanied by a fundamental shift in how teachers view their unions: whereas once regarded as "an insurance policy", "people are now much more interested, much more engaged" in organising. This interest in and involvement with the unions has increased gradually over the course of the pandemic, but spiked as the new term drew nearer and the government's plans for schools grew only more chaotic: over the last weekend alone, 16,000 educators joined the NEU, swelling its ranks by 3.5%. 400,000 people, both teachers and members of the community, joined the union's online meeting on Sunday.
During this meeting, the unions were preparing for their second facedown with the government over reopening schools. Learning from their mistakes in the autumn, they planned to take a different tack. Since their conditions for returning to work had not been met by government, they decided that this time, they would not go quietly, but would escalate. They issued a call to their 450,000 members not to go into work (though advised they should offer to work remotely, and to provide in-school teaching to vulnerable children and those of key workers). They provided a model letter for members to deliver to management citing Section 44 of the Employment Rights Act 1996, which gives employees the right to refuse to attend an unsafe workplace. The NEU estimates that members in 6,000 schools have submitted such letters, forcing many schools to remain closed. To Chechi-Ribeiro, the lesson is obvious: "When a union trusts its members to take bold action, they will."
I'm proud of every NEU member who came to our meeting this Sunday, of our reps, of everyone who took a stand for safety.

Now we have to fight together for education.

Demand our 10 point plan pic.twitter.com/zaZfUDDuaf

— Kevin Courtney #NEU💝NHS (@cyclingkev) January 4, 2021

The challenge now, he continues, is to build on that action. "For a lot of new members, their first action will have been quite militant: putting in a Section 44 letter. How are we going to keep that momentum going?" Part of the answer is straightforward: ensuring new members become embedded and active within wider union structures as quickly as possible. Part of it is more delicate: ensuring members "link this crisis in health and safety to the wider struggle" – in other words, that they become politicised.
With schools successfully closed, the unions' immediate priority is ensuring pupils can learn remotely – something the government has done little to enable (and which, contrary to union critics, is far more labour-intensive than face-to-face teaching). Then there is the question of vaccination: why aren't teachers on the priority list? And are members willing to strike to get themselves onto it? Yet it is this longer-term consciousness-raising that most excites Chechi-Ribeiro and his fellow trade unionists, having as it does the ability to transform not only teachers' working conditions during the pandemic, but their work more generally – starting, perhaps, with pay, currently frozen until 2022.
School closures don't mean teachers stop working. My brother-in-law has spent his whole weekend frantically preparing for online lessons, which are particularly hard when teaching young children. Teachers aren't taking the easy option, they just don't want to kill your family.

— Evie (@EvieAspinall_) January 2, 2021

In all the movement of the past ten months, Schneider senses a rebalancing of power between teachers, management and government. "When I started teaching back in 1990, it was much more collaborative. Teachers were considered professionals. We had a huge amount of say over our curriculum and how we taught it. Gradually, governments – including Labour – chipped away at that autonomy." The pandemic, she says, has begun to restore it. "People have realised, 'hang on a minute, these are schools for the community, they're not at the beck and call of government.'"
In 2020, teachers were subject to some of the cruellest, most arbitrary and last-minute policymaking of any workers in Britain. In 2021, an increasingly organised and confident education workforce may begin to fulfil that most hallowed of Brexiteer ambitions: taking back control.
Rivkah Brown is a writer and the editor of Vashti.