You Thought Britain's Media Was Rightwing? By 2024 It Will Be Much, Much Worse
7 January 2021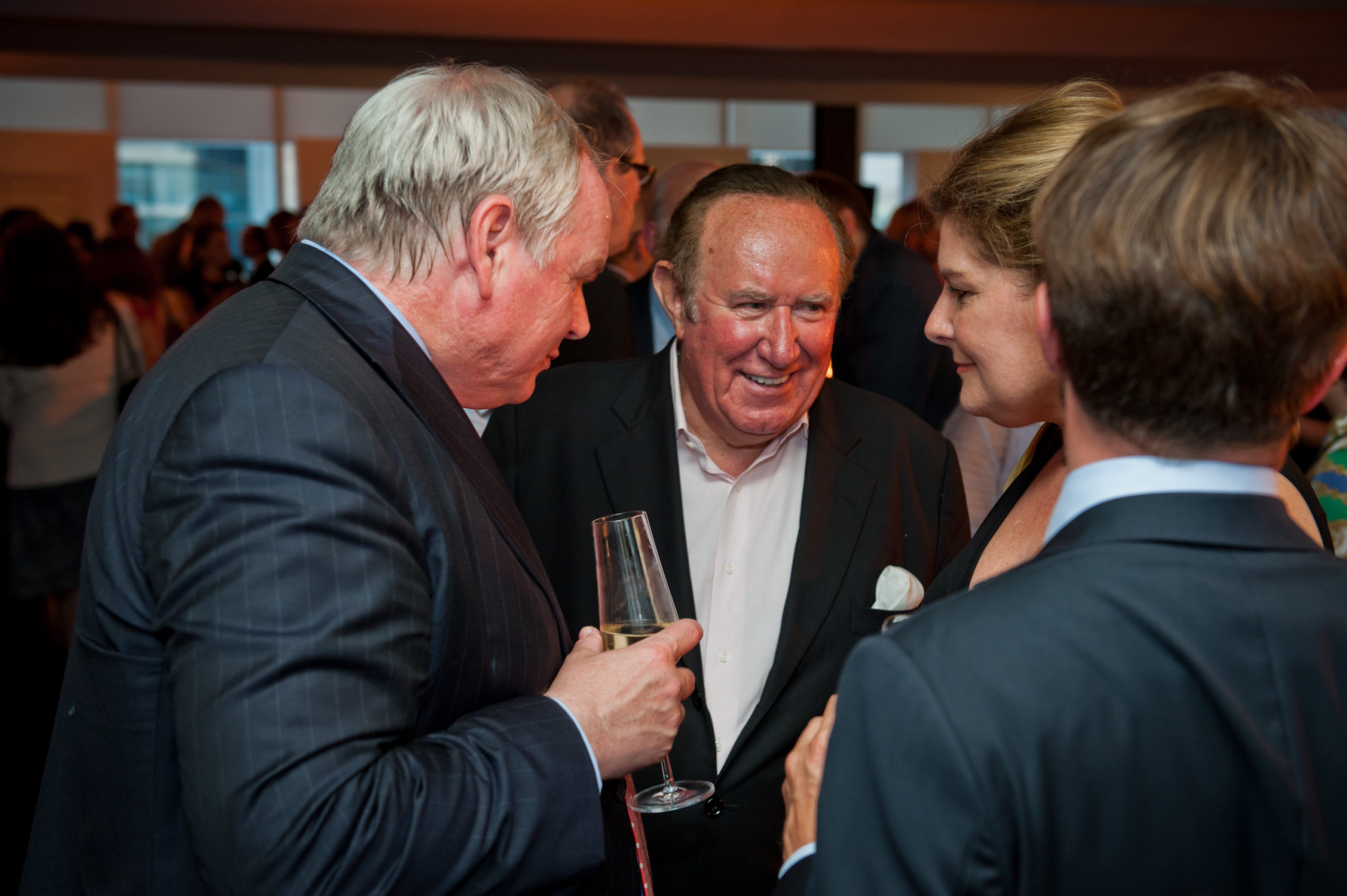 Andrew Neil at an event (Financial Times/Flickr)
Before 2021, Britain already had the most rightwing press of any liberal democracy. Last October, newspapers owned by Viscount Rothermere – a close friend of David Cameron and a tax-avoiding 'non-dom' – accounted for 35% of all circulation, with a further 25% owned by Rupert Murdoch's News UK. When the holdings of both Evgeny Lebedev and the Barclay Brothers are included – the former who was recently made a peer by the Tories, the latter being one-time party donors – just under 75% of all national newspapers are controlled by Conservative-supporting billionaires.
But the issue of media ownership in the UK extends beyond just print. Global, which owns radio stations such as Classic FM, Capital and LBC, funnelled £200m of revenue through tax havens in the five years to 2013. In 2015, its outlets were instructed not to cover a story on HSBC and tax avoidance for "editorial reasons". In 2017, Global's president Ashley Tabor-King requested planning permission to create a £200m London penthouse.
Given all this, it might be tempting to say that Britain's rightwing media – owned and controlled by the ultra-rich and serving to advance their interests – couldn't get much worse. Unfortunately, this isn't true.
This week GB News, fronted by former BBC host Andrew Neil, announced its intention to launch this spring with a staff of around 140 people, with reports suggesting it will have a 24-hour presence on Freeview. The new channel has raised £60m in investment from the likes of the Dubai-based investment company Legatum, which also funds the rightwing think tank The Legatum Institute, and Sir Paul Marshall, a hedge fund manager who previously donated to the Vote Leave campaign and the media start-up Unherd, then under the management of former Tory advisor Tim Montgomerie.
Yet GB News is just one example of how the right is planning to reshape Britain's media landscape. Elsewhere, The Times has launched Times Radio, offering a hybrid of Talk Radio – also owned by Murdoch – and BBC Radio 4. Also in the works is News UK TV, again a Murdoch venture, with a studio presently under construction at London Bridge. Its initial plans are more restrained than those of GB News, the ambition being to go live for five or six hours a day and initially revolve around a flagship show hosted by a major name. Those already connected with the venture include Piers Morgan and Nigel Farage.
Amidst all this, centre-left legacy outlets are failing to adapt, with the liberal Observer and Labour-supporting Daily Mirror conspicuously inert. Both once enjoyed huge reach – The Observer having existed since 1791, The Mirror being Britain's most widely-read newspaper for decades after the war. But the fact is that without innovation, neither may exist a few years from now.
A common response to all this is to acknowledge it, but retort that the BBC, with its unique status in the broadcast and online news market, is an effective counter-weight. If this were ever true, it is increasingly not the case, with print still able to set the agenda on broadcast – the ever-greater emphasis on paper reviews being just one example.
Yet this structural issue, where fewer resources in broadcast journalism serve to make it more dependent on print, is also joined by something else: an increasingly overt takeover of the BBC from the right.
Last year, the Corporation announced Tim Davie would replace Tony Hall as its director-general – an appointment that raised eyebrows given Davie was deputy chairman of the Hammersmith & Fulham Conservative party in the 1990s. But while this was long before he landed a job in public service broadcast – Davie joined the BBC in 2005 – the same can't be said for the BBC's new chairman Sir Richard Sharp.
The appointment of the former Goldman Sachs associate may not have been the culture war gesture briefed a few months ago, when the Sunday Times claimed the prime minister favoured Charles Moore for the role, but Sharp is a hugely influential figure in party circles nonetheless. Not only does he sit on the board of the Thatcherite think tank the Centre for Policy Studies (CPS), but he has personally donated more than £400k to the Conservative party.
The CPS is no ordinary think tank, and, alongside the Institute for Economic Affairs, is uniquely zealous in its support of free market economics. There is perhaps no clearer indication of Sharp's political commitments than his colleagues on its board, which include Sir Graham Brady, rightwing historian Niall Ferguson, Spectator editor Fraser Nelson, and Viscountess Rothermere. Finally, Sharp has no background in journalism – not a requirement for the role, but all the more glaring given his political leanings.
For all the talk of the BBC being leftwing, Neil's latest venture with GB News, and the Corporation's new senior management, expose this for the nonsense it always was. That's before even mentioning that former Newsnight editor Allegra Stratton will soon start her job as Downing Street media supremo.
All of which poses questions for the left, and the Labour leadership. Rather than deep organising – the foundation of this week's stunning results for the Democrats in Georgia – Keir Starmer's bet is to appeal to the media in a way Corbyn never could. Yet if Labour want to take notes from across the Atlantic, the efforts of Stacey Abrams and others in driving up voter registration would be the best place to start. Ignoring that, while trying to keep up with a media which moves constantly right, will only mean defeat or, at best, the wholesale adoption of a conservative program. In other words, defeat by another name.
For the rest of us, whether in social movements, labour organising, or simply those who want a better world, the task is a grim but seemingly inevitable one: to overcome a British media which, by 2024, will be further to the right than ever before.
Aaron Bastani is a Novara Media contributing editor and co-founder.