Amazon Delivery Drivers Are Being Shamed for Relieving Themselves in Public – But Bezos is to Blame
25 January 2021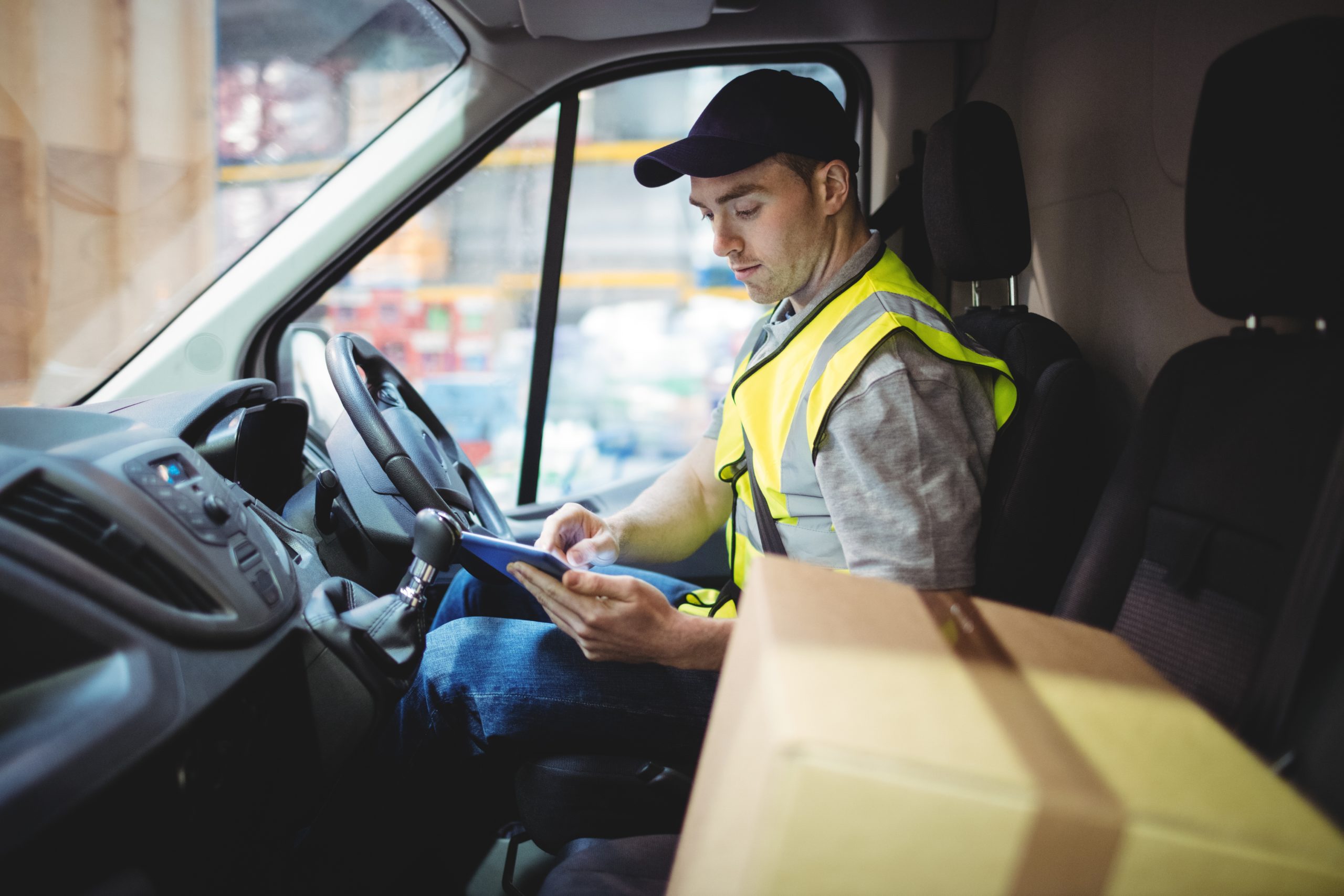 WavebreakMediaMicro/Adobe Stock
"I've done so many different jobs in my life," says Carl*, who works as an Amazon delivery driver, "and trust me, this is the worst job ever."
Carl is just one of countless couriers across the UK being subjected to "nightmare" working conditions as a result of increased demand during the pandemic. A combination of relentless work with no breaks, constant surveillance and no access to toilet facilitiies means that many delivery drivers are resorting to relieving themselves in public while on shift. 
Predictably, the tabloid press has jumped on these stories, relishing the opportunity to shame drivers, who, in turn, argue that the real culprit is companies like Amazon for denying their workers basic rights. 
Delivery drivers have no time in schedules to find toilet. This is very common. Often defaecate in boxes inside their vabs, pee in bottles. This is what sone employers force workers to do in UK in 2019. @Amazon @H_S_E @BorisJohnson https://t.co/vZS2ZXFR89

— Hilda Palmer Stop Covid@work Make workplaces safe (@HildaPalmer) August 6, 2020
The most recent media attack came in the form of a Metro news item ridiculing an Amazon courier in Manchester for defecating in public. In the article, the customer who reported the incident to Amazon and spoke to the press said, "I just could not believe it, especially as we are in the middle of a pandemic… None of it makes sense." 
But Amazon delivery drivers who spoke to Novara Media say that the incident does, in fact, make a lot of sense, given the unforgiving working conditions they are made to endure – conditions that have only been exacerbated by the pandemic. 
Tellingly, the Metro article, like most of the coverage, failed to include comment from any delivery drivers. Fran Scaife, a delivery driver and women and non-binary officer for the International Workers of Great Britain (IWGB) trade union, says media stories like this are "embarrassing, demoralising, dehumanising," for workers – often immigrants – whose jobs are low-paid and precarious.
"I was kind of devastated, seeing the article," says Eric*, who has worked as an Amazon delivery driver since September. He argues that such coverage stigmatises drivers offering an essential service during the pandemic as "disgusting and unhygienic," whilst ignoring the reality of their working conditions. 
'You're a slave.' 
Amazon delivery drivers work as self-employed contractors for outsourced companies. Typically, workers find out what time they will be starting work – or if they will be working at all – the night before. The working day, which often starts in the early hours of the morning, begins "incredibly stressfully," says Eric. Drivers are given a 15-minute window to load up to 350 parcels into their vans at the depot. 
The length of the working day is dictated by how quickly a driver can deliver their cargo and is extended further if there are any undeliverable parcels. 
"Sometimes I have to get [to the depot] by 5.30 am and I finish at 5 or 6 in the afternoon," says Carl*, who has worked as an Amazon courier throughout the pandemic. Amazon uses an app to assign drivers' routes and track their movements, which limits working-time to around 10 hours. However, when this happens, Carl says that his manager will call him, telling him to log out of the app and to use a different account to keep on delivering. 
On an average shift, drivers have no time for breaks and no guaranteed access to toilet facilities. Meanwhile, employers do not mention toilet breaks when they are taking on new drivers, according to workers. 
Even before the pandemic, accessing toilet facilities was "complicated", explains Carl. Drivers had to rely on locating public toilets, or toilets in shops or cafes, which often entailed spending unnecessary money whilst working for a low wage. What's more, the surveillance, workload and targets drivers face mean it is usually impossible to take a long enough break to find and use a toilet in the first place. 
On one occasion, Carl describes deciding to take a toilet break and rerouted to the nearest facility, which was a supermarket. Despite the diversion taking all of 15 minutes, he received a call from his manager asking him why he had stopped working. He describes the experience of having an app constantly track his movement, behaviours and patterns as making him feel "trapped… like you're a slave, like you have no rights."
'Are we not human beings anymore?'
Drivers say that the lack of access to toilet facilities on the job has gotten much worse during the pandemic, since most public and shop toilets have been closed. Even in the event that petrol stations or supermarket toilets are open, the queues caused by social distancing regulations are often too long for drivers to be able to spare the time since Amazon will get in touch and "advise you that you're not allowed to leave the route," explains Carl. 
He claims that almost all drivers who can resort to "pee[ing] in a bottle", as "there's no other way around it" under the current restrictions. Carl also recalls stories of drivers "who end[ed] up pooping in a plastic bag in the back of their van," because they had no other option. "Are we not human beings anymore?" he asks. 
This problem is even worse during the Covid-19 pandemic as few have access to hand washing facilities 🧼

This increases the risk of spreading a virus that has already taken the lives of 29 bus drivers in London alone #WorldToiletDay pic.twitter.com/ze9SPbnred

— Shelly Asquith (@ShellyAsquith) November 19, 2020
Eric says that he too has resorted to urinating in a bottle on the job during the pandemic. "It's pretty embarrassing, but it's the way it is." He now avoids drinking at all during the working day to try and avoid such uncomfortable situations. Such behaviour is not uncommon, according to Scaife. They recall the case of one IWGB member and cycle courier, who was cycling up to 50 miles a day during the hottest period of last year without drinking any fluids, all so they didn't have to urinate in public. Workers are "putting their bod[ies] in danger," they argue. 
The situation is even worse for women, non-binary and trans delivery drivers, not only because it may be more difficult to discreetly urinate in public, but because they face heightened risk of physical attack whilst doing so. Many will also have to deal with menstruating on the job. Scaife recalls stories of members having to "change tampons behind bins"; while some have even resorted to skipping a whole week of work due to the difficulties of working on their period. 
'They think we are machines.'
Amazon and other companies are able to "skirt" responsibility for delivery drivers' working conditions by outsourcing the work to companies who keep workers self-employed, explains Scaife. 
Indeed, when contacted for comment, Amazon made sure to emphasise this outsourcing: "We are committed to ensuring that the people contracted by our independent delivery providers are fairly compensated and are treated with respect…" Though asked specifically about breaks and toilet access, Amazon's comment did not address these issues. 
"[Amazon] don't care," says Carl, "I think they think we are machines… they're using us, and it's true they're going to use drones to fly parcels." 
The corporation has now started sending alerts on its drivers' apps, reminding them to take a break as a result of "too many people complaining about the way that Amazon treats workers," explains Carl. But for him, this is an empty gesture, given the impossibility of finding time to take a break. "If you take a break of more than 10 or 15 minutes you might get a call, or you become so behind." It is obvious, he argues, that the app update is only because Amazon "don't want to get in trouble."
Eric agrees that the recent break notification update on the app is meaningless. "There's a running joke in the group chat about the app telling you to stop and eat," he says. 
Meanwhile, Carl feels discouraged about the prospect of better working conditions since "Amazon is so powerful." 
📢💪 WE ARE ORGANISING AMAZON FLEX WORKERS 📢💪

Our @IWGB_CLB branch voted to bring in Amazon Flex workers and to #MakeAmazonPay, supporting the global @ProgIntl campaign.

Quotes from @alexjkmarshall, @CourierGreg, @davidrkadler

— IWGB (@IWGBunion) December 15, 2020
All the workers who spoke to Novara Media agree that they would feel in a stronger position to demand better working conditions if Amazon did not outsource their jobs to companies, who keep them self-employed.
"I work for a company that's not Amazon but I've never delivered anything other than an Amazon parcel," says Eric. "I don't get holiday pay, I don't get sick pay, I have to rent the van."
In the face of mounting exploitation, an increasing number of delivery drivers are now joining unions. At the end of last year, following Progressive International's Black Friday boycott and strike against Amazon, IWGB's Couriers and Logistics branch voted to welcome Amazon Flex delivery workers to their ranks. 
"We don't shy away from challenging corporate giants," says Alex Marshall, IWGB president and former courier, "and we'll be empowering Amazon Flex workers to do just that." 
Scaife agrees."In an office would you be put in a position where you're unable to access toilet facilities? We need to be given the same basic rights [as] employees."
*Identifying details have been changed to protect anonymity.
Sophie K Rosa is a freelance journalist.