Paranoid Bosses Are Spying on Workers During the Pandemic
10 February 2021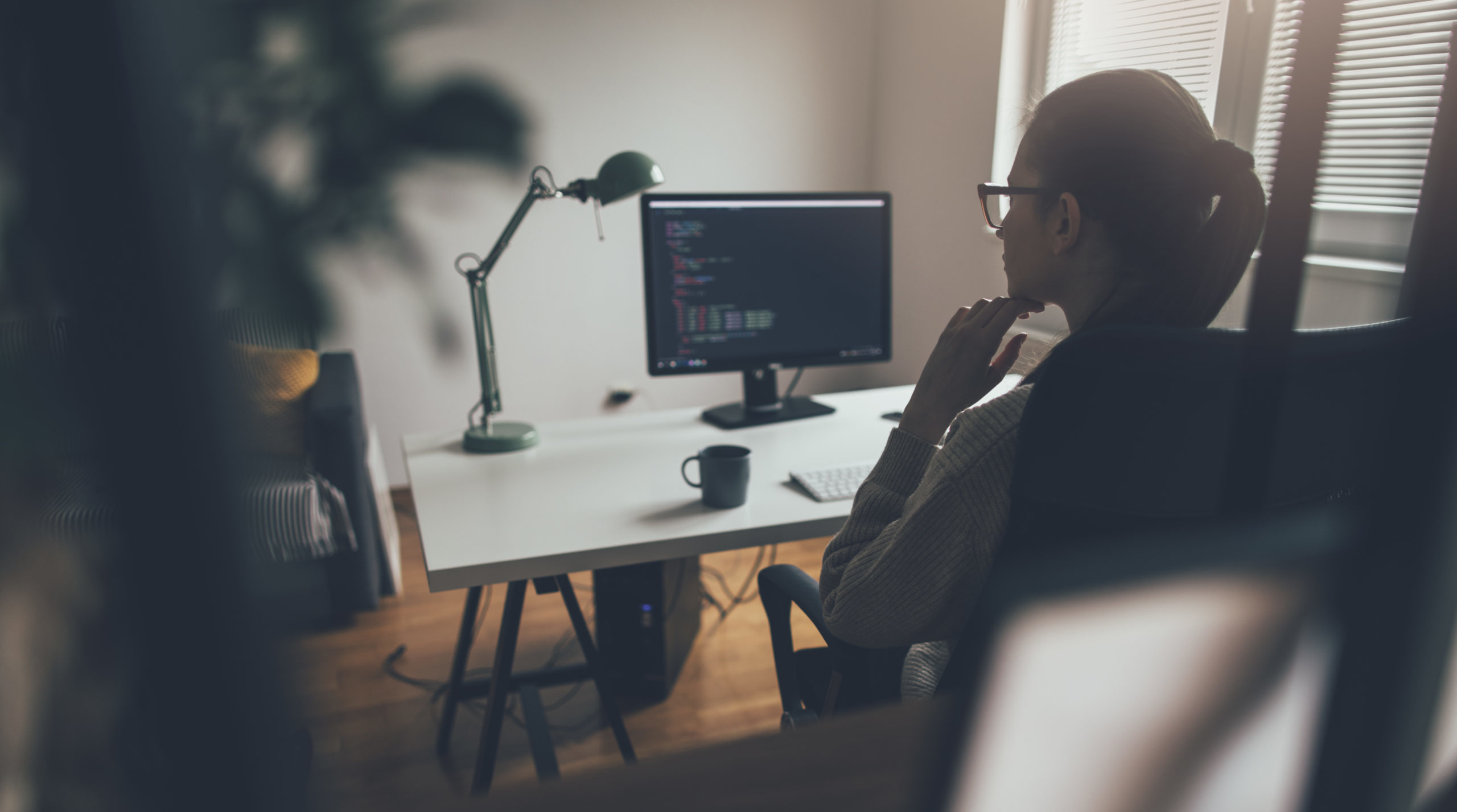 Adobe Stock
In October, Sam's work got a new phone system. It seemed like a sensible idea: Sam works in a client-facing role for a local authority, and the new system would mean he could make and receive calls without having to use his personal mobile while working from home. He was confused, though, by his managers' insistence that he remain logged into the system eight hours a day, five days a week. He didn't make many calls, and certainly didn't receive many; he reckons his whole team has received only one via the system since it was introduced.
What the system, a Microsoft-powered software called TouchPoint, does appear to be useful for is surveilling employees. Sam must account for every minute he spends away from his desk by using the phone system to record his breaks, as well as the reason for them. Depending on the reason, a countdown of varying lengths will start: if it's "Lunch", an hour; "Lunch (Short)", 30 minutes. If Sam wants a "Short Comfort Break" – in other words, to go to the toilet – he gets five minutes. There's also an option of a 10-minute "Support Break", though Sam isn't sure what this is for.
While the system imposes no limit on the number of breaks Sam can log, it is highly effective at enforcing self-discipline. "I sometimes feel a bit self-conscious," Sam tells Novara Media, "If I go to the toilet twice in the morning, I don't want to go again". (His fear recalls that of Amazon warehouse workers who reportedly urinate in bottles rather than take toilet breaks). When his grandparents passed away within a few months of each other last year and Sam went to clear out their house, he took his laptop with him, so he could stay logged in to the phone system.
A marked intensification.
Surveillance has long been a condition of labour. In her book Dark Matters: On the Surveillance of Blackness, Simone Brown traces the relationship between surveillance and labour in the US to chattel slavery, from the plantation overseers who ensured slaves adhered to a strict timetable, to the New York City "lantern laws" that obliged enslaved people to carry candles with them after dark. Meanwhile in Britain, the transition from workshop to factory production that characterised the Industrial Revolution was facilitating the surveillance of workers with technologies such as punch cards and panoptic architecture. By the twentieth century, French philosopher Michel Foucault had concluded that surveillance was symptomatic not just of the modern workplace, but of modernity itself.
Still, the past year has seen a marked intensification of employee surveillance, and for an obvious reason: the increased prevalence of home-working.
In 2019, the Office for National Statistics estimated that around 5% of workers worked from home. By April – shortly after the government mandated that everyone who could work from home, should – that proportion had multiplied to 49.2%. Though it had slid to around 21% by September after the government began broadcasting its "back to work" messaging. Even before the pandemic, 73% of Britons polled by the office multinational IWG said they believed working from home was the "new normal".
Despite workers reporting being equally productive from home, even with the pressures of the pandemic, their dispersal has heightened employers' paranoia, and led more and more to monitor their employees.
Much attention has been paid to the high-tech ways employers are doing this, the market for which is booming. However, the most common experience reported by workers to Novara Media is relatively low-tech: the expectation to be constantly online. Kirsten works in the Home Office: "When your Skype's not online, managers will be sending you messages asking why you're not. We don't even use Skype for our work." Michael tests videogames for a games publisher: "A while ago, my manager was on holiday. Suddenly I get a message from him saying, 'You're not on Slack'. I wasn't, because I was testing games."
For many workers, the anxiety this monitoring creates is more severe than when their bosses were actually breathing down their necks. "There's a strange thing where you are able to get away with not doing your job because there's no one directly there over your shoulder," says Michael. "But at the same time, you are constantly aware that at any moment, something could appear in your inbox or on Slack, and you might have to give an account of what you've been doing." Mariam, who until recently worked for an office provider and social enterprise, says that while she and her colleagues routinely snoozed their Slack notifications when in the office, "when we were working from home, it was viewed as suspicious".
Of course, blunt metrics such as time spent online or number of keystrokes performed offer perverse incentives. "At the end of the day I would go into the shared drive and edit a few documents just so they could see in the activity panel that I'd accessed them," says Mariam. "It was presenteeism to the highest degree, performing work rather than actually producing it."
Employers may be breaking the law.
While some surveillance products, like the TouchPoint system Sam uses, monitor users quite conspicuously, others, such as SpyAgent and WebWatcher, tout their covertness. In December, US-based software brand ActivTrak reportedly boasted of an "invisible agent" that could be installed on users' computers without their knowledge; at the time of writing, all reference to this had been removed from the company's website.
Jake, who works in customer relations for a popular athleisure brand, suspects similar spyware may be installed on his work computer. He recently began to notice that the screen blinks every hour, and believes his employer may be taking screengrabs in order to monitor his activity. If this is the case, it is illegal.
The law governing employee surveillance in the UK is relatively clear, but often ignored by employers. Under the Data Protection Act 2018, the UK's version of the EU's General Data Protection Regulation (GDPR), permits employers to surveil employees, but obliges them to explain what information they gather and why. Employers must also perform a privacy impact assessment (PIA) if surveillance is likely to seriously impinge on workers' private lives. Often, employers' approach is cavalier; they simply inform their employees that they are being monitored, if at all.
GDPR obliges employers to inform employees of the purposes to which their data will be put. This is not always the case: in September last year, Mariam's employers dismissed her, citing, among other things, her limited Slack activity. Mariam says she wasn't aware that such data might inform disciplinary action, and plans to take her case to tribunal.
Furthermore, many of the surveillance technologies currently being developed nominally for health and safety purposes – such as Amazon's new workplace AWS Panorama tool, which uses CCTV footage to spot employees that are breaking social distancing rules; the worker wristbands it patented in 2018, supposedly designed to prevent injury; or the video cameras the company plans to install in its delivery vans to spot risky behaviour – claim to be intended to improve health and safety, but may eventually be put to other uses.
If you or someone you know been spied on by your employer – it's probably illegal. We've heard of many cases where it's been used to unfairly abuse workers.

UTAW is working with legal minds and union reps to fight this so we can all enjoy better tech workplaces.

— UTAW (@UTAW_uk) January 21, 2021
If the coronavirus pandemic has made worker surveillance more prevalent, it has also made it harder to resist, says Aiha Nguyen, director of the Labor Futures Initiative at the Data & Society Research Institute in New York. From track and trace to temperature checks, we have grown accustomed to offering our intimate data to the powers that be: "I think it has normalised this idea that if you're trapped, you could be safer".
Even if we are disturbed by surveillance, however, our precarity may make us less likely to say so: "People feel like they cannot speak up," says Nguyen, "because so many have lost their jobs. This is not a great market for workers".
This partly explains why historically, the issue of worker surveillance has received relatively scant attention. Before the pandemic, those at its sharp end – Amazon "fulfilment associates" and Uber drivers – were low-paid and low-powered. Only now that surveillance has spread its tentacles into the homes of white-collar workers are we beginning to see more widespread concern. The flare-up in popular unease may also be to do with the fact that the primary site of surveillance is no longer the workplace itself, but our homes; the violation of our privacy feels more visceral.
This is not to say there has not been popular pushback against surveillance until now. For as long as surveillance has existed, so has what the Canadian engineer Steve Mann has called "sousveillance", the act of identifying and counteracting surveillance. In the cotton fields of the deep south, that meant slave songs warning of approaching patrols; in the home offices of locked-down workers, it might mean anti-surveillance software, or the kind of public pressure that has forced Zoom to deactivate attention-tracking and Microsoft to apologise for supplying "productivity scores".
One relatively dormant frontier of sousveillance has been the unions. While individual workers have certainly campaigned – and won – against prying bosses, rarely have they taken collective action. UTAW hopes to change that. Formed in September out of the Tech Workers Coalition, the United Tech and Allied Workers, a branch of the Communication Workers Union, represents workers in all tech workplaces. The branch is currently planning its first major campaign: employee surveillance.
Mark Storm, a UTAW spokesperson, tells Novara Media that most of the work of the campaign will be in ensuring employers fulfil their existing responsibilities, and that employees defend their existing rights. "We want to enforce protections workers have under the Data Protection Act 2018, and make them aware of legal guidance from the Information Commissioner's Office." Of course, in Brexit Britain, there is little guarantee of these rights themselves: "We all need to watch the government very closely for any potential post-Brexit deregulation, because any weakening of protections for workers under the DPA can lead to further abuse in this area." For now, however, UTAW will be fighting to uphold the DPA, "for better and fairer workplaces across the country".
Names have been changed.
Rivkah Brown is a commissioning editor and reporter at Novara Media. She is also the editor of Vashti.