Until He Starts Talking About Rent Caps, Keir Starmer Isn't Serious About Championing Business
For all his pro-business posturing, the Labour leader is ignoring one of the biggest issues most companies face.
26 February 2021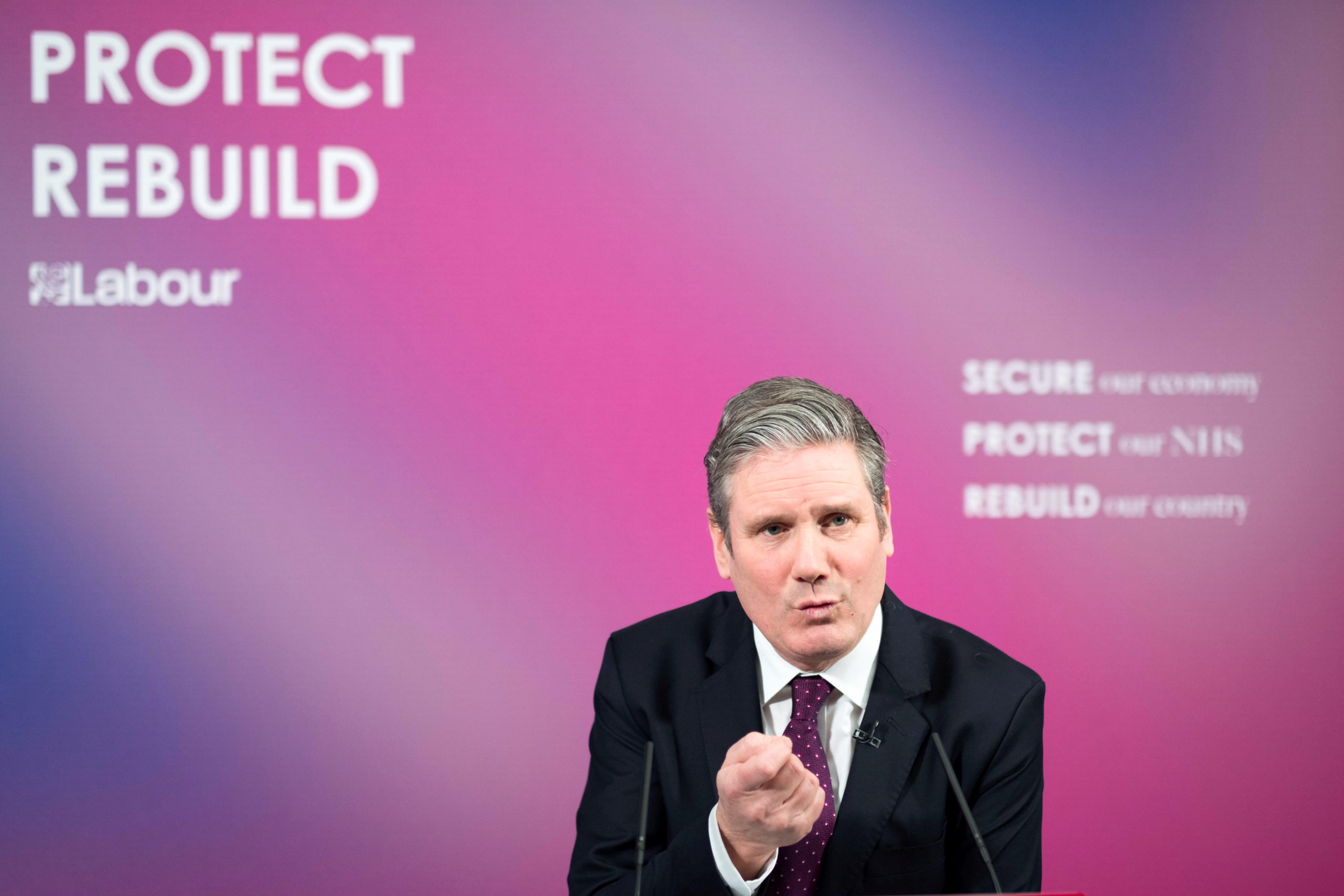 Stefan Rousseau/Reuters
Ahead of the 2005 general election, Virgin tycoon Richard Branson was asked on BBC Newsnight which of Britain's two leading parties would be better for business. "Arguably, it doesn't matter," he replied. "The difference between having a Labour government […] to having a Tory government has been fairly negligible".
Were a similar statement made by such a high profile magnate today, many around Keir Starmer would be delighted. While some on the left argue this kind of talk both lets the Tories define economic 'credibility' and allows billionaires to ventriloquise ordinary business owners, Starmer rejects such a binary, saying he wants both a meaningful break with "business as usual" while acknowledging this needs buy-in from the private sector. What's more, he believes he has a distinct offer from the Tories – even if it is premised on the assumption the government will return to the status quo ante at the first opportunity.
Last week, in a speech which was briefed as an intervention on a par with the Beveridge Report, Starmer spoke of a "new chapter for Britain". In a swipe at his predecessor, he lamented how Labour "has failed to realise that the only way to deliver social justice and equality is through a strong partnership with business." Rather than the private sector being an appendage to calls for social justice, he insisted "there's no vision of a future where Britain fulfils its potential in which business does not thrive".
Today, I will be setting out Labour's vision for a new chapter for Britain.

You can watch live here from 11am. https://t.co/Bs4uyzL3BX

— Keir Starmer (@Keir_Starmer) February 18, 2021
Such statements leave so much open to interpretation as to be meaningless. After all, socialism isn't about bankrupting businesses, but changing the relationship of their workers to the value, and therefore profits, they help create. By what metric will thriving businesses be measured? Higher profits? Shareholder dividends? Wage increases?
But the intention of Starmer's speech wasn't precision, or intellectual heavy-lifting. Rather its purpose was to prime business lobby groups such as the Confederation of British Industry – in other words, to capture the attention of those who backed austerity and advocated an economic common sense which left Britain poorer and less productive than it otherwise would have been. For all the rhetoric, its policy commitments were lightweight: a proposed extension of business rate relief and a VAT cut for hospitality and leisure, easing the burden of debt on businesses (particularly as lockdown ends); extending and updating the furlough scheme; and providing start-up loans for 100,000 new businesses across the UK.
Yet Starmer's proposals are less a break with the policies of his predecessors, and more their dilution. In 2019, Labour already argued for business rate reform while promising to support companies that were otherwise unable to get credit through a network of regional investment banks. Alongside this, former shadow chancellor John McDonnell outlined a "Post Bank" to provide "relationship banking" with businesses, as well as a "business development agency" to act as a one-stop-shop for support. Precisely what Starmer rejects from such proposals, as well as others within the former Labour leadership's '20 Pledges to Business', is unclear.
Labour understands the irreversible damage late payments can do to a business. We have a plan to end this. Here are our 20 pledges for business 👇https://t.co/ubeUjPX5sa pic.twitter.com/jgWLZhz3Zs

— The Labour Party (@UKLabour) December 9, 2019
The truth is that Starmer's much-publicised rupture with his predecessors on business is entirely cosmetic. His principal objective last week wasn't to address the challenges thousands of businesses actually face, but one of spin.
This is underscored by the fact Starmer, and indeed the rest of his shadow cabinet, habitually ignore one of the biggest issues facing most businesses, namely high rents. This is an issue felt most keenly by small and medium sized enterprises – particularly during the pandemic. Last October, the Financial Times found only 13% of companies paid their rent on time – which is no surprise given that unlike deferring tax payments, not to mention accessing loans and the furlough scheme, this process had been left to ad hoc negotiations between landlords and tenants. In practice, this has meant many larger multinationals have negotiated deals while smaller businesses have not.
This was confirmed in a poll by the Federation for Small Business last year which found that 68% of Scottish businesses were forced to pay rent as normal throughout the pandemic, with only about a quarter of firms able to negotiate a compromise. Even a company as large as Brewdog, which enjoyed a turnover of £214m in 2019, claimed only 10% of the 60 landlords it worked with were willing to negotiate on rent payments. Here Labour would benefit from distinguishing between small businesses, relatively larger businesses like the Scottish brewer, and powerful multinationals. It would also do well to differentiate between rent-seeking behaviour and those businesses that create value – a distinction which is hardly radical given it was made 250 years ago by Adam Smith. Sadly, it appears economic 'credibility' means not understanding the nuances grasped by the godfather of political economy or, for that matter, John Maynard Keynes.
High rents are a particularly big issue in retail, which was in crisis long before the pandemic. In 2018, the sector shed 150,000 jobs – a figure which fell only slightly to 140,000 a year later. Even before Covid-19, 2019 was described as the toughest year on record for Britain's high streets. A number of factors were behind this, of course – particularly the challenges posed by online shopping. Yet when I spoke to independent retailers in Portsmouth and Bournemouth last year, I repeatedly heard the same thing: rent, as well as business rates, was a major problem.
Has Starmer's Labour said anything about commercial rents, either in the context of the pandemic or beyond? Other than supporting the government's ban on bailiff evictions, which runs until late February in England, the answer is no. In its 2019 manifesto, however, Labour promised to introduce rent controls for private tenants and vowed to put "bad landlords out of business." Meanwhile, Sadiq Khan has said rent controls are a priority ahead of seeking re-election as London Mayor. One might have expected such policies and rhetoric to extend to commercial rents too given the last twelve months, but instead the party at a national level is silent on the issue. As with so much under Starmer's leadership, this absence of policy – and by extension strategy – is presented as a plan. This is particularly galling when it comes to high rents, as this is one area where many businesses and workers do in fact share a common interest.
Rather than addressing the challenges most companies face, people who have never started a business – like Keir Starmer – think wearing a nice suit, applying a handful of Brylcreem and being to the right of the Tories on corporation tax is enough. But soundbites help nobody, and meaningful interventions would have included rent caps alongside business rate reform. Alas, for the former barrister, something of such political substance is presumably too controversial.
Aaron Bastani is a Novara Media contributing editor and co-founder.