The Women Who Can't Strike Today Are Exactly Why We Must
'Striking is a way to make our presence known and absence felt.'
by Sophie K Rosa
8 March 2021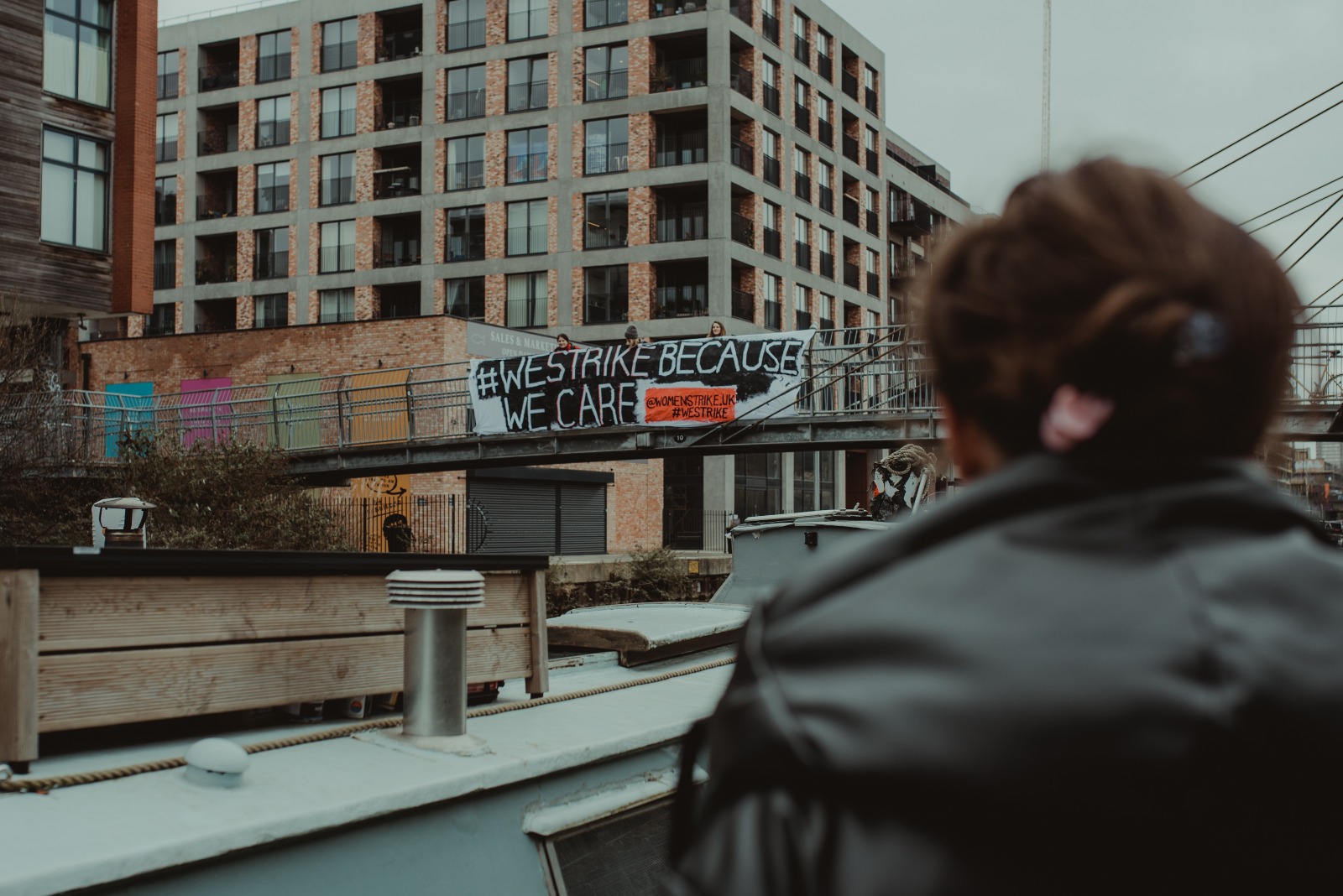 Karolina Wielocha
By refusing "all reproductive work – the cleaning, the cooking, the emotional and sexual labour" that is expected of her on 8 March, Martina hopes to force those around her to acknowledge the invisible yet vital work that women are disproportionately expected to perform.
Meanwhile, sex worker Dorothy is refusing paid work for the day. "Striking is a way to make our presence known and absence felt," she tells Novara Media.
The International Women's Strike encourages women and non-binary people to refuse all labour – whether paid or unpaid – on 8 March. In doing so it aims to make it impossible to deny or ignore the undervalued and often exploitative work that women are forced do in society. By striking, organiser's hope women can undermine the capitalism system that relies on their labour in order to function, resisting the patriarchal exploitation and violence that are inherent to it.
Before the pandemic, huge demonstrations and direct actions were held annually on 8 March in the UK and globally. In 2019, thousands descended on the Bank of England in London in a march led by sex workers, demanding a feminist future for the 99%. Last year, feminists filled Oxford Street, staging a mass clothes swap, and performing the Chilean feminist protest chant 'un violador en tu camino' ('a rapist in your path') which demands an end to systemic and state violence against women.
HAPPENING NOW: Hundreds of feminists perform "A Rapist in Your Path" on Oxford Street in London! We join millions across the world who are striking for a future free from violence against women. ⚡️#WomenStrike #WeStrike #8M #IWD pic.twitter.com/XQ2MX1YLS9

— Women's Strike Assembly (@Women_Strike) March 8, 2020

This year, organising Women's Strike actions has been more challenging than in the past – not just because of lockdown restrictions, but because women are even more exhausted than normal. "[2021 has been] very, very different for us," Esther – who has been organising with the Women's Strike Assembly in London for two and a half years – told Novara Media, "not least because lots of the women involved in organising have huge amounts of care responsibilities that have really come back into the home this year".
Nevertheless, members of the Women's Strike Assembly have organised local, Covid-safe actions across the country. Public memorials are being held today in London, Liverpool, Bristol, Nottingham, Plymouth and Edinburgh, with passers-by encouraged to leave flowers and messages, and to light candles for the hundreds of thousands of women who have died this year as a result of having to work throughout the pandemic.
Esther, who is taking part in a public memorial at Hackney Town Hall in east London, says the action "felt needed," because we have had so few opportunities to "grieve publicly and be angry publicly" over the last year. "There's been no public mourning really, other than for the single figure of Captain Tom, who somehow has become the proxy for all grief," she says, worrying that this is both harmful – to individuals and to society – and a missed opportunity for organising. "The politicisation of grief and the politicisation of the 100,000 people who have died [from Covid] is really central to a feminist politics of care".
Ana is one of millions of women worldwide who have endured "brutal" conditions over the past year, while locked down with their abusers. Domestic violence increased so much during lockdown that the United Nations described it as a 'shadow pandemic'. In the UK, domestic violence-related crimes rose by 20% during the first national lockdown. Unlike many others, Ana was able to escape, with the support of her friends and comrades."Without my sisters, I would not have been able to survive," she says.
In order to attend the memorial, Ana is on strike from her precarious employment in education – but also from her voluntary community support work. She will attend a memorial in Nottingham, to stand in solidarity with all those who have experienced domestic violence under lockdown.
During the pandemic and before, mutual aid, solidarity street kitchens and community support projects were mostly led by women. The Women's Strike slogan – 'on strike because we care' – captures the importance of refusing all work, including – even especially – vital work that is commonly perceived as a 'labour of love'; it is only by doing this that the entirety of women's labour becomes visible, showing that 'when we stop, the world stops', and strengthening women's hand in demanding recognition for the work they do, equitable remuneration and an end to violence.
Today #WeStrike because our lives and labour have kept the world turning! #WeStrike because we can't afford not to! #WeStrike because we care! ❤️ @Women_Strike pic.twitter.com/vXoR0Sghu7

— Esther Grace (@esthergld) March 8, 2021
While organising has been more difficult this year, Ana believes the pandemic has "fuelled women's desire to strike – to change everything". Covid-19 has both intensified and exposed the burdens of frontline work and unpaid domestic labour, she points out, both of which are disproportionately shouldered by women.
Almost 60% of all key workers during the pandemic were women. Women made up 81% of all childcare and education workers, and 79% of those working in health and social care.
"This crisis has shown us that the people that are keeping us alive are the people who are in essential jobs, [mostly] in caring jobs," says Susy, who is striking in Bristol. "So it's basically poor people, migrants, women, who have kept us alive – working in care homes, working at the tills of the supermarket, cleaning our streets, looking after the children of [other] key workers in schools and in nurseries."
Research by Autonomy last year showed that 77% of workers in high-risk positions during the pandemic were women, rising to 98% of those paid poverty wages. Childcare workers, who have been forced to work throughout the lockdowns, have begun organising and unionising in response to their conditions.
On top of bearing the brunt of frontline, caring work during the pandemic, women have faced increased workloads at home, where the already unfair burden of unpaid domestic and caring labour has increased.
"Many of us women have been engaged in what I call the 'triple shift'," says Susy – of paid work, domestic work and homeschooling their children. "So many women are at breaking point," she says, "and many mothers have left their jobs as a result, because they just couldn't cope… We're talking about women working an average of 16 hours per day". In Susy's case, her partner will take on all domestic labour and childcare on Monday – including teaching their 11- and 13-year old boys "how to make a bathroom absolutely spotless".
By increasing the work expected of women, Ana says, the pandemic "highlights the impossibility of the strike" – as well as why it is so important.
✊🏾It's International Women's Day✊🏻

CYBERTEASE is sending solidarity and love to all our women and non-binary siblings today. Whether you're able to strike or not, we hope today plants some seeds of revolution inside you. #IWD #IWD2021 #SWstrike #WeStrike pic.twitter.com/HqDGJop2i9

— CYBERTEASE (@Cybertease_) March 8, 2021
Koshka, who is on strike in Nottingham, says women "who don't fit into the model of 1950s white American suburbia", have suffered in particular this year. Women who are not in monogamous domestic relationships, she points out, have been treated – even more than usual – like "a danger to public health". The moralism that has been directed towards women living "outside or in tension with" conventional heteronormativity – for example, because they depend upon non-traditional relationships for support or upon public space because they lack space at home – "has legitimised and emboldened a pre-existing misogynistic fear and hatred towards [these] women".
As a group with extensive experience of discrimination and misogynistic violence, sex workers like Dorothy have historically played a key role in women's strike. "I am striking against UK laws which make it impossible to legally work safely in our industry," Dorothy says, pointing to the "police and client violence [which] disproportionately affect[s] migrants, women of colour, street-based workers and trans women". The pandemic has seen many more women enter sex work, but "stigma and danger keep us relatively obscured," she says.
Martina, who will be at a memorial in Brixton today with a group of Latin American feminists, also points to the disproportionate harm the handling of the pandemic has caused to marginalised groups and in particular migrant communities. "There have been too many preventable deaths from Covid-19, most of which were of working-class and vulnerable people," she told Novara Media. "Migrant and racialised communities, who constitute a large part of the informal economy […] have suffered severe health and economic consequences". Half of the "Latinx community in the UK is out of work," she adds, "and the distribution of vaccines […] between 'rich' and 'poor' countries has been outright racist and classist". Intersectionality, she argues, is vital to "building a fairer feminist society".
Nottingham's public memorial will be held outside a police station "in order to bring out the role of the police in enforcing – always in a racialised and classed way – the conditions of vulnerability to gendered violence," Koshka explains. "We want our strike to highlight the importance of an abolitionist stance towards policing, including border policing," she says, by "thinking about [how] the criminalisation of sex work, the criminalisation of migration, the criminalisation of poverty, produce conditions of vulnerability to state violence [and to] other forms of gendered violence".
Happy International Women's Strike day!

Today, millions of women across the world are striking from their paid and unpaid labour 👥✊🔥

In UK, we're holding feminist memorials across the country and digitally – some pics from our prep. More info in next tweet #WeStrike pic.twitter.com/spg0rWEqeX

— Women's Strike Assembly (@Women_Strike) March 8, 2021
As well as organising public memorials across the country, Women's Strike Assembly has asked people to "weave a thread of feminist resistance" by tying red fabric in public places, or by lighting candles and writing messages at home and uploading pictures to social media with the hashtags #WeStrike and #8m. The Assembly is also calling upon people to wear red, the colour of feminist resistance, and to send flowers and red ribbons to women as an act of solidarity and support.
Generally, hundreds of thousands of women strike in Latin America and in Spain on International Women's Day, but in the UK, Martina says, the movement has struggled to gain traction and visibility. "It takes so much for the people of Britain to wake up and fight for their rights". Perhaps this year, she says, the public memorials will strike a particular chord, moving people to "inhabit the pain and anger that this pandemic brought with it, [and ultimately] bring us together into a common building of hope."
"We want to revolutionise our lives," she says, "[to] take action, weave alliances, [build] networks and communities to tear down the systems that oppress us".
Sophie K Rosa is a freelance journalist. In addition to Novara Media, she writes for the Guardian, VICE, Open Democracy, CNN, Al Jazeera and Buzzfeed.
*Some names have been changed