Even Without the 'Vaccine Bounce', Boris Johnson Would Still Be Winning
The pandemic has shown just how much the prime minister is able to get away with.
23 March 2021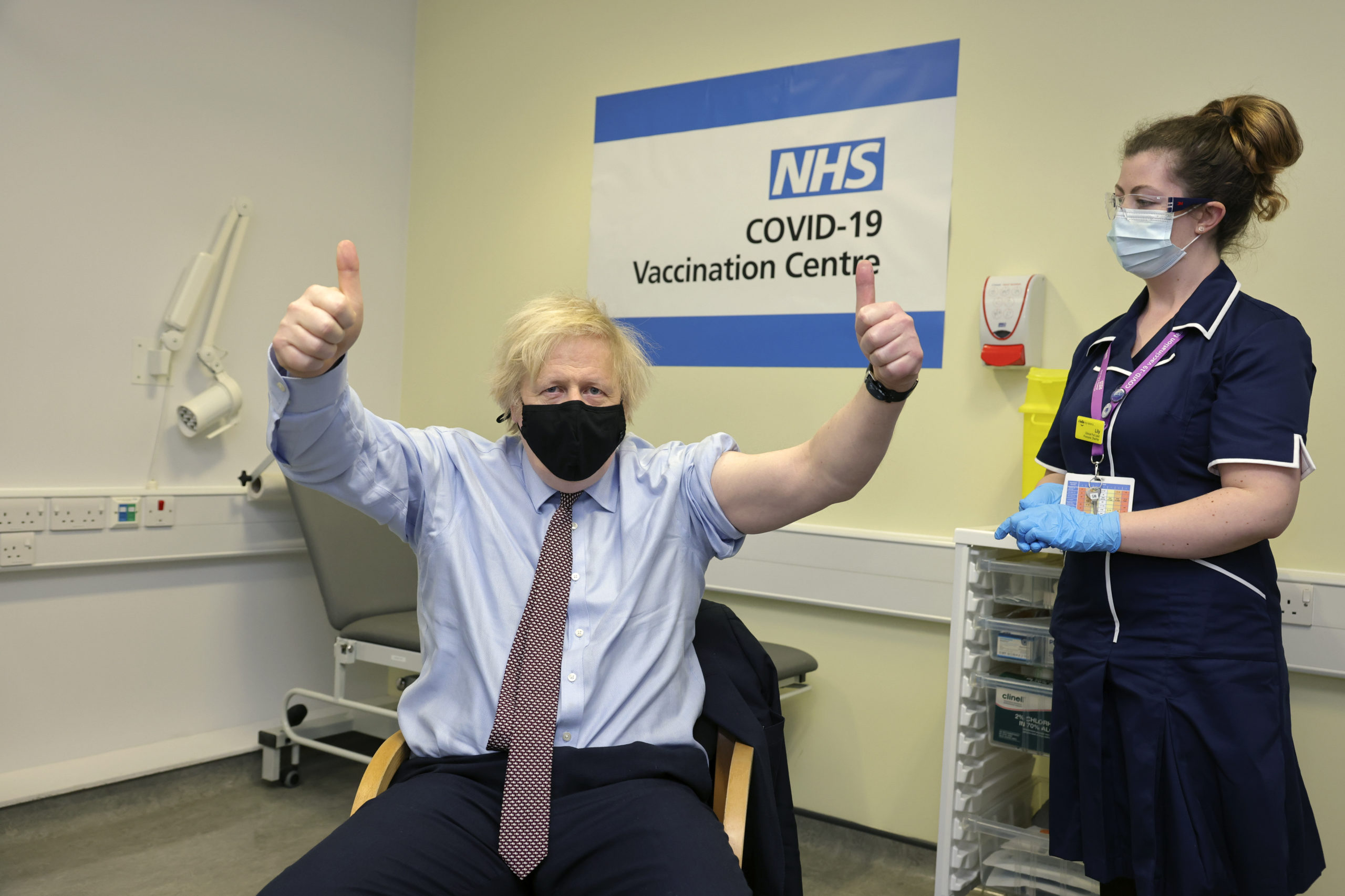 Boris Johnson has the AstraZeneca vaccine. (Andrew Parsons / No 10 Downing Street)
In January 2016, at a campaign rally in Iowa during the Republican primaries, Donald Trump made a now infamous boast about how strong his support base was. "I could stand in the middle of 5th Avenue and shoot somebody and I wouldn't lose voters," he declared.
The claim was dark and outlandish, and fortunately remained untested. But as Trump went on to win not just the Republican candidacy but the US presidency, it hung awkwardly in the air. Given how many scandals he survived, his claim posed the question: if you brag about breaking rules, make no claim to moral virtue or professional competence, and even seem to relish legal and ethical transgressions, can anything ever bring you down?
Amid the Conservative party's catastrophic mishandling of the Covid-19 pandemic, the question can also be asked of Britain's prime minister, Boris Johnson. With over 125,000 lives lost to the virus so far, Johnson has led Britain to one of the highest death rates per capita in the world, the second-worst economic forecasts in the OECD, and the third strictest lockdown globally. Johnson has said throughout the pandemic that compromises must be made between safety, liberty and economic prosperity. Under his leadership, Britain has failed on every front: more lives lost, longer lockdowns, and a steeper economic decline.
But just as with Trump's 5th Avenue fantasy, Johnson's bungling of the pandemic hasn't lost him voters. In fact, he's gained new ones. After falling level with Labour in the polls in August, the Conservatives have been stretching ahead of them since Christmas. Between November and January, when Britain's death toll doubled, surpassing 100,000 deaths on 26 January, Johnson's net approval rating rose by around 10 percentage points. What's going on?
Johnson has always had a reputation for not only surviving career-ending controversies but actively thriving off them, earning nicknames like "Teflon Johnson" or, less flatteringly, "the greased piglet".  Like a stand-up comic, he happily turns personal failings into punchlines, boosting his brand. On a trip to Washington DC in 2018, he was asked to name his biggest career mistake. "My strategy is to litter my career with so many decoy mistakes, nobody knows which one to attack," he replied.
Johnson's Covid-19 strategy could almost be drawn from the same playbook: he has made so many mistakes that it's hard to focus on one. Yet even he knows that, during a pandemic, his errors can't be laughed off as easily. His decisions and mistakes are matters of life and death, with clear and obvious consequences.
If Johnson had locked down in line with other European countries last March, for example, rather than erroneously claiming such a move went "against the freedom-loving instincts of the British people," about half of the 40,000 Covid deaths Britain had suffered by June would have been saved, according to one estimate. Johnson repeated the same mistakes throughout the course of the pandemic, with a recent study by the Resolution Foundation claiming that the delayed winter lockdown led to up to 27,000 extra deaths. 
The BMJ has suggested that such cavalier mismanagement of a pandemic could constitute a form of "social murder". Its executive editor, Kamran Abbasi, put it bluntly: "When politicians and experts say that they are willing to allow tens of thousands of premature deaths for the sake of population immunity or in the hope of propping up the economy, is that not premeditated and reckless indifference to human life? If policy failures lead to recurrent and mistimed lockdowns, who is responsible for the resulting non-Covid excess deaths?"
There is ample evidence to find Johnson guilty on both fronts: he tried to put the economy above people's lives (only to learn that this was a false equivalence, as Britain's high death-toll and dire economic straits attest), and he made errors that have taken Britain into repeated and longer lockdowns (borne, ironically and tragically, out of a performative opposition to lockdowns). But the requisite trial does not seem forthcoming. Johnson's abysmal record is currently offset by an unassailable reputation.
One of the most popular explanations for this jarring dissonance is Britain's sudden vaccine success. Nowhere else in Europe has inoculated more of its citizens, and Johnson is supposedly reaping the rewards. But while the vaccine has no doubt put a spring in his step, this interpretation misses the mark. Johnson's standing was strong before Britain's rollout began and, except for a brief window in September, his leadership was never in doubt.
The vaccine explanation side-steps a less palatable truth: that Johnson would have survived his government's catastrophic mishandling of the pandemic in any case. The Covid-19 crisis has proved less effective as a test of Johnson's leadership skills – no one needed more proof they were lacking – than as a test of just how much he can get away with. The Conservatives will be delighted with the results.
Johnson isn't the only rightwing leader to find himself in this position. Increased political polarisation worldwide, stoked by deepening economic inequality, means many voters are ready to give their party leaders a clean pass no matter what they do. Even Trump, who was arguably more cavalier about the pandemic than Johnson, added an extra 10 million votes between his presidential victory in 2016 and his defeat in 2020 – and those votes were often concentrated in places where the rate of infection was highest.
But Johnson's standing is also bolstered by uniquely British factors. The Tory press, which dominates Britain's media landscape, has not only failed to hold him to account – they have failed to even try. "No prime minister has ever received the drooling adulation that Johnson enjoys from the Telegraph, the Mail, the Sun and the Express," Ferdinand Mount, the former head of Margaret Thatcher's policy unit, wrote in July 2020. These newspapers – joined more often than not by The Times and the Evening Standard – have only grown more drivelling since.
Nor is Johnson's handling of the pandemic the first time this Tory government can be accused of social murder. A study in 2017 linked the government's austerity agenda since 2010 to 120,000 deaths. The same year, the fire at Grenfell – caused in no small part by the Conservative party's proud "bonfire" of health and safety regulations and its hollowing out of local authorities – claimed 72 lives. But so long as the dots aren't drawn – so long as those tasked with scrutinising the government are content as accomplices – then there will be no repercussions or remorse, because there will be no clear wrongdoing. The greasy piglet will continue to slip out of scandals.
It is often said that Boris Johnson defies "the usual rules of political gravity". In truth, Johnson embodies the closest thing British politics has to a law of gravity: an alumnus of Eton and Oxford who joined the Conservative party and became prime minister. The British press has a vested interest in drumming up Johnson's unique gravity-defying abilities: it exonerates their failure – or worse, their lack of desire – to hold him to account.
Samuel Earle is a writer based in London. His work has appeared in the Guardian, the New York Times, the London Review Books and elsewhere.
This column is the first in a new series on the Tories and how they hold on to power.