Imagine Starmer is Polling Badly. Now Times That by Ten
The data doesn't look bad – it looks terrible.
31 March 2021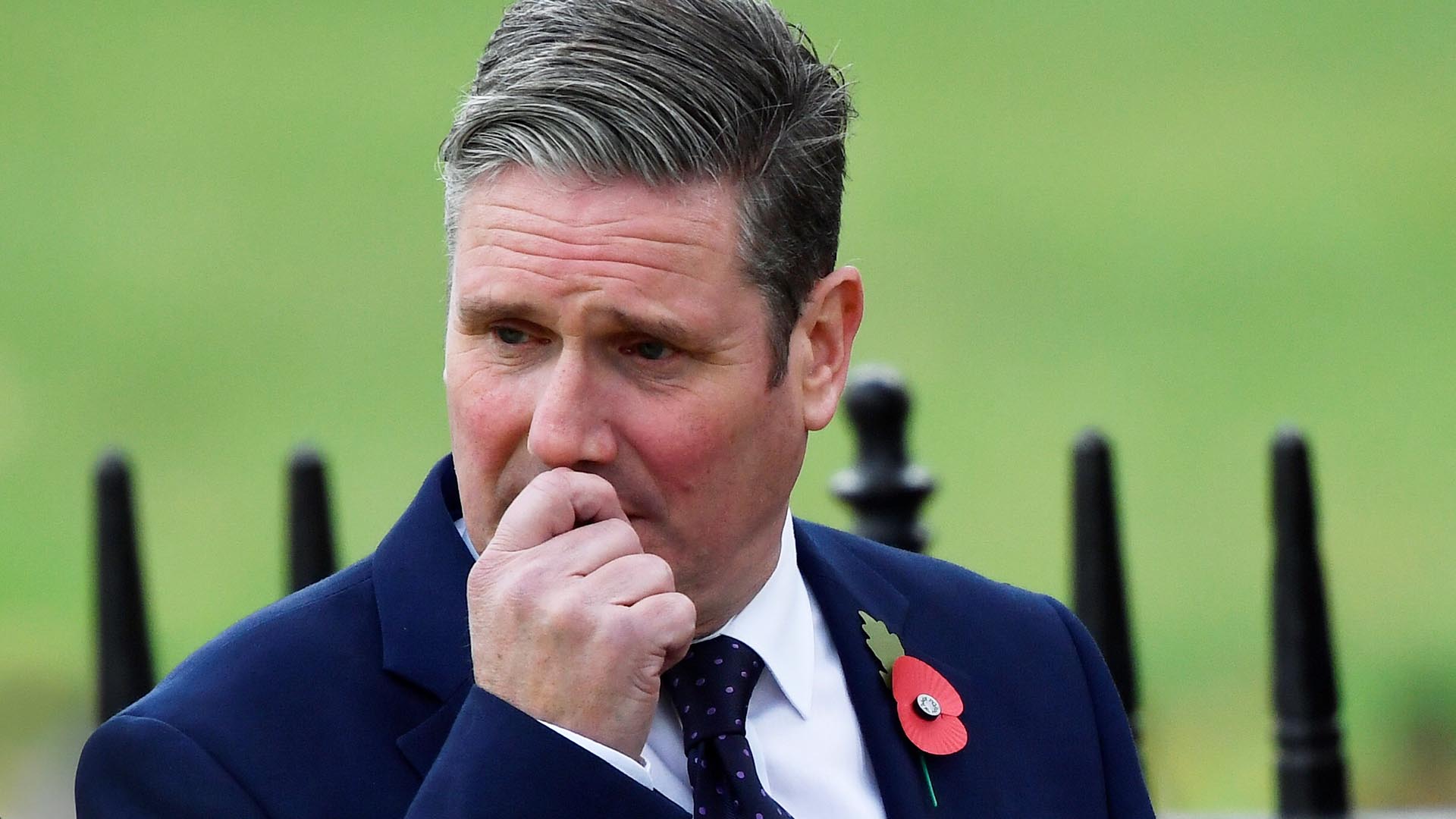 Even before he became leader of the Labour party, one of the main arguments made by supporters of Keir Starmer was that he would be far more likely to win the next election. Former Labour MP Jenny Chapman argued that she was voting for Starmer because "we need a Labour party that can win elections"; writing in the Independent, journalist James Moore argued "he looks the part"; Bristol West MP Thangam Debbonaire endorsed Starmer because "we have to win elections". Yet a year into his leadership, Labour remains far behind in the polls, Starmer's approval ratings have collapsed, and Labour voters are increasingly ambivalent about their leader.
Yet many Starmer supporters continue to argue that he is doing excellently in opinion polls. They argue that he is more popular than Labour, that he's ahead in Best PM polling, that he has a great net rating amongst Labour voters and that his net approval ratings are generally positive. It may have been the case that Starmer was popular several months ago – but is that still the case?
With that in mind, let's examine the most common arguments made by Starmer supporters as to why he's doing well in the polls.
1. Starmer has brilliant approval ratings
Starmer's supporters will often acknowledge that the Labour party is behind in the polls, but many will then point to Starmer's approval ratings and argue that they are better than previous leaders'. Those approval ratings, however, are not looking good for Starmer – and they're getting worse.
In March 2021, Keir Starmer's average net approval rating (the gap between his approve and disapprove percentage) fell into negative territory for the first time. Having risen to +19 in June (41% approve, 22% disapprove), Keir's net rating is now -2 (31% approve, 33% disapprove).

One key reason for this is that Tory voters have turned against him: having achieved a relatively good net approval rating of -6 with 2019 Conservative voters in June 2020, Starmer's net rating with those voters has now fallen to an average of -26.

Notably, the number of voters with no opinion of Starmer has barely changed. In June 2020, 37% of voters had no opinion of the Labour leader; in March 2021, this figure is 35%. In other words, the main response to Starmer from voters continues to simply be "meh" – more voters said "don't know" or "neither" in March (35%) than approved (31%) or disapproved (33%). The Labour leader's bland personality and refusal to take clear stances on policy has resulted in an electorate that – a year into his leadership – doesn't have any strong feelings about him.
This stands in contrast to Boris Johnson, a man that lots of people have very strong feelings about one way or the other. And unfortunately for Keir, it seems that Johnson's 'marmite' approach is working. In March, Boris Johnson's net approval rating rose to +3, meaning that the PM now has a better net approval rating than Keir Starmer for the first time since April 2020.

2. Starmer is ahead in best PM polling
When Starmer was running for leader, many of his supporters expressed how important it was that he looked like a prime-minister-in-waiting. "For the first time in ten years we've got a leader who looks like a prime minister," said one Labour MP after his election. And indeed, in the latter months of 2020, Starmer performed impressively in polls that asked voters who would make the best prime minister. Having started 24 points behind Johnson in April, he rose to be 1 point ahead on average by September.
Going into 2021, Starmer supporters continued to argue that Starmer was ahead in best PM polling. But his support has declined significantly. From being 1 point ahead in September, support for Starmer has collapsed, and he is now 14 points behind Johnson (on average) in best PM polling. This is Johnson's biggest lead since April last year.

What's driving this surge? Well, Johnson's support amongst Tory voters has risen: the percentage of Tory voters who think he'd be the Best PM has risen from 68% in September to 77% (+11), with the number support Starmer falling by 4 points.

But at the same time, Starmer has been losing Labour voters to both Johnson and 'don't know' in more-or-less equal measure. In September (when Starmer was ahead on average), he was polling 70% amongst people who voted Labour in 2019; by March, that had fallen to 59% (-11). 15% of 2019 Labour voters now think Johnson would be best (+6 points), whilst 26% said don't know or neither (+5).

Even more disastrously, voters simply don't agree that Starmer looks like a Prime Minister. When asked if Starmer looks like a prime-minister-in-waiting, just 25% of voters agree; 52% disagree.
This net rating of -27 is a poor performance in its own right, but compared to his +8 net rating in June last year, it's a disaster. Amongst voters in the north, his net rating is -30.

In short, whilst Starmer was level with Johnson in Best PM polling late last year, he's now further behind than Jeremy Corbyn was in December 2019. Voters don't think that he looks like a PM, they don't think that he'd make the best PM, and the voting intention polls suggest that they don't want him to be PM. Even if any Labour MPs still think Starmer's a would-be prime minister, the public doesn't.
3. Starmer is more popular than Labour
One of the most enduring and widespread myths regarding Starmer is that he is popular, but the Labour party he leads is not. Tom Hamilton, a former Head of Research for Labour, argued in March that "Keir Starmer's personal ratings are ahead of his party's".
But here's the thing: Starmer isn't more popular than Labour. In fact, he's increasingly less popular.
In March 2021, Labour averaged 36% in polls (7 points behind the Conservatives). Starmer, meanwhile, polled just 28% in best Prime Minister polling (14 points behind Johnson), and just 31% of voters approved of his performance (43% approved of Johnson's).

Whilst Johnson and the Conservatives poll roughly the same as each other (42-43%), Starmer polls well below Labour. Not only this, but Johnson's lead over Starmer (14 points) is twice the size of the Tories' over Labour (7 points). Keir is not more popular than his party – quite the opposite.
4. Labour voters overwhelmingly approve of Starmer
As we saw in the previous section, 59% of Labour voters think that Starmer would make the Best PM. You'd therefore expect Starmer to be quite popular with Labour voters in terms of approval – and last year, he was. Starmer supporters still point to polls where his approval is high.
But as with all polling data, it's important to look at the averages. In March, Starmer's average approval rating amongst 2019 Labour voters fell to less than 50% for the very first time. 49% approved of him (-4), whilst 24% disapproved (+3), a net rating of +25. While still positive, this is an enormous drop from the net rating that he enjoyed in May (+50) and June (+58) of 2020.
Labour voters initially warmed to Keir, but it is notable that following the controversy over Jeremy Corbyn's suspension in October, Starmer's approval ratings amongst Labour voters began to sink, and have continued on a downward trajectory ever since.

Conclusion
In summary:
Starmer (31% approval) is less popular than Labour (36% in polls)
He's 14 points behind in Best PM polling
His approval with Labour voters has collapsed from 66% (June) to 49% (March)
His overall approval rating has fallen into negative territory (-2)
His leadership ratings in other areas have collapsed.
Far from being 20 points ahead, after nearly a year of Starmer's leadership, Labour is 7 points behind, while polls suggest that the Tories have a high chance of winning the once-safe Labour seat of Hartlepool in May's by-election. This, despite everything that has happened this year, and Starmer's strong start amongst voters (Labour voters in particular). Starmer's fence-sitting strategy has backfired. His popularity is lower than it has ever been, his party is close to losing a seat that it has held since the 1930s, and voters would rather have Boris Johnson as PM than him.
As we head into the local, devolved and regional elections in May, Keir Starmer's popularity has never been lower. The question is: can Starmer turn this around?
It may be an unpopular opinion, but I think he can. But doing so will require actual ideas, which – judging by his recent empty "policy blitz" – Starmer doesn't seem to have. All hope is not lost, however: many of the ideas proposed by Jeremy Corbyn in 2019 remain overwhelmingly popular, and Starmer backing them now could help boost his (and his party's) popularity ahead of May.
The three most successful Labour politicians in the UK have all taken clear stances on various issues: mayor Andy Burnham has brought Manchester's buses into public ownership; first minister Drakeford has nationalised Welsh railways; while London mayor Sadiq Khan has recently launched a job creation scheme. It's time for Starmer to do the same.
Ell Folan is the founder of Stats for Lefties. This is their first of a fortnightly column for Novara Media.