So Far, the Tories' 'Green Industrial Revolution' Is Pure PR. This Year They Have an Opportunity to Change That
COP26 could be an opportunity to finally walk the talk - or not.
6 April 2021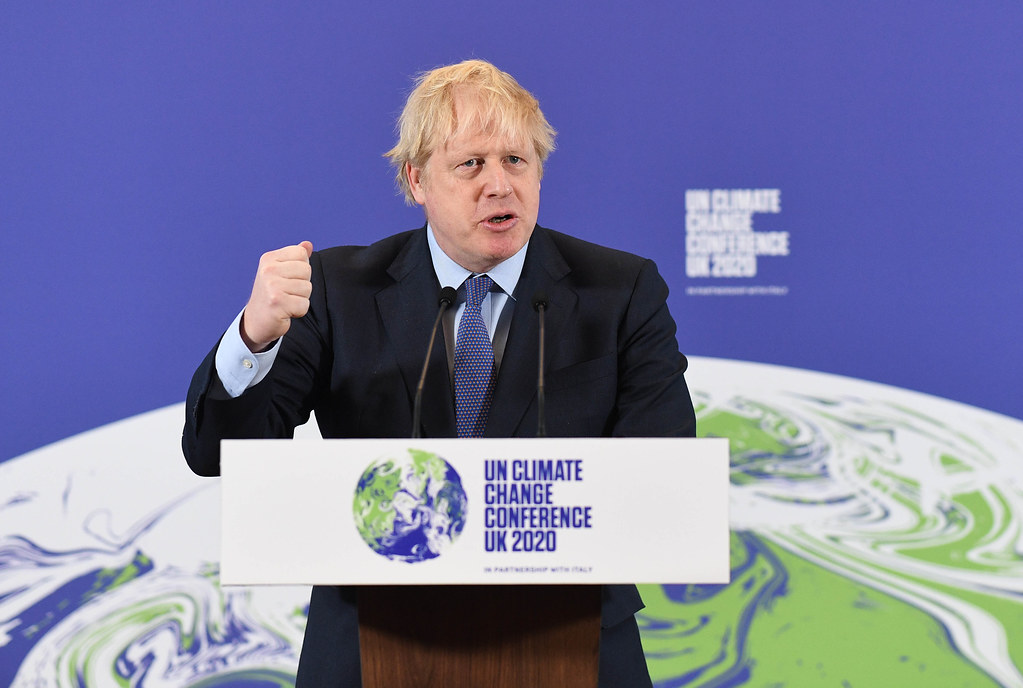 Andrew Parsons / No10 Downing Street
In November, the UK will host the 26th UN Climate Change Conference, COP26 in Glasgow. Delayed by 12 months due to the pandemic, COP26 will be the first comprehensive effort to assess progress since the Paris conference in 2015, which set the first national targets for carbon dioxide emissions reductions agreed across the globe. Hailed as a breakthrough at the time, the perceived success of the Paris Agreement has set a high bar for subsequent agreements. But with Boris Johnson's government keen to burnish its green credentials, Glasgow is set to become an important focus for domestic political activity.
The international picture has shifted markedly since 2015, driven by two factors. The first is a shift in climate diplomacy. In October, Chinese President Xi Jinping announced a unilateral net-zero emissions target for China, aiming to achieve net-zero "before 2060". Modelling suggests if achieved, this would reduce projected global temperatures by 0.2 to 0.3C, moving closer to the 1.5C target mandated by the Paris Agreement. The election of Joe Biden a month later meant the removal of the most climate-sceptical major power. Donald Trump withdrew the US from the Paris Agreement in 2020; one of Biden's first acts was to reinstate it.
These strategic shifts are being shaped by the second factor: renewables and low-carbon technology have become much cheaper. As recently as two or three years ago, both wind and solar were consistently more expensive than gas or coal, but heavy investment and government subsidies have resulted in huge price declines for a decade or more. Onshore wind is now easily the cheapest source of electricity on the planet, while huge advances in battery technology have cleared the path to far wider use of renewable energy sources.
The changing cost of renewables has shifted the balance of power in our global energy systems: producers with heavy investments in fossil fuels are being left with assets that no longer look profitable. Oil companies have a "legacy of greenwashing", but (for example) BP's strategic plan to reduce its oil and gas output by 40% and to shift into renewables is not pure corporate social responsibility posturing. Instead, it is a response to a new economic reality: their survival, like that of all oil majors, depends on a shift out of high-carbon production. Meanwhile, US car manufacturers, led by Tesla, have teamed up with US electricity companies to form ZETA, the Zero Emissions Transport Association, to lobby the US government for 100% electric vehicle sales by 2030.
Decades-old alliances around energy, centred on fossil fuels, are being shaken up. With China and the US, the two largest global powers and emitters, now broadly agreeing on the seriousness of the threat of climate catastrophe, the diplomacy and economics are substantially aligned.
The UK will host the crucial #COP26 conference in November and yet is…
*Freezing fuel duties
*Opening a coal mine
*Scrapping its botched Green Homes Grant
*Way off course with its inadequate 2050 net zero target
*And now wants to drill for more oil & gashttps://t.co/5jM6wZUEWH

— Andrew Fisher (@FisherAndrew79) March 24, 2021

None of this means capitalism is going to solve climate change by itself. The technological improvements are impressive, and less expensive energy production is shifting investment, but the market alone will not deliver the radical reductions in greenhouse gas emissions needed to even get close to the Paris Agreement's targets. China put 38 gigawatts of new coal-fired power stations online in 2020 – more than three times as much as the rest of the world combined. Just 1% of the US's 2020 stimulus packages were green, though Biden's planned $2tr-plus "American Jobs Plan" for investment contains major commitments on retrofit, clean energy, and electric vehicle infrastructure. Nonetheless, the balance of global elite opinion and the economics of renewable technology mean that it is quite likely COP26 will be presented as a relative success: falling short of the Paris Agreement, but with plenty of promises of action.
This is especially true of the UK, where a transition out of coal from the 1990s onwards, the shrinking of manufacturing over the 2000s and the falling costs of renewables have produced a significant decline in the UK's greenhouse gas emissions since 2008; the latest analysis suggests the country is now just over halfway to meeting its 2050 net-zero target. This progress had little to nothing to do with policy under Conservative-led governments, of course – and if we look not just at the emissions Britain produces at home, but also at the emissions it imports by buying manufactured goods from elsewhere, the story is much less impressive.
"Green Industrial Revolution"? Moving departments north?

Sunak be like… pic.twitter.com/wpzkGnTkrY

— Nadine Batchelor-Hunt (@nadinebh_) March 3, 2021
Still, it's not hard to present this as a good news story – and the Conservative government has started doing so, albeit belatedly. Having methodically trashed subsidies for renewables and overseen the loss of domestic turbine production under David Cameron, Boris Johnson has seized on green rhetoric with alacrity, stealing a Labour slogan to promise a "green industrial revolution" and littering with the 2019 manifesto with some fairly substantial promises on retrofitting homes and promoting green investment. With one eye on keeping the former Labour seats in the north and Midlands, the Conservatives have started to develop their own rhetoric of green jobs and low-carbon renewal for deindustrialised areas, with rising star and metro mayor for Teesside Ben Houchen leading the way. Crucially, the Tories can claim that emissions have fallen even as growth has been maintained.
The Conservatives' "ten-point plan for a Green Industrial Revolution", announced in November, attempted to give substance to the rhetoric. Most dramatic is the ban on the sale of petrol-driven new cars by 2030 – sooner than expected – whilst a rapid expansion of the UK's offshore wind capacity and 250,000 green jobs were promised by the PM himself. Much of this turned out to be re-announcements of existing policy: just £4bn of the £12bn announced was new money, while a close calculation of the planned greenhouse gas reductions suggested they would get only halfway to meeting Britain's annual carbon budget, never mind achieving net-zero. The government is acting but on nothing like the scale needed.
More recently, the House of Commons Public Accounts Committee (PAC) has warned the government has "no plan" to reach its legally mandated net-zero target. The "Green Homes Grant", introduced in September and intended to provide help for private homeowners seeking energy efficiency improvements, has been (in the words of the Environmental Audit Committee) "disastrous", with just £71m of the £1.5bn allocated actually handed out. In a familiar pattern, the government has made a great deal of noise about its marvellous plans, then done little to see them through.
https://www.youtube.com/watch?v=iFV8RDI9Yt8&t=1s
COP26, then, is a gold opportunity for Johnson to talk up the government's domestic "achievements" and promote a post-Brexit role for Britain as a global climate leader. The response from the climate movement should not just be to demand more of the same – bigger investments, more green jobs – although holding the government to its promises is important. Here Labour's shadow business team has, to its credit, been pitching serious alternatives to the government's plans. But if we want to address climate change and, beyond that, the whole spectrum of environmental degradation, from resource use to biodiversity loss, a greener business-as-usual will not cut it.
What we will need are significant changes to how we live our lives, changes that must benefit the majority. Protecting working conditions in the transition into clean jobs has its place, for sure, but so does reducing the environmental impact of work through reductions in working time, more working from home and greater provision of care work (care has a particularly low environmental impact). And we shouldn't fixate on greenhouse gas reductions: we need to reduce resource use more generally, promoting a circular economy that puts reusing, recycling and reprogramming at the centre of our economic organisation. If COP26 is to be a success not only for Conservative PR but for the planet, we must demand that our leaders enact radical, not purely rhetorical change.
James Meadway is an economist and Novara Media columnist.