Prince Philip Knew One Important Thing: For Monarchies to Survive, They Must Learn to Adapt
As the maxim goes, "everything must change, for everything to remain the same".
12 April 2021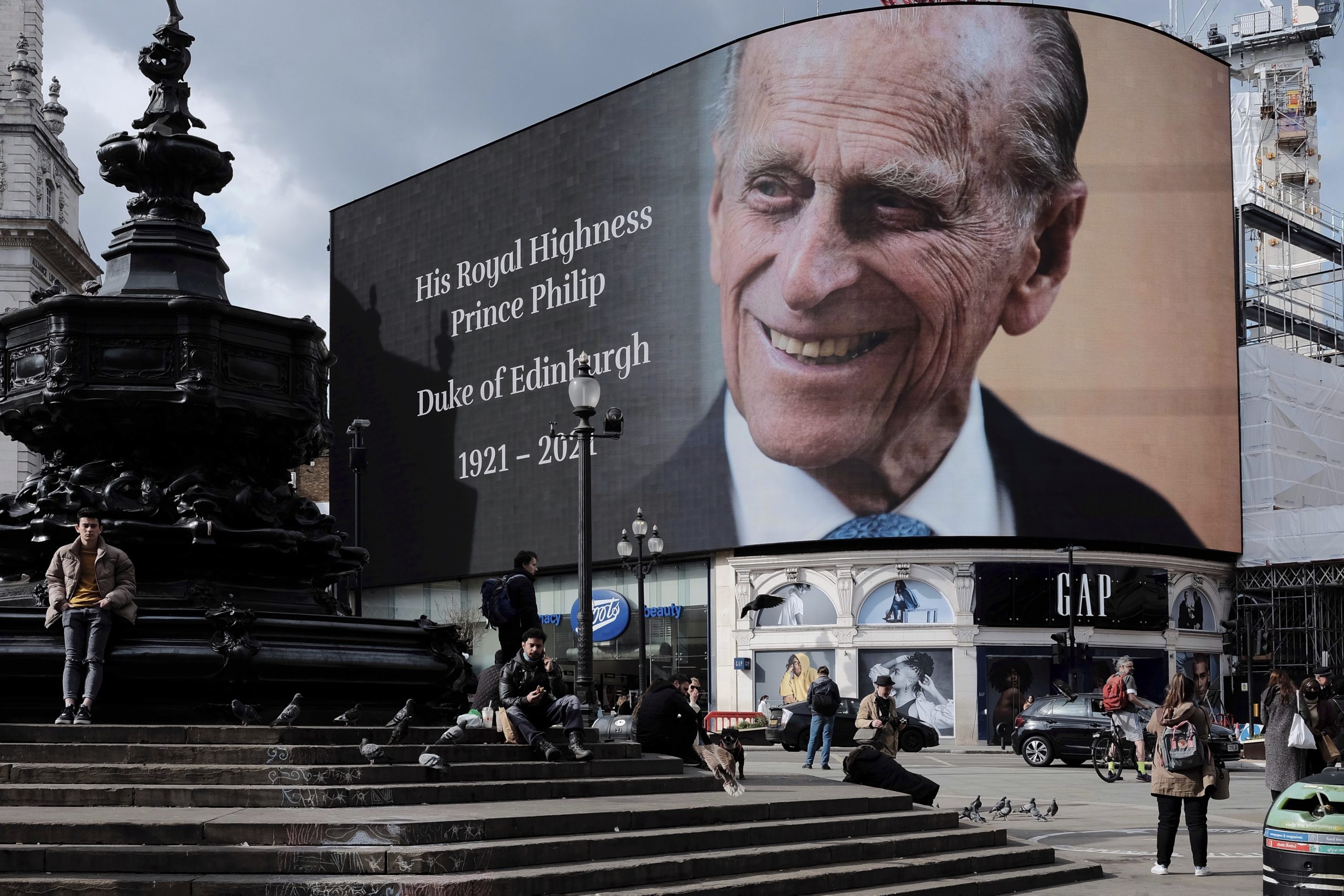 A billboard at Piccadilly Circus pays tribute to the late Prince Philip. Garry Knight/Flickr
Prince Philip was born in 1921 to a monarchy in the grips of existential crisis. The only son of Prince Andrew and Princess Alice of Battenberg, he was in the line of succession to the thrones of both Greece and Denmark. The House of Glücksburg was particularly skilled at leveraging strategic marriages within the European aristocracy: most of the monarchs presently reigning in the West can trace their ancestry back to Philip's great-grandfather Christian IX of Denmark, including Queen Elizabeth II. But while the Danish branch of the Glücksburgs enjoyed relative stability, the Greek crown was facing catastrophe in the early 1920s. 
The Turks had made sizeable gains in the Greco-Turkish War. Philip's uncle and commander of the expeditionary force King Constantine I was made to abdicate in September of 1922. Prince Andrew was arrested by the new military government; later that December, he was sentenced to death and exiled for life from Greece. Philip, along with his mother and four sisters, were evacuated to Italy on the HMS Calypso, with the future consort carried in a fruit crate serving as a cot. Aided by wealthy aristocratic relatives (indeed, the dramatic escape from Greece had been helped by Britain's King George V), the family eventually settled in France.
While Philip's nationality was the subject of intense speculation in the run-up to his own royal wedding, he did not consider himself to be a man of split loyalties. After two semesters at a school in Germany, he was educated at the British public school Gordonstoun, founded by a Jewish educationalist who had fled Nazi persecution. Philip had no particular affinity either with his Hellenic origins: he said in one interview that "I certainly never felt nostalgic about Greece. A grandfather assassinated and a father condemned to death does not endear me to the perpetrators." He became a naturalised British citizen, and gave up his Greek titles before marrying the then-Princess Elizabeth.
Many obituaries have made oblique references to the social and political "upheavals" which took place in Philip's early life. To put it bluntly, much of Europe's aristocracy had been in a blind panic since the abdication of Kaiser Wilhem II, and the execution of Tsar Nicholas and his family in 1918. Philip's grandfather, George I of Greece, had also been assassinated in 1913 by a man said to have socialist or anarchist sympathies. 
Power in Europe was a family affair: Russia's Tsar Nicholas, Germany's Kaiser Wilhem II, Greece's Prince Andrew and the UK's King George V were all first cousins. The Communists had killed a 300-year-old imperial dynasty in Russia, while the Prussian monarchy fell victim to the German revolution. In an age of coups, populism, and revolutionary movements, there was no telling which crown might be toppled next. Europe's aristocracy clubbed together – and made common cause with emergent fascist governments in an attempt to fend off Communists and republicans.
All four of Philip's sisters married German aristocracy who, along with a quarter of their blue-blooded brethren in the 1930s, joined the Nazi party. Philip's brothers-in-law were enthusiastic adopters of Nazi regalia. After the death of his sister Cecilie, her husband Georg Donatus and their two children in an air crash, the adolescent Philip was pictured in civilian dress next to older men in SS uniforms at the funeral procession. The photograph was not published in the UK until 2006. Philip's sister Princess Sophie joined the NS-Frauenschaft, and was the closest of the siblings to the party elite. Up until her death in 2001, Sophie remained close to Philip, and was a regular visitor to the royal household.
Nazi sympathies were not contained to Philip's immediate family – they were commonplace amongst the British elite too. Another first cousin of George V, Charles Edward, was an early aristocratic supporter of Hitler, and rose to the rank of Obergruppenführer within the Brownshirts. Oswald Mosley, leader of the British Union of Fascists, was himself a baronet and entertained the King and Queen at his wedding. His second wife, Diana Mitford, was the daughter of a baron and had joined Hitler on the Hofburg balcony during the Anschluss. A combination of anti-Communism, antisemitism and enthusiasm for bloodline superiority meant a significant portion of Europe's aristocratic cousinhood entertained fascist sympathies. Philip's family links to the Third Reich (along with Prince Edward and Wallis Simpson's affection for Hitler, and an infant Elizabeth II being filmed making a Nazi salute) have been a useful cudgel for those who wish to draw a distinction between love of King and love of country.
It's not, however, quite as simple as that. While Philip minimised his family's fascist sympathies as "people latching on to something or somebody who appeared to be appealing to their patriotism", he does not appear to have shared in their outright support for the Nazi regime. Indeed, after leaving school, the young Philip served with British forces throughout World War II. Nationalist spasms presented problems to the border-spanning family ties of the blue-blood elite – indeed, Britain's own royal house was compelled to change its name from 'Saxe-Coburg and Gotha' to 'Windsor' during WWI to dispel any insinuation of pro-German sympathies. Philip's sisters found themselves on the wrong side of the war, and of history, after marrying German princes. But the right allegiance, to the right country's ruling class, could present a lifeline to an aristocratic house in crisis.
Philip's assimilation into the British ruling class followed the model established by his maternal uncle: like Louis, Philip adopted the name 'Mountbatten' (the Anglicised version of 'Battenberg') and served in the Navy. He shared his uncle's dilettante interest in technology and gadgets, and after his wife's ascension to the throne, and was an early advocate for the power of television in drumming up public support for the feudal institution she represented. Though with his penchant for racist jokes and haughtiness, Philip's reputation for being a bit of a dinosaur was well-deserved, he was also (in relative terms) a moderniser. 
Having survived the ructions of the 20th century, Philip understood that public consent for hereditary monarchy could not be taken for granted: it had to be manufactured. The House of Windsor could not afford to be as remote or as suspiciously European as its predecessor. It had to adapt to ravenous appetites of a public hooked on television. Furthermore, the crown's transition from empire to commonwealth was smoothed over by the monarchy rebadging itself as an institution of 'public service'. Philip's visibility at the top of philanthropic institutions has been part of a deliberate project to cast the royal family as an extension of the charity sector: in symbolising 'good works', the monarchy are insulated from uncomfortable questions about whether the hereditary transfer of power is compatible with a supposedly modern democracy.
It's striking that even after Charles and Diana, Harry and Meghan, and Prince Andrew and the FBI, Prince Philip has died with the monarchy facing fewer crises of legitimacy than when he was born. Britain's royal family has survived the abdication of Edward VIII, revolutions across the continent, World War II, and the decline of Europe's great aristocratic houses – and Philip, born in the line of succession to a throne which no longer exists, died as consort to Britain's longest reigning monarch. He adapted to survive, understanding better than anyone else in The Firm Giuseppe Tomasi di Lampedusa's maxim that "everything must change, for everything to remain the same". 
Ash Sarkar is a contributing editor at Novara Media.