Derek Chauvin's Conviction Won't Make Black Lives Matter
The carceral state murdered George Floyd. It will never deliver justice.
22 April 2021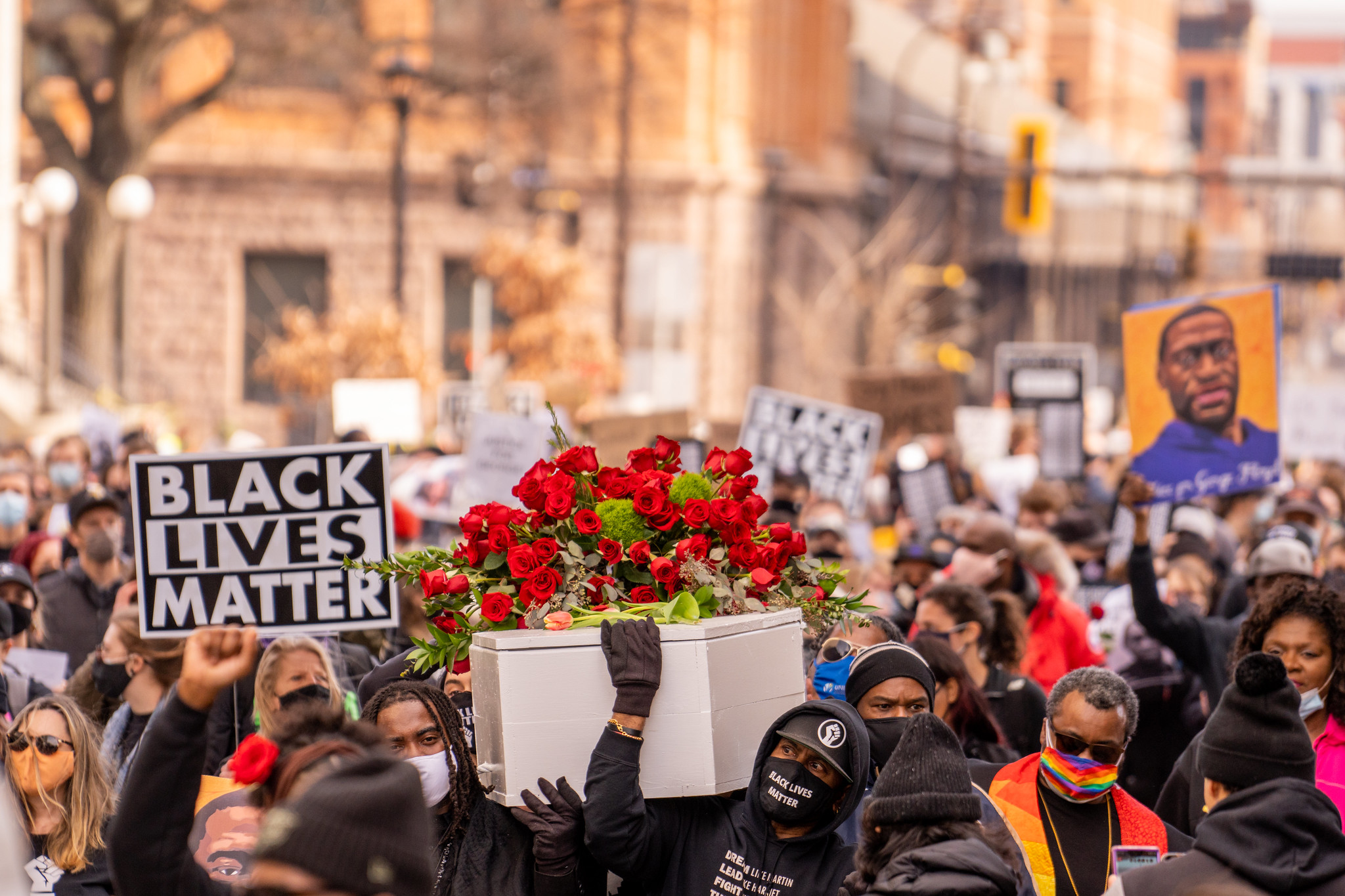 Chad Davis/Flickr
Last year, the murder of George Floyd sparked a resurgent movement demanding justice for Black people not just in America but across the world. This year, mainstream media outlets framed Derek Chauvin's trial as an opportunity to finally deliver that justice. In this view, justice was measured by the capacity of the system to punish "unjustified" force, and not by its capacity to prevent it.
Despite protestors having repeatedly contextualised Floyd's murder within a system of policing, one that violently defends the interests of capital the world over, we were led to believe that Chauvin's verdict – guilty, guilty, guilty – was his alone to bear. His own police chief, Medaria Arradondo, testified against him. Chauvin's guilt was mobilised to exceptionalise and scapegoat him for a far deeper problem. What a neat irony that the same carceral system that funnels undesirables from streets into cells is where we are supposed to seek justice; that the failures of this system should be blamed on an individual who can be swiftly whisked away to prison while the conditions that enabled his actions remain intact.
British politicians like Sajid Javid, who in October declared that Black Lives Matter was "not a force for good", clamoured to declare that justice had been served. Prime minister Boris Johnson "welcomed" the verdict. Keir Starmer, the architect of 24-hour courts that have seen 17-year-olds jailed for eight months for stealing sweets, tweeted simply: "Justice". As Black Lives Matter demonstrations swept through the country, these people had little to say on the continuing crisis of harassment and brutality at the hands of Britain's carceral agents, both on the streets and at the borders. As Boris Johnson put it: "The death of George Floyd took place thousands of miles away, in another country, under another jurisdiction." In other words, as is always the case with institutionalised racial violence, the problem is always elsewhere.
Do they really care about addressing the injustice of repressive state power? A quick survey of recent legislation, introduced by the Conservative government and almost entirely unopposed by Starmer, gives a stark answer: no. The Overseas Operations Bill makes it near impossible to secure prosecutions of British security operatives who commit atrocities – including torture – around the world. The Spycops Bill, meanwhile, empowers a whole host of government agencies, including any police force and even the Gambling Commission, to give government agents advance permission to commit crimes. By taking the demand that Black lives must matter out of the movements that gave rise to it, our politicians can condemn Chauvin's actions while entrenching the very systems that led to them.
You let a muslim baby die so you could flex your islamophobia to white brits. https://t.co/lzTMW73VeU

— Jason Okundaye (@jasebyjason) April 20, 2021
So Derek Chauvin was not a bad apple – he was the fruit of a rotten tree. A single guilty verdict is not justice; nor would a thousand guilty verdict be, especially when each affirms the legitimacy of the legal system which produced the brutality it punishes. On both sides of the pond, we're already hearing tired talk of unconscious bias training (which we know doesn't work). How comforting it would be were the problem simply police, not policing.
Since the murder of George Floyd, thousands of people around the world have been killed by the very system of policing which promises us safety and security. These police forces are not atoms but have material connections, providing training and resources to each other. For millions, this system is experienced as nothing but oppressive – it fails to take reports by victims who are already marginalised people seriously, but overpolices their communities based on a pathologisation of the poor and racialised. And yet, so much of the public discussion – whether it's the dilution of "abolition" to "defund" in America, the non-opposition to the Police, Crime, Sentencing and Courts Bill in Britain, or the criminalisation of #EndSars protestors in Nigeria – centres on the assumption that we need to be policed.
The most striking success of the ideology of policing is its convincing us that the carceral system developed naturally in human society as a way of facilitating justice. In fact, professional policing is a modern phenomenon. In America, while its roots lie in slave catching patrols in the south and attempts to control the movement of immigrants in the north, these forces were not institutionalised until the early 20th century. In England, the first professional police force was the Met, established in 1829. In the colonies, professionalised policing emerged to quell resistance to the colonial order – in Nigeria, for example, the first force, which became known as the Hausa Guard, was established in 1816 in response to waves of anticolonial resistance in Lagos.
The idea that policing has always been a fixture of our societies stunts our imaginations. Abolition is treated as pie-in-the-sky because it challenges us to carefully consider our collective responsibility for creating harm, to think beyond the cyclical violence of criminal justice to building communities of care that make policing obsolete.
In the coming months we'll need to ward off attempts to disconnect the demand of justice from the movements who put them on the map; to channel demands for abolition into budgetary gerrymandering; to recast transformative change as piecemeal reform. Politicians will seek to individualise what we know is a systemic problem. Without the continued work of collective resistance, we will be having this conversation a year from now, five years from now, then again in a decade. For Black lives to matter, we don't need convictions: we need safety and dignity for all Black people whether in Minneapolis, Lagos or crossing the Mediterranean.
i cannot emphasize enough that convictions are not justice for George Floyd. We will never know because justice requires the participation of the people impacted by it. The dead cannot participate. There is relief, punishment, but not "justice"

— derecka (@dereckapurnell) April 20, 2021
In a just world, George Floyd would still be alive. As would Daunte Wright, killed as Chauvin's trial went on just 10 miles away. As would Mohamud Hassan, who died after being beaten in the custody of South Wales Police. As would Jimmy Mubenga, unlawfully killed by G4S guards as the British state sought to deport him to Angola. As would the dozens murdered in cold blood by the Nigerian military as they held a vigil against police brutality in October. As would Ma'Khia Bryant, shot dead in Ohio minutes before Chauvin's verdict was read.
On Tuesday night, as I listened in to the jury foreman read the verdict, the shaky voice of a woman praying for peace punctured the silence, perhaps preempting the possibility that a verdict of not guilts would likely spark another wave of protests and insurgencies. That woman's fear, echoed the fear rippling through the political class, that no verdict could convince people that what they saw in those nine minutes and 28 seconds was anything but murder. Speaker of the US House of Representatives Nancy Pelosi thanked George Floyd for "sacrificing your life for justice", a strange euphemism for lynching. But we still don't live in a world in which Black life matters. Any verdict but guilty would have removed any illusion that this system could produce justice. In that sense, the establishment needed this conviction to steer us back towards normality in which we pretend that anti-Black violence is an aberration, not the rule. Yet Black lives will matter when Black life is protected in the first instance, not when we are given meagre opportunities to avenge it, whether on the streets or in the courts.
Annie Olaloku-Teriba is an independent researcher based in London, working on legacies of empire and the complex histories of race.