You're On Your Own, Kids: How the Indian State Abandoned Its People to Covid-19
India is in the grip of a horrific second wave – and Narendra Modi has blood on his hands.
14 May 2021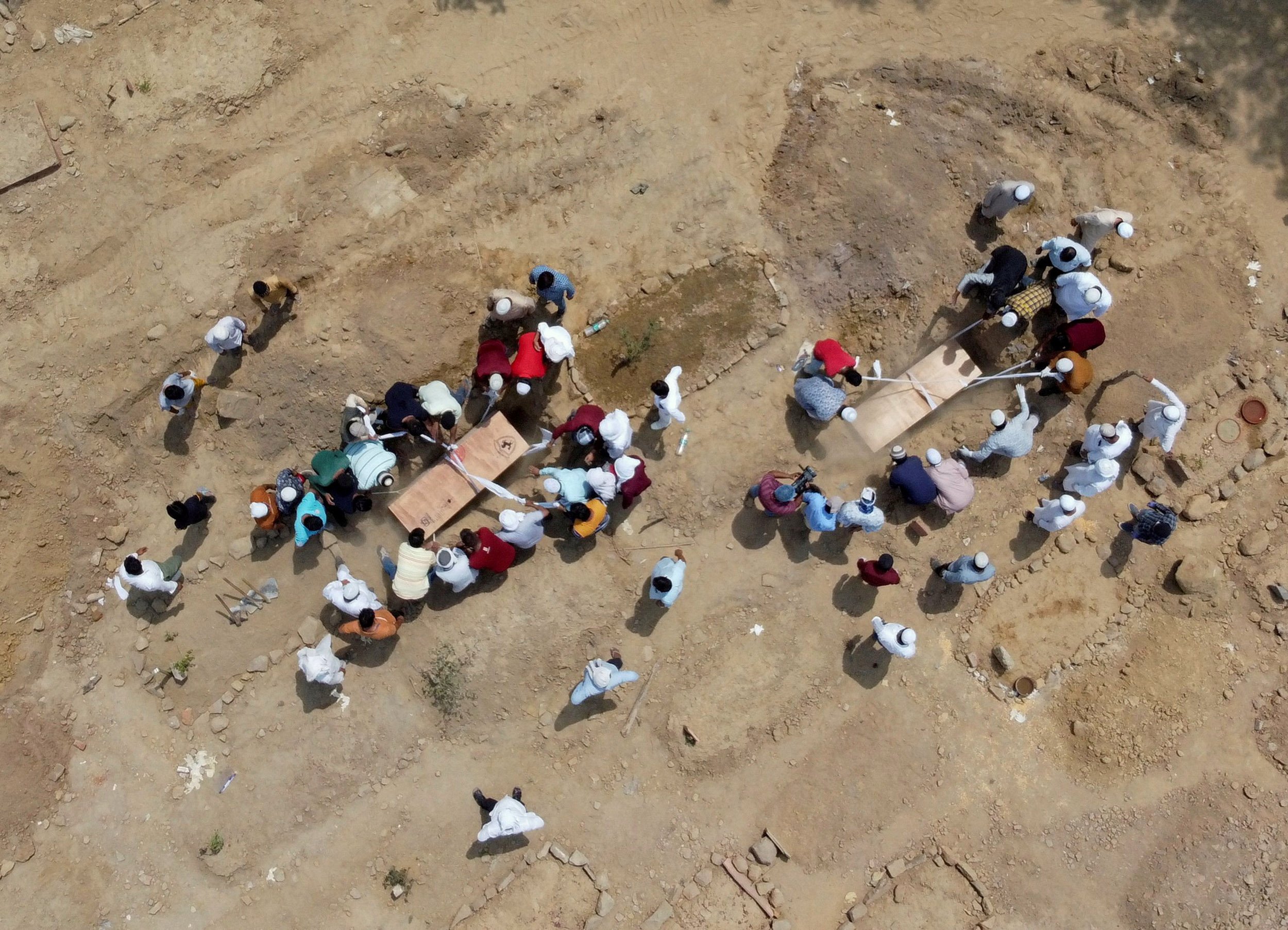 People bury the bodies of Covid-19 victims at a graveyard in New Delhi, April 2021. Ninian Reid/Flickr
For a little while after midnight last Thursday, I, a known-naysayer in an ivory tower in Mumbai, believed a little in the poet Seamus Heaney's "further shore" – that "a great sea-change on the far side of revenge" was possible. In a shock move, Joe Biden's administration threw its weight behind the Indian and South African governments' proposal to waive patents on Covid-19 vaccines. For many in both the public health and climate movements, the act came as a brief vindication that activism works, that doing the right thing – transferring knowledge, technology and resources from the Global North to the Global South – is not just essential and urgent, but achievable with enough political pressure. 
While it's hundreds of thousands of deaths too late, there's a lot of fine print still to negotiate, and there'll no doubt be pushback from big pharma, for a moment, it looked like Biden picked the right side of history. The same can't be said of Angela Merkel, upping Germany's climate target one day, gatekeeping life-saving knowledge the next. It must never be said of India's prime minister Narendra Modi, even if his government led the good fight in Geneva on behalf of developing and least-developed countries last year. 
You'd think that of all things a protectionist, nationalist leader like Modi would want to shore up, it would be vaccines. And yet the Indian prime minister failed the one mathematics test that anyone who chose to lead us should pass: knowing that there are 1.3 billion of us, and that we'd all need two doses of a vaccine that's being made on our soil. Instead, Modi prioritised giving away 59 million doses, including to UN peacekeepers, in a move that won praise abroad but cost lives at home. India has also not yet lifted the intellectual property (IP) rights on the more expensive Covaxin, developed with taxpayer money, with the Indian Council of Medical Research reaping royalties from its double standards.
Here lies the biggest dilemma that global crises like Covid-19 and climate change pose for those on the side of the vulnerable in the Global South. How do we navigate equity between rich and poor when our leaders drop the right buzzwords internationally, but kill us and profit off us at home with no accountability? 
On Earth Day last month, as India scrambled for oxygen, I forced myself to watch a pre-recorded clip of Modi speaking at Biden's Climate Leaders' Summit. Here, the world's biggest emitters were supposed to announce their ambitions for cuts to greenhouse gases over the next ten years – a make-or-break decade if millions are to survive. Instead, we got the usual from Modi: the fetishisation of the low carbon footprints and sustainable lifestyles of the poor, and no commitments, just a call for "collaborations" (a term most of us know by now to be more or less meaningless).
If there's one thing that's consistent about Modi, it's his insistence on both squandering finite resources and prioritising optics above all else. As we're seeing with Covid-19, the Indian state is making exaggerated claims based on poor data and models, the numbers massaged to minimise blame and create wins out of thin air. If Dr Harsh Vardhan, India's health minister and the chairperson of the WHO's Executive Board, had his way, we'd all be cheering about India's vaccination rate whilst accepting that the death of 1.11% of us – 13 million people – is excusable. 
The world might let Modi off the hook for his crimes against the environment because of the Global North's historic responsibility for the climate crisis. But who is going to hold him responsible for crimes against humanity, happening right now under his watch?
What's going on in India?
In case you've somehow missed it, India is in the grip of a horrific, post-dystopian second wave of Covid-19. More than 300,000 new cases are currently being confirmed each day, hospitals have run out of free beds, and medical supply chains have completely broken down. States, hospitals and even individual citizens are being forced to go to court to try and access supplies. In towns short on nurses, doctors, ambulances, ventilators and funeral workers, the poor are now ferrying and burying their own, with reports of nearly 100 bodies found dumped and unaccounted for in the river Ganga. Last week, the High Court of Uttar Pradesh went so far as to pronounce the mismanagement of India's second wave as "genocidal".
Social media, and particularly Twitter, has become the last resort for Indians to try and access oxygen cylinders and ICU beds. A billion people's lives are dependent on their internet clout – the same people who are right now subsidising the world's Covishield shots. We're being actively told that we, a nation in which one in four people is still illiterate, have to be extremely online in order to survive: to get a vaccine appointment (though often not a vaccine) means beating bots and scripts on a website. Those lucky enough to receive a vaccine will then pay more than anyone else in the world for the privilege – despite these vaccines being manufactured in our backyard. 
India has always operated on a bit of 'jugaad': repurposing what's broken, tugging at strings to get past an Escher-esque bureaucracy that doesn't particularly care if you live unless there's money to be made off you. Jugaad culture, a term now appropriated by circular economy enthusiasts, is how Indians of access have gotten by for decades. Having access, in this context, means a quick phone call to a contact ('Tu jaanta nahi mera baap kaun hai'/'You don't know who my father is'), or paying your way out of a crisis. If you're not a blue-tick citizen like myself, you're at the mercy of your wits and whatever you can scramble together. 
Few people in India actually expect the state or a 'system' to come through for us, no. But whilst the poor have always been hit hardest – in the current wave, as in the first – the comfortable castes among us didn't expect the state to neglect us so badly this time around. Ambassadors and politicians have died waiting for ventilator beds; diplomatic furore has broken out over embassies tweeting at opposition parties for oxygen cylinders. Aside from senior healthcare professionals, we've lost teachers forced to go on polling duty during India's elections, environmental and anti-caste activists, journalists forced to live-tweet their own deaths. Many of India's most committed organisers languish in jail without trial, courts refusing them bail even as their health rapidly deteriorates. 
The only people safe – and even profiting from the crisis – are those who always have been. Adar Poonawalla of the Indian vaccine manufacturer Serum Institute, who is facing heat in India for daylight robbery, is now renting a mansion in Mayfair for £50,000 a week – and has sealed a partnership with the UK government to make more vaccines. UK-listed metals firm Vedanta has been allowed to reopen its toxic copper plant in Thoothukudi in order to produce oxygen, despite being shut down after state police shot 13 anti-pollution protesters in cold blood in 2018. Coal, oil and steel barons who've shaved years off our lifespans are being lauded for sacrificing their margins in a low-demand market for dispatching oxygen. Meanwhile, India's death toll is rising so fast that there isn't time to grieve, no space to cremate or celebrate what we've lost.
As the international community dispatches oxygen concentrators, it's important to remember that India had a 17-year-long history of refusing to accept foreign aid for disasters. It has an even longer history of rightfully calling out industrialised, colonial powers for their failure to compensate developing countries for the climate disasters we're living through now. While seemingly contradictory, this 'no to aid, yes to reparations' position is a proud one: it's a refusal to accept generosity from the Global North when the Global North is in fact obliged to take responsibility for the mess we're in. But what good are these principles when citizens have been completely abandoned by a state that's preoccupied with building a $1.8bn palace amongst the pyres and preventing NGOs from accessing foreign funding? 
Doctoring deaths, silencing dissent.

Throughout all of this, the Indian government's priority has never been the Indian people. It isn't just reducing hundreds of thousands of deaths to statistics – it is vastly undercounting these deaths to protect its own image. In the prime minister's own state of Gujarat, 17,822 bodies have been cremated or buried in seven major cities over the last month. Government data, on the other hand, claims only 1,745 people died.
Here in India, we envy our peers in the UK and the US: at least Trump and Johnson allowed public scrutiny which further betrayed their blistering incompetence. Modi, meanwhile, has not fielded an open press conference in seven years. Instead, as Delhi held its breath, senior government ministers wasted precious hours in a workshop aimed at countering negative press. Twitter is being asked to censor accounts, foreign and critical Indian media are being accused of fetishising cremations, while crematoriums are sealed off from photographers. We are now confirming the true scale of India's death toll with drone footage, satellite imagery, pages upon pages of obituaries in local papers, and by asking predominantly-Dalit crematorium workers how many bodies they burned in a day – alongside following running Twitter threads tallying the hospitals that have ran out of oxygen.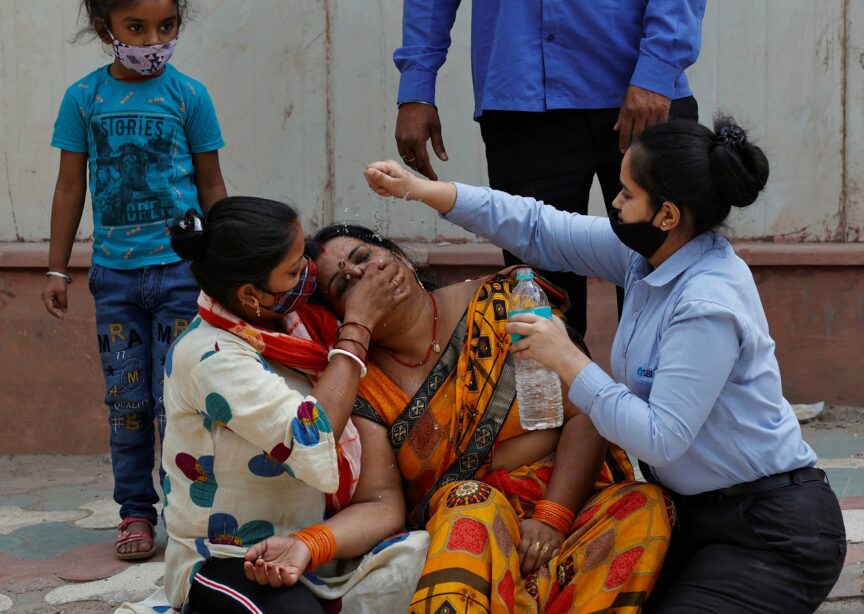 New faultlines, familiar struggles.
It's worth comparing the Indian state's handling of Covid-19 to its handling of the climate crisis in more depth. On both counts, there has been a wilful failure to listen to the science, heed early warnings, prepare for disasters and communicate risk. In February of this year, flash floods caused by a glacier break washed away part of a hydropower project in the BJP-ruled Himalayan state of Uttarakhand, leaving more than 200 dead. After a cloudburst in 2013 killed over 4,000 people, a government report the next year explicitly recommended that no hydroelectric power plants be built in paraglacial region. Instead, the newly-instated BJP government began pushing dam projects again. Likewise with Covid-19, Modi, who chairs the National Disaster Management Authority, knew as early as February that a surge was around the corner. However, he continued to push forward with both the longest state election India has ever seen and the Kumbh Mela festival, which draws millions. 
For people on the ground, these poor decisions are also compounding. Just weeks after the dam disaster, the leaders of the BJP-ruled Uttarakhand still went ahead and hosted the Kumbh – with the state now, unsurprisingly, seeing a record surge of Covid-19 cases. The state's chief minister had proposed hosting yet another religious gathering, which was postponed on 29 April after mounting deaths, but now looks likely to go ahead. We aren't learning anything.
Each time these crises hit, people – not our most powerful politicians – show the way. During the 2018 floods in Kerala, just like now, the Modi government held back relief funding, and as water levels rose, states sparred over whether to open the floodgates. In response, informal mutual aid groups emerged to fill in the gaps. People packed relief materials, cooked food for total strangers, responded to SOS calls, used social media to call for helicopter rescues, triaged medical requests, contributed to relief funds, and filed petitions in court. The volunteer groups that formed then are now the backbone of the state's widely acclaimed response to the second wave.  
This wasn't the first time this had happened, and it won't be the last. Each disaster exposes a faultline in how little was spent on preparation, how tightly purse strings are controlled by central government, and how political vendettas are played out with little concern for loss of life. Each disaster teaches us that until we raise hell – and funding – on our own, we can expect nothing.
Centralising funding, outsourcing relief.
One reason I hate the word 'resilience' is that it assumes those who are systemically neglected and oppressed will always find ways to adapt and overcome. From mercury to methyl isocyanate to malaria, the Indian government has come to believe that our country's most marginalised can handle anything – when it is precisely this assumption that has led to the deaths of so many of us.
This heartbreaking second wave has shown us we can no longer rely on jugaad or individual responsibility to keep us alive. We can no longer withstand the government's neglect and failure to prepare, especially given the state of public healthcare (which receives only 1% of India's GDP). Pushed to the brink, a house of cards has come crashing down. And in a country where caste, class, religion and politics already create vast intersecting inequalities, access to vaccines has become a new virtual apartheid.
What we've seen, in essence, is the extreme centralisation of disaster relief funding on the one hand – allocated politically, and with little transparency – and a disaster relief effort that's been outsourced and balkanised on the other. Modi has left the pricing of vaccines to the free-market, procurement to states, and last-mile relief work to the kindness of non-profits and individuals – while at the same time promising free vaccines to his political allies, his political rivals receiving none. Central government has now been found to have been hoarding foreign aid, with only interrogation from digital and print media forcing it to move its supplies.
What this points to is the need to provide urgent financial relief and stronger safety nets for the worst affected, to decentralise disaster relief and administration, to support states and frontline workers, to invest in and listen to the science, and to plan for the long-term toll. But perhaps the biggest problem to resolve is that of a lack of compassion for the Indian people, as politicians try to shift the blame for a crisis that is only going to grow more grim.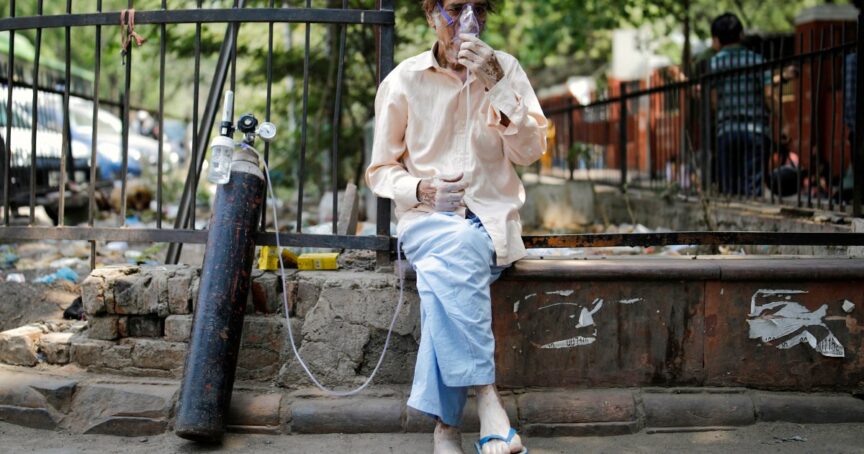 Modi's response to Covid-19 started as a catch-phrase: 'Aatmanirbharta', or self-reliance. What millions of Indians are realising is that we're well and truly on our own now. We don't trust our leaders to steer us through this crisis, so we're doing it ourselves. Any bit of help or support, whether it's Bangladesh sending us medication or a coal baron dispatching cryogenic tankers is being met with our gratitude, despite our embarrassment and anger that it has come to this. We, the people of India, may have been forsaken by our leaders – but we're fighting with all the breath we have left. 
It is vital, therefore, that international solidarity remains with people, and not our government. We are not the same, and no one is immune until everyone is. All we have is solidarity and each other.
Aruna Chandrasekhar is an independent writer based in Mumbai, India.