Unite's Leadership Race is About More Than Just the Labour Party
When workers can't channel their anger through trade unions, bad things happen.
by Karl Lieberman
22 June 2021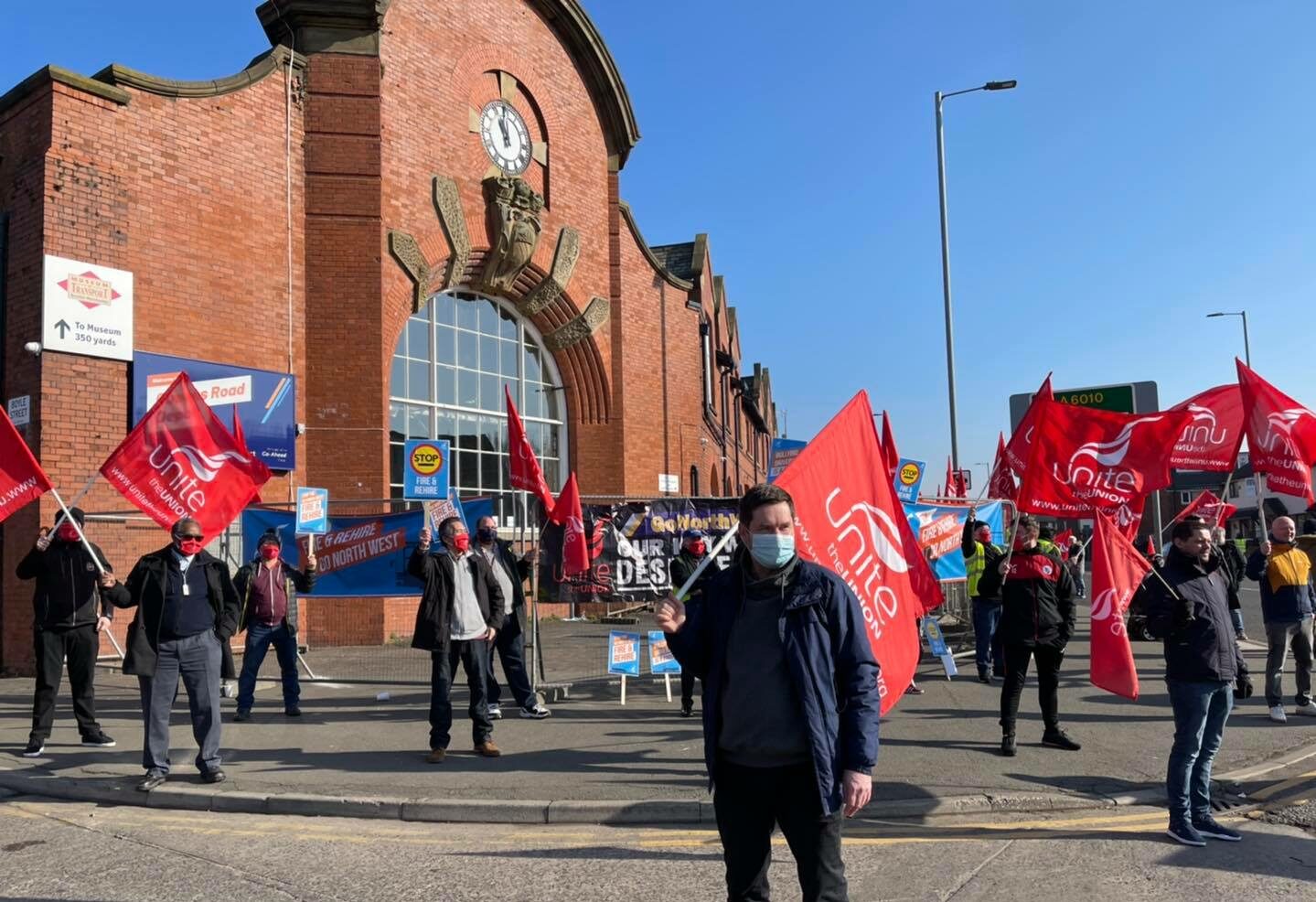 Go North West bus drivers in Manchester on strike against fire and rehire attack, March 2021. Unite/Facebook
The race to decide who will succeed Len McCluskey as leader of Unite the Union – Britain's largest trade union – has generated many more column inches in legacy media outlets than the union's industrial campaigning tends to. With the 'left' candidates unable to agree on a single, unity candidate, rightwing bureaucrat Gerard Coyne, the least popular contender in terms of branch nominations, currently stands a good chance of winning. 
Media interest (and, indeed, the interest of large parts of the left) has so far stemmed from the candidates' respective attitudes towards Keir Starmer's leadership of the Labour party. But there's arguably a more important question to consider: what happens to the radical potential of workers if the established institutions of the labour movement refuse to provide an outlet for it?
As well as precipitating a rightward shift politically, a victory for Coyne would see a ruinous abandonment of any sort of worker militancy in Britain's labour movement. Earlier this year, Unison – Britain's second largest union – elected 'moderate' bureaucrat Christina McAnea after the left vote was split between three candidates. If Coyne wins the Unite leadership, the UK's two biggest unions will be going into a historic period of precarity and churn led by risk-averse rightwing bureaucrats. 
Coyne hails from a political tradition notorious for blacklisting, witch-hunts and cosying-up to capital. He keeps unsavoury company: Labour MP John Spellar, one of Coyne's key allies, has refused to answer questions about whether he was briefing former Tory frontbencher Norman Tebbit about union activity during his days as a union officer in the 1980s. Coyne is a lodestar for those who profess support for the oppressed until the oppressed try to fight back. He owes all he has to the labour movement, but throws the movement under the bus at every opportunity. 
While Unite's executive council might try to resist Coyne's leadership, he would no doubt make efforts to drag the union to the right. We could see strike funds disappear, full-time organisers defanged and phased out, members prevented from taking direct action and militants demonised. Funding for left-leaning organisations including the CLASS think tank, the Institute for Employment Rights, War on Want, Show Racism the Red Card and the Durham Miners Gala – alongside leftwing Labour MPs – may well be withdrawn.
In a disappointing result for the left, continuity-candidate Christina McAnea has won Unison's general secretary election. @c_macnamara argues that in order to transform the union, it's time for the left to get organised. https://t.co/arRAYeLGYN

— Novara Media (@novaramedia) January 16, 2021
But holding onto the Unite leadership is hardly a silver bullet when it comes to harnessing workers' radical potential. In fact, as it stands, none of the big Trades Union Congress (TUC) unions seem up to the task. Most TUC unions are top-down and dominated by their bureaucracies, with 'democratic' structures in one major union allowing regional secretaries to discard motions to congress that they don't like. For many well-paid union bureaucrats, the union is now the end in itself: maintaining membership rates is important only in order to sustain their salaries. Members, meanwhile, get little support if they don't work in sectors prioritised by their union's bureaucracies.
In some instances, this has led radicalised workers to coalesce in 'base' unions such as United Voices of the World (UVW) and the Independent Workers' Union of Great Britain (IWGB). The radicalism and aggression of these smaller unions is admirable and inspiring – indeed, larger unions should take note. But these base unions lack both the capacity and resources to scale up, and often neglect the need for the union movement to develop a theory of political change. What's more, the big TUC unions are often hostile to the base unions, using their greater resources to undermine their more radical demands.
With little dialogue or cooperation between base union activists and militants in the TUC unions, there is currently nothing resembling a coherent workers movement in the UK. If the left loses the Unite leadership, this problem will only worsen. What might be the consequences?
For one potential indicator, we should look – for a moment – to the Labour party. Recent months have seen a renewed appetite for protest in Britain, from mass demonstrations against structural racism and the government's police bill to reactionary protests against lockdowns and vaccinations. One likely cause of this – at least in terms of leftwing protest – is that since Starmer took office last April, the left has lost control of the party and been sidelined within party structures. Without this vehicle for effecting change, it has pursued other means of making itself heard.
This pattern may now repeat itself within the labour movement. Historically, the big TUC unions have had a dual function: organising and cohering struggle, while keeping industrial relations amenable to the UK state. If the big unions fail at the former, and try instead to placate angry members in the face of worsening pay and conditions, worker discontent will likely be expressed in other ways. Some may be absorbed by the base unions, but more will almost certainly take less organised and – realistically – more violent forms. Without even the nascent political consciousness facilitated by union activity, some of this militancy could also take a reactionary turn: a British version of the 'gilet jaunes' may not be too far off. The Labour right's attempts to put the left back in its box may, ironically, have dire consequences for the law and order social conservatives within the party are so desperate to uphold.
There is cause for hope, however. Increasing worker militancy amongst low paid but highly educated workers in the teaching unions is encouraging. As this is being typed, organisers in these unions are undergoing a training course based on American union organiser Jane McAlevey's direct action-based organising model. This model isn't that different to that of some TUC unions, but the difference is a preparedness to put it into action. Groups like Momentum (through its soon-to-launch trade unionists network), and on a much smaller scale Labour Transformed, are also belatedly beginning to cohere networks of activists who are politically educated, class-conscious and highly skilled organisers – and doing so in a way that's democratic. But the wider labour movement isn't doing this yet.
Over the last 200 years, almost all progressive change in Britain has happened because of, or with the support of, the labour movement. But if trade unions won't fight on behalf of workers, worker discontent will find other outlets. The trade union movement can still be the hope of the world – but it's going to need to bare its teeth. 
Karl Lieberman is an organiser with Labour Transformed.