This Year's England Squad Actually Gives a Shit
Looks like football is finally getting political.
7 July 2021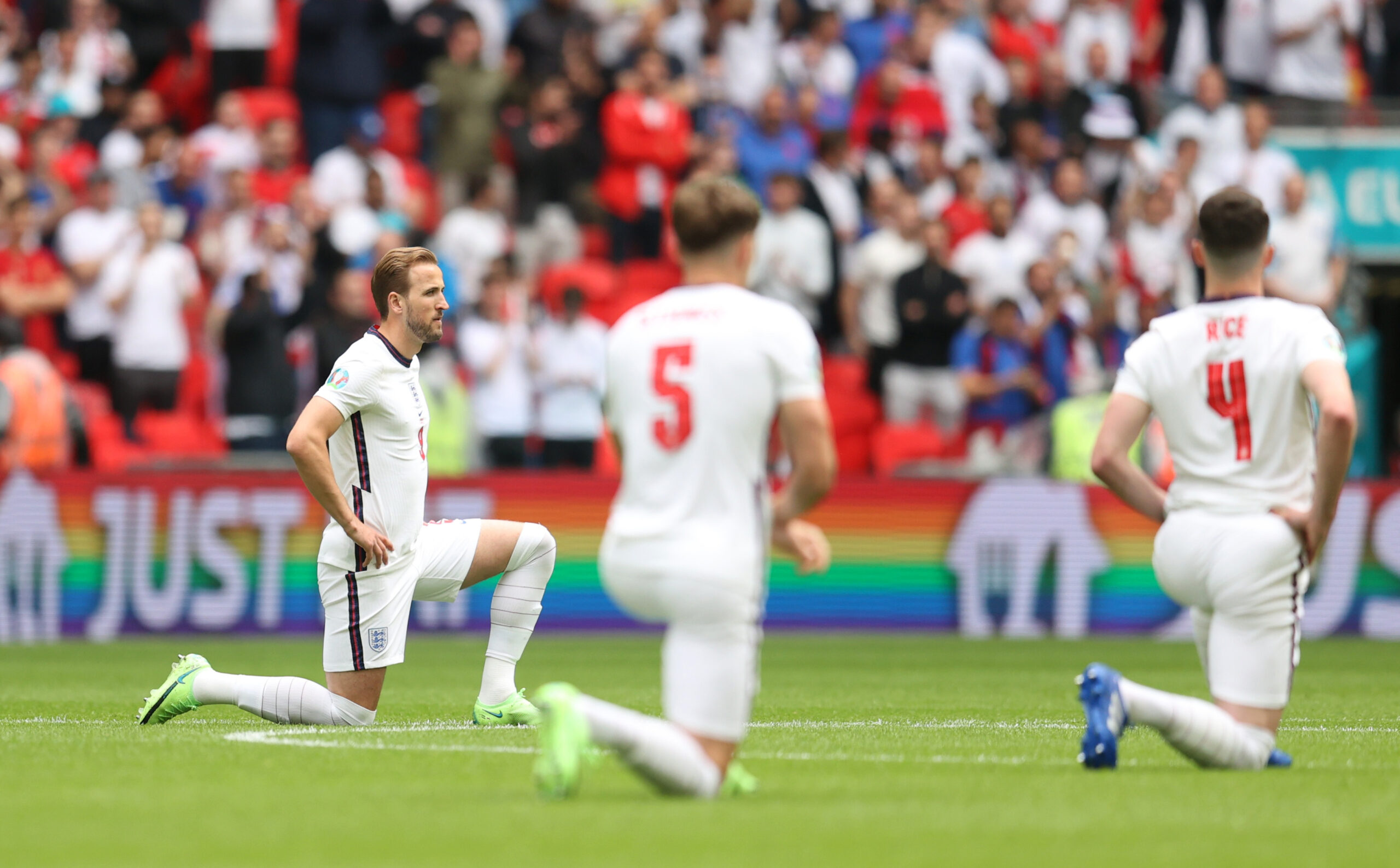 Soccer REUTERS/Catherine Ivill
Football fever has once again seized the nation this summer. For the second time in three years, the England men's team has made the semi-final of a major tournament. And this time, it's coming home – literally. England have played four of their five European Championship matches at Wembley, and the final will be played there too. 
All of this means that English euphoria (read: nationalistic fervour) is at an all-time high. The shops have sold out of England shirts, and you'll be hard-pressed to find room in a pub when they face Denmark in the semi-final tonight. This enthusiasm has only increased as a result of how nice this year's squad is. Whether it's Gareth Southgate's redemption narrative, Bukayo Saka grinning on an inflatable unicorn, or Jordan Henderson supporting queer fans, the current crop of players are genuinely likeable – something you would have been hard-pressed to say about some of the previous England squads.
Bukayo Saka having the time of his life in the #ENG camp 😂

— Sky Sports Premier League (@SkySportsPL) July 5, 2021
These kinds of fuzzy feelings lead to people being easily seduced by the patriotic nature of international football. Outside of a successful tournament context, supporting England is seen as unfashionable, best left to bald, white men draped in the St George's flag. But after a couple of victories, the wider public (understandably) wants a part in the collective joy. Suddenly, it becomes acceptable to get behind the national team, and, as a result, the supposedly necessary patriotism of the game starts to take on a new form. The key difference here seems to come down to class background; as soon as middle-class people get involved, the patriotism that was previously seen as vulgar quickly becomes palatable. 
This particular brand of patriotism celebrates the range of backgrounds represented in the England squad without questioning the hostile immigration system that would attempt to stop their parents or grandparents from arriving here today. It's the kind of patriotism that decides to raise tens of thousands of pounds for a crying German girl who no one knows, but ignores the way crowdfunding is being used to fill the gaps in our government's measly social safety net. Ultimately, it is an attitude that focuses on doing and celebrating good without interrogating the political circumstances in which these actions are forced to take place. 
It becomes apparent how woefully fragile such a position is when England loses, and all of the fanfare and support immediately falls away. Footballers are once again spoilt and overpaid; their fans are once again racist hooligans; and the middle classes fade away, waiting for the next sporting event they can co-opt for their liberal ends.
Probably the most infamous policing disaster in modern British history happened at a football match, do just check yourself before you start pedalling the idea that football fans enjoy rich privileges over you and deserve much heavier policing

— Sean Bernard (@seanbgoneill) June 19, 2021
This is not, however, unique to the England squad. When German-Turkish midfielder Mesut Ozil announced he was quitting the German team, he said it was because he was "German when we win, but …an immigrant when we lose". Similarly, when Jamaican-born Raheem Sterling single-handedly hauls England through the group stages of the Euros, he is celebrated as the self-styled 'Boy from Brent'. But in the alternate universe where Thomas Muller scores from his wayward pass, he goes back to being the player who is slammed for buying his mum a house and getting the wrong tattoos.
Such hypocrisy begs the question: how can we embrace a nationalism that so easily discards those it claims to celebrate? What is the point of a patriotism that only ever hangs in the warm summer air after an England victory and a couple of pints?
Mesut Ozil: "Im German when we win but an immigrant when we lose"

Karim Benzema: "if I score Im French and if I dont Im Arab"

Romelu Lukako: "When things are well they call me Lukaku the Belgian striker. When things aren't they call me Lukaku the Belgian striker from Congo"

🤔

— Syed Ali Kazmi (@champxgne_paki_) July 23, 2018
Such nationalistic notions are easily played on by our current government. Despite seeming like a man who has never watched a football match in his life, Boris Johnson was quick to post pictures and videos of himself watching the game against Germany, while also sharing images of himself posing on a gigantic St George's cross before England's quarter-final match against Ukraine. Bear in mind that this is the same prime minister who refused to condemn England supporters for booing their own players when they took the knee.
Come on @England! 🏴󠁧󠁢󠁥󠁮󠁧󠁿 pic.twitter.com/CvHktX2Bl3

— Boris Johnson (@BorisJohnson) July 3, 2021
All of these behaviours, whether by the government or public, focus on Englishness as an organising principle, centring the country as the place where our loyalties must ultimately lie. Despite this, it is still possible to celebrate this England team without engaging in nationalistic hysteria. Indeed, the values these players embody are actually far removed from such fervour. 
The past year has seen English footballers speaking up about important political issues more than ever before. From Henderson leading the Premier League captains in making donations to the NHS, to the collective decision to take the knee throughout this season, English footballers have put themselves front and centre when it comes to talking about social justice. No one has done more than Marcus Rashford, who took on the UK government in order to stop poor children from going hungry during the pandemic. Of course, the irony is that this was in opposition to the same government that now greedily leeches on to his team's success. 
Whilst charitable donations have long been the purview of 'philanthropic' capitalism, footballers have exceeded the amount given by far richer individuals. More than this, they have begun to use their social capital to have a genuine impact on policy. Rashford wasn't successful in forcing government U-turns because he was rich, but because everyone knew who he was and what he was campaigning for. 
'That victory was in honour of the revolutionary spirit of Rosa Luxemburg' pic.twitter.com/Btg5FIeUpI

— black lives matter (@jrc1921) July 3, 2021
Of course, taking this kind of stand isn't easy in a sporting context. In January, The Telegraph published an article suggesting Rashford should "just stick to football". Meanwhile, certain fans celebrated returning to stadiums for the first time in over a year by booing players protesting racial inequality. Despite this pushback, the players have not backed down, demonstrating that their actions are not just for show. Whilst it is undeniable that these players still massively benefit from football's obscene wages, they are far and away the most politically engaged generation of footballers the country has ever seen.
England's success at this year's Euros has been brought about by a group of free-thinking and compassionate young men, who are as generous and intelligent as they are good at football. There's a lot to celebrate about this year's England team, but their Englishness has nothing to do with it. 
Whilst those who embrace patriotism look to celebrate the country as it is, England's current squad have turned their hand to improving it. Instead of posturing, they take action. And whether they win the Euros or not, there's plenty for us to be proud of.
Jessy Parker Humphreys is a freelance journalist. They write about football for the Offside Rule.