The 7/7 Bombings Changed UK Terror Policy Forever
The attacks convulsed British politics and catalysed the growth of 'counter-terror'.
15 July 2021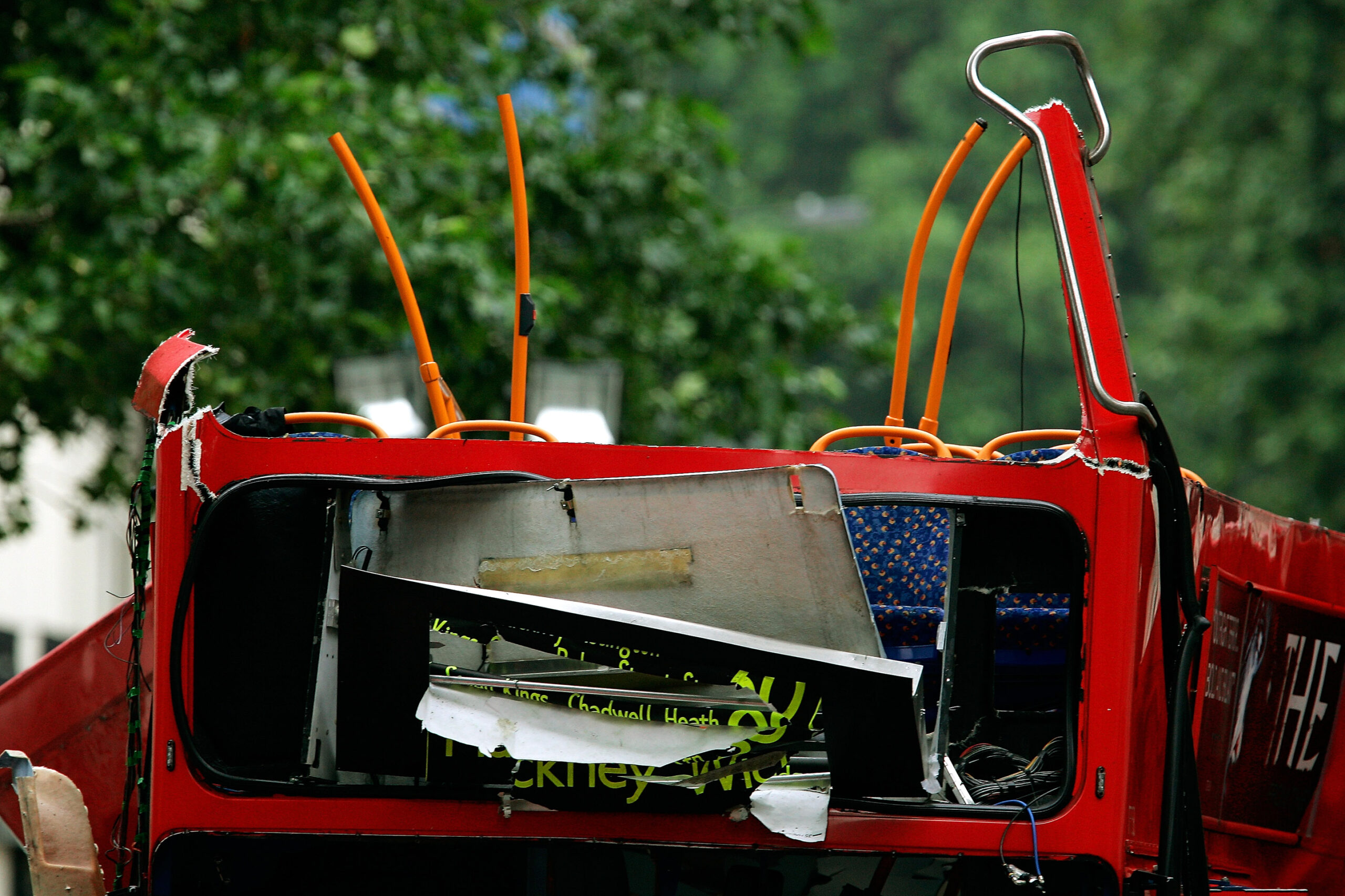 (Reuters)
On the morning of 7 July 2005, London's nerve centre – its public transport network – was paralysed by a series of explosions. Four suicide bombings carried out by Hasib Hussain, Mohammad Sidique Khan, Germaine Lindsay and Shehzad Tanweer left 52 commuters dead and over 700 injured in what remains the deadliest attack of its kind in Britain in the 21st century.
The attacks convulsed British politics and catalysed the growth of 'counter-terror' and surveillance policies that have come to shape the lives of Britain's population in ways that are both intimate, and would a short while ago have seemed inconceivable – while also moving ever further away from countering the kind of violence that marked that day.
Response.
A month after the attacks, prime minister Tony Blair unveiled his government's draconian response with a 12-step plan and a vow that "the rules of the game are changing". The plan sought to expand powers of deportation, exclusion and citizenship-stripping; allow for the forced closure of mosques; introduce biometric visas and expand the use of 'control orders' to British citizens: intolerably harsh powers of house arrest, issuable without trial.
Shortly afterwards, the passage of the Terrorism Act 2006 introduced a spate of new offences that could be prosecutable as 'terrorist' – often far removed from the commonsense idea of 'terrorism' as mass violence. This included the 'preparation' of acts, under which we have seen troubling cases of individuals convicted on the basis of equipment provided to them by undercover police, or based on statements elicited during undercover operations. Also included was the offence of indirectly 'glorifying' acts of terrorism: guilt by degrees of separation.

The first anniversary of the attacks was marked by the publication of Contest – the government's counter-terrorism strategy. This introduced the framework for the infamous Prevent surveillance programme, which has served as a focus of resistance ever since.
This new climate ushered in an open market on counter-terror proposals, with ministers floating increasingly brazen 'solutions' to the issue of terrorism. These were in turn fuelled by a closed coterie of think tanks and academic 'experts', ready and willing to indulge the basest racism and xenophobia.
Values and solidarity.
But beyond the bellicose announcements of Blairites, or the power plays of parliament, this new political era made itself felt to certain communities in Britain in violent, visceral ways: in the Metropolitan police's murder of Jean Charles de Menezes at Stockwell tube station, the brutal Forest Gate raid, the countless victims of the deportation regime and the Muslim communities held under siege by wall-to-wall Islamophobia.
In light of this, the words of home secretary John Reid, upon unveiling Contest in parliament in July 2006, strike as particularly vexing. He stated that "modern terrorism will be defeated only by addressing the political and social issues, by a debate about values, by democracy" and, most perversely, "by public solidarity" – while the strategy itself noted "social inclusion, community cohesion and active citizenship in Britain" as principles it counted as its own.
In short, the rules of society were being rewritten in real-time: communal values were invoked by a strategy set to claw back civil liberties; "solidarity" used in service of surveillance policies. But Reid's words foreshadowed the ways that this new era of counter-terrorism would come to form its own cultural project: one where mutual suspicion would come to supplant social support, and where gut-instinct prejudices would be elevated into policy – all undergirded by the emphasis on policing 'values' and 'ideology' that permeated government strategies.
In effect, the changes post-7/7 signalled the point where 'counter-terrorism' shifted from just a set of policies to a practice, reproduced in everyday interactions and sown throughout the public sector through the likes of the 'Prevent duty' today. They stirred something foul in the soul of Britain. 16 years on, it finds itself a country where appeals to spot and inform on fellow residents adorn the walls of schools, train stations, even social media. One where civil society organisations are almost as likely to serve as paid adjunct to the 'counter extremism' agenda as opponents to it, and where MI5 head Ken McCallum finds himself at ease calling for mass public vigilance against shadowy "foreign spies".

Not-so-new Labour.
Blair's New Labour project represented a break from much of the social democratic ethos that had defined the party previously. What it retained, however, was the deep affinity for law and order that characterised earlier Labour governments.
Before the dust had so much as settled on their 1997 electoral landslide, the Labour government had passed among the first of the 'national security' laws that would symbolise its 13 years in power: the Special Immigration Appeals Commission (SIAC) Act 1997. It established the SIAC courts which operated on opaque legal processes that allowed for the use of secret evidence, which defendants themselves cannot see.
At the turn of the century, the government brought in the Terrorism Act 2000, a breathtakingly wide-reaching piece of legislation that consolidated the numerous Prevention of Terrorism Acts, initially brought in by Harold Wilson's Labour government. 
Subsequent laws instituted by the Blair and Brown governments followed in a familiar mold. Made possible by a toxic mix of capacious legal frameworks and capricious lawmakers, these policies represented a mass centralisation of power as well as the expansion of arbitrary powers that could be exercised without need for a formal legal process.
No opposition.
To say that governments seize on moments of rupture to redefine the realms of the possible is hardly a novel idea. In the age of Covid-19, it may even be something of a truism. But in the context of 'counter-terrorism' in Britain, it's worth repeating, given how normalised policies of mass surveillance and repression have become in two decades, and how muted opposition has sometimes grown.
This April saw the passage of the counter-terrorism and sentencing act, which has resurrected in all but name the control orders regime introduced under the Blair government. Billed by the government as "the biggest shake-up of terrorist sentencing and monitoring in decades", the act passed with barely a note of discontent.
Last week, Priti Patel unveiled the nationality and borders bill, which legislates for immigration decisions to be heard within the clandestine SIAC courts system introduced back in 1997.
And while Blair's 12-step plan was itself only partly implemented by the time he exited British politics two years later, its proposals – especially relating to the securitisation of the migration and refugee system – found many advocates afterwards.
Opposition to the Prevent programme has remained a welcome mainstay of campaigns. But it is vital that anti-Prevent campaigns open out into a wider critique of the repressive counter-terror apparatus, and of state violence at large, rather than being hived off from them.
There is also a need for a more integrated and expansive language of resistance, which neither takes 'civil liberties' as abstract and deracinated principles nor adopts a narrow anti-Islamophobia/anti-racist position only insofar as policies target groups 'disproportionately'. We must tackle these policies from the root up, rather than smoothing out their roughest edges.
Sixteen years after 7/7 and a full twenty years into the 'war on terror', there is a need to decisively turn the page of counter-terror policies that have progressively suffocated social and political life in Britain, and undo the cruel legacies of New Labour.
Azfar Shafi is researcher and organiser with a focus on policing, counter-terrorism and imperialism.