How We Won: The Community That Saved Latin Village From Demolition
Campaigners fought a 15-year battle against property developers.
12 August 2021
Inside Latin Village market. (Karla Lizethe/ @framesfromhunter)
When she arrived in the UK as a refugee over 30 years ago, Vicky Alvarez found herself in need of money, childcare and community – in the Seven Sisters Latin Village market, she found all three. "That place, to me, is everything and many things," she says. "It is my home; it's my little Colombia, here." 
As London's only remaining Latin market, Latin Village is a cultural hub for Latinx people from across the city. Home to a plethora of small businesses, the north London market not only offers culturally specific foods and products but is also a vital source of friendship and mutual aid.
Over the years, Alvarez has run many business ventures in the market: a clothes shop, a beauty parlour, postal services. The space has allowed her to earn a living – and also to access "the best emotions, perhaps, that I have ever experienced". 
She recalls the first time she saw the market bustling. "I remember coming out of my office and just staring," she says, "walking around, listening to the laughter of kids playing, the jokes, the music, the smell of food…This kind of warmness that I'd last experienced [in Colombia]."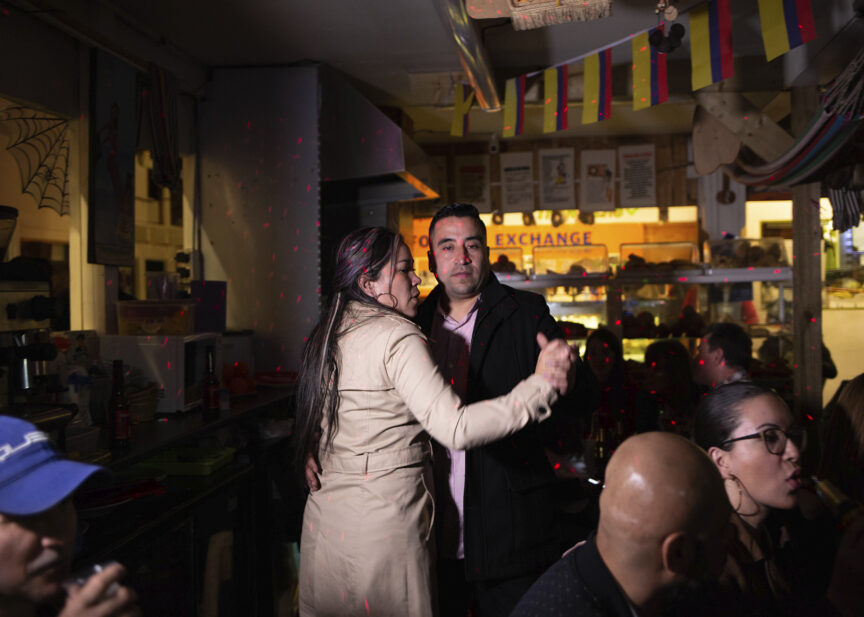 But Alvarez has never been able to take Latin Village for granted. For the past 15 years, she has been one of hundreds of campaigners resisting the planned demolition of their treasured community space by property developer Grainger PLC, one of the UK's biggest private landlords. With backing from the local council, Grainger intended to build 190 flats on the site – none of which would have been 'affordable'. 
This month, Grainger finally backed down, citing "numerous legal challenges from a small but noisy minority".
"A noisy minority" is not how Alvarez sees the campaign, describing instead a committed coalition of traders, local residents and allies fighting an "epic battle" against a developer threatening to "trash" their beloved community space, for profit. 
Through dedication and perseverance, the Save Latin Village campaign has now finally won council backing for a community plan for the site.
The plan is a community-led, financially viable development proposal, designed around self-management by traders and local people, affordable rents, new community spaces, and reinvestment in the building and in opportunities for the local area. Rather than benefiting shareholders, surplus finances from the restored market – estimated to total as much as £84m over 60 years – will be channelled back into the community.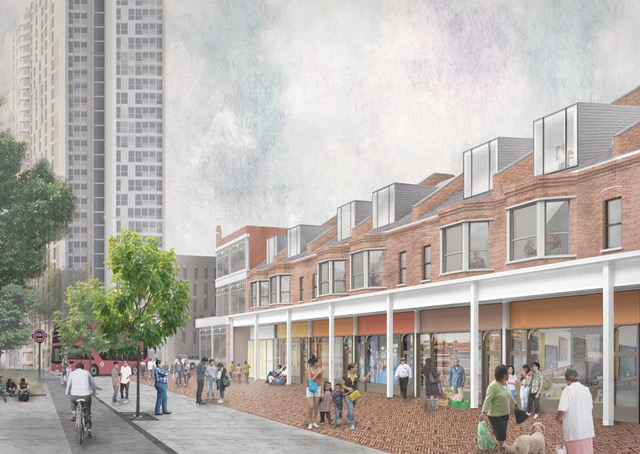 A 15-year fight.
After years of managed decline and underinvestment, Haringey council originally earmarked Latin Village for regeneration in 2002. In 2004, Grainger won a bid for public funds to redesign the site.
When Alvarez first heard that the market was facing destruction, she was "really scared". Not knowing what else to do, she visited the council in person, which she describes as a "really hostile" experience. The council implied, she says, that since she was a refugee, it would 'make no difference if she was displaced twice'. 
Although she says the council kept "[slamming] the door in [her] face", Alvarez "refused to believe" Latin Village was doomed. She kept demanding meetings. One day, a group of local residents overheard the discussion and offered their support. This was the beginning of what would eventually become a large coalition of individuals and groups working together to resist Grainger's plans. 
"A key strength of this campaign has been the breadth of different groups and interests that it has involved," says Myfanwy Taylor, a local resident and a trustee of the West Green Road/Seven Sisters Development Trust.
Whilst market traders have been "the heart of the campaign" from the start, Taylor says, they've consistently drawn upon "wider support" from local residents, businesses and other groups offering solidarity. 
Alvarez, who is now chair of the Seven Sisters market tenants association, agrees that building a powerful coalition was crucial to resisting Grainger's advances. "Never say 'no' to someone who wants to help," she says, "because everybody will bring different skills and different motivations." She describes the campaign as a "relay race," with different members of the coalition taking on different, critical roles at different times.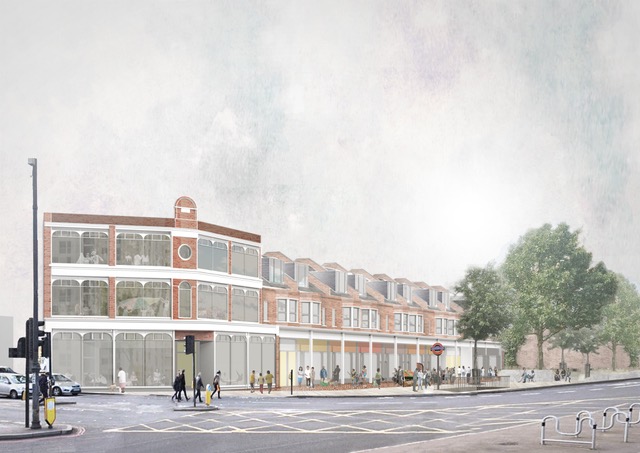 Javie Huxley, a British-Chilean resident of Seven Sisters, became involved in the campaign to save Latin Village around three years ago, using her skills as an illustrator to create artwork for the campaign, which she then helped promote on social media.
Huxley is now co-chair of the Save Latin Village campaign, which she explains is the public face of the activism – the part responsible for "screaming that Latinx people exist; we're here and we're thriving, and we're not going to get pushed out".
Meanwhile, the Seven Sisters market tenants association acts as a union for traders, she says, ensuring their voices are heard whilst "working in conjunction with other subsections of the campaign".
Finally, the trust has handled "a lot of the behind the scenes work", she says, designing the community plan, spearheading the legal aspects of the campaign and writing statements.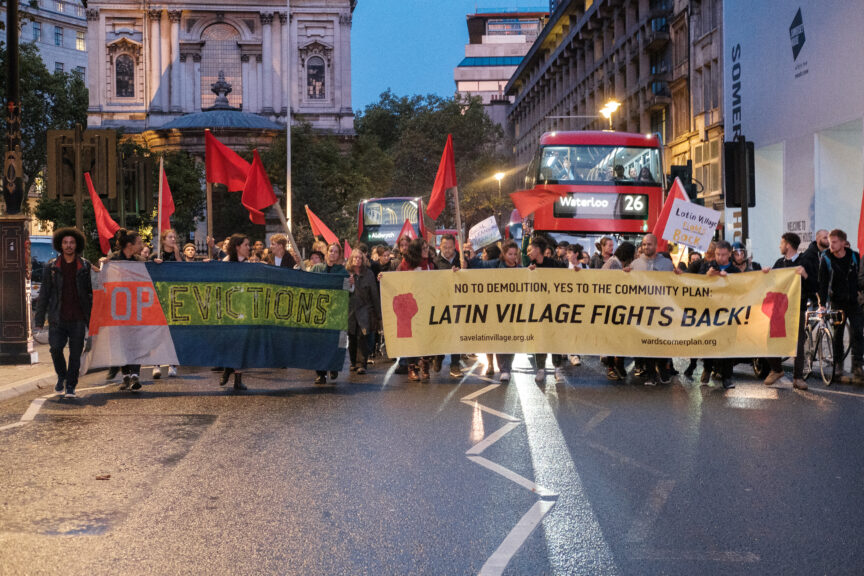 Alvarez says the focus on coalition-building reflects an "ancestral" way of doing things for many Latinxs. "Let's say you have something to build on your farm," she explains, the community might organise "a huge lunch [for] everybody from different farms", to decide who can offer what to the project. "I think, not knowingly, we tried to do the same thing here," she says. 
The campaign's intersectionality has been central to its success, says Huxley. While activism is often dominated by white, middle-class, university-educated men who are able to "work for free", she says, the Save Latin Village campaign was careful to avoid this elitism.
"It's been really important for me personally to make sure that this campaign reflects the future that we want to see," says Huxley, "whether that's [by] making sure we encourage Afro-Latinx traders to the front [or] making sure that we make it clear that this is a queer-friendly space". The fact the campaign is women-led, "really sets us apart," she adds.
The campaign has created a space where everyone feels comfortable contributing whatever their background, Alvarez says. "It doesn't matter if I didn't have the choice or the opportunity to go to university. I went to the university of life and I learned a lot of things". 
Building a community.
The 15-year struggle to save Latin Village has been hard, leaving many campaigners – often women, who have high care burdens at home – experiencing burnout and strained personal relationships. As a result, building a sense of belonging, care and joy within the campaign has been crucial, explains Huxley. "It's a campaign that's very much connected by love," she says, "and the love that we have for one another very much propels us." This can look like ensuring there are as many group meals as there are meetings, hosting fundraising parties and facilitating mutual aid among campaigners. 
Whilst the campaign's goal of saving the market from demolition has always been front-and-centre, building a strong community along the way has been just as important, says Alvarez. "You can build a community from a kitchen, from someone's garden. What could be more of a win than to work with everybody, together…to make the area stronger and better?" 
The campaign has become stronger by learning from both its members and from similar groups, says Huxley. "Grassroots campaign work is a collaborative thing," she says. "With every new person [and] new experience…you broaden and develop the campaign." Whilst local alliances have been central, working together with other groups fighting similar battles against demolition and gentrification – such as Up the Elephant and Save Ridley Road – has also been essential. 
Delivering a community plan.
Grainger's withdrawal represents a new chapter for the Latin Village campaign – not the end. "We were in fighting mode, now we are in…delivery mode," explains Alvarez. 
The trust is calling on the Mayor of London to join Haringey council in supporting the community plan and, following the 2020 closure of the market owing to health and safety concerns, to extend urgent financial support to market traders until a temporary or permanent market is opened.
"Even though it's only been just a few days since Grainger has withdrawn from the site," says Taylor, "the community has made the most enormous progress in working towards delivery [of the community plan]."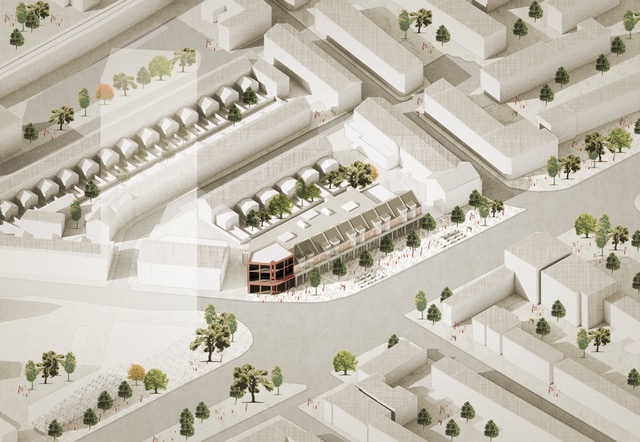 Campaigners have already assembled a funding package and are in the process of creating a new community benefit society, while also preparing for discussions with Transport for London, which owns the land the site is built on, and Haringey Council.
Taylor believes this win could set a precedent for other communities in London "concerned with building a different way of development that benefits people, that's not for profit". 
Alvarez wants other communities to seek support from the Latin Village campaign, in part so that they can avoid going through what she did. "I don't want battles to last for 15 years," she says, "because 15 years is a lifetime…of sacrifices for many different people…of effort…of pain…of stress – that could have been avoided if only developers did the right thing." 
Now that it has a future, Alvarez hopes that, post pandemic, Latin Village will once again become "a place [where] we can all heal together".
Sophie K Rosa is a freelance journalist. In addition to Novara Media, she writes for the Guardian, VICE, Open Democracy, CNN, Al Jazeera and Buzzfeed.