Cycling, Israel's Latest Sportswashing Frontier
Israeli soft power on wheels.
by Myka Tucker-Abramson
25 August 2021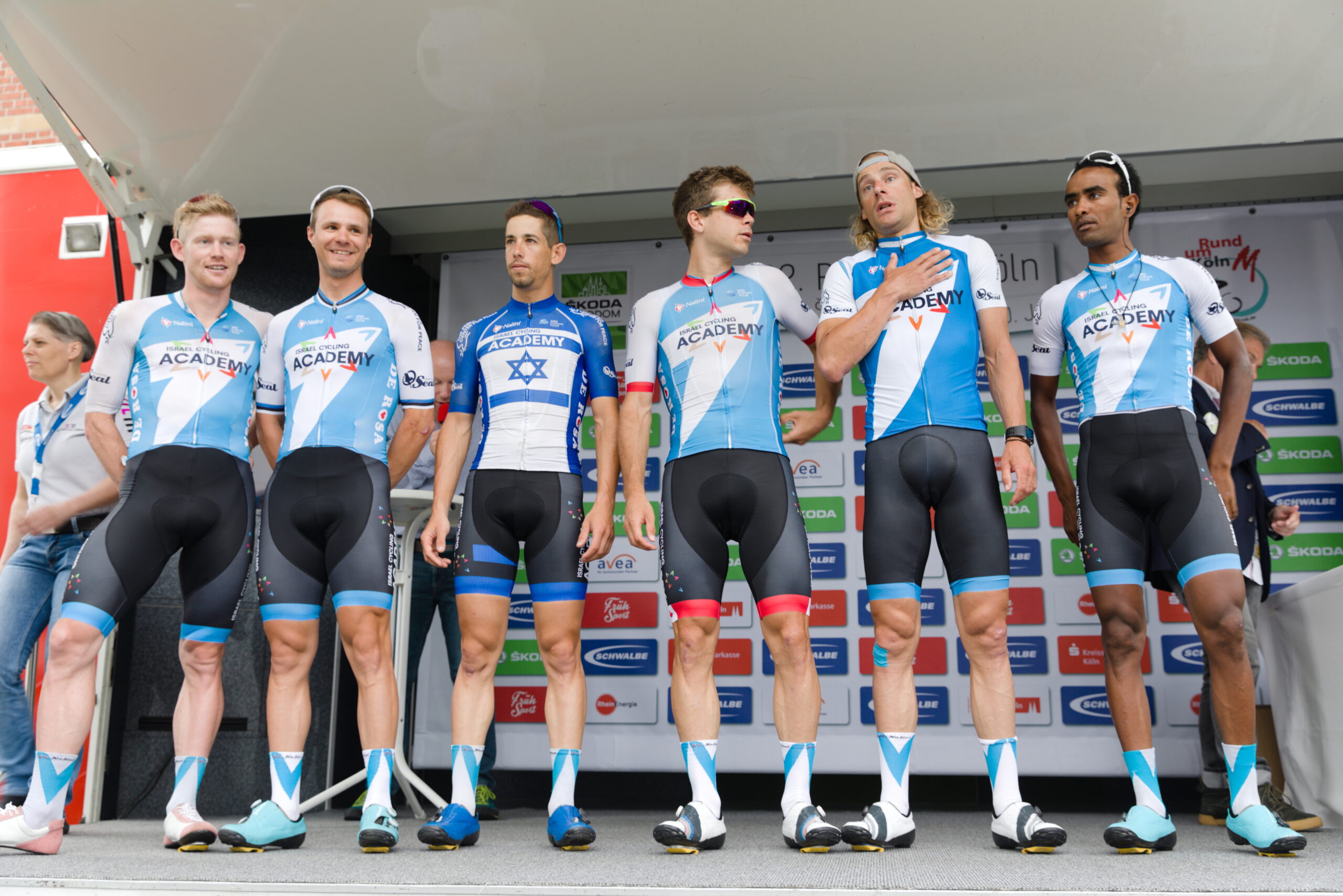 Nicola/Wikimedia Commons
In the months leading up to this year's Tour de France, rumours swirled around Chris Froome. For ten years, he had been the star of Team Sky/INEOS, the domineering and ridiculously wealthy institution of British cycling, winning four Tours de France, as well as the Giro d'Italia and Vuelta a España. But, following his return from a life-threatening crash two years ago, INEOS dropped him. The same day, Israel Start-Up Nation (ISN) announced they'd signed him. A few people guessed the transfer weeks beforehand, noticing Froome's Twitter header, an image containing Palestinian flags, had quietly changed.
"This is an historic moment for ISN, Israel, Israeli sports, our many fans all around the world and, of course, for me personally," enthused Sylvan Adams, the Israeli-Canadian real-estate billionaire and co-owner of ISN, promising that Froome would finish out his career as leader of their squad. Unable to keep up with the peloton in pre-Tour races, however, Froome was demoted to road captain. As cameras panned in on Froome throughout the Tour as he was dropped from the peloton, struggled up hills, and fought to finish within the time limit, he exemplified his team's ethos, and that of its eponymous nation-state: hardship, resilience and redemption.
ISN's origin story, like Israel's, is that of the plucky underdog made good. The team's website narrates the story of two cycling enthusiasts – former pro-cyclist Ran Margaliot and Ron Baron, who made billions trading collateralised debt – meeting at Nes-Harim, the summit of a popular cycling hill near Jerusalem (the hill is built over the Palestinian village Deir al-Hawa, decimated by the IDF in 1948). Lamenting the lack of opportunities for cyclists in Israel, they dreamed of supercharging the "underdeveloped sport", and in 2014, launched a "unique start up" to realise it: the Israel Cycling Academy (ICA). Adams joined the pair soon after and shortly thereafter ICA joined the second most elite global cycling division, Professional Continental (ProConti).
In the seven years since, the team has seen remarkable success. In 2020 it secured one of only 19 WorldTeam licenses, allowing them to join the elite Pro Tour. It also secured a major new sponsor, Start-Up Nation Central, a non-profit which builds and promotes Israeli start-ups, subsequently changing its name to Israel Start-Up Nation.
Sport has long been integral to the Zionist project. In 1898, Max Nordau, co-founder of the Zionist Organization, called for a "muscular Judaism" that would undertake Zionist nation-building. Russian émigré Yosef Yekutieli set about fulfilling Nordau's dream thirty years later, lobbying for the creation of a Jewish Olympics in Palestine in the hopes it would bring "hundreds and thousands of youths" to "breathe the atmosphere of the beloved land, listen to living Hebrew, and return to their country of residence to promote the work for the Jewish nation."
TIL Only one year after the 6 Day War, Israel hosted the 1968 Paralympic Games via /r/toda… http://t.co/CRi7ZswP2a pic.twitter.com/YLcA6ak6XQ

— levone W (@levoneW1) May 3, 2015
Since the Israeli state's founding in 1948, state-sponsored sports initiatives have played an important role in Israel's cultural diplomacy. In 1968, just one year after the Six-Day War, Israel hosted the Paralympic Games. Whilst the games themselves took place in Tel Aviv, the opening ceremony was held in Jerusalem, whose eastern part had been recently annexed. Defence minister Moshe Dayan presented the medals.
It makes sense that Israel has chosen cycling as its latest sportswashing frontier. Cycling is often described as an apolitical sport and while there have been a few antiracist interventions of late, there has been nothing on the scale of Colin Kopernick or Marcus Rashford. This is not accidental.
Intimately tied to tourism and media industries, races are carefully stage-managed; Grand Tours often hire "eraser men" to remove protest slogans painted on the road. Furthermore, the geographically dispersed nature of the sport – athletes usually often live in hilly locales with advantageous tax breaks, and spend most of the year travelling to races and training camps – hamper collective action by riders and fans alike. No wonder, then, that ecocidal corporations like INEOS and human rights-abusive nations like Israel, Bahrain and the UAE have flocked to the sport to manicure their image.
In 2018, Adams convinced Giro d'Italia director Maura Vegni to start the race in Jerusalem to mark the seventieth anniversary of Israel's founding. This was the first time in its 101-year history that the Giro had started outside of Europe, and the Israeli state reportedly paid $12m for the privilege. Adams boasted that the Giro would be the perfect "antidote" to the BDS movement by offering an "unfiltered" view of Israel as a "normal country" and "pluralistic society."
This "unfiltered" view took work to secure. The Giro's promotional materials said the race would start in West Jerusalem in recognition of the contested status of East Jerusalem, which Israel illegally annexed. It was only once Israel threatened to withdraw sponsorship that the Giro capitulated, changing its materials to "Jerusalem."
Not only did the Giro whitewash Israeli occupation, it also provided an opportunity for its entrenchment. The Israeli police used the race to justify heavier-than-usual crackdowns on the Great March of Return, a weekly Palestinian protest held every Friday since March 2018. One victim of these enhanced security measures was Alaa Al-Dali, a Palestinian cyclist shot in the leg while attending one of the demonstrations in his cycling gear (he is now developing a para-cyclist team in Gaza). Journalist Yaser Murtaja was killed by Israeli snipers while covering the protest where Al-Dali was maimed.
Last May, while Israeli security forces amped up their repression of Palestinians in Sheikh Jarrah and Gaza, cycling once again became a tool of deflection. ISN headed to the Tour du Rwanda, where they announced "Racing for Change," a new initiative that saw the Israeli team provide equipment and training to a girl's cycling team in Bugesera, Rwanda. While not directly involved, the image of Froome as ISN's leader is important: raised in Kenya and heralded as the first African rider to win the Tour de France, and has regularly shared his hopes that his personal success will popularise cycling across Africa.
Speaking in a press conference in June, just one month after Israeli airstrikes in Gaza killed over 250 people, Adams celebrated his team's entrée into philanthropy. "There is a Jewish concept called tikkun olam," he said, "an imperative to help improve the world. We are doing so by adopting a women's team in Rwanda. […] We want to not only help them but to use it as a message to society to increase unity and peace in the world."
Myka Tucker-Abramson is an academic based in Berlin.