Who Should Pay Up for Climate Carnage?
Rich countries are trying to shirk their responsibilities.
4 November 2021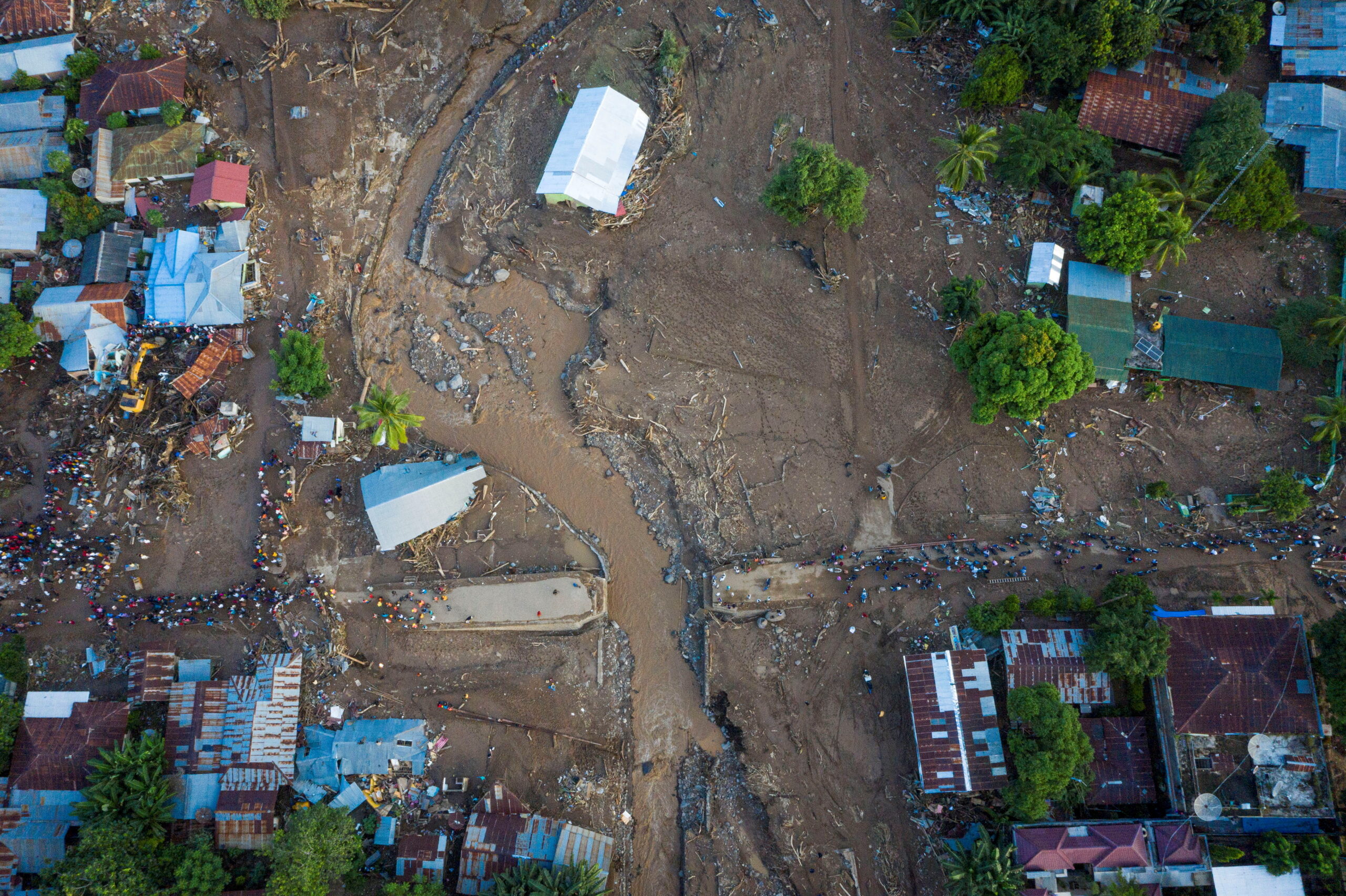 Floods following a tropical cyclone in East Flores, Indonesia, April 2021. Antara Foto/Aditya Pradana Putra/Reuters
In the Solomon Islands, stone coastal walls, mangroves and homes on high stilts aren't protecting communities from rising seas and stronger storms. In Sierra Leone, people face harsh seasons, while mudslides destroy buildings and infrastructure. Flooding has affected more than 300,000 people in the Democratic Republic of the Congo (DRC) since the start of 2021. Half a million Malagasy children under the age of five are likely to become acutely malnourished as their country experiences drought and famine induced by climate change.
These are the sites where environmental collapse is hitting hardest. Efforts to 'mitigate' emissions, reducing the future impacts of climate change, will not stop the effects already taking place. The economic costs of these inevitable climate change impacts – the 'loss and damage' – is predicted to reach between $290bn and $580bn by 2030. At the upper end, this would equal more than the combined GDP of the world's 80 poorest countries, without taking into account the unquantifiable losses to knowledge, life and sovereignty.
Yet while the Global South is bearing the brunt of these catastrophes, the Global North is the historic culprit, capturing most of the benefits of high CO2 emissions. The average person in the UK emits around 65 times more carbon than the average person in the DRC, 45 times more the average person in Madagascar, and approximately ten times more than the average citizen of Vanuatu, where swathes of infrastructure have been destroyed by ever-more powerful cyclones and storms.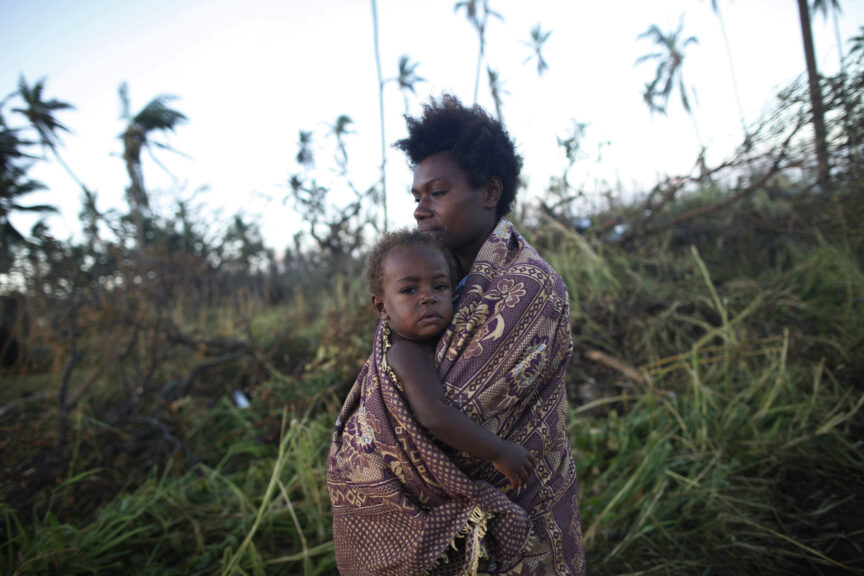 This problem – the harms caused to poor countries from climate alterations made, in large part, by the West – is at the heart of the loss and damage faultline set to rip through COP26. As the prime minister of Barbados put it in her opening speech to COP26, quoting Caribbean musician Eddy Grant: "Can there be peace and prosperity if one third of the world – literally – prospers and the other two thirds of the world live under siege and face calamitous threats to our wellbeing?"
The struggle over loss and damage.
While there is no specific fund for loss and damage, at COP15 in 2009, wealthier countries promised to provide $100bn a year in 'climate financing' to developing countries. This money was intended to help poorer nations reduce emissions and adjust to the unfolding impacts of climate change.
Wealthier countries say they're reaching around 80% of that target; developing countries put the figure at 10% to 15%. The source of these wildly divergent estimates lies in the fact that developed countries include development and humanitarian aid, investments, insurance and even loans in their calculations. This means that a rich country can loan money to a poorer one and, even with interest repayments, the money can be counted as a form of climate finance from the Global North. This offloads the costs of climate finance back onto indebted nations.
The promised $100bn is grossly insufficient, and doesn't cover loss and damage financing. COP25 saw developing countries try – and fail – to formally agree that the developed world should pay for its historic legacy. In the closing plenary of the conference, Tuvalu, a Pacific state at risk of partial submersion, described the US block on these efforts as possible "crimes against humanity".
Tuvalu just made comments (though off the official record) saying the United States' blocking of compensation for loss and damage from climate impacts (despite their leaving the Paris Agreement!) "could be considered a crime against humanity." #COP25

— Bronwen Tucker (@bronwentucker) December 15, 2019
This conflict over who pays will remain a flash point at COP26, where wealthy countries want to limit their painfully inadequate climate financing contributions to the $100bn a year promised in 2009, and give themselves three extra years to deliver it. Negotiators from groups of developing countries – particularly small island states, the Africa Group of Negotiators and so-called least developed countries – are refusing to accept this as a barometer of a successful conference.
In addition to meeting this past promise, civil society organisations are calling for historically culpable polluters to pay up. 300 groups are demanding that COP26 agree to provide loss and damage finance according to the 'polluter pays' principle. The financing, crucially, should be free from the strings often attached to the neo-imperial loans of western-dominated institutions which curtail the freedom of receiving countries to invest in social provisions. We can expect the West to fight these calls in Glasgow with arm-twisting tactics and battalions of lawyers.
How much would it cost?
While the sums required to reparate the Global South for climate damage are large – trillions for decarbonisation, hundreds of billions for loss and damage – they could easily be covered by the money currently pumped into and controlled by the polluting industries themselves. Simply ending global subsidies for the fossil fuel industry – an astronomical $5.9tn in 2020, according to the IMF – could fund a planetary energy transition or global Green New Deal. A climate damages tax on the fossil fuel industry, notwithstanding the need to end fossil fuel extraction, could raise up to $1tn a year. 
Similarly, defunding armies and militarised policing across the globe could redirect $1.9tn, improve millions of marginalised peoples' lives and reduce greenhouse gas emissions. Regulating private finance could also play a huge role: a meagre 0.1% levy on shares and bonds and a 0.01% tax on derivatives could raise $63bn in the EU alone. Globally, it could raise much more. Alternatively, wealthy governments could print money. Banks received trillions from the US and UK following the 2008 financial crisis – yet printing money has not been proposed as a solution for the existential threat posed by the climate crisis.
Nicola Sturgeon has made the smallest of marks in the western wall of resistance at COP by acknowledging the need for new sources of financing for loss and damage. Other developed countries must follow her lead. But even in this best case scenario, movements must cast a critical eye on the details, piling on pressure to turn paper commitments into real action, and preventing magical climate financing tricks that can turn reparations into opportunities to extract even more from the Global South. Meagre sums and loans are "blah blah blah" commitments. Money that addresses needs, not profit, is what climate justice advocates are at COP26 to fight for.
Harpreet Kaur Paul is a co-founder of Tipping Point UK and a PhD candidate at the University of Warwick's Law School.