If Even Emma Watson Says Free Palestine, We're Winning
Let's not let Twitter outrage drown out the good news.
4 January 2022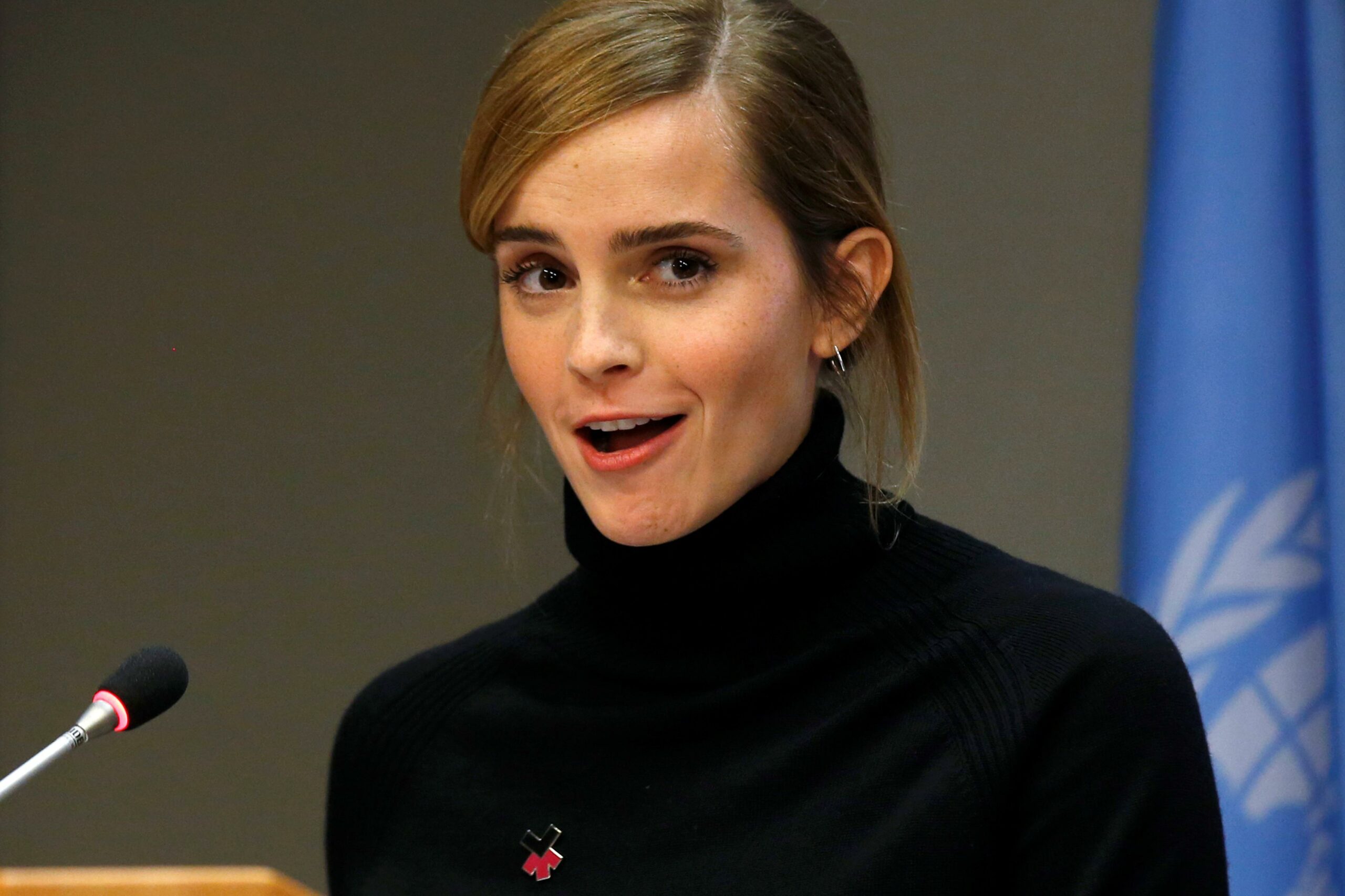 Brendan McDermid / Reuters
Beyond hastening my early death, one of the more harmful consequences of social media's outrage economy is its tendency to eclipse the positive. Any editor will know that "Why X is Bad" articles tend to outperform those celebrating wins, covering positive developments or conceding that perhaps, X might be good.
This dynamic played out on Monday when Danny Danon, Israel's former ambassador to the United Nations and the head of rightwing Israeli party Likud's global operations, reshared a post from Harry Potter actor Emma Watson's Instagram. In the post, the slogan "solidarity is a verb" overlays a photograph from what is clearly a Palestinian rights protest. For this, Danon accused Watson of antisemitism, and was duly ratioed. Yet the sound of 2,627 clapbacks (and counting) drowned out the good news: Emma Watson said free Palestine.
10 points from Gryffindor for being an antisemite.@EmmaWatson pic.twitter.com/Qaqkx36JSg

— Ambassador Danny Danon | דני דנון (@dannydanon) January 3, 2022
I am not old enough to remember when the Academy of Motion Picture Arts and Sciences placed police sharpshooters on the roof of the Dorothy Chandler Pavilion to prevent Vanessa Redgrave from being murdered for her pro-Palestinian politics, but then again, I don't need to be: the memory of that event is seared into the minds of celebrities everywhere. As the Jewish Defense League burned Redgrave's effigy outside the 1978 Oscars ceremony, she stood firm, condemning the "small bunch of Zionist hoodlums whose behavior is an insult to the stature of Jews all over the world". "Yes", the speech damaged her career, Redgrave admitted to the Guardian, "but that's not really important. What's important is what's crying out in our world for justice – the Israel-Palestine question." You can imagine most celebrities would stop reading at "yes".
"With the divisive exception of Vanessa Redgrave's support of the Palestine Liberation Organisation (PLO) when accepting her Academy Award in 1978," writes political communications professor Mark Wheeler, "Israel–Palestine had remained a no-go area [for celebrities]." The reason is that, unlike Redgrave, celebrities do not prioritise social justice over professional success. At best, they seek both; at worst, they leverage the latter to enhance the former, in a kind of A-list corporate social responsibility exercise. Either way, celebrity advocacy requires adopting pet causes (or, in some cases, actual children) that are worthy but uncontroversial: climate change, mental health, "Africa". This instantly disqualifies Israel-Palestine, which any hard-nosed talent agent will tell you is a political minefield (or more accurately, a field that has been laid with mines to obfuscate a simple fact: that Israel is a settler colony illegally occupying Palestinian land).
In recent years, this has begun to change. Wheeler notes that the invisible cordon between Israeli apartheid and other political causes is wearing thin, a trend he attributes in part to social media. "As […] previous editorial controls have been lifted," he says, "celebrities have become more confident that they can engage in the Israel–Palestine dispute." Wheeler wrote this in 2014, shortly after the last but one Israeli war on Gaza. It was a period when many celebrities stood with Palestine – including, importantly, a coalition of the world's sexiest Spaniards. Yet this outpouring of solidarity was followed by an equal deluge of apologies, as Israel's supporters successfully framed the celebrities' use of the term "genocide" as antisemitic (rather than, as scholars of international human rights law have frequently argued, accurate). These celebrities learned the hard way why their peers had been silent.
Of course, Operation Protective Edge was not the only geopolitically significant campaign that launched in 2014. It was also the year of HeForShe. Just three weeks after Israel ended its assault on the Gaza strip, UN Women Global Goodwill Ambassador Emma Watson set out her stall at the UN's New York HQ: to rally men and boys to the cause of gender equality. In a speech remarkably devoid of detail – save for a prayer for the world's 15.5 million child brides and its many more "rural African girls" – Watson told the audience that "both men and women should feel free to be strong", and that gender is a spectrum. Who knew! And indeed who knew that just a few years later, this indomitable girlboss of all things perfectly agreeable, this freedom fighter for fuck all, would be posting keffiyehs on her Instagram.
Here we come to the heart of the matter. Many celebrities have, in fact, expressed solidarity with the Palestinian cause. Admittedly, many of these expressions have been made during wartime, when commenting feels more justifiable – and even then, many celebrities have retracted or worse, publicly regretted their support: Kendall Jenner, Paris Hilton and Rihanna have all deleted pro-Palestine posts ("I stand with humanity!" professed the singer in a later statement), while Mark Ruffalo was forced to eat the same shit as Penelope Cruz and co.
I have reflected & wanted to apologize for posts during the recent Israel/Hamas fighting that suggested Israel is committing "genocide". It's not accurate, it's inflammatory, disrespectful & is being used to justify antisemitism here & abroad. Now is the time to avoid hyperbole.

— Mark Ruffalo (@MarkRuffalo) May 25, 2021
What feels significant about Watson's post is not just that it was unprompted by any current events or that, at the time of writing, it remains published. It's that Watson has come to embody a particular brand of toothless progressivism that would normally run a mile from a Palestinian flag. For years, pro-Israel advocates have expended immense effort to make Palestine the most toxic of political causes, to the extent that the very sight of Palestinian flags can invite charges of antisemitism. Then along comes the most squeaky clean of Hollywood starlets, waving one.
Like it or not, celebrities have a measurable impact on our democracy: Oprah's endorsement of Obama may have won him an extra million votes in 2008 (interestingly, there is evidence that people in the UK are less susceptible to celebrity advocacy). Watson is not Oprah, and one Instagram post is not a presidential endorsement. Watson's story has already been churned up in the news cycle, only to be revived with a "This you?" if she ever dares eat Israeli hummus in public. Yet for me, the significance of Watson's post is not as an instigator of social change, but as a reflection on the rapidly-expanding limits of acceptable public discourse on Palestine.
In just the last year, multinational corporations and literary darlings have come out for Palestinian rights, and unapologetically so. The reasons have been better explained elsewhere, but among them are clearly Black Lives Matter – which has insisted on the intersections between political causes, making it harder to be, as we say in Jewish circles, "progressive except Palestine" – as well as growing opposition from diaspora and Israeli Jewry, which has made false accusations of antisemitism harder to maintain. Slowly but surely, the tide is turning.
Let's not get ahead of ourselves. From Google Trends, it appears that Watson still received exponentially more attention for telling Tom Felton she used to fancy him than for professing her love for Palestine. There's also still time to backpedal. For now, though, it's a win – one we should celebrate.
Rivkah Brown is a commissioning editor and reporter at Novara Media.