Britain's Growing Far-Right Party Is a Serious Threat
Individual members openly describe themselves as fascists.
6 January 2022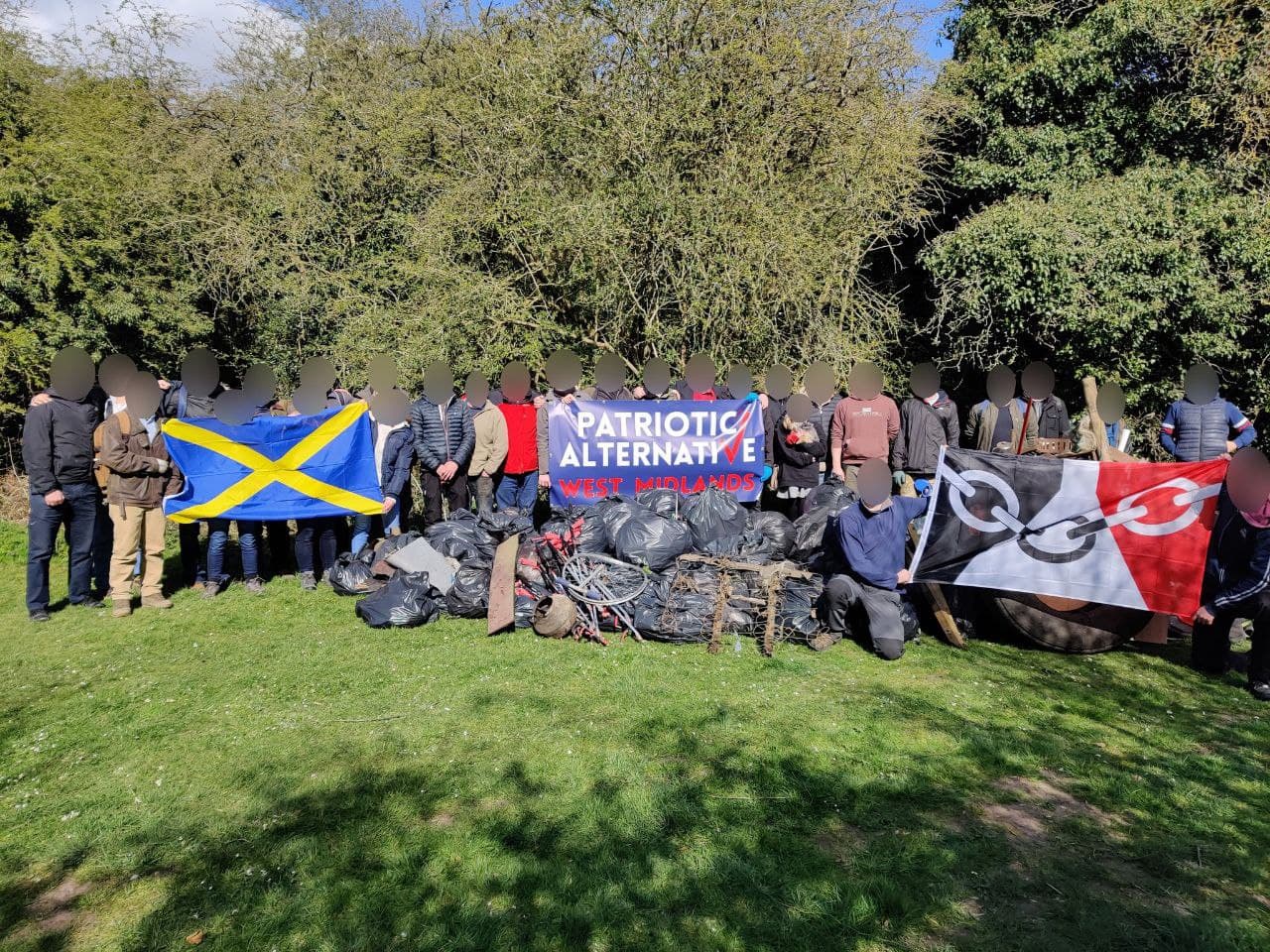 The British far right is changing. The 2010s were defined by huge crowds, steered by 'far right influencers', chief among them the shameless provocateur and leader of the English Defence League (EDL), Tommy Robinson. 
Robinson's abilities as an influencer allowed him to crawl to the top of any far-right formation, or at least exert a sizable influence over it, riding a wave of online visibility afforded by the hands-off policies of large internet platforms. Although he was an impressive audience-builder, he had no interest in building a membership organisation. The 'far-right influencer' model made Robinson personally notorious, and it kept the far right's aggressive Islamophobia in the public consciousness, but it didn't produce highly structured or particularly coherent far-right organisations.
Even as Robinson has shied away from attending in-person demonstrations more recently, his eminently chantable (and, famously, fake) name has continued to ring out from the crowds gathered at far-right marches: 'Oh, Tommy, Tommy'. He was present as an expression of the movement's self-image, more than as a concrete organising force. And now, his legal troubles, newfound risk-aversion and comprehensive deplatforming could signal his final decline. 
The era of Tommy Robinson required particular forms of anti-fascism. Now the far right is shifting and this requires both understanding and adjustment from the left. It has turned away from the chaotic, loosely organised street demonstrations so familiar from the 2010s and towards a newfound, but no less dangerous, focus on ethnonationalist community building. Groups that were once built online and which found their expression in the street are moving offline entirely, making the turn towards overt neo-Nazism, and building up their cadres.
And, accordingly, if the far right is changing, anti-fascism must change too.
The right is trying to build a movement. 
Tommy Robinson leaves behind little in the way of formal structure for the far right. Other far-right groups have eschewed the 'influencer-plus-audience' model he perfected and have instead attempted to build membership organisations with more staying power. These new organisational forms blend online and IRL activity, and mediagenic stunts with the slower work of community building. 
The Proud Boys in the US are an example of success using this model. Initially organised as Gavin McInnes' audience, they rapidly turned into a membership organisation with a clear structure – one that survived (albeit somewhat changed) after McInnes was no longer the figurehead.
Other groups, like the pan-Europeanist Generation Identity (GI), have also attempted to build more robust organisational forms – and in Europe, it was successful for a time. In France, GI developed a network of physical infrastructure and established links with Marine Le Pen's Rassemblement National, formerly known as the National Front. Activists blockaded the French-Italian alpine pass in protest of migrant crossings. In Germany, the group organised major stunts including a banner drop from the Brandenburg gate. Impressive-looking drone footage of a training camp was circulated. They recruited at universities. The whole organisation participated, along with the far-right influencer Lauren Southern, in a campaign to intimidate migrants attempting the dangerous crossing over the Mediterranean to Europe.
Racist beatings, Nazi salutes and secret ties to one of France's largest political parties. @AJIunit investigates Europe's fastest growing far-right movement.

Watch the film Generation Identity don't want you to see. #GenerationHate: https://t.co/a1kUXiBD3d pic.twitter.com/3GXCY764rV

— Al Jazeera English (@AJEnglish) December 10, 2018
But GI was not to last. Its model, though at first seeming to have better long-term prospects than Robinson's influencer model, ended up running afoul of the law in multiple countries. The activists blockading the pass in the Alps were charged with impersonating the state, an accusation which reveals the burning conventionalism at the heart of their politics. 
Another problem was that this more solid organisational form was also vulnerable to being linked to far-right terrorism. It was revealed shortly after his deadly massacre that the Christchurch shooter had donated money to GI, bringing police raids and increased scrutiny. At the time of writing, GI groups across Europe are a shadow of their former selves.
In contrast to the European identitarians, the GI model in the UK was a disaster from the start. Suspicions about pan-Europeanism were rife: GI was supportive of 'Irish identity', a sentiment that is taboo amongst the UK far right. Unable therefore to recruit from the more experienced groups, GI was placed under incompetent and flimsy leadership. Its links to antisemites and neo-Nazis were revealed and the group fractured. The sickening burst of publicity provided by the BBC in the aftermath of the Christchurch shooting (the shooter's manifesto was named after a conspiracy theory that GI promoted) wasn't enough, and they disbanded.
It is in this context of shifting organisational models that a new fascist party has emerged in the UK. 
Patriotic Alternative is a growing threat. 
Patriotic Alternative (PA), a party that was founded in 2019, has recently risen to prominence amongst the British far right. Whereas street movements like the EDL and the Democratic Football Lads Alliance (DFLA) were 'civic nationalist', meaning that they were nominally open to non-white members, PA has embraced white-supremacist ethnonationalism. Individual members openly describe themselves as fascists, tracts like Mein Kampf are shared in PA chats, and leader Mark Collett – himself a former BNP official – replied to the question of whether or not he is a Nazi with the sly, "Well, I'm a socialist… and I'm also a nationalist." The party's politics are similar to the British National Party (BNP), concerned with the denigration of 'indigenous' white Britons. 
You can here what RF have been up to in our interview with them about Patriotic Alternativehttps://t.co/pecUsQTpCg

— 12 Rules For WHAT (@12rulesforwhat) December 20, 2021
Collett's channel on Bitchute, a 'free speech' alternative to Youtube, contains rants on Jews and Black Lives Matter, Jews and porn, and Jews and more or less anything else. Recently, however, BitChute changed its terms of service, and Collett's videos are now partially unavailable there. Still, less stringent platforms have been more amenable to him.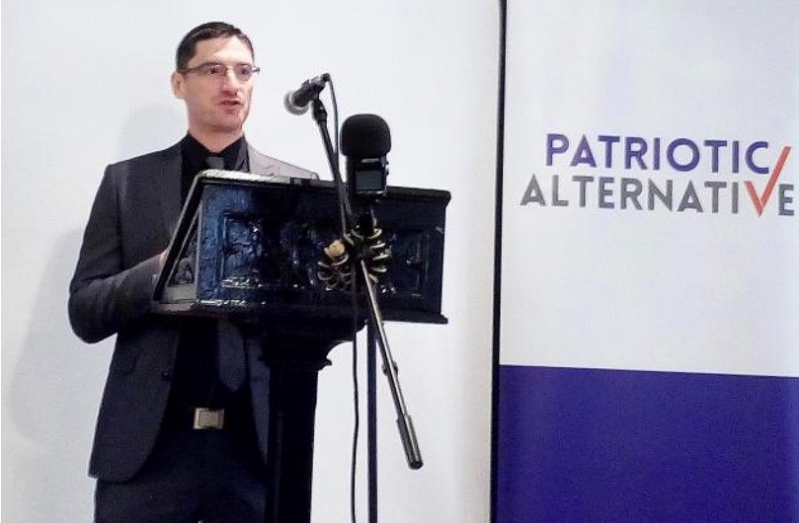 Other media associated with PA is equally repellant. 'The Absolute State of Britain', a podcast intimately linked to PA, has 118 episodes of vitriol to its name. In a single episode (chosen at random), the hosts deny the Holocaust, use slurs for Pakistani people, call Meghan Markle a "ladder-climbing whore" and "Shlomo's sloppy seconds", as well as branding her child a "quadroon ape", and discuss the desirability of a future race war. Elsewhere, the hosts have apologised for the murderer of Jo Cox and the Christchurch shooter and frequently sign off their episodes with a cheery "Seeya Kyle", a homophone for 'Sieg Heil'. 
Despite all this, there is an audience for their content. However, it is still just an audience. A decade of Robinson's audience-building and five years of online alt-right activity have left far-right communities highly connected online, but only thinly connected in person. 
It is now PA's central task to thicken these in-person connections. It will do so not through the 2010s' street movements' large-scale demonstrations, but through what it calls 'community building'. This largely means doing fitness training together, going camping, hiking and establishing a network of nationalist businesses. This focus on in-person community building has been a challenge to anti-fascists who have been used to a stream of publicly announced street demonstrations to oppose. 
A new era for the far right in Britain. 
PA has differences with the BNP, chief among them its plans for elections. Whereas the BNP contested elections, PA has repeatedly failed to register as a party with the electoral commission (for reasons so obvious and trivial one might suspect this failure is deliberate). The BNP had an established base of far-right organisers upon which to build their electoral prospects, something that PA is attempting to address. 
PA has separated itself from the BNP at the level of personnel as well. It conspicuously did not invite many highly experienced ex-BNP activists to be organisers, likely because Collett did not want any challenges to his leadership from established activists.
At the moment, PA does not have an obvious strategic direction. Indeed, it has proved itself to be shamelessly opportunistic. Nowhere is this clearer than in its approach to the pandemic. At first, PA was in favour of lockdown, reasoning that those worst affected by Covid-19 would be 'old white people'. The party has since pivoted to being fully opposed to lockdowns. It's almost impossible not to read this as a cynical tactical move: PA understood that its base was more interested in the conspiracy than public safety, more indifferent to the lives of the elderly than it would publicly claim to be, and it adjusted accordingly. 
PA's bootloader phase is now arguably over: the party has have grown sufficiently to become a self-sustaining organisation. 
As we move out of lockdown, PA's combination of hardline politics and frequent cynical readjustments is well-placed to take advantage of much of the conspiratorial ferment and social fragmentation that lockdown has engendered. It is likely to make rapid gains in support and thus begin a new era of the far right in Britain.
The wider left must start organising against them. 
Red Flare contributed research.
Alex Roberts is an author of Post-Internet Far Right and makes a podcast about the far right.
Sam Moore is an author of Post-Internet Far Right and makes a podcast about the far right.