The Hostile Environment Is Putting Everyone at Greater Risk From Covid
In a public health crisis, if one group isn't protected, no-one is.
8 February 2022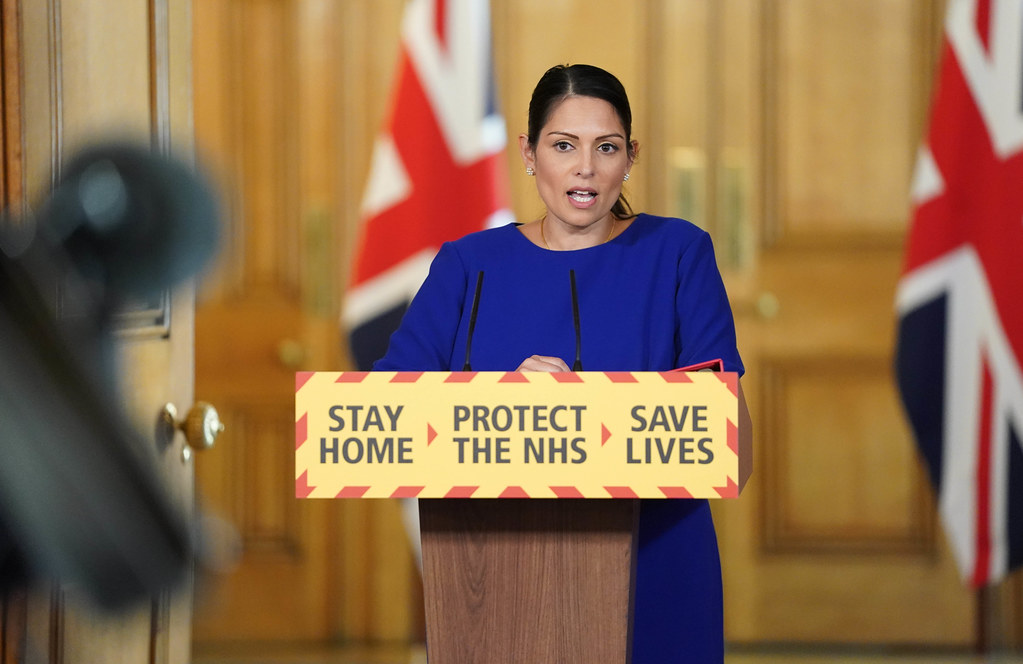 Pippa Fowles / No 10 Downing Street
The government's unwavering commitment to the hostile environment has created serious public health risks and contributed to the overall severity of the coronavirus crisis in the UK. 
The hostile environment systematically blocks so-called irregular migrants (those without secure status or valid documentation) from accessing the fundamental necessities needed to stay safe and healthy during the pandemic, making them especially vulnerable to Covid-19. 
But with coronavirus – a virus that is transmitted by touch and airborne infection – exposing just how interconnected individual and collective wellbeing is, it has become abundantly clear that such policies don't just endanger migrants; they endanger us all. 
This endangerment extends beyond just the physical. The deliberate suffering caused by the hostile environment deepens the culture of division and distrust that took root long before the pandemic, undermining many of the tools we have to combat the virus and our chances of recovering as a nation. 
With the public health consequences of the hostile environment only set to intensify with the new nationality and borders bill, if we are to ever "learn to live" with coronavirus, it is vital we build a more compassionate and rational immigration system that centres public health.  
migrant groups who have seen the largest increase in deaths during this period are same ones who are specifically targeted by hostile environment. this is no coincidence. more legislation, raids, detention, deportation = more fear + less ability to access healthcare + services. pic.twitter.com/0HStJ4KO0S

— Ben Smoke (@bencsmoke) June 2, 2020
The hostile environment blocks access to healthcare. 
The most explicit way the hostile environment harms migrants – and, by extension, us all – during the pandemic, is by blocking their access to healthcare. 
Since 2014, healthcare workers across many NHS services have been made to act as border agents, conducting immigration checks before providing healthcare, and charging migrants with irregular status or temporary visas for their treatment. NHS charges for migrants have been hiked to 150% of the national tariff, meaning that patients are often handed extortionate medical bills – one person was charged £90,000 after waking from a coma, another £4,000 after giving birth. 
Until recently, the NHS data-sharing agreement with the Home Office, a policy that led to 6,000 migrants being tracked by immigration police, meant that using health services could lead to detention or deportation. 
The presence of border enforcement in the NHS discourages migrants from seeking healthcare. This has led to health conditions deteriorating due to delayed care, pregnant women avoiding crucial appointments, and Grenfell tower survivors being too scared to go to A&E.
This culture of policing migrants has seriously undermined the government's public health strategy during the pandemic. Despite the Tories guaranteeing universal access to coronavirus testing and treatment – a logical imperative during a global health crisis – a study led by the Joint Council for the Welfare of Immigrants found that 43% of migrant respondents were too scared to access healthcare during the pandemic due to fears of immigration checks or being charged – a figure that rose to 82% for irregular migrants who feared deportation. The depths of this fear is exemplified in the tragic case of Elvis, a Filipino migrant who died of Covid-19 at home rather than risk going to hospital.
The Hostile Environment in the NHS has led to migrants with Covid-19 symptoms passing away without seeking treatment.

With @ApsanaBegumMP & @BellRibeiroAddy, I've called on @MattHancock to restore the NHS to its founding principle:

Universal healthcare to everyone who needs it. pic.twitter.com/uSJBgyGfEg

— Zarah Sultana MP (@zarahsultana) April 17, 2020
His fears were entirely founded. Although irregular migrants do not legally have to prove their right to access coronavirus services, an investigation led by the Independent proved otherwise; a dummy patient trying to book a vaccine without identification was refused by 62% of centres. 
This culture of exclusion and distrust now plagues the NHS and has likely contributed to lower vaccine rates amongst migrants, undermining the central pillar of the UK government's Covid-19 recovery strategy; to get as many people as possible vaccinated.
By discouraging a section of society from getting vaccinated, the government is limiting the success of the vaccine in reducing community transmission, which, in turn, undermines the country's resilience to current and future variants. This decision is putting all of us at greater risk from coronavirus.
The hostile environment forces migrants into unsafe work. 
The hostile environment also makes it harder for irregular migrants to access safe and secure work, which has wider implications for all of us during the pandemic. Given the recent easing of all other coronavirus rules, the most effective strategy to break the chains of transmission is for people to self-isolate if they are symptomatic or have tested positive for the virus. The hostile environment, however, makes this extremely difficult for many migrants to do. 
Under the policy, employers hiring irregular workers or asylum seekers who don't have legal permission to work, face fines of £20,000, five-year prison sentences, and the prospect of having their business shut down. 
Due to the high risks for employers, coupled with the fact that employment options are so limited, irregular migrants are extremely vulnerable to exploitation, often doing precarious, informal work with no labour rights and low wages.
Coronavirus has only exacerbated these problems. With no access to sick pay or benefits, migrants are left unable to demand adequate personal protective equipment or take time off work if they are vulnerable or – seriously risking their own health. 
🗣️"Migrants in insecure work, without access to the public safety net, have been forced to work in unsafe conditions."@minnierahman on the urgent need to scrap the hostile environment + level up rights at work for allhttps://t.co/S9gUZuziKX

— JCWI (@JCWI_UK) September 30, 2020
What's more, migrants often have little choice but to keep working despite having coronavirus symptoms, thereby contradicting self-isolation regulations, risking spreading the virus and threatening the health of everyone they come into contact with.
The exploitative working conditions experienced by migrant domestic and care workers – many of whom interact closely with extremely vulnerable people – highlight the extent to which the limited power and choices migrants possess endanger everyone during the pandemic.
The hostile environment perpetuates housing inequality. 
The hostile environment also seriously restricts housing opportunities for irregular migrants and many others in society, producing fertile environments for the virus to thrive.
Right to rent legislation threatens landlords with five years in prison for renting to tenants who cannot prove leave to remain, which the Home Office hopes will make it hard for these migrants "to establish a settled lifestyle through stable housing."
These punishments act as huge deterrents for landlords, meaning irregular migrants are typically limited to renting from landlords at the margins of the housing market. This massively undermines their power as tenants and normalises overcrowding in poor quality housing, which presents serious risks during the pandemic.   
Overcrowded housing has been found to be strongly positively correlated to Covid-19 death rates; the London borough of Newham had both the highest death rates during the spring of 2020 and the highest proportion of overcrowded homes. In a study exploring Filipino migrants' experiences in the UK during the pandemic, the risks of household transmission were highlighted by one interviewee, who recounted living with 14 other migrants in a five-bedroom house, all of whom developed coronavirus simultaneously.
📢"There can be no recovery from #coronavirus which does not encompass new rights for migrants or tackle the root causes of racial discrimination.."

Brilliant piece by @minnierahman on why Right to Rent + the wider Hostile Environment must be scrapped nowhttps://t.co/HFrrELPrLX

— JCWI (@JCWI_UK) April 27, 2020
What's more, right to rent does not just harm irregular migrants. The threat of severe criminal punishments incentivises landlords to play it safe by renting to tenants they automatically presume to be British, leading to widespread evidence of racial profiling and discrimination. 
The policy heightens structural barriers in the housing market for Black, Asian and minority ethnic communities, making it harder to access decent, non-crowded housing and perpetuating housing inequality that makes people so much more vulnerable during the pandemic. 
It is eroding our trust in the government and each other. 
Beyond preventing migrants from being able to keep themselves and others safe in a practical sense, the hostile environment's encouragement of civilian-on-civilian policing has fostered a climate of distrust and suspicion that endangers us all during Covid-19 and beyond. 
Suffering is not a byproduct of the hostile environment, it is written into its very framework, designed to make life so unbearable for irregular migrants that they are deterred from staying in the UK. With the government having spent over a decade enforcing policies that deliberately cause harm to arguably the most vulnerable section of society, many people – both irregular migrants and the wider public – find it difficult to trust our political leaders, and, by extension, their public health agenda.  
Emerging global research shows how an erosion of trust in government makes people less likely to comply with Covid-19 regulations. Under the hostile environment, migrants are forced to retreat from the reach of the state, making them far less likely to comply with public health measures that require being detected, "tracked" or "traced" by authorities. The involvement of Serco and G4S in test and trace infrastructure, companies notorious for running private immigration detention centres, only further exacerbates the problem. Their involvement is likely to have further compromised the public's willingness to follow coronavirus regulations. 
It's not "NHS Test and Trace"
It's Serco Test and Trace
It's Deloitte Test and Trace
It's G4S Test and Trace
It's Randox Test and Trace
It's Sodexo Test and Trace

Still not worried about a privatised NHS?

— Hasan Patel 🌹 (@CorbynistaTeen) September 23, 2020
Making everyday citizens and public service workers responsible for inflicting the hostile environment's harms further damages the trust and solidarity between all of us. As acting in solidarity with others is critical in a pandemic, the hostile environment's inevitable consequences of division, suspicion and distrust should be seen as a threat to our collective struggle against Covid-19. 
Ending the hostile environment is a public health imperative. 
By deliberately incapacitating migrants and fuelling a climate of distrust, the hostile environment undermines many of the measures that are essential to our collective recovery against coronavirus, nurturing a fertile terrain for the virus to breed, and making everyone more vulnerable in the process. It has never been more apparent that fighting for justice for migrants is in all of our interests. 
We will only build resilience to Covid-19, and inevitable future epidemics, by withdrawing the insidious presence of border enforcement from our NHS, housing and labour markets, as well as other key public services. This should form a core part of our post-pandemic recovery strategy, which should strive to protect all of our health and mitigate the social and economic devastation that the pandemic continues to wreak across the country.  
A migration system that is based on logic, evidence, fairness and humanity, not punishment, cruelty and political gain, is not only possible but an absolute necessity in ensuring that everyone is safe and protected in this pandemic. 

Ella Weldon is a masters graduate from the School of Oriental and African Studies.