Russia's War Will Make the Cost of Living Crisis Even Worse
And the Tories are doing nothing to stop it.
16 March 2022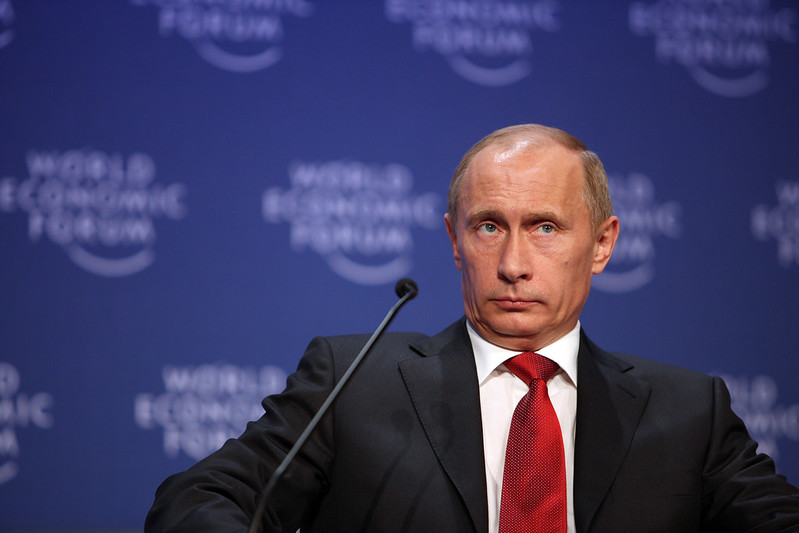 Vladimir Putin (World Economic Forum)
Living standards in Britain look set to be hit the hardest in living memory over the next 12 months, with the Bank of England anticipating inflation peaking at 7% around Easter. This is likely to be an optimistic estimation, however, with 10% or higher rates of inflation entirely plausible. That said, even if inflation does only hit 7%, it will still be much higher than the rate at which people's pay is being increased, which is currently averaging under 4% – and, of course, not everyone is getting a pay rise.
This means that most of us should expect to feel much poorer as the year grinds on. Covid, extreme weather and now the radical disruption caused by Russia's invasion of Ukraine are combining with the obscene inequality and profiteering of capitalism in Britain to create a serious and sustained decline in the quality of life most of us experience. 
And this is before we consider the possible impact of further financial crises, driven, in particular, by the economic sanctions placed on Russia. These have so far targeted the country's financial system, rather than taking the more dramatic step of cutting sales of its gas and oil into Europe. However, because Russian financial institutions are integrated into the global financial system, hitting them risks creating a ripple effect throughout the rest of the system – for example, targeted Russian banks could fail to pay their debts to other countries' financial institutions. At the time of writing, the Russian government is threatening to default (fail to meet repayments due in full) on its own debts.
So far, the economic impacts of these sanctions have been limited, reflecting the Russian economy's relatively small size as much as anything else. But by their very nature, financial crises have a habit of snowballing.
Essentials are about to get a lot more expensive.  
The most important economic impacts of Russia's war with Ukraine are on the necessities of living, like energy for heating,  electricity and food. Between them, Russia and Ukraine also supply almost 40% of the world's wheat exports. The Ukrainian harvest this year will be severely hit, whilst exports from Ukrainian ports have halted. Already, wheat prices for delivery later in the year have shot up by 50%. Many countries have already moved to ban exports of wheat and other grains, including Egypt and Hungary, which is further disrupting global supply.
🍞 Millennials are often told to eat less avocado on toast. But we may all have to eat less toast in the weeks ahead, as Russia's invasion of Ukraine is causing the price of wheat (and by extension, bread) to skyrocket.

Wheat is now $12 a bushel, up from $6 a year ago. pic.twitter.com/vDOrHdWsTw

— Novara Media (@novaramedia) March 10, 2022
Given that Britain's domestic food production can meet about 75% of its domestic consumption, these globally rising food prices can be expected to significantly impact the country over the next few months, as the price of the food we import rapidly increases. What's more, with Russia and Ukraine supplying many of the world's necessary raw materials for manufacturing – from neon to nickel to sapphire substrates – the era of cheap manufactured goods is coming to a rapid, messy close.
All of this is culminating in rapidly rising inflation across the globe. Some have claimed that Britain will experience the biggest decline in living standards since the 1950s, but, looking at the official figures, it is clear this is a serious understatement. 
The current set of official figures for inflation only goes back as far as 1955, which makes drawing comparisons any earlier than that difficult. That said, the best estimates by economic historians for prices and wages over the last few centuries suggest that the next 12 months could easily be the worst for living standards since the industrial revolution, which saw most people's quality of life worsen considerably over the first half of the 19th century. 
The current crisis must be understood within the context of the last decade, which saw most people's living standards subjected to an unprecedented squeeze. Wage increases failed to keep up with even the relatively low rates of inflation, meaning that most people's real standard of living appreciably worsened. The Tories' brutal austerity programme, which undermined public services and slashed people's already meagre benefits payments, only served to compound the situation. 
It's also worth pointing out that the official statistics are likely underestimating just how bad living standards will get, given that the official measure of inflation is only an average measure of price rises. This way of calculating things understates the true cost that rising prices have on poorer households, as food writer Jack Monroe points out. First, because those who earn less have to spend proportionately more of what they have on essentials, like food and heating. But with these essentials now facing the biggest price rises, the real impact of inflation on low earners is far worse than official figures suggest. Second, because lower-priced goods tend to rise more rapidly in price than higher ones or, alternatively, can suffer from so-called shrinkflation – when a product's size, or worse, quality is reduced.
If the official measure of inflation reaches 10%, the real impact on living standards for low earners will be much higher. The same applies even more so to those who rent, since rents have increased more rapidly than the official measure of inflation. And, of course, rising prices in the housing sector actually benefit those who own property, especially if you don't have a mortgage to pay, like the majority of owner-occupiers in Britain today.
The government must take action. 
The British government appears to be sleepwalking through this mounting crisis. Chancellor Rishi Sunak is due to make his so-called spring statement next week – one of the two scheduled fiscal events in a year in which the government can announce tax and spending changes. However, Sunak and his aides have made it clear that he will not be introducing significant new measures to tackle the price increases. It is expected that the scheduled rise in national insurance contributions, which will cost an average earner £252 more, will still go ahead, whilst the minimum wage will not be raised, and only the derisory £200 loan will be offered to hard-pressed households facing massive energy price rises.
This is a pathetic response. Britain is the sixth richest country on the planet and the government could easily lift the burden of the crises we face. It could act to freeze prices, tax the rich and subsidise essential items. But to do this, the oligarchs, the rentiers and the profiteers would have to lose out – something the Tories are, predictably, unwilling to make happen.
Can we stop calling it a Cost of Living Crisis and start calling it State-Inflicted Poverty, please?

— CrémantCommunarde #Breakthrough 🌍 🧡🌤🐢 (@0Calamity) March 15, 2022
Instead, they are content to stand idly by as corporations rake in super-profits, as ordinary people languish. BP and Shell made £40bn in profit last year, whilst research by Common Wealth shows that the household gas distribution companies, which are little more than intermediaries, are the most profitable companies in the whole country, making an incredible 42.5% profit on their sales last year. (For comparison, the average UK company profit rate, outside of the North Sea, is 9%.) 
If the government is actually interested in easing the pain of the coming year, it needs to start by taking the following three steps. First, it must reverse not only the planned national insurance contribution increase, but also the 56% rise in average energy bills scheduled for April. Both of these are under direct government control and could very easily be halted by the chancellor next week; a windfall tax and wealth taxes could help cover the funding of both.
Second, it must implement a general increase in wages. The quickest way to do this is by implementing a very rapid rise in the minimum wage, well above the 7% inflation forecast. This would immediately compensate the lowest paid. Beyond that, trade union membership and collective bargaining are essential for everyone in work – every trade union should now be pushing for double-digit pay rises.
And third, as a longer-term strategy, the government should be investing in domestic energy and food production, which not only afford important environmental benefits, but offer Britain greater protections in an increasingly unstable world. 
James Meadway is an economist and Novara Media columnist.