The Facebook Groups That Are Like 'Tinder' for Ukrainian Refugees
'It's the wild west of refugee resettlement'.
14 April 2022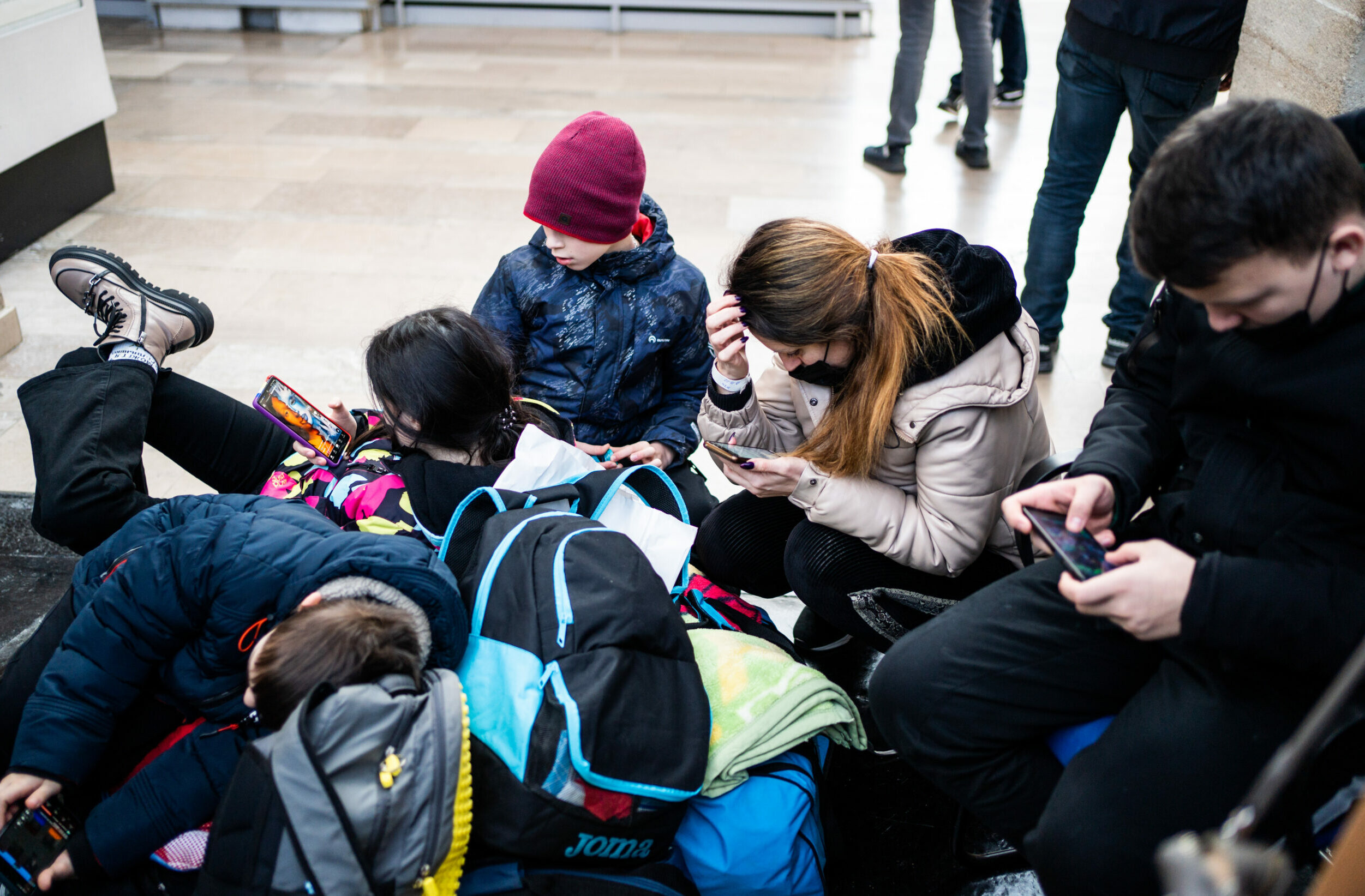 Ukrainian refugees rest in the corner of a train station, March 2022. Hans Lucas/Reuters
"My name is Anna, I'm 42 years old. I have a daughter, she is 10 years old, we are from Ukraine, from Kyiv. I am looking for a sponsor in the UK under the program 'Houses for Ukraine'. I am a positive and cheerful person, I have no bad habits."
"Hi! My name is Elena. My mum, Natalia, her dog and I, 50 are looking for a sponsor to apply for a temporary shelter in the UK. We are located in Kyiv and have been living here all our life. I speak English fluently so communication won't be a problem. Well-travelled, intelligent, with a positive outlook on life and neat."
"Hi all ! Can someone pick me up too ? … Lived an interesting life… worked as a history teacher, businessman… I wont just sit in England. I can work. My proposals: 1. for filmmakers – because I have lot of many artifacts ( Im historian-archivist:) and impressions from Spielberg and Mikhalkov make a documentary about Good and Evil. 2. for restaurateurs – methinks ukrainian dishes will be in demand – borsch, varenyky, deruny. I cook all this 40 years for may family. 3. for builder – lay tiles and all in apartment reconstruction. Choose. Or any yours offers. Ah, Tanks for reading ! Sincerely, yours Igor."
The above are appeals from Ukrainian refugees, posted on volunteer-run Facebook groups that seek to match people fleeing the war with hosts in the UK. Posts are often accompanied by personal information and photos of those seeking accommodation – mostly women and children. In turn, potential UK hosts share posts detailing what they can offer, often including photos of their spare bedrooms and occasionally requesting payment or domestic labour.
These Facebook groups, as well as Airbnb-like websites, have sprung up in response to the government's 'Homes for Ukraine' scheme which launched in March. The scheme itself amounted to little more than a web page on which British citizens could register interest in hosting a Ukrainian refugee. Though the government has now provided one charity with £300k to coordinate the process of matching refugees with hosts, the lion's share of this work is still being done by volunteers on social media, hastily-made websites, and by under-resourced charities. Indeed, of the 200,000 British hosts who have registered their interest in hosting a refugee, many are looking to these volunteer-run platforms to meet someone fleeing the war. 
The 'wild west' of refugee resettlement.
Despite their best intentions, these platforms pose risks to refugees which the government has not accounted for, say experts on resettlement schemes. As it stands, says Laura Durán, senior policy and research officer at Every Child Protected Against Trafficking (ECPAT), the Homes for Ukraine scheme is a "wild west" approach to refugee resettlement that undermines "the robust mechanisms that have been developed through other resettlement programmes," placing refugees at increased risk of violence, exploitation and trafficking.
Durán isn't alone in her fears. Around two weeks after the scheme was launched, 16 refugee and anti-trafficking organisations including the Refugee Council, ECPAT and the Helen Bamber Foundation signed a letter to communities secretary Michael Gove noting concern about these dangers and calling on the government to "urgently regulate" the scheme. The letter warns of the risks to refugees from "traffickers, criminals and unscrupulous landlords" when matching sites can be set-up and administered by anyone, citing reports of human trafficking at the Polish and Romanian borders with Ukraine as well as "dubious matching sites" operating in the UK "to lure refugees".
"The operationalisation of this scheme" says Durán, via "informal networks that arose as part of that lack of safeguarding thinking" by the government means "people who are really desperate potentially being taken advantage of." The only barrier to entry to these groups is ticking some boxes stating you agree to the group's 'rules'. One group, for example, asks those joining to respond 'yes' to: "Do you agree to offer only SAFE accommodation which you will register under the Governments [sic] scheme here?" and "Do you agree to flag any suspicious activity directly to admin. This includes offers for unaccompanied children/young people". In response to rising concerns, some Facebook groups are now posting links to websites such as crimestoppers-uk.org, requesting that hosts don't message refugees first, and asking that refugees don't share photographs of themselves, or children in particular.
Indeed, many refugees using the scheme are worried about risking sexually predatory behaviour in their attempts to find hosts such that way the scheme is currently being managed has been compared to the dating app Tinder. "I have been contacted by some women in confidence with concerns over potential hosts. Please if you have had unwanted advances […] email me in confidence sharing screenshots so that we can ensure the safety of yourself and others," writes the admin of one Facebook group. 
These concerns are not unfounded. On Twitter, one now-suspended user claiming to have signed up for the resettlement scheme, wrote: "WANTED: Ukrainian refugee for my spare room", alongside a photo of a scantily clad Vlada Shcheglova, once listed among 'hottest women of the week' by the men's magazine GQ. A month later, the same user tweeted a photo of a man showing his Ukrainian passport with the caption: "My Ukrainian refugee is here, his name is Igor, he's a lot older and bigger than I expected, but let's hope he settles in and enjoys the spare room".
Competing for attention.
But trafficking and sexual harassment aren't the only problems with the operationalisation of the Homes for Ukraine scheme. In many cases, matching sites look more like marketplaces than platforms for urgent humanitarian provision. Refugees' and hosts' posts are referred to as 'ads'. Refugees' 'ads' often detail their attributes, interests, skills and experiences, sometimes including photographs of those looking for a 'match'. Some posts attract hundreds of likes and emoji 'reactions', others few.
This matching process, says Anne Kaun, professor in media and communication studies at Södertörn University, Sweden, entails a "competition for attention", played out between vulnerable people "fight[ing] for visibility […] to get urgent relief help". Platforms such as Facebook, she says, profit by cultivating an "attention economy" – and some users are more adept at attention-grabbing than others. Indeed, with the hosting scheme largely operating on websites and Facebook groups, those who can't access or navigate the internet or social media platforms will be excluded altogether.
Even for those refugees who are able to access and potentially make connections on Facebook, the platform's algorithms dictate their chances of finding a host. The factors which make some posts more visible and popular than others are "opaque", says Kaun. Even among experts, "little [is known] about how the algorithms within Facebook are working".
What's more, by effectively outsourcing refugee resettlement to technology giants rather than setting up a safe, centralised matching process, the government risks the sustainability of its operation. "Technology can feel like a shortcut to impact in a moment of impossible hardship," says Ed Geraghty, senior technologist at Privacy International. "But little thought is given to the time-shifted risks of these technologies." Facebook groups run by volunteers, for example, are at risk of being shut down by the platform, or disappearing altogether with the platform itself. He also warns that hastily-made websites and social media groups are highly vulnerable to personal data security breaches.
A bigger fight.
But despite all the problems with the resettlement scheme, it's not all bad news. What's clear, says Durán, is when the government launched Homes for Ukraine, it didn't expect so many people to sign up to host refugees. "Politicians keep thinking that they're being voted into a mandate of being really hostile to immigrants," she says. "[But] I think we all feel sceptical that that's really what people want." 
Indeed, those in Britain who signed up to the scheme have now witnessed first hand the government's failings in facilitating safe migration for Ukrainian refugees to Britain. Our challenge now is to channel support for Ukrainian refugees into the fight against the government's hostile immigration policy at large.
Sophie K Rosa is a freelance journalist and the author of Radical Intimacy.