Football Fans Are on the Frontline of Police Brutality
They're canaries in a coal mine.
2 June 2022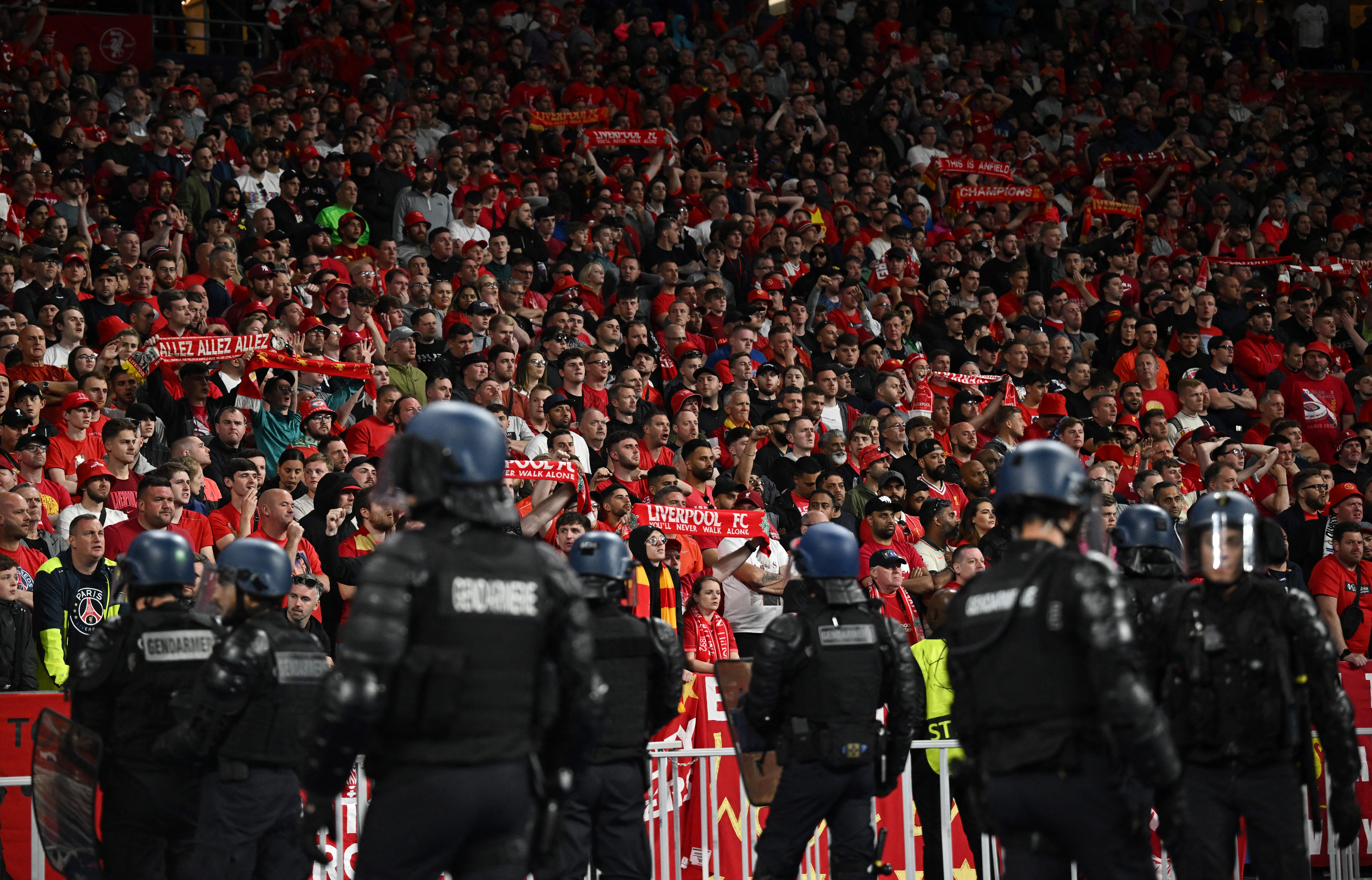 Liverpool fans at the Champions League final in Paris last weekend faced smears and police violence. Dylan Martinez/Reuters
Saturday 28 May, the 2022 Champions League final, should have been the highlight of Liverpool FC's season. Instead, it quickly descended into every football fan's worst nightmare.
Three hours before kick off at the Stade de France in Paris, UEFA officials and French police funnelled thousands of Liverpool fans into a small space for security checks. Doing so formed a bottleneck, with supporters pleading to officials that they couldn't breathe, in scenes reminiscent of the 1989 Hillsborough disaster that saw 97 fans unlawfully killed in a crowd crush caused by police mismanagement. 
The unexplained closing of most turnstiles meant hundreds of fans were trapped outside a fence surrounding the stadium concourse, unable to get into the stadium or escape the impending crush. There, despite their vulnerability, fans were repeatedly tear-gassed by French police in riot gear. Fan testimonies and videos show pepper spray deployed in every direction, like it was air freshener, including in the faces of children, the elderly and disabled fans.
The mismanagement outside the stadium meant kick off was delayed by 35 minutes, yet UEFA announcements within the stadium immediately began blaming Liverpool supporters for the wait, attributing it to the "late arrival of fans". It was a trope straight from South Yorkshire & West Midlands Police's playbook following Hillsborough, and mirrored an all-too familiar narrative constructed by the British establishment that demonised fans in order to evade institutional accountability.
As the scale of violence fans faced became clear, authorities amplified their smear campaign. In a statement following the chaos, UEFA said the crush was caused by "thousands of fans who had purchased fake tickets", which caused delays at turnstiles. The French government quickly picked up the thread, with interior minister Gérald Darmanin alleging "industrial-scale ticket fraud" on the part of Liverpool fans – claims widely disputed – and defending the actions of police officers as preventing "serious injury or death". 
'We felt lucky we got through without being hurt.' 
This narrative doesn't tally with the experience of fans on the ground – nor the visual evidence of events that has been circulating since Saturday. 
"I just can't get the sounds and sight of crying kids and shaken parents out [of] my head," says Charlie, 29, who returned from Paris on Monday. "We felt lucky we got through without being hurt." 
Police, say Charlie, seemed inert when it came to helping those in distress. "20 bizzies all in riot-gear stood waiting on the other side, just watching the crush develop," he explains. 
Olivia Gilhooley, 33, attended the match with her dad David, a Hillsborough survivor. The pair arrived at the Stade de France at 6.15pm. Kick off wasn't until 9pm. Yet they struggled to enter the stadium, with directions scarce. "There were no stewards or signs," says Olivia – only a "broken metal fence we stepped over. It was at this point I began to feel unsafe".
In testimony submitted to Liverpool FC, David noted that he'd made the journey to the Stade de France on several occasions previously. "The walk from Saint-Denis Porte de Paris metro to the stadium is normally a gentle stroll," he says. Yet on Saturday he and Olivia encountered four gendarmes, members of a body of armed French military police specialising in public order, but no UEFA stewards. "The entire operation was intimidatory and hostile," David wrote.
Liverpool-based writer Dan Fieldsend was also there. He describes fans being "robbed and sliced with knives" by "local gangs" when walking back to Saint-Denis metro station – reports supported by fan groups and journalists present. "It was like a scene from a battle," he recalls. "There was blood everywhere."
Despite this, Dan says the previously omnipresent police presence evaporated when fans were being assaulted. "They were too busy lining up Liverpool fans at the stadium to actually care about their safety," he observes. "It felt like an ambush. We were the main target – the police weren't protecting us from the gangs".
Police brutality and negligence were also on show elsewhere in the city. Jay Reid, 34, travelled back to Liverpool with friends who had been in the fan park, situated along the Cours de Vincennes, where police kettled supporters at the entrance and used tear gas at the end of the game. This contradicts the official narrative that police only "used force against lawless ticketless fans at the ground," Jay says. 
Police continued to herd fans like cattle. "Coming out [of] the stadium we were all pushed with riot batons and shields through one gate, while the others were shut," Jay says. "Police were antagonising us to cause trouble".
The aftershocks are still settling in. "I'm glad there's no footy for two months," Jay tells me. "This has rattled everybody. I never thought I'd have to tell my family I got in and out of a game safely". 
Canaries in a coal mine.
These accounts illustrate how portrayals of football fans as hooligans often influence how matches are 'managed'. Before police even interact with fans, they're adjusting their policing response in light of their preconceptions. Liverpool fans are familiar with this, with precedent for their vilification established both before and after Hillsborough. The authorities in Paris proved this again, with French sports minister Amélie Oudéa-Castéra admitting the pre-match police memo stated that Liverpool fans "pose a very specific risk" and that a "high number" would "try to push through the turnstiles at once". 
Crucially, when it comes to policing, football fans are canaries in a coal mine. In both the UK, with the police, crime, sentencing and courts (PCSC) bill, and across Europe, governments are passing legislation to increase police powers. Greater police impunity correlates with greater violence in 'managing' events with a police presence. Football fans and protesters – two demographics that frequently rub up against police in crowds – are often some of those to experience this first.
It's no surprise, then, that in January the UK's football policing lead claimed fan disorder is "getting worse", citing "anti-social behaviour among younger fans" as a particular concern. The truth, however, as 50 years of research shows, is that it is almost always the disproportionate use of force on the side of the authorities that decides if an interaction turns into a clash. In short, violent policing methods are what turn peaceful situations into dangerous ones. 
On Saturday, those who were there say it was fans who prevented outright tragedy, pulling the most vulnerable from crushes and shielding children from tear gas. "It was only because Liverpool fans had been in this situation before they were able to stay calm and stop a stampede," says Jay. 
The British government may currently be making a show of anger at the treatment of its football fans overseas. But its policies illustrate that it fully supports the hostile treatment of ordinary people by authorities. Saturday's violence – and the calm response of Liverpool fans – reminds us that solidarity is the only option in the face of state violence. As institutions increasingly position the masses as a threat to social order, the treatment of Liverpool fans in Paris should be a warning to us all. 
Abi O'Connor is a PhD student at the University of Liverpool.