Why Do Tories Love Crypto?
Because the winner takes all and the poor get nothing.
7 June 2022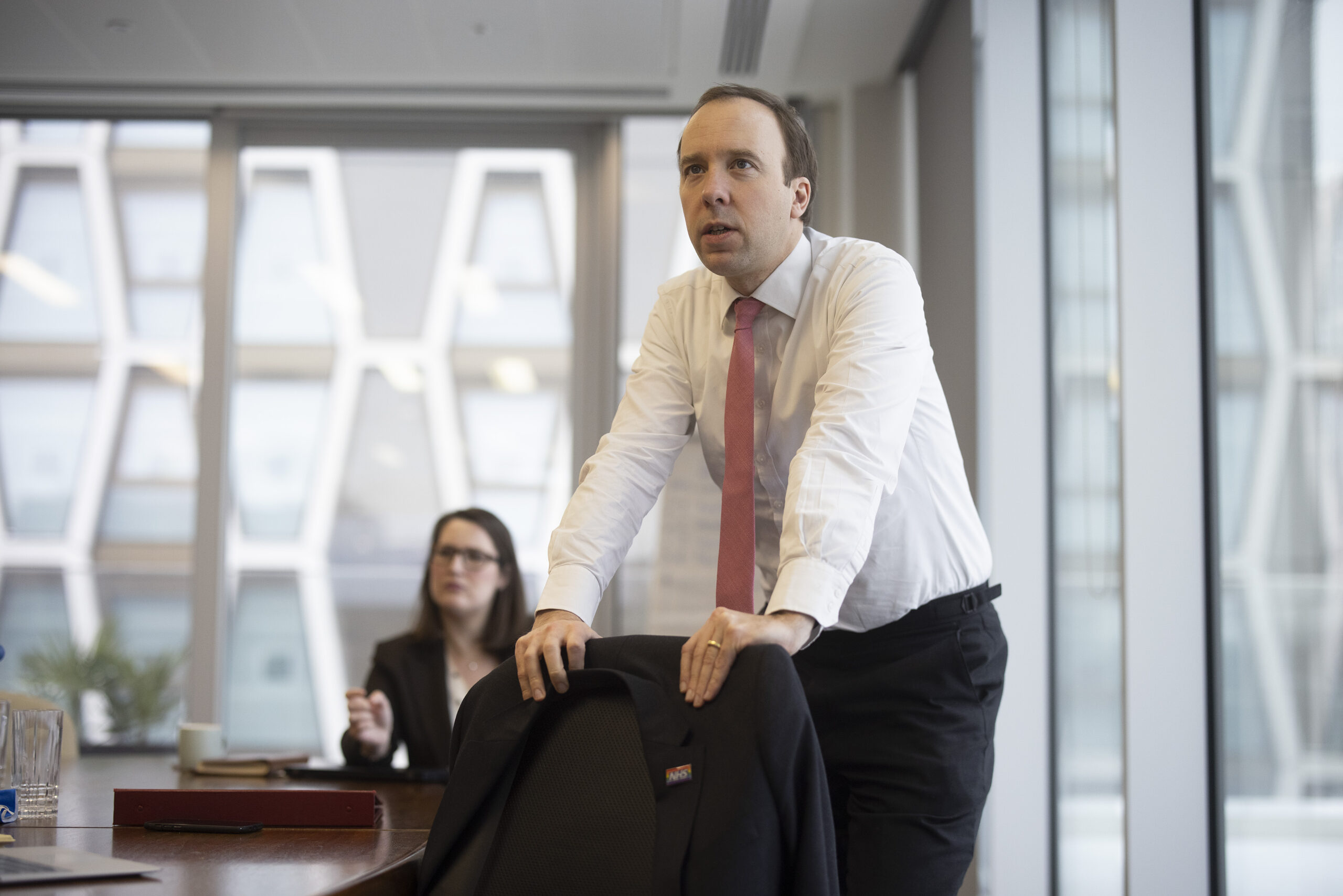 Former health secretary Matt Hancock at the Department of Health, 9 February 2021. Photo: Simon Dawson/Number 10 Downing Street
A few weeks ago, amid crashing prices, Matt Hancock joined fellow Tory crypto bros to explain his mission to make the UK the world's most crypto-loving economy. In April, chancellor Rishi Sunak addressed the cost of living crisis by ordering the Treasury to start minting NFTs. Tom Tugendhat used a Commons debate on the housing crisis to explain how excited he is about his increasingly valuable stash of magic internet money, while homelessness minister Eddie Hughes wants all UK residents to pay their council tax in bitcoin. And then there's former Grimsby Tory councillor, Nigel Wright, caught recently blackmailing supermarkets for bitcoin after he laced their baby food with shards of metal.
Just when you thought it couldn't get any worse, Rishi Sunak unveils his new economic strategy: Let Them Eat NFTs. Because turning the UK into a global centre for speculative trading of socially useless financial instruments worked out *so* well for us last time. 🤦‍♀️ https://t.co/SfXCUOifnH

— Christine Berry (@oeufling) April 5, 2022
Prices for the largest cryptocurrencies have dropped by over 55% in the last six months; some leading coins, by 99%. But conservatives are not late to the party, or faking their enthusiasm: the Tories have always loved crypto.
The cryptocurrency and NFT craze may seem a new thing for most, but the Tories have had them in their sights for decades. The spiritual forefather of crypto ideology is the actual father of Jacob Rees-Mogg: The Sovereign Individual, co-authored by William Rees-Mogg in 1997, explains how to profit from social collapse. Despite being written well before bitcoin, it makes some pretty close predictions for the ascent of cryptocurrencies, envisaging a wildly unequal dystopia of tech-savvy crypto speculators and homeless wretches. The book and its authors are worshipped the world over by Silicon Valley crypto-capitalists like Peter Theil, Marc Andreessen and Tim Draper.
The conservative roots of crypto are well established. David Golumbia, in his book The Politics of Bitcoin, shows how cryptocurrencies have mainstreamed rightwing conspiracy theories. Meanwhile, the co-creator of Dogecoin reveals his epiphany about the inherent conservatism of crypto:
After years of studying it, I believe that cryptocurrency is an inherently right-wing, hyper-capitalistic technology built primarily to amplify the wealth of its proponents through a combination of tax avoidance, diminished regulatory oversight and artificially enforced scarcity.

— Jackson Palmer (@ummjackson) July 14, 2021
Cryptocurrencies are primitive accumulation in action. Those who jumped in early accrued extraordinary levels of wealth with little skill or risk. In the early years of the late 2000s, one could pick up hundreds of bitcoins for free; several were needed to buy a Spongebob Squarepants sticker; 10,000 were used to buy 2 pizzas. At the time of writing, a single bitcoin costs £23,639.18 – and most of the world's supply is owned by a handful of uber-rich crypto geeks. Given the extremes of inequality in the crypto economy, "most of us would not want to live in a society where bitcoin succeeds," says Jon Danielsson, director of the Systemic Risk Centre at the London School of Economics.
With crypto markets tanking, crypto billionaires are losing out – but far less so than the average Joes who've bought into the crypto myth. The collapsing market is eating regular people's savings, leaving small-scale investors holding bags of worthless beans; the crash has even driven some to suicide. Now is the perfect time for governments to step in. But with Tory crypto bros in charge, that's unlikely.
In the US, the total value of US political donations from crypto companies is greater than all defence and big pharma lobbying combined. But at least the American crypto lobby is seeing increasing resistance from progressive lawmakers: despite New York having the country's most crypto-friendly mayor, New York state's Senate just banned fossil fuel bitcoin mining. The EU recently debated banning bitcoin and similar assets altogether.
In the UK, meanwhile, despite popular support for banning cryptocurrencies, the government is not acting. In fact, the Tories are considering offering stablecoins – one of the dodgiest forms of cryptocurrency that pegs its value to another cryptocurrency, fiat money or exchange-traded commodities – protections that would make them too big to fail. The reason for the Tories' diehard support for crypto is obvious: the revolving door between Tory politicians and the UK crypto lobby.
Last year, former chancellor and Tory peer Philip Hammond joined cryptocurrency firm Copper, which hopes to win approval to operate in the UK. Hammond reportedly holds "growth shares" that could be worth up to $15m. The UK's crypto lobby has stepped up its influence in Westminster with the launch of a cross-party group of MPs and peers, including long-time bitcoin champions Ed Vaisey, John Glen and Phil Davies. The all-party parliamentary group on cryptocurrency (APPG) is driven by Big Crypto, including Hammond's Copper, Crypto.com, Ripple labs and eToro. "It feels as if every MP wants their own APPG, and every lobbying company sees an APPG as an ideal way of making a quick buck out of a trade or industry body," Chris Bryant, chair of the Commons standards committee, said in March.
Despite the turmoil in the crypto market, Matt Hancock has extolled the virtues of his magic beans recently as a guest speaker for a Crypto Club dinner in London. He explained how the Conservatives have used blockchain to solve international development challenges for Africa. He explained how crypto is helping refugees fleeing war in Ukraine, an assertion repeated by Tom Spiller OBE, former president of the Conservative National Convention and chair of the Conservative party conference. The virtuous claims went down a treat among crypto-enthusiasts. For others, they are hard to swallow.
Russians continue to evade international sanctions with crypto; bitcoin is used to fund wars and Russian-backed mercenaries in central Africa. Even Ukraine's government has banned bitcoin purchases on the ground that they are undermining economic stability. Hancock recently hosted Changpeng Zhao, boss of the world's largest crypto exchange, Binance, who despite pleas from the Ukrainian government refused to block Russian crypto accounts.
The average household uses 242kwh of electricity a month.
A single bitcoin transaction uses 1,173kwh of electricity.
At a time when we need greater energy security to meet demand, that's a lot of electric logs to be throwing on the fire… https://t.co/qOtL8T8G7H

— Chris Skidmore (@CSkidmoreUK) April 5, 2022
But for Hancock, the poor should not be sheltered from volatile crypto markets rife with grift and insider trading. Instead, they should be aggressively included. Despite Hancock's claims, research shows that cryptocurrencies are bad news for the little guy. They also allow despots, tyrants and terrorists to curtail international controls whilst raising revenue for nefarious activities.
For the Tories, the City of London is the engine of the UK economy. Over the years, industrial production outside the City has continued to take a back seat to financial speculation with nothing of much value produced for society. Cryptocurrencies and NFTs, whose economic valuation is calculated based on an arbitrary Fear and Greed Index based purely on popular sentiment, rely on a steady influx of new suckers to keep the market moving. Cryptocurrency developers and exchanges are finding fertile ground in communities left behind by the mainstream global economy. And if they lose their money? They only have themselves to blame. As bitcoiners say: do your own research. Or as Matt Hancock would put it, caveat emptor.
Dr Peter Howson is a technology writer, researcher and senior lecturer in international development.