I Met Shireen Abu Aqleh's Family – And Here's What They Want From the UK
Her murder wasn't just an individual tragedy.
9 June 2022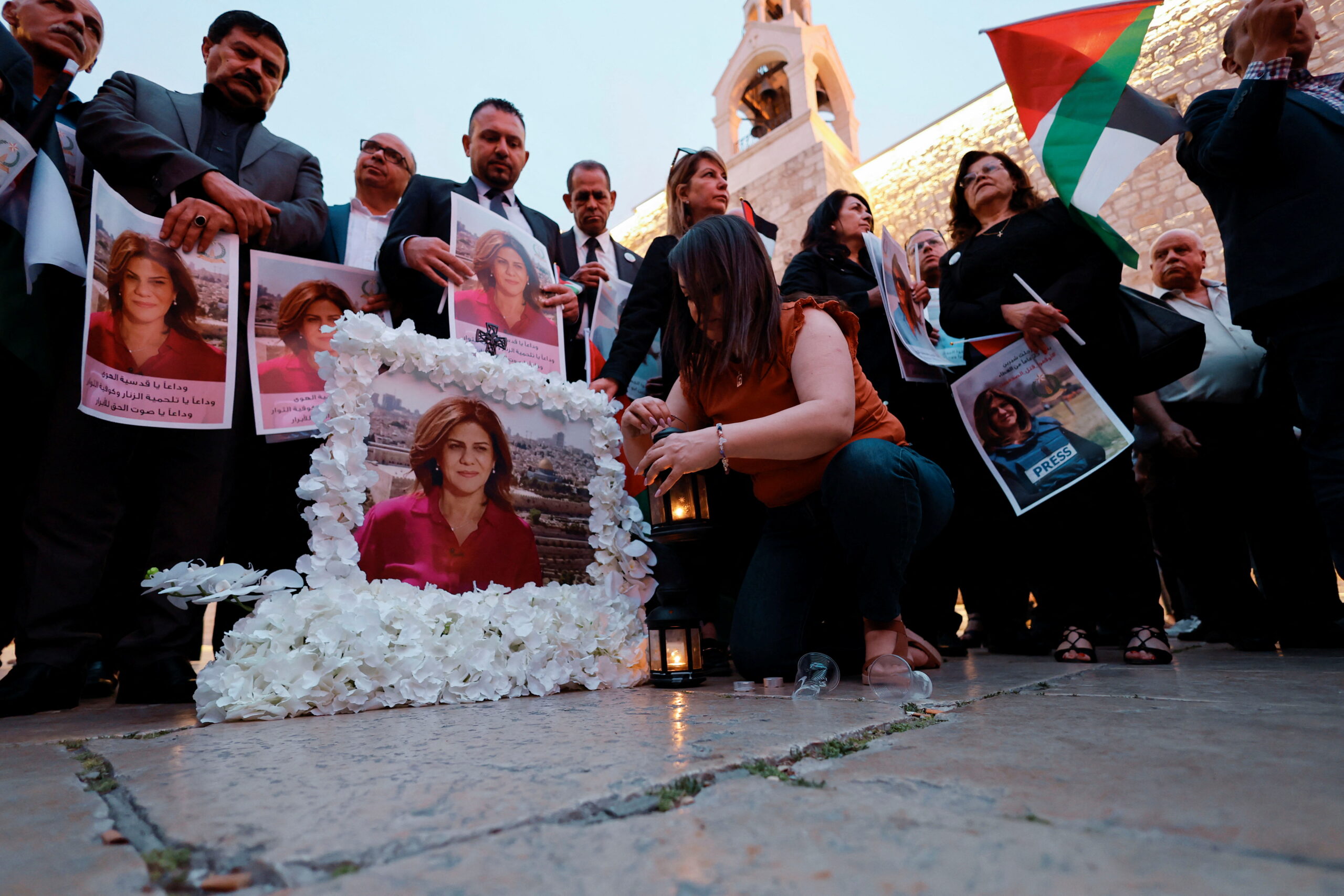 People attend a vigil for the murdered Palestinian journalist in Bethlehem, May 2022. Mussa Qawasma/Reuters
When confronted with systemic racism and state violence, it's important to call things what they are. Around a month ago, as the sun rose over Jenin refugee camp, Al Jazeera journalist Shireen Abu Aqleh was murdered by the Israeli military. Four days later, when mourners tried to carry her coffin through the streets to the Christian cemetery in Jerusalem, they were attacked and beaten by border guards.
At the time of her murder, much of the western media reported that Abu Aqleh had been killed in crossfire, and repeated Israel Defense Forces (IDF) claims that she had actually been killed by Palestinians. The New York Times ran with the headline: "Shireen Abu Aqleh, Trailblazing Palestinian Journalist, Dies at 51." The BBC reported there had been "clashes" at her funeral. You have to wonder what either of these outlets would have done if it was one of their journalists who had been shot in the head while wearing a press vest, and if their colleagues at the scene had all corroborated the same story: that the bullet had come from an IDF gun.
Two weeks ago, on a sunny morning in East Jerusalem, I and a small group of Labour MPs went to Abu Aqleh's house and met her family. It was a deeply moving experience. The room was covered in floral tributes, and her fluffy white dog ran around it, seemingly unaware of the grief of the people around him. Our translators, both Palestinian women activists, wept as they relayed the conversation between us and Abu Aqleh's brother, niece and nephew. Abu Aqleh was a national icon, and a household name across the Middle East. "It feels like we're mourning our own deaths," they explained, "because if it could happen to her, it could happen to any of us – and it does, regularly."
I was struck by the extent to which Abu Aqleh's family was determined to use her death to fight for structural change. Rather than view the occasion purely as a moment for an outpouring of grief, they handed us a letter, outlining what they wanted us to do: to support the International Criminal Court's investigation of Israeli war crimes; to call for an independent investigation into Abu Aqleh's killing; and for there to be accountability, not just for the shooter but for the wider military apparatus. These demands ought to be so common-sensical that they would barely need to be campaigned for.
This is Palestine, however, where injustice and state violence is a part of daily life. Along with four other Labour MPs, I went to the West Bank on a tour organised by the Council for Arab-British Understanding (CAABU) and Medical Aid for Palestinians. Although we were there for only a few days, we were constantly bombarded with an apparatus of segregation and oppression. One afternoon, we visited the bail hearing of a 14-year-old who stood accused of rock-throwing. His dad waved and gestured a thumbs up to his son, a child being tried by a military court. In the end bail was granted, but this, we were told, is unusual.
But we were also bombarded by an inspiring sense of resistance and humanity, and a struggle for justice which is shared by progressives across the world. In Hebron, I met a women's collective fighting for emancipation – both from the occupation and from patriarchy. In Ramallah, I spoke with a group of young activists who gave me their perspective the state of class politics in the West Bank and on the Palestinian Authority, which often draws criticism from the Palestinian left for being a de-facto sub-contractor of the occupation – and a corrupt and authoritarian one at that. It's a government by the super rich, and in the interests of the super rich, as the young activists in Ramallah put it.
A report from Amnesty International published earlier this year sets out in plain language what Palestinians and campaign groups have been saying for decades: that "whether they live in Gaza, East Jerusalem and the rest of the West Bank, or Israel itself, Palestinians are treated as an inferior racial group and systematically deprived of their rights". From healthcare to justice to education, I witnessed a system of oppression that seemed to consume every aspect of Palestinian life. We must be willing to call that system what it is: apartheid.
And that system doesn't belong just to Israel. It has been allowed – and at times encouraged – to take form by western governments, as well as by companies that have made major profits from the subjugation of the Palestinians. The UK has played an appalling historical role in Palestine, both as colonial power (against both peoples: at various points forcing the displacement of Palestinian communities from their homes, and blocking the arrival of Jewish refugees from the Holocaust), and as an ally of reactionary Israeli governments. British companies – including JCB, whose bulldozers regularly demolish Palestinian homes – profit from the occupation.
That history gives us a special responsibility to act, and an opportunity to do so by targeting our own government and capitalists. Now that I'm back, I will do everything I can to push the UK government to support the demands of Abu Aqleh's family. But, as they told me, one of the most frustrating things about the West's treatment of Palestine is that it sees cases like hers as individual tragedies rather than as the product of systemic oppression. They want her killing to mark a turning point in the UK's treatment of Israel, and as a spur to action for all of us. For me, that means a campaign of divestment against companies which support and profit from the occupation, most prominently the arms trade, and sanctions against the Israeli government.
Solidarity means rooting our campaigns in ties with the left and progressives in Palestine, where socialists, feminists and LGBT activists are waging a struggle for basic rights and against their own rulers and bosses. And while Israeli politics is generally dire, I was inspired by the co-resistance of Israeli and Palestinian civil society groups. Israeli socialists, feminists and anti-racists are also key to a lasting, just peace. Organisations like Standing Together and B'Tselem stand in a long tradition of resistance to the occupation. Peace Now, another Israeli campaign group, took a bulldozer to the West Bank settlement Homesh last month with the aim of dismantling it.
I have rarely felt angrier than when confronted with the realities of the occupation in Palestine, but I have also been inspired by the hope and resilience of the activists I met. I intend to turn both of these feelings into action at home.
Nadia Whittome is the Labour MP for Nottingham East.