A Cash Injection Won't Fix Our Broken Legal System
The whole damn system is wrong!
13 July 2022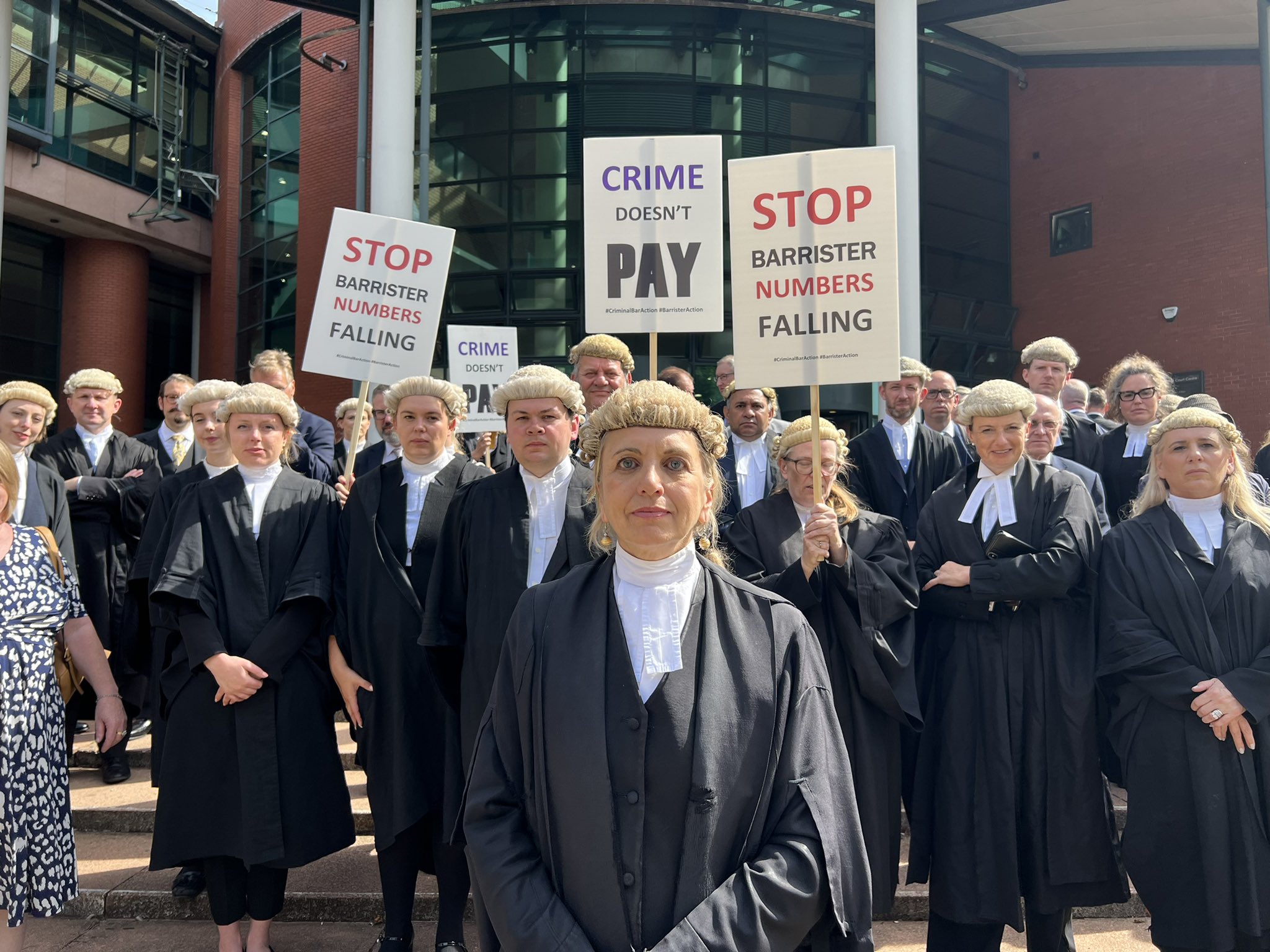 Photo: CrimeGirl
As the summer of discontent rolls on, barristers are the latest workers to form picket lines across the country. For a third week, members of the Criminal Bar Association (CBA) are taking strike action, the first period of full strike action in the centuries-long history of the criminal bar after a near-miss in 2014. Like so many key workers, their demands are simple: the government must properly fund a public service.
Now more than ever, it is crucial this strike succeeds. It comes as the government gifts the police even more powers to penalise dissent and criminalise marginalised groups, which is a prelude to the Public Order bill plans to sweep up what the House of Lords threw out when the Police, Crime Sentencing and Courts bill went through Parliament, while a new Bill of Rights will enable the government to undermine the European Convention on Human Rights. But even if the strike does succeed, and criminal barristers receive the pay rise they deserve, more money will not mean more justice.
Like many parts of our critical national infrastructure, the courts and those working in them were asked to adapt to Covid-19 after decades of underinvestment. The result is a backlog of roughly 58,000 criminal cases. Behind each are countless lives plunged into uncertainty: both those of the victims of crimes ministers insist they care about, and those accused of committing them, for whom there is, largely, thinly-veiled contempt.
In response to the strike action, the government has notionally offered criminal barristers a 15% pay rise (though they had sought 25% as the bare minimum to stop current rates of attrition). As usual, however, the devil is in the detail: the pay rise only applies to cases outside of the backlog. Factoring in inflation, the true value of the offer is substantially less than 15%.
This offer also builds on an extraordinarily low starting point. After decades of cuts to criminal legal aid by governments of all colours, – a trend carried on the back of bipartisan falsehoods about "fat-cat" lawyers, the result is that a newly qualified criminal barrister will earn, on average, £12,200 per year. The cost of completing legal training is at least four to five times that, and that's without even accounting for the cost of living or supporting a family. For years, the profession has been sustained by people willing to take on significant amounts of debt, not for financial reward but out of a commitment to representing others; or else those with access to other means of financial support.
Now, even the most committed are leaving: the CBA has said that more than 300 specialist criminal barristers – more than a quarter of the profession – have left in the past five years. That's around two-thirds as many as began training in that period.
Of course, there is money for criminal justice. The government has found £4bn to expand and refurbish 16 prisons, creating 4,000 new prison places. It has also made clear setting up "secure schools" (prisons with teachers) is a "charitable activity", (with the associated tax breaks) to encourage more providers to build and run them, even though the first three schools are three years late and £31m over budget. Our legal system always has money to punish people; it's justice the state prefers not to pay for.
The punished, we know, will be taken disproportionately from poor, working-class, Black and brown communities, both adults and children. Two cases in Manchester starkly illustrate this. In one, 10 young Black people, many teenage boys, have just been sentenced to between eight and 21 years for conspiracy to commit grievous bodily harm or murder, as a result of sending messages on Telegram. The prosecution succeeded in presenting this as part of gang activity, reinforced by the moral panic about drill music, but where no actual violence took place.
Contrast that with the killing of Yousef Makki. Makki, who was part-Lebanese, was killed by a white friend in a wealthy white suburb of the city, which a jury accepted was in self-defence, to the shock and dismay of his family. These cases speak to wider realities, including the fact that the numbers of Black and brown children in youth custody are at record highs.
Would improved funding really make these realities more acceptable? No. Rather than finding ways to fund the work of breaking the backlog, what about diverting cases away from the courts and out of prisons? What about pressing the Crown Prosecution Service to discontinue prosecutions in the backlog, or a national investment in restorative justice driven from within communities? Whilst these ideas will attract familiar snorts of derision, they represent work with a long legacy in this country – built by the likes of the Runnymede Trust and the Institute of Race Relations, and continued at the grassroots by Kids of Colour, 4Front Project, No More Exclusions and many others.
Every facet of the justice system orbits around a carceral consensus that prizes more money for prisons and policing. Paying lawyers properly is necessary, primarily because legal aid is the last line of defence against the carceral state. Yet a cash injection is not enough. Inequalities in the legal system do not persist because lawyers representing those who bear their brunt are not properly remunerated – they are the result of the system's normal operation.
If justice is what is really at stake in the barristers' strike, demands for better pay and conditions cannot be untethered from fundamental questions about what it is that we barristers are called to defend, and about how we might use this moment to demand better for everyone.
Michael Etienne is a barrister specialising in public law and human rights.