Pub Workers Launch Fresh Strikes Despite Union Busting From 'Out of Control' Landlords
They're not backing down.
15 July 2022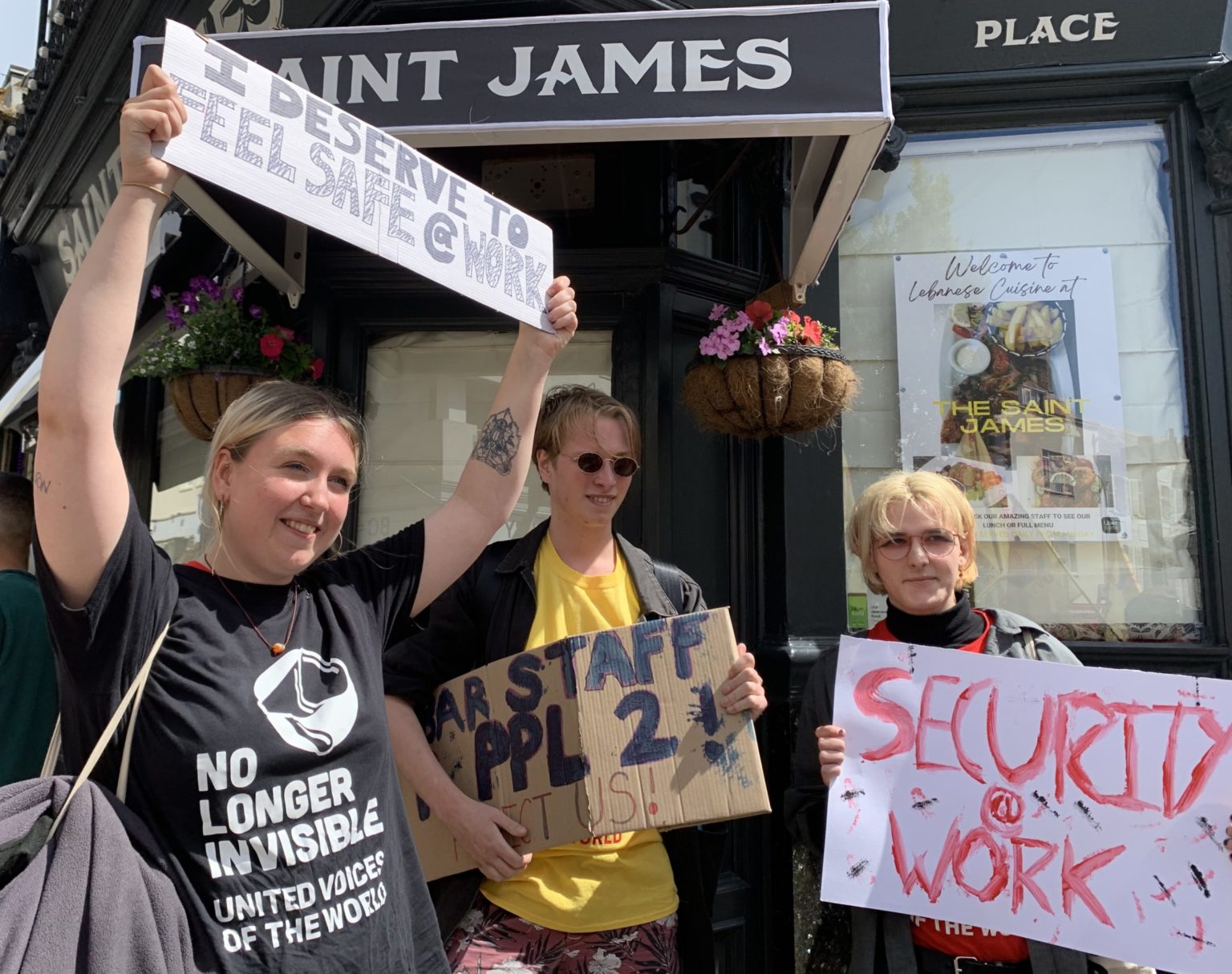 Bar staff on strike at the Saint James Tavern. UVW
Workers at a Brighton pub have announced fresh strike action in defiance of alleged "shocking" union busting from a pair of "out of control" landlords.
Bar workers from the Saint James Tavern in Kemptown will strike on the August bank holiday weekend and Brighton Pride as part of 20 days of action, in a dispute over terms and conditions, respect in the workplace and a demand of a wage of £11.50 an hour.
The new strikes come after workers at the pub have been suspended and sacked on what they believe are spurious grounds and an MP said the landlord threatened to sack all workers involved in union activity.
The landlords have consistently refused to engage with the United Voices of the World (UVW) trade union which is representing the workers – and instead hired the services of an "independent HR specialist".
Lloyd Russell-Moyle MP for Brighton, Kemptown, says he had a phone call with the landlord, Zakarai Abedi – who runs the pub with Victoria Bennett – and tried to encourage him to negotiate with the union. Russell-Moyle tells Novara Media: "He said, 'No I'm not speaking to anyone that's in the union and all of the people who have taken part in the action can go and get another job'."
Russell-Moyle told the landlord that the workers were entitled to join a union and strike if they wanted to. Russell-Moyle says Zakarai replied: "No, I'll be getting rid of them. They won't be working for me if they've taken action."
When contacted to comment on this, Bennett and Zakarai told Novara Media: "The local MP should check both sides to a story, not just one and then make a judgement. We haven't made any comment to the local MP and certainly wouldn't sack anyone for joining a union – this is their legal right."
Russell-Moyle says: "These landlords are out of control, all I ask is for them to listen to their employees, a simple request."
Workers involved in the union have been subjected to disciplinary processes described by the union as "farcical" for alleged "defamation" of the pub, in relation to promoting union activity on social media.
UVW believes it is no coincidence that the disciplinaries were launched in June shortly after strike dates were announced. When UVW asked for the dates of disciplinary hearings to be moved so that union representatives could attend, they were ignored, and hearings went ahead without the workers present.
On 25 June UVW held a strike, with a loud, festive picket outside the pub. Video released by UVW shows how an altercation that broke out after the protest. Footage shows a man pushing one of the striking workers, while another ran at him. A voice can be heard saying, "I smash you". The police were informed but no further action was taken.
One of the strike leaders Jake Marvin, who was promoted three times in his four years at the pub, was sacked a few days after the picket for allegedly failing to chase up an unclosed tab in May, and for not cleaning the beer lines back in March – both of which he denies and neither of which had prompted disciplinary action when they allegedly happened. UVW is applying to have Marvin reinstated through an employment tribunal.
On 30 June, other union members were issued with the results of their disciplinaries, giving them a final written warning, saying: "You have confirmed your membership with United Voices of the World (UVW). It has been confirmed that you appear in the image which has been linked to a press release with unconfirmed allegations of unfair treatments, sexism, transphobia, and antisemitism that have been released to the public domain via national and local media outlets. Therefore your actions as an employee have brought the company into disrepute."
The following day UVW members were suspended by the pub because of "allegations of incidents of criminal offences during a picket" on 25 June.
"While the police investigation is ongoing, it is inappropriate for you to carry out work at the St James Tavern Ltd due to allegations of bringing the company into disrepute," read an email from the landlords.
None of the suspended workers have been contacted by the police and when Novara Media asked Sussex Police for an update on the status of the investigations, a spokesperson said: "There are currently no ongoing investigations and the matter has been filed."
Bennett and Zakarai say: "We can confirm that a few staff have been served disciplinary investigations and hearings for which they did not attend with an independent HR specialist. These were served for defamation of our business… No staff lodged any grievances despite being sent the grievance procedures and being asked to do so also by our HR specialist – this they unfortunately ignored when this was an opportunity for them to discuss any issues they may have."
"We are very disappointed with a few of the staff's behaviour…on occasions, we have even helped them with advance salaries prior to payday and almost every day [we help] them behind the bar, [and with] collecting the beer deliver[y] at 7AM… when staff have failed to turn up or the manager [hasn't] correctly prepared the rota. We consider ourselves to be excellent employers."
"We do however thank all of our other excellent staff for their support through this tough time and the customers hugely for their support both as a business and as friends through Kemptown and beyond."
Novara Media contacted Stonegate Group, which owns the pub, for comment, but got no reply.
Simon Childs is a commissioning editor and reporter for Novara Media.