Six Key Takeaways From the Forde Report Into Labour's Civil War
As dysfunction reigned, two elections were lost and an antisemitism scandal festered.
20 July 2022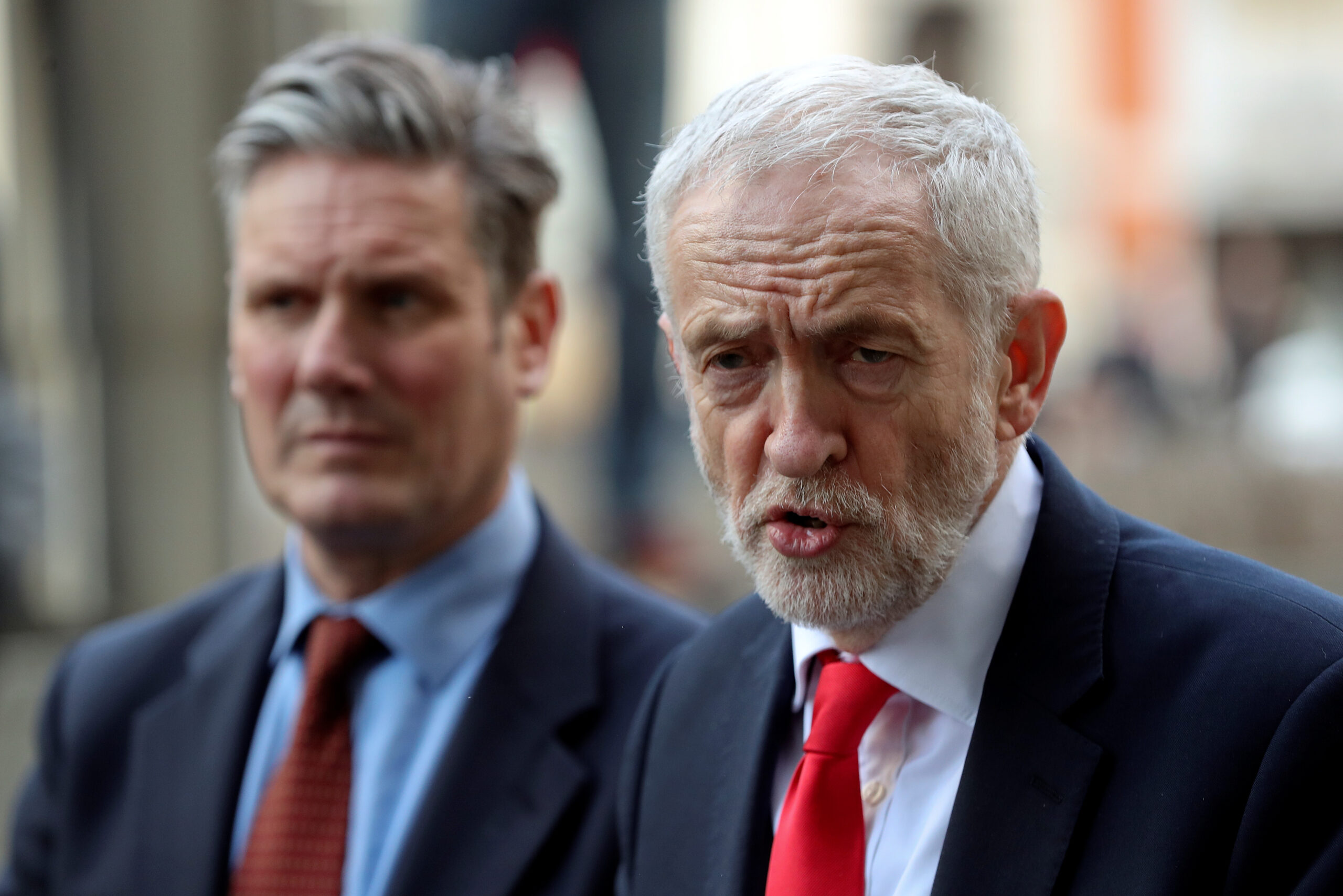 The report found destructive infighting, but said allegations against Loto repeated by the media were "entirely misleading". Reuters/Yves Herman
On Tuesday, a much-delayed report into infighting in the Labour party during the years of Jeremy Corbyn's leadership was finally released.
In 2020, Martin Forde QC was commissioned by Keir Starmer to investigate the circumstances of the leak of a report which appeared to show how deep factionalism had hindered the party's efforts to deal with antisemitism and undermined its election prospects. The Information Commissioner's Office is still investigating a potential breach over the leak, and legal battles are still raging.
Forde's report was supposed to be released at the end of 2020 but was delayed by a number of legal battles. Based on 1,000 submissions of evidence, it paints a picture of how the Labour party's civil war during the Corbyn years was reflected in a battle over the day-to-day running of the party.
On one side were the staff of Labour HQ, many of whom had been around since before Corbyn's leadership and were sceptical of it. On the other side was the leader of the opposition's office (Loto), staffed by Corbyn's supporters.
Corbyn detractors working at HQ thought that helping Corbyn "would have amounted to complicity with a regime which they believed would cause irreparable harm to the party". They withdrew support, hunkered down and waited for the Corbyn project to "implode".
Even those Labour HQ staffers who might have been supportive were viewed as inevitably hostile "Blairites" by Corbyn's team. Worried about being restructured out of their jobs, these staffers cultivated a bunker mentality that "blinded them to their own contributions to the dysfunction".
Pro-Corbyn staffers, meanwhile, "felt similarly besieged" by the attitudes of some staff, leaks to the press and passive aggression they faced in the workplace. Both factions tried to shore up their power bases and eyed each other with suspicion.
As dysfunction reigned, two elections were lost and an antisemitism scandal festered. Here's a summary of Forde's attempt to make sense of it all.
Bombshell messages are legit.
When the report leaked in 2020, bombshell WhatsApp messages sent between anti-Corbyn party staffers on the senior management team (SMT) showed how they felt "sick" at positive polls for Labour. One said the surprisingly positive exit poll which predicted a hung parliament was the "opposite to what I had been working towards for the last couple of years!!"
A number of witnesses suggested to Forde that these messages had been "cherrypicked and selectively edited" so that they were "unrepresentative and misleading." The report dismisses this, saying, "we do not agree".
"The messages on the SMT WhatsApp reveal deplorably factional and insensitive, and at times discriminatory, attitudes expressed by many of the party's most senior staff," it says.
In a "relatively few examples" comments were presented in the leak in a misleading way, for instance taking cruel jokes at face value. But, the report says, "Saying that you hope someone has been run over by a train, or that someone deserves to die in a fire, is reprehensible even if you are 'joking'."
Anti-Corbyn MPs secretly diverted funds.
As the 2017 election campaign hotted up, and initial dire polling for Labour gave way to some positive signs, the pro and anti-Corbyn wings of the party developed different strategies. The pro-Corbyn left wanted to win. The anti-Corbyn right didn't want to lose.
Believing that their favoured MPs were about to lose their jobs, HQ staff launched an unprecedented covert operation to divert funds from pro-Corbyn candidates in winnable Tory seats to defending the seats of anti-Corbyn MPs. A code used to record spending on "generic campaign materials" was used to spend extra money on "key seats" decided by a group in Ergon House – an overspill office for HQ staff. The report finds that these seats were chosen on a factional basis: anti-Corbyn MPs were helped out. "This is not a normal state of affairs in relation to campaign resourcing," says the report.
The report does not find that the operation was conducted in "bad faith" or an attempt at "sabotage". HQ pulled off their secret operation because they really believed that they needed to stop MPs losing their seats, rather than because they wanted Corbyn to lose, the report says.
Labour came surprisingly close to pulling off a shock election win. The report finds it "highly unlikely" that this diversion of funds lost Labour the election, but admits, "We were not in a position to commission any original psephological analysis." The alleged amount spent was £135,000 – "a very small sum", says the report.
The civil war affected antisemitism.
The party's antisemitism scandal was a shit-show made worse by infighting.
Anti-Corbyn elements "seized on antisemitism as a way to attack Jeremy Corbyn, and his supporters saw it simply as an attack on the leader and his faction," the report says. Both sides "weaponised" the issue and failed "to recognise the seriousness of antisemitism, its effect on Jewish communities and on the moral and political standing of the Party."
"The whole situation rapidly deteriorated as several on the right did seize on the issue as a way to attack Corbyn and several on the left adopted a position of denialism and conspiracy theories," the report says.
As allegations of antisemitism came to light, the leadership tried to intervene "in a limited number of high profile disciplinary cases in which they should have had no substantive involvement," for instance trying to save Ken Livingstone over comments about antisemitism, Hitler and Zionism. "That is rightly to be deplored," says the report. However, the report finds no "systemic" attempt by the leadership to interfere and undermine the party's response to antisemitism.
The seeds of distrust were sown early on. During the 2015 leadership election, party staff ran a "trot-bashing" exercise to exclude the left from joining the party and voting, "designed and carried out with a startling lack of transparency", in order to undermine Corbyn's chances of success. Party workers would scour the internet to find reasons to exclude people, for things such as liking the Green party on Facebook or retweeting anarchist group Class War. According to one former staffer, at party HQ in Southside, the compliance team would ring bells in celebration of the successful suspension or expulsion of "trots".
This led to an "extremely damaging conviction amongst parts of the membership that the party's disciplinary system was rigged against them; this allowed the false idea that complaints of antisemitism were being fabricated as part of a 'witch hunt' to take hold", which made dealing with antisemitism in the party more difficult.
The media misled us.
Media reports that the leadership "had aggressively imposed themselves" on the disciplinary process in order to save Corbyn's allies from antisemitism allegations were "wholly misleading", says the report.
In particular, a BBC Panorama programme, "Is Labour Anti-Semitic?" cited an email as evidence of, "the leader's office requesting to be involved directly in the disciplinary process." The report finds it, "entirely misleading… to imply that these emails in themselves were evidence of those Loto staff members inserting themselves unbidden into the disciplinary process for factional reasons."
There was a culture of racism.
The report concludes that "there are serious problems of discrimination in the operations of the party." Among the leaked WhatsApp messages, for instance, were comments that Diane Abbott "literally makes me sick", is "truly repulsive" and is a very "angry woman". The report suggests that white, male counterparts were afforded more "instinctive respect".
"The party's more recent steps to address the problems with antisemitism… have not been matched by a commitment to tackle other forms of racism," says the report.
The Labour party was a leaky ship.
The culture of leaking was so bad that one Loto staffer tells how he avoided writing anything down because, "it ended up, often within days, in the Times or Huff Post or Guido or something…the level of leaking was stratospheric." This, the report says, "added to a stream of negative stories about the party."
Simon Childs is a commissioning editor and reporter for Novara Media.