Meet the Squatter-Turned-'Slumlord' Jacking up Rents by 113%
Katharine Hibbert claims Dot Dot Dot is an 'ethical business'.
25 July 2022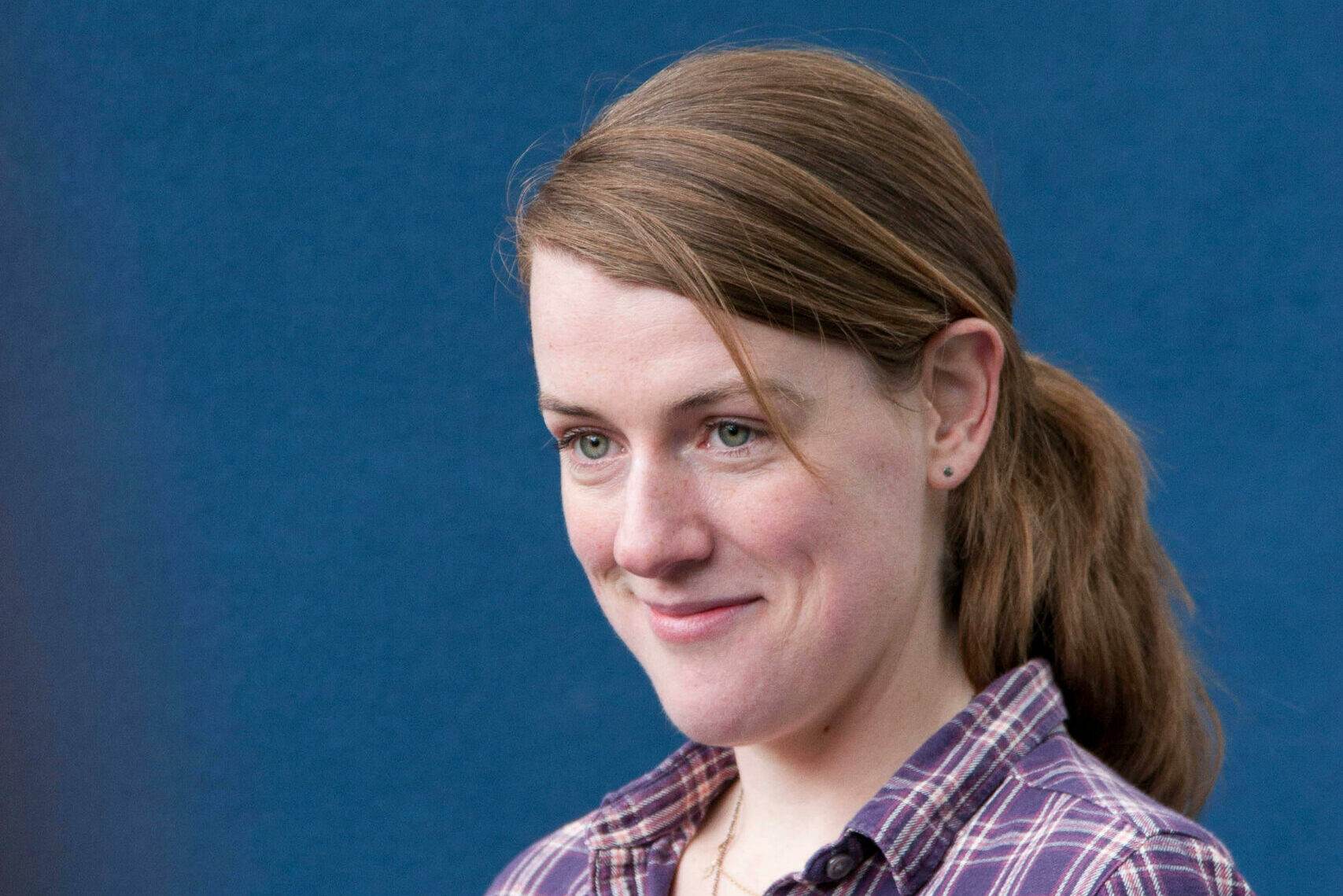 Dot Dot Dot founder Katharine Hibbert. P.Keightley/Lebrecht/Alamy
Mary* was at the end of her tether. In January, the 53-year-old received notice that the rent on her flat in Poplar, London, was increasing from £500 to £850 per month – an increase of 70% – and that she'd need to top up her £750 deposit by £238. Mary faced an impossible choice and 10 weeks in which to make it: sign the new agreement and face poverty, or offer her notice and face homelessness.
A flurry of panicked emails got Mary nowhere. A couple of days before the April deadline and in what she describes to Novara Media as a moment of "sheer desperation", she called the one person she thought could help her: Katharine Hibbert.
Hibbert is the founder and director of Dot Dot Dot (DDD), the property guardianship company that manages the Poplar building where Mary and around a dozen others live. Almost all of them – along with hundreds of other DDD guardians across the capital – received notice in January of licence fee increases ranging from between 10% and 113%. One guardian was hospitalised with mental distress triggered by the news; DDD served her eviction notice while she was in hospital (in a statement to Novara Media, DDD said it "doesn't recognise this description of the chain of events").
DDD claims the licence fee increases are "partly for our own financial sustainability as a business" and partly to standardise their fees across properties. Nobody will ever know for sure: the company has repeatedly ignored guardians' requests to open its books to justify the fee increases ("We do not think it is appropriate to share our financial information in this way," a DDD spokesperson told Novara Media when asked why this was the case).
In many ways, the licence fee increases were the final straw. Guardians in DDD properties have long complained of poor living conditions and mistreatment. Mary recalls one guardian who didn't have their own kitchen for a year and another who lived without hot water for three. When her own back fence blew down, DDD refused to fix it, despite her back door backing onto a public thoroughfare. (DDD said it can't comment on individual guardians' issues, but added: "Urgent repair issues must be raised by guardians, and when they are, we work to address them swiftly").
Now, with the support of the London Renters Union (LRU), dozens of guardians are staging a campaign against DDD's rent hikes  – all the more egregious, they claim, because of the ethical image on which DDD trades.
'Property guardianship with purpose.'
Property guardianship companies originated in the Netherlands in the 1990s proposing to kill two birds with one stone: provide landlords of disused buildings with live-in security guards and offer the masses of people unable to afford market rent somewhere cheaper to live.
The trade-off for guardians is rights: they aren't technically renters but licensees, who can be evicted with just 28 days' notice and are usually subject to a host of other rules including, in DDD's case, unannounced visits, holiday restrictions and guest limits. Guardians, as Katharine Hibbert put it in a Facebook comment in 2010, have "almost zero rights".
"The whole thing could be so much better," she added, "so that's what I'm trying to make happen."A year later, aged just 29, she would found not just any property guardianship company, but a self-professed "property guardianship with purpose".
Since then, Hibbert has received a steady stream of national media puff pieces. From the Daily Mail to the Guardian and openDemocracy, Hibbert has been invited to promote her company as "a social enterprise as well as a commercial one," as she told the Mail. What distinguishes DDD from its shady competitors is its requirement that its guardians undertake 16 hours of voluntary work – or £209 worth, according to DDD's own calculations – in the community each month.
Asked by Novara Media how DDD could justify maintaining this requirement in a cost-of-living crisis, a company spokesperson said: "Given the challenges that we face as a society, including the current cost-of-living crisis, the efforts of volunteers – whether housed by us or not – have never been needed more."
DDD trades on this unpaid labour. It has earned the company not only national recognition – just a year after establishing DDD, Hibbert won the Evening Standard's inaugural Ideas for London competition for her business idea for combatting the housing crisis, winning a night in a designer hotel – but also business.
Talking to the BBC, Hibbert was quite open about the fact that one of the ways she won over the company's first clients was to show them the "positive difference" DDD made; in a recent Instagram comment, the company boasted of having made "£4.3m worth (and counting) of social impact".
This ethical image has attracted clients keen to project the same: most of DDD's contracts are with local authorities and housing associations, including Poplar Harca, Red Kite, Keniston and Brent Council. None responded to Novara Media's requests for comment.
'A caring and compassionate person.'
In the press, DDD's values have been closely linked to those of its founder. Over the years, Hibbert has crafted an image of personal concern for those at the sharp end of the housing crisis.
Alongside running DDD, Hibbert writes for The Pavement, a magazine for homeless people; in 2019, The Big Issue named her one of its 100 Changemakers. Hibbert was not any old landlord, she told the BBC when it profiled her for its series The Boss – she was "kind" and "decent". Mary believed the hype.
"I thought she was a caring and compassionate person," she told Novara Media. In early April, Mary called Hibbert to ask her to reconsider the rent increase, hoping to appeal to her better nature.
"She wasn't rude," says Mary, "she [just] couldn't wait to … get me off the phone." Hibbert told Mary she was speaking to the wrong person, that there was nothing she could do for her (DDD's website describes Hibbert as "tak[ing] overall responsibility for the way the organisation is run"). Mary left it there, following up with an email apologising for her impromptu call and asking Hibbert one last time to show mercy. She never received a reply.
Mary was crushed. "I thought she might be more responsive," she tells Novara Media. "It's her we've read all the testimonials about. It's her that decided to form the social enterprise."
In a statement to Novara Media, Hibbert said: "I can't comment on individual guardians' cases or conversations with individuals. However, Dot Dot Dot houses hundreds of people across the country, and it is important that decisions are made transparently and fairly, rather than based on the subjective judgment [sic] of any individual."
'Sacrifices have to be made.'
Guardianship companies like DDD have long justified their inbuilt precarity by implying that the roughly 5,000-7,000 people who inhabit their properties in the UK are young and therefore suited to "an unconventional lifestyle", as the Mail put it. "Every week my social enterprise … hears from scores of young people at the sharp end of the housing crisis," Hibbert wrote in a 2014 blog post. Yet few guardians who spoke to Novara Media chose it for the vibe.
Most were working-class people who couldn't afford market rents or a 50-year wait for council housing. "The notion that's sold is what a great alternative lifestyle … but the reality is very far from this," says Poppy*, who's been living in DDD's Thamesmead Estate in Abbey Wood for over five years. "We're talking about nurses, social workers, construction workers."
53-year-old diary manager Mary moved into her Poplar flat three and a half years ago after her marriage broke down, saddling her with a load of her ex-husband's debt. She sought help from the council but was turned away. "I was facing homelessness," she tells Novara Media.
Guardianship was the only way she could afford to live alone, as she was used to doing: "I'm 53, so I'm one of the older type guardians, [flatsharing] wouldn't be ideal for me". Now, having reluctantly absorbed the £350 licence fee increase, Mary can hardly afford to live at all.
"Sacrifices have to be made," she says, speaking on the phone to Novara Media. "I don't have any spare cash. … It's really £100 a week that I could use to socialise, meet friends or buy something that I wanted. Everything in my life has taken a step back."
Though many have, like Mary, decided to swallow the new fees, others have refused and are, with LRU's support, seeing the fight through to the courts.
The LRU campaign – which is demanding that DDD cancel the licence fee increases and encouraging prospective guardians to boycott DDD – has sought to expose what it sees as the gap between the company's stated values and its actions."Kath attempts to present herself as [running] a good property guardian company," says Rodrigo*, 30, who's been a DDD guardian since 2018. "Now it seems like all of this was bullshit."
It has also threatened to interrupt Hibbert's meteoric rise to social entrepreneurship stardom – a story with unusual beginnings. Among the reasons Mary called Hibbert was in the hope that she might remember how it once felt to be in her shoes: before founding DDD, Hibbert had been a squatter.
A bad case of cognitive dissonance?
Tony met Hibbert in 2010 when she turned up at the Whitechapel offices of the Advisory Service for Squatters (ASS), to offer a hand. Hibbert had recently begun squatting in Ocean Estate in Stepney Green, where her presence had raised a few eyebrows.
"Her flat looked really fancy," another squatter and Hibbert's former neighbour told Novara Media. "She claimed that she skipped some of it, but it's virtually impossible to find Habitat furniture in [the skips of] Tower Hamlets." Tony withheld judgement.
"She seemed … culturally a little bit different, a little bit posher," he says. "But you know, you try not to have prejudices." 
One day, Hibbert tipped off ASS that the Evening Standard and BBC were planning negative press coverage of the organisation. When Tony asked around how Hibbert knew, he discovered she was a former Times journalist (Hibbert worked there between 2004 and 2008). Her year of squatting wasn't simply an "experiment" – it would also provide material for her book.
Published in 2011, Free: Adventures on the Margins of a Wasteful Society, tells the story of Katharine's year as a "benign parasite". Having been made redundant at the Times and unable to pay her newly-upped rent, Hibbert decides to live for 12 months without paying for anything. After all, plenty of middle-class folks were doing it.
"Many of the people who were living out of the bins and skips seemed to be doing alright on it," Hibbert writes in Free. "[M]ost of those I met were opinionated and eloquent, healthy and fairly happy. Theirs were not the intolerably uncomfortable, chaotic lives of the most visibly homeless people who sleep rough or stay in night shelters." Tony was appalled.
"I read the [book] … some of it was a bit cringey, [then] you get deeper in and it's more than cringey," he says. "You've got all these prejudices that you're reinforcing in print."
Still, Tony doesn't think Hibbert had bad intentions: "The most likely explanation for me is cognitive dissonance."
The squatter-turned-'slumlord'.
Tony isn't surprised that Hibbert went on from ASS to set up a guardianship company, originally an anti-squatter measure. "Kath [is] exemplar of how if … you know little enough to not have politics … it makes you … a tool of the forces of neoliberalism … a useful idiot."
Unlike Tony, Rodrigo doesn't read Hibbert's behaviour as naivety: "It's telling that [Hibbert] went through th[e] experience [of being a squatter] and wondered how to monetise it and feel good about [herself] … It very much gives me vibes of someone who went to India for a month and has come back and is an expert at yoga."
Hibbert's book certainly suggests that she went into property guardianship with her eyes open. Free contains a lengthy section on guardianship companies, which Hibbert describes as offering a "lack of freedom, security and privacy" and "few rights" to guardians, whose lives the companies "police" with unannounced check-ups and restrictions on guests. In a statement to Novara Media, Hibbert said: "What I saw while researching [my book] motivated me to do guardianship better." DDD practises both guest restrictions and unannounced check-ups; it claims the latter is necessary for maintaining guardians' status as licensees, rather than tenants.
"With her knowledge and experience," says Rodrigo, "she could have been an advocate [for squatters]. But she didn't do that … It irks me …that she's had intimate experiences of struggle [and] unstable housing, and she's just gone and done the same thing."
Hibbert clearly disagrees. In a statement to Novara Media, she said: "My book was about the housing crisis and the hundreds of thousands of buildings that sit empty while people struggle to find homes. What I saw while researching it motivated me to do guardianship better, and I am very proud that we have provided good homes for a fraction of market rents to thousands of people over the past 11 years, using buildings that would otherwise have been empty."
For Rodrigo, the difference is pure PR. "I wouldn't describe her as a slumlord," says Rodrigo. "[I] would say she is a ✨slumlord✨". Responding to this characterisation, Hibbert said: "Leading any organisation puts you in the public eye, and I accept that some people may want to insult me, but I don't think this is a good way to move the debate forward."
The winds of change.
The sheen on guardianships as a smart solution to the housing crisis has recently begun to wear off. In 2018, the London Assembly published a report on protecting the city's property guardians, whom it described as inhabiting "a grey area which is being exploited by guardian companies and property owners" (in a statement to Novara Media, DDD rejected the idea that it exploits this grey area). The first person named as having welcomed the report? Katharine Hibbert.
The LRU campaign has strained the idea that DDD and defenders of guardians' rights are all on the same team, however. Endorsed by Green party London Assembly member and report co-author Sian Berry, as well as local Labour MPs Abena Oppong-Asare and Apsana Begum, the campaign has forced Lib Dem councillor Josh Babarinde to resign from the DDD board.
Whether any of this will dent Hibbert's reputation is yet to be seen. Her guardians aren't hugely bothered either way.
"I don't care about Katherine Hibbert, but I hope [the campaign] undercuts the moral basis of Dot Dot Dot's exploitative business practices and empowers more guardians, and renters, to stand up for themselves."
*Names have been changed.
Rivkah Brown is a commissioning editor and reporter at Novara Media.