Colombia's Brand New President Wants to Keep Fossil Fuels in the Ground
Top priority: climate justice.
8 August 2022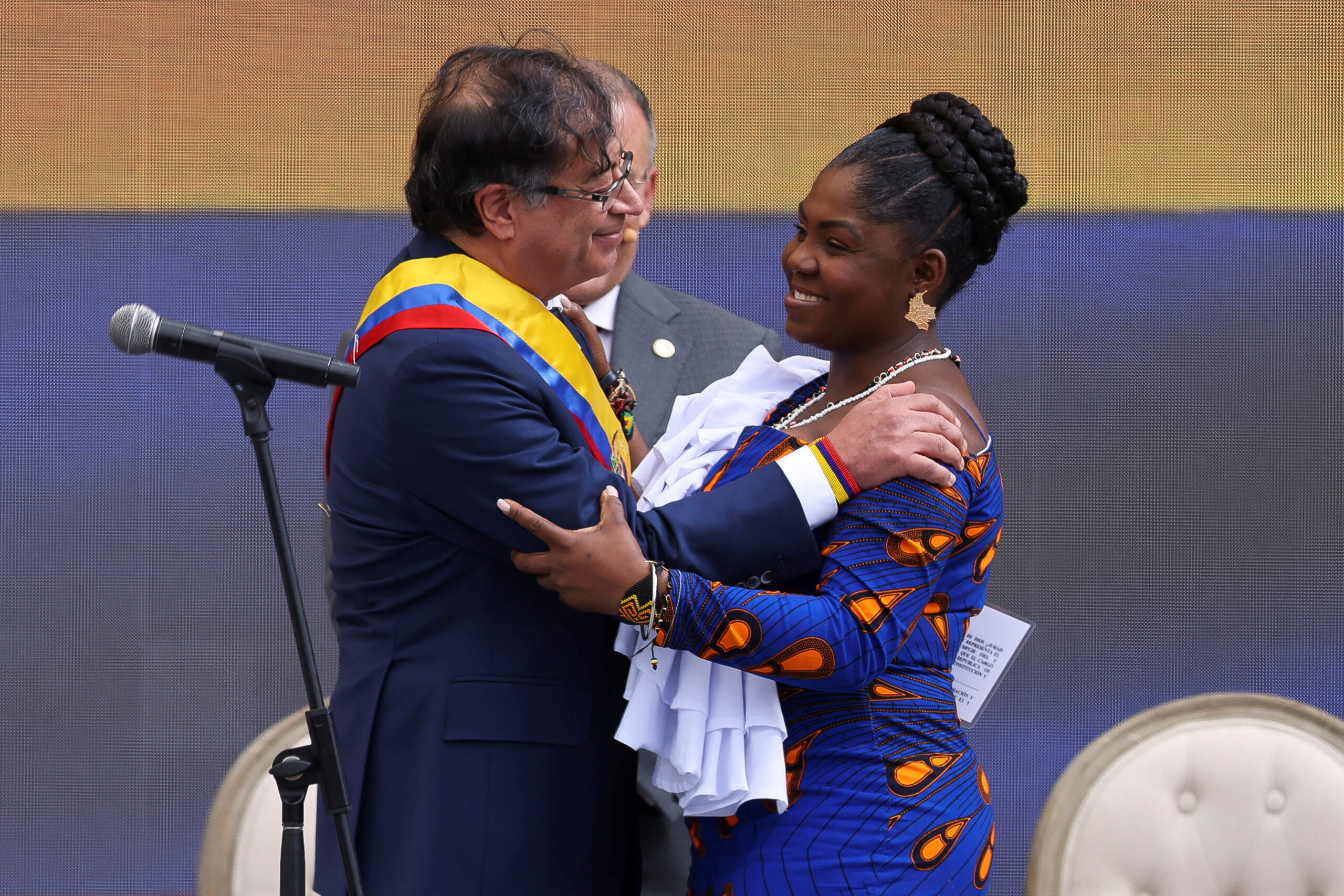 President Gustavo Petro and vice president Francia Márquez are sworn in, in Bogota, Colombia on 7 August 2022. REUTERS/Luisa Gonzalez
With the inauguration on Sunday of president Gustavo Petro and vice president Francia Márquez, Colombia has taken its next steps in a radical departure from the past 214 years of "business-as-usual" under the liberal-conservative duopoly. For the first time in history, the country now has a leftist leader.
Petro's progressive coalition party, Pacto Histórico, has an ambitious and hopeful programme for government. It seeks to reimagine and enact deep transformations in the relationship between society, economy, and the environment in order to confront the climate and biodiversity emergencies. Colombia, "Una potencia mundial de la vida," it promises: "A global force for life".
'Defence of life above the interests of economic capital.'
The new government was elected on a pledge to "move towards a productive economy based on respect for nature, leaving behind the exclusive dependence on the extractivist model and democratising the use of clean energy." In order to make this happen, Pacto Histórico has promised to put "the defence of life above the interests of economic capital." 
While unprecedented from an elected political party, the language Petro's government uses isn't new. It's the language of labour, feminist, and environmental movements and Indigenous and Afro-Colombian communities – championed now at the highest level by Colombia's first Black vice president, Francia Márquez. 
Social movement leaders, farmers and labourers, fisherfolk, demobilised guerrillas and street vendors were among the party's special guests at the inauguration ceremony. Many long-standing movement demands are reflected in the discourse and policy programme, including bans on large-scale open-pit mining, offshore drilling, and the extraction of fossil fuel from unconventional sources, such as fracked gas, tar sands and coal bed methane.
In the town of Cajamarca in 2017, residents said no to Canadian mining giant Dalradian's proposed gold mine, La Colosa, after a long campaign and popular consultation. But their decision was not respected by Iván Duque's unpopular, outgoing government, which let mining activity continue anyway. In contrast, Pacto Histórico has vowed to respect the rights of communities to determine for themselves what happens to their lands through collective and community decision-making processes.
Serious planning and investment.
Petro and Márquez want their country to become a model to the rest of the world in the fight against climate change.
They have promised to transition Colombia away from fossil fuels via a planned, gradual reduction – a profound departure from the previous government's insistence on letting foreign companies mine for profit wherever they liked. 
One way in which they envision doing this is by harnessing the country's vast potential for renewable energy – the north-easterly region of La Guajira alone could generate 15 GW from wind and solar, about 90% of what is currently produced by all sources in the country, creating export-potential for Colombia. A new national institute of clean energies has been proposed to take on this task.
Colombia's new leaders are not naive to the challenges the country faces. They recognise that a transition to clean energy will not occur organically thanks to mysterious market forces, but rather requires serious planning and investment. 
To this end, they have pledged to develop training programmes oriented to energy transition and to create an energy transition fund, paid for by revoking subsidies and taking royalties from extractive industries. 
Under Petro, Colombia will ask the international community to split the profits lost by leaving coal and oil reserves in the ground. However, having seen Ecuador forced to abandon a similar initiative when foreign governments failed to follow through on their promises, the country is unlikely to rely too much on this strategy. 
No new fossil fuel explorations.
As if things weren't looking bad enough already for the extractive industries, as of yesterday Colombia will no longer be granting new fossil fuel exploration licences. 
Existing extraction will continue, along with extraction that has already been granted permission. But the Petro-Márquez government will attempt to ensure that current fossil fuel reserves are used for internal consumption only and that this becomes as efficient as possible. 
Colombia's radical approach could set an example to Europe, as countries struggle without Russian gas. However, rather than redouble their efforts for energy security by investing heavily in renewables, these countries are in a rush to secure fossil gas from Africa and more coal from Colombia, which Duque was happy to provide. 
Holding out in the face of this surging demand is one of the central challenges the new government will face, especially while reorienting production for domestic needs and maintaining stability in the energy system through the process of decarbonisation. 
But Petro and Márquez are nothing if not determined and ambitious. Their vision is truly one of transformation rather than mere decarbonisation, with Colombia striving for an energy model that is democratic and guarantees universal, fair, and inclusive access to power. 
First movers in the fossil-free era.
Political support for the policies Petro and Márquez are proposing exists not only in the country, but around the world, as demonstrated by letters from 83 parliamentarians from 30 different countries and hundreds of civil society leaders, scientists and academics, who cite their plans as an example for other countries to follow. Some are already beginning to – Costa Rica and Denmark launched the Beyond Oil and Gas Alliance in 2021, hoping to facilitate the managed phase-out of oil and gas production.
Attempts to tackle fossil fuel extraction head-on in countries like Colombia, Costa Rica and Denmark is a direct response to growing recognition of a huge loophole in international climate policy, which has historically focused on carbon emissions rather than their source. Coal, oil and gas are responsible for almost 80% of all carbon dioxide emissions since the industrial revolution, and the fossil fuel industry is planning to produce about 120% more fossil fuels by 2030 than would be consistent with the Paris Agreement's 1.5C temperature threshold. 
While Colombia's proposed policies are brave and bold, they acknowledge a simple truth: when it comes to climate change, no country can go it alone. Given the scale of the challenge, the urgency, and the fact that many countries face capacity constraints in undertaking the transition on their own, international cooperation will be necessary to wind down fossil fuel production. Without such cooperation, the inevitable transition and economic diversification will be delayed and become harder and more expensive, more likely to be chaotic and therefore harmful to workers and marginalised communities. 
One exciting idea that is gaining traction is a fossil fuel non-proliferation treaty, in the style of the nuclear non-proliferation treaty. The new Colombian government is already advocating for all three pillars of such an approach, namely: non-proliferation (ending all new exploration and production), global disarmament (phasing out existing production), and peaceful transition (scaling up access to renewable energy and a just transition for every country). 
Momentum is growing, with London and the Vatican among recent endorsements for a fossil fuel treaty. And while it is morally compelling to see support coming from extremely vulnerable countries like Tuvalu, the leadership of a fossil fuel producer like Colombia would up the ante even further and potentially unlock greater support.
At a time when supposed climate leaders around the world are wielding the rhetoric of climate action while approving new fossil fuel projects, deliberate efforts to kickstart a just transition away from fossil fuels by the new Colombian government is refreshing and hopeful, particularly in their attention to climate justice. As the climate crisis roars its presence every day, the new leaders of Colombia – and the movements behind them – are imagining and ushering in a new era of political courage.
Nathan Thanki is a human ecologist based in Ibagué, Colombia.