In Myanmar, Workers and Activists Take on a Food Delivery Giant
'If the revolution wins, Foodpanda will lose.'
15 August 2022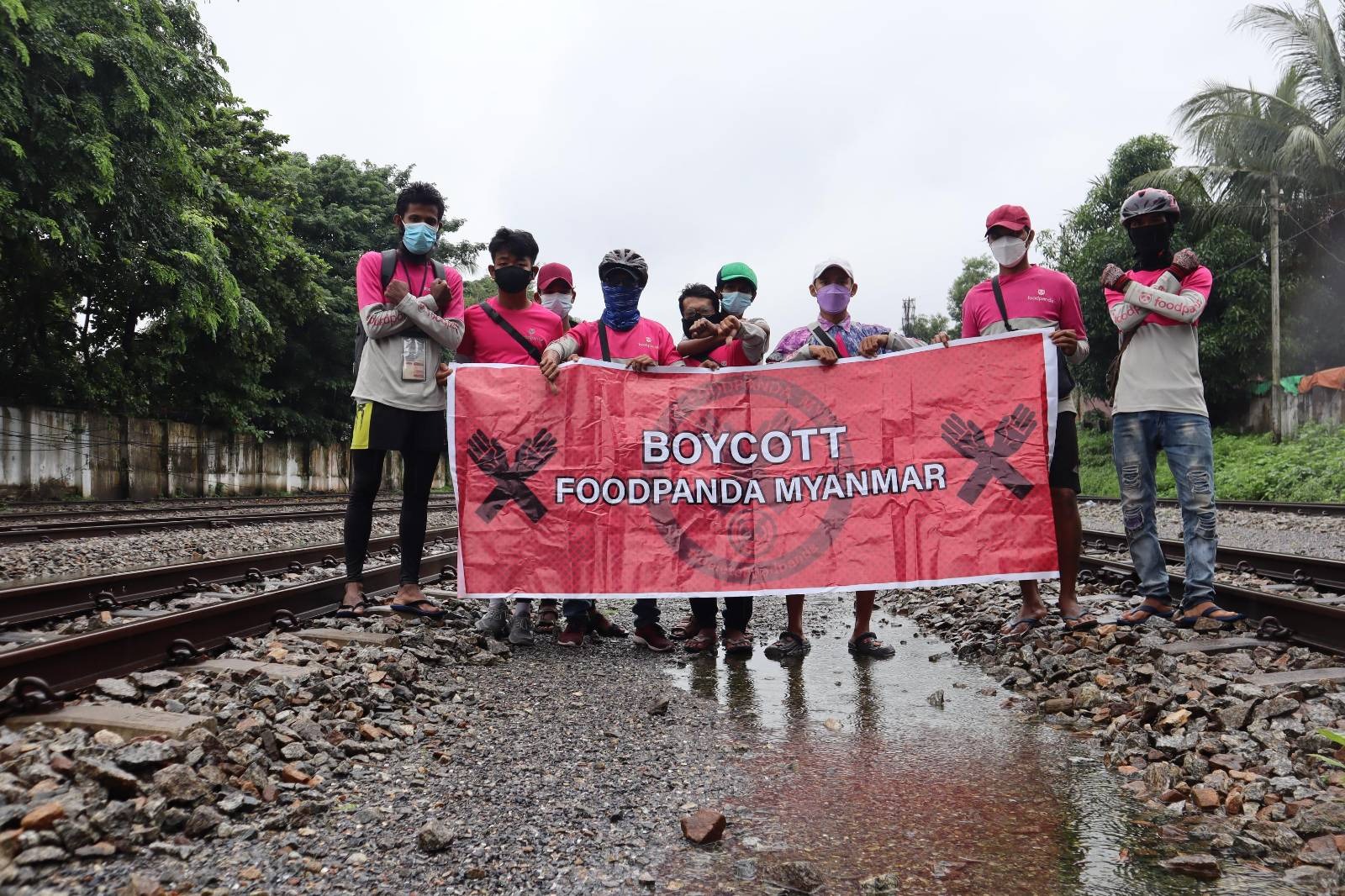 When they became unable to sustain a strike, workers and activists called for a customer boycott. Image: supplied.
As temperatures neared 40C in Yangon in the spring, Ko Kyaw* was riding his bicycle for up to 12 hours each day. The 34-year-old was delivering meals to the residents of Myanmar's largest city as one of thousands of workers contracted by German-owned delivery giant Foodpanda.
Ko Kyaw had ridden for the company for two years. But as poverty soared in the wake of last year's military coup, he was dismayed to see his hard work and loyalty repaid with lower fees for each delivery he made.
Driven to the brink, Ko Kyaw went on strike on 16 March, along with what organisers claim was the majority of Foodpanda's 7000 couriers in Myanmar. Refusing to clock in for shifts, they prompted the company to acknowledge a disruption to "normal operations" and apologise to customers.
Five months on, the delivery workers' fightback continues. With the country's military regime more interested in crushing dissent than defending workers' rights, couriers have instead sought the support of student unions and underground groups that formed to resist the coup.
Failed negotiations sparked a fresh round of strikes in June, alongside a customer boycott campaign that is being amplified online by anti-coup activists, some with tens of thousands of social media followers. Foodpanda, however, is still largely refusing to budge, leaving the remaining strikers running short on cash and hope.
A 60% pay cut. 
Foodpanda – an Asian subsidiary of Berlin-based Delivery Hero, which operates in more than 50 countries – has seen rapid growth in Myanmar since entering the south-east Asian country in late 2019. As in much of the rest of the world, the Covid-19 pandemic saw demand for home deliveries soar in 2020.
But the company hasn't shared its success with its workers, who deliver by either bicycle or motorbike. The basic fee paid to delivery drivers per drop, which increases with distance and performance-related benefits, was 1,010 kyat in March 2020 (then about 60p). Over the following two years, this fee inched downwards, even as the value of the Burmese kyat tanked. By December 2020, it was around 600 kyat, and by March this year it had sunk to nearly 400 kyat (by then only worth 17p). Ko Kyaw was suddenly struggling to provide for his wife and three-year-old child, and he had to cut back even on essentials such as rice and cooking oil from the local market. 
While his pay had declined, prices were soaring. The violent fallout from the coup and the new military junta's mishandling of the economy have compounded global price pressures, including commodity shortages created by the Ukraine war. The World Bank has estimated a doubling in poverty in Myanmar over the last two years, with 40% of the population now living below the poverty line.
Workers' grievances extend beyond just pay. Foodpanda refuses to take responsibility for injured drivers (outside of a third-party insurance scheme workers must pay for themselves) and its digital ranking system can demote drivers if they take time off. This demotion results in lower fees and fewer orders, despite the company's claim to offer flexible work. Other demands include a switch to using Google Maps in place of a system that workers claim inaccurately measures distance, which also means lower fees for deliveries.
From Hong Kong to Dubai, workers fight back.
Foodpanda and its major rival, Deliveroo, have imposed fee cuts on delivery workers across Asia, who represent an easy target for economising measures amid rising global costs. But in several countries, workers have fought back. Strikers in Myanmar were inspired by the successes over the last year of their counterparts in Hong Kong and Dubai, who quickly won concessions from delivery companies, including on pay.
Gig economy companies have burnt through investor cash in their quests for market dominance – Delivery Hero posted a loss of more than one billion euros in 2021. Meanwhile, regulators and courts in Western countries have increasingly challenged their classification of workers as independent contractors, forcing companies to provide a minimum wage and benefits including pension schemes and paid holiday.
Delivery workers in Myanmar can expect no such help from authorities under a military regime preoccupied with crushing dissent, but – as in Hong Kong and Dubai – the strike did prompt a negotiation with the company after three days. An agreement was reached on a 580-kyat basic fee, but workers who resumed deliveries the next day claimed they were still getting less than this amount, leading them to protest outside the company office in Yangon. This immediately caught the attention of the military, which had brutally crushed anti-coup protests the previous year. 
"We patiently explained that we aren't doing anything political but just asking for our labour rights," said Maung Maung Oo*, a delivery worker who was at the demonstration. The soldiers ordered them not to protest, but to use the formal system for labour disputes instead. Knowing the military's record of murdering demonstrators, the strikers felt they had no choice but to disband and over the following weeks underwent five rounds of talks with the company mediated by the junta's labour officials. Strikers say the talks produced no agreements, while Foodpanda declined to comment or respond to any of Novara Media's questions.  
Their demands still unmet, the delivery workers began saving money in preparation for another strike, which launched on 6 June. This time, however, the company declined to negotiate and a long standoff began. Strikers say 70% of the workforce joined the strike for the first week, but that most had since returned to work because they couldn't survive without income. Among them is Ko Kyaw, who held out until 31 July. 
A customer boycott.
These pressures prompted the strikers to focus on a secondary strategy: a customer boycott. To promote what they called the Zero Customer Campaign, they combined social media messaging with more direct forms of engagement with the public. Thar Nge*, a striking delivery worker in Mandalay, Myanmar's second-largest city, said he and his colleagues sent text messages to their previous customers, whose numbers were stored on their phones. The messages asked these customers not to order from Foodpanda in solidarity with their strike, while also offering their services as unaffiliated delivery workers, enabling them to make up for some of their lost income.
"Most riders need to go back to work because they're facing hardship, but customers have a major role to play because the company actually cares about them," said Maung Maung Oo. Foodpanda has not published its sales data, making it hard to determine how widespread the boycott has been, but since returning to work, Ko Kyaw says the number of orders he receives each day has dramatically declined, even though many workers remain on strike.
Thin Thin*, another striking delivery worker in Mandalay, said the boycott campaign has been turbocharged by the support of student unions and resistance groups. Several of these groups have issued calls for solidarity to their tens of thousands of social media followers, while members of a youth group in the north-western city of Monywa were briefly arrested for unfurling a banner declaring support for the strike at a traffic island on 6 June.
Aung Kaung Sett, chair of the University of Yangon student union, said his union's support for the strike was inspired by a long tradition in Myanmar of student involvement in labour movements, which extended back to the British colonial era. He said the Foodpanda strike resonated with members of the public because "they came to depend on [delivery workers] during the pandemic and know their situation," adding that the workers' participation in the anti-coup protests won them added sympathy.
Yet, despite this public pressure, the company has only conceded to one of the strike's more minor demands, for an ID card that would protect delivery workers when they're stopped at police and army checkpoints. In a 6 July statement, Foodpanda said the cards would be issued in September. In response to the other demands, it defended the status quo, stressing the workers' status as freelance contractors. To workers worried about road accidents, it offered training in defensive driving and high-visibility gear, and those buckling under the cost of living would receive care packages with food and medicine. Meanwhile, the company appears to be fending off the boycott by advertising regular discounts on its Facebook page of up to 50% on orders.
"The strike's been hard on us," said Pyae Phyo Aung*, a delivery worker in Yangon, speaking months into a strike that has no end in sight. He was pessimistic about Foodpanda's willingness to negotiate and, like many in Myanmar, he now places his hopes in the nationwide resistance movement one day prevailing against the junta and creating a fairer society. "If the revolution wins, Foodpanda will lose," he said. 
*Names have been changed to protect the identities of people quoted in this article, because of the risks of speaking out in Myanmar
Ben Dunant is a journalist covering Myanmar and is an editor-at-large at Frontier Myanmar magazine.