Anti-Monarchy Protesters Keep Getting Arrested
"Fuck imperialism. Abolish monarchy," read one person's sign.
12 September 2022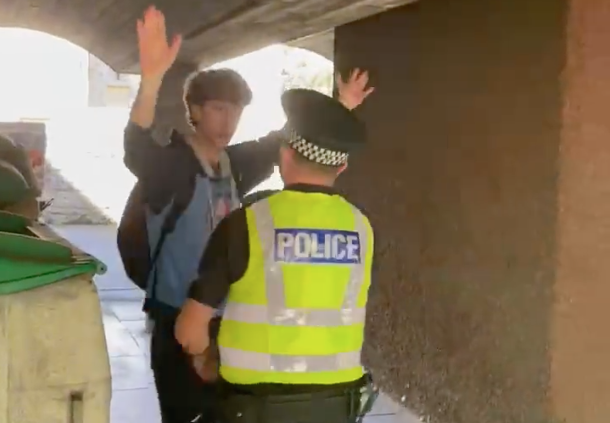 A protester is arrested in Edinburgh. Photo: Twitter / @chrismarshll
A protester has been charged with a breach of the peace after being arrested during the accession proclamation of King Charles III in Edinburgh on Sunday. The woman was holding a sign saying "Fuck imperialism. Abolish monarchy."
Police Scotland say the 22-year-old woman has been released and is due to appear at Edinburgh sheriff court at a later date.
The woman appeared in the crowd shortly before the proclamation on Sunday, before officers led her away. Reports say many in the crowd applauded the police while one man shouted, "Let her go, it's free speech."
Somebody yells out, "Andrew, you're a sick old man" to Prince Andrew, who is walking behind Queen Elizabeth's coffin pic.twitter.com/M6DsyuPLXR

— philip lewis (@Phil_Lewis_) September 12, 2022
The republican protester is one of several to be arrested for expressing their opposition to the monarchy as King Charles ascends to the throne.
In a separate incident on Monday, a protester was arrested in connection with a breach of the peace on Edinburgh's Royal Mile after shouting "Andrew, you're a sick old man!" at the prince as he walked behind the Queen's coffin as it was driven through Edinburgh.
Prince Andrew heckled as the Queen's coffin passes pic.twitter.com/85m9jUgszF

— Christopher Marshall (@chrismarshll) September 12, 2022
Social media footage shows a man being thrown to the ground then led away by police officers as onlookers shove him. The man can be heard telling officers, "I've done nothing wrong."
Another man, 45-year-old Symon Hill, was arrested on Sunday after asking "Who elected him?" at the county proclamation ceremony in Oxford.
In a blog post Hill said, "I remained quiet in the first part of the proclamation, concerning the death of Elizabeth. Any death is sad and I would not object to people mourning.
"It was only when they declared Charles to be 'King Charles III' that I called out 'Who elected him?'"
Police officers arrested Hill, handcuffed him and put him in a police van.
"I have no illusions about the police's questionable relationship with the law," Hill said, "but I seemed to have been arrested for nothing more than expressing an opinion in public."
Thames Valley Police confirmed that a man was arrested under section 5 of the public order act, but was subsequently been de-arrested.
Section 5 of the public order act criminalises "threatening or abusive words or behaviour, or disorderly behaviour".
"I would be surprised if anyone among the few people who had heard me felt harassed or distressed by encountering an opinion that they may have disagreed with," said Hill.
"What other freedoms can be suppressed in the name of monarchy?"
🔴An anti-Royal protestor holding a poster with the slogan 'Not my king' has been pictured being led away by police 👇 pic.twitter.com/qsur4TT6vz

— Evening Standard (@standardnews) September 12, 2022
On Monday, a protester holding a sign saying "Not my king" was led away by police in London.
A Met Police spokesperson said: "A member of the public was asked to move away from the Carriage Gates outside the Palace of Westminster this morning in order to facilitate vehicle access and egress through the gates. She was not arrested and was not asked to leave the wider area."
Graham Smith, CEO of anti-monarchy pressure group Republic said: "We condemn these arrests in the strongest possible terms. Free speech is fundamental to any democracy.
"At a time when the media is saturated with fawning over a king appointed without discussion or consent, it is even more important. We will be writing to the police forces concerned and the Met, raising these concerns.
"We intend to organise protests at the coronation and will expect those protests to be allowed to go ahead peacefully."
Just went to Parliament Square & held up a blank piece of paper. Officer came & asked for my details. He confirmed that if I wrote "Not My King" on it, he would arrest me under the Public Order Act because someone might be offended.

— Paul Powlesland (@paulpowlesland) September 12, 2022
Emily Apple, communications coordinator for the Network for Police Monitoring (Netpol) said: "These arrests are unfortunately not surprising. Time and again, the police act in an arbitrary manner and abuse their powers to crush dissent.
"Any time there is a royal event, the police act disproportionately to ensure that opposing voices are not heard on our streets."
Jodie Beck, policy and campaigns officer at human rights organisation Liberty, said: "It is very worrying to see the police enforcing their broad powers in such a heavy-handed and punitive way to clamp down on free speech.
"From restrictions on protest in the Policing Act to further attacks in the Public Order bill – which rehashes the draconian measures thrown out of the act, including protest banning orders and expansions of stop and search powers – the government is making it harder for people to stand up for what they believe in.
Royal events have often been marked by arrests of anti-monarchy protesters.
20 people were preemptively arrested, detained or searched before the royal wedding in 2011. Among them were nine people who sitting in a branch of Starbucks, some of them dressed as zombies for a tongue-in-cheek "zombie wedding". They were held by police until after the Duke and Duchess of Cambridge kissed on the balcony at Buckingham Palace. After an eight-year legal battle that escalated all the way to the European Court of Human Rights, they were told their human rights had not been breached.
In 2004, members of Movement Against the Monarchy were given £80,000 in compensation after over 40 people were arrested while sitting in a pub on the day of the Queen's golden jubilee in 2002. The protesters had taken part in a protest at Tower Hill, London, when they unfurled banners bearing the words, "Charles Must Never Be King".
Simon Childs is a commissioning editor and reporter for Novara Media.