Labour Conference Will Be Rife With Corporate Greenwashing
'Big polluters are in, efforts to decarbonise are out.'
22 September 2022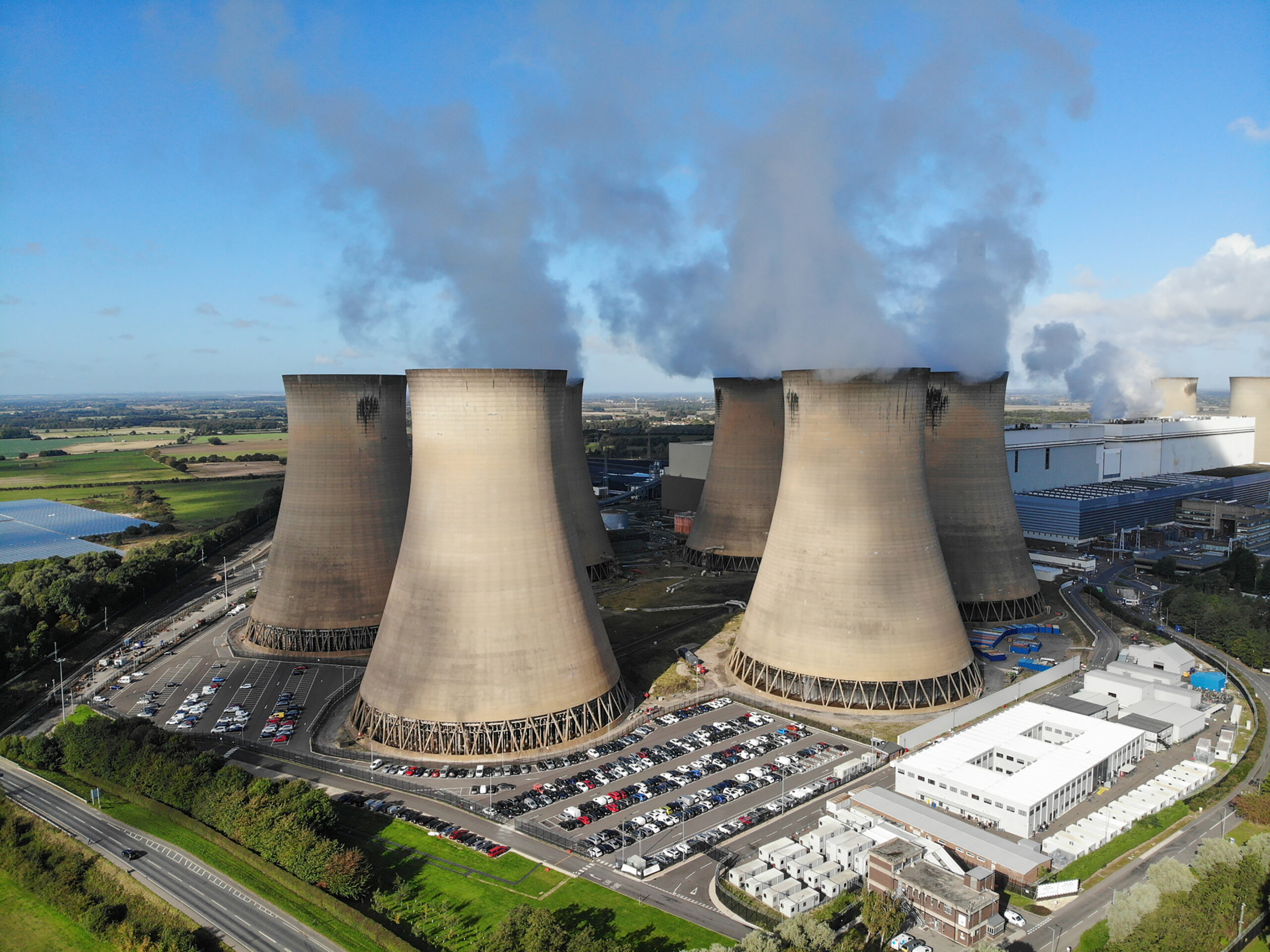 Drax Power Station, the third-largest polluting power station in Europe, was a sponsor of last year's Labour conference. Edward Crawford/Reuters
The Labour party has been criticised for allowing corporate "greenwashing" events to take place at its conference while blocking members from voting on green policies.
The conference, held in Liverpool from Sunday, will reportedly use the slogan "fairer, greener future" as an attempt to counter the rise of the Greens. However, it will also play host to events sponsored by big polluters.
One fringe event is entitled: "Reaching net zero: How can the UK boost energy security and invest in green jobs?" The event is hosted by the New Statesman magazine and sponsored by Drax. Dr Alan Whitehead MP, shadow minister for the green new deal and green energy, is listed as an attendee.
Drax owns a vast biomass power station in north Yorkshire. While the company says it has decreased emissions by 90% since replacing coal with biomass fuel, environmental organisations say it is the UK's biggest single source of CO2 emissions.
In 2021, 22 environmental organisations signed a joint letter saying burning biomass exacerbates climate change. Even the government is now having second thoughts about Drax – recently, former business secretary Kwasi Kwarteng told a meeting of MPs that the sustainability of importing trees to burn at the plant "is not sustainable" and "doesn't make sense". 
Moreover, the term "net zero" has been criticised by climate scientists and activists who say it is a "trap" which distracts from making radical cuts to greenhouse gas emissions now.
A big shoutout to all exploring and extracting fossil fuel companies who are going "net zero 2050" for showing the true value of this "target". This could save us many coming years of government greenwash!!

— Greta Thunberg (@GretaThunberg) April 11, 2021
Nevertheless, Labour is allowing Drax to frame a debate at the party's conference, as well as sponsor a Yorkshire and Humber regional reception at the event. 
Chris Saltmarsh, national coordinator for Labour for a Green New Deal – a green group within Labour – said: "Sadly, it speaks to the politics of Labour under Keir Starmer that big polluters like Drax are being welcomed into the party conference. In a year where extreme weather events have devastated the lives of millions, the leadership is getting cosy with the firms fuelling the destruction."
Phil MacDonald, COO of climate and energy think tank Ember, said: "Drax receives more than £2m a day in government subsidies. Some of this public money is fed straight back into political lobbying, as Drax argues for new funding to support its proposed carbon capture power station.
"A large public relations budget has allowed Drax to obscure the crucial fact that the wood-burning power station is the UK's largest single source of CO2. These emissions are not counted by the UK, as wood-burning is assumed to be carbon neutral. However, scientists have increasingly argued against this claim.
"Politicians should not lose sight of these risks when major CO2 emitters try to greenwash their reputations through corporate sponsorship."
Elly Pepper, a campaigner from Cut Carbon Not Forests and the Natural Resources Defense Council (NRDC), said: "By hosting events like this panel, Drax continues to greenwash the UK public into thinking bioenergy is good for our planet. Fortunately, more and more people are realising it actually worsens climate change, exacerbates biodiversity loss, and harms communities."
The conference will also host a reception sponsored by Sustainable Aviation. This is an aviation industry body which has welcomed the government's "jet zero" strategy to allow people to fly "guilt free", which has been called "pure greenwash" by environmentalists. Louise Haigh MP, shadow secretary of state for transport, has been invited.
The conference centre will also have an "airport style lounge", sponsored by Heathrow. "We look forward to meeting with you to discuss our exciting future plans, roadmap to sustainable growth and showcase the aviation industry's progress on our pledge of net zero aviation by 2050," says the promotional blurb for the event.
Tim Johnson, director of the Aviation Environment Federation, which campaigns on the impact of aviation, said: "We don't have an issue with fringe events per se", as they often allow delegates "an opportunity to challenge speakers with questions and comments."
"But organising a fringe event is very different from sponsoring a lounge, as Heathrow is doing, where access is largely by invitation. Not only is this prohibitively expensive for all but the largest of businesses, but it affords unlimited access to MPs and other party members behind closed doors for the duration of the conference. Where's the transparency?"
The news comes as the Tories are mired in controversy having received £651,000 from the aviation industry in April and June this year.
Young people were ignored by @Keir_Starmer when we asked him where he stood on the #GreenNewDeal in Brighton today.

£85 billion is the minimum we would need to create millions of good green jobs.

But Keir won't even commit to that? pic.twitter.com/k9UHHQRBqe

— Green New Deal Rising (@GNDRising) September 26, 2021
While corporate sponsors can still host "greenwashing" events, activists are having trouble getting green policies onto the agenda. For the second year in a row, Labour for a Green New Deal's motion to conference has been ruled out of order for being too broad in scope. Activists will focus on motions calling for public ownership of energy as a way to push for green new deal-type policies.
Saltmarsh said: "Supporters of Starmer are trying to stifle debate of a socialist green new deal. Big polluters are welcomed in, while efforts to decarbonise and protect workers' livelihoods are out.
"But this won't stop us working to have key ideas like public ownership of energy debated on the conference floor. From red wall swing seats to Tory heartlands, the public support these transformative measures. We'll fight against the party's embrace of polluting industries, and get these popular and urgent policies on the agenda."
Corporate sponsorship of the party conferences is nothing new – far from it. The Heathrow lounge and Drax-sponsored events have been around at Labour and Tory events for a number of years. But it has become controversial at Labour conferences in recent years.
In 2016, under Jeremy Corbyn's leadership, Labour banned McDonalds from conference because of its "poor record on trade unions", losing out on £30,000 of sponsorship. McDonalds is listed as a partner of the New Statesman at this year's conference.
At the 2019 conference, Labour for a Green New Deal protested against a BP-sponsored event hosted by the New Statesman entitled "Net zero: Imagining a decarbonised UK", saying: "We need to shut fossil fuel companies like BP down, not give them an opportunity to greenwash". BP is conspicuous by its absence as a sponsor at this year's event.
The party lost 100,000 members in 2021, and ended the year with a £5m deficit. With its finances in a parlous state, it has taken to schmoozing wealthy individuals in the hope that they will save the party's coffers.
Novara Media has contacted the Labour party, Dr Alan Whitehead MP, Louise Haigh MP and Drax for comment.
Simon Childs is a commissioning editor and reporter for Novara Media.