Russia Is Using Ethnic Minorities As Cannon Fodder In Ukraine
A fresh round of conscription disproportionately targets indigenous and Central Asian populations in Russia.
27 September 2022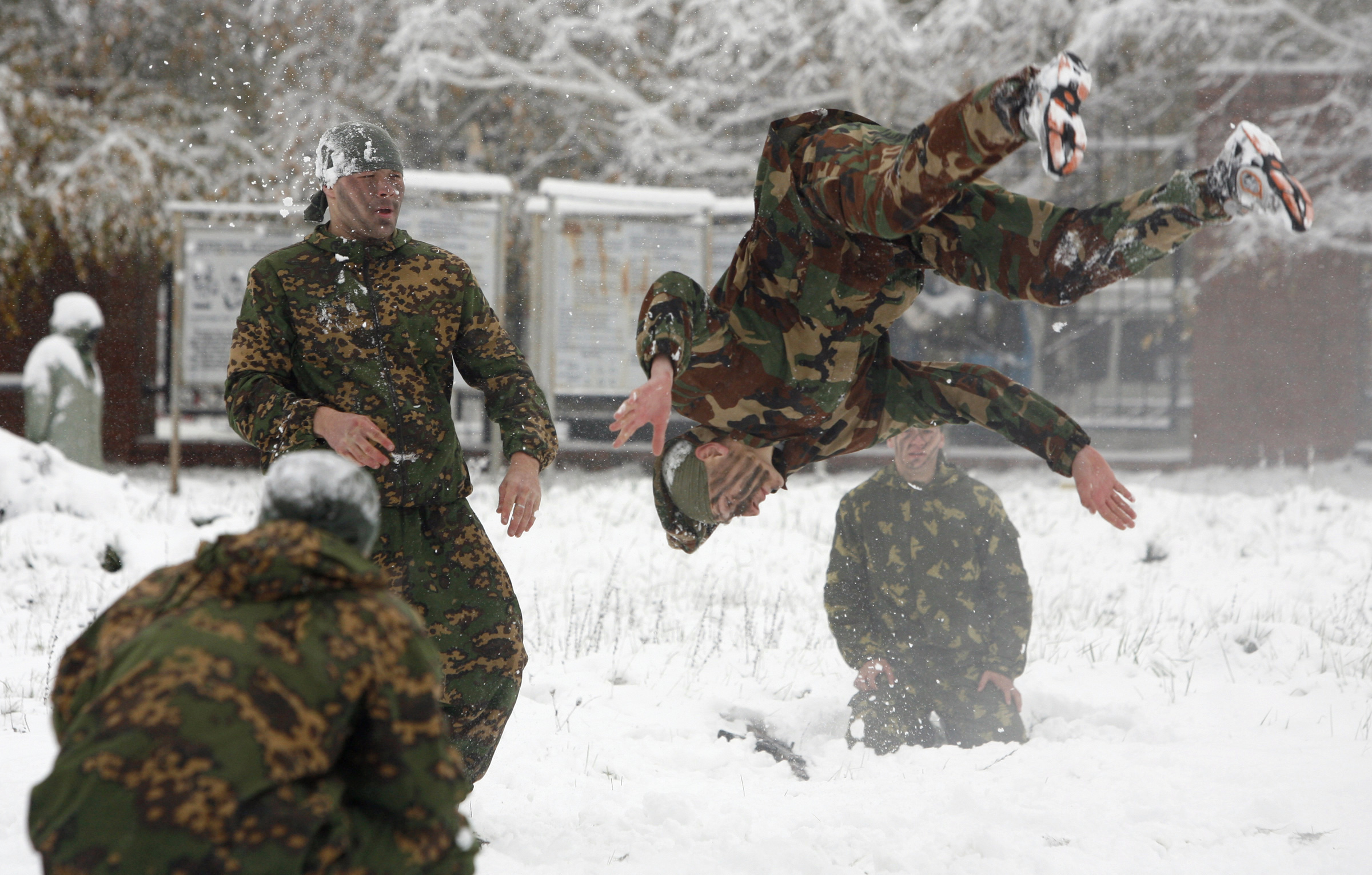 Soldiers from Muslim majority regions like Dagestan have died at a rate 10 times higher than those from Moscow. Eduard Korniyenko/Reuters
Over a hundred years ago, the Russian empire conscripted its Central Asian subjects to fight in the First World War. This led to an anti-imperialist uprising known as Urkun – mainly among the Kyrgyz and Kazakhs, but also Uzbek, Tajik and Turkmen people. The uprising ended in catastrophe: up to 270,000 were killed by Tsarist troops, and tens of thousands more died trying to escape to Xinjiang in China. It is estimated that 40% of the Kyrgyz population were killed in the aftermath.
History repeats itself. On 21 September, Vladimir Putin announced the "partial mobilisation" of 300,000 Russians with previous military experience. Evidence suggests that out of the reservists currently being mobilised and those who have already fought and died, ethnic minority groups – who come from impoverished communities – are overrepresented. 
There are currently three major ethnic minority groups being sucked into Russian mobilisation. The first are the Russified indigenous ethnic minorities who live in regions like Dagestan, Yakutya and Buryatia and are Russian citizens. Then there are naturalised migrants (many of whom are Central Asian), who may or may not have the appropriate military training. The third are the non-naturalised Central Asian migrants who won't be conscripted in the latest draft but who might sign up to fight for money or the chance to fast-track their citizenship process.
"Various experts and journalists refer to 1916 and say it is repeating today; that this is the time when our big neighbour in the north is trying to use Asians to prevail in its own geopolitical war," says Dr Erica Marat, an associate professor at the National Defense University in Washington DC who specialises in security institutions in the likes of Eurasia.
"The current mobilisation campaign of labour migrants is now framed by scholars [of Urkun] as the third attack on ethnic groups. The first [was Urkun] in 1916, then Stalin's purges in the 1930s and now under Putin in 2022." 
Thrown to the guns.
Today, nearly ten million Central Asian labourers who have migrated to Russia to find work as gastarbeiters (a phrase used in Russia to refer to foreign workers) are being bribed to sign up and fight. Recruitment leaflets written in Uzbek and Kazakh, offering would-be recruits £3,000 upon enlistment have been dispersed inside Moscow's Sakharovo migration centre in the hope that some will be desperate enough to take up the offer.
The move comes despite stern warnings from Central Asian governments against their citizens enlisting, as well as a fatwa from the Muslim Board of Uzbekistan that forbids Muslims – who make up the majority population of all five Central Asian nations — from participating in any military activities except to defend their motherlands. However, many will undoubtedly succumb to the promise of a financial reward, however meagre.
Other methods of conscripting Central Asian men are being tested. Last week, it was announced that foreign workers could get a "simplified" fast track to Russian citizenship in return for a year of military service. Russia's Human Rights Council has also advised that Central Asian migrants who received Russian citizenship in the last ten years undergo mandatory military service so that they can all be mobilised. Russian authorities have also drafted a bill, that once approved as law, would reverse the naturalisation of immigrants (including their entire families) if they refuse to be drafted for military service. Last year, more than 200,000 Central Asians were naturalised as Russian citizens. 
Indingenous Russian ethnic minorities have been used as cannon fodder since the start of the war in Ukraine. Mobilisation efforts have disproportionately conscripted reservists in low income regions like Dagestan, Yakutya and Buryatia, populated overwhelmingly by indigenous ethnic minority groups. Recent BBC analysis suggests that soldiers from these areas have died at a rate ten times greater than those recruited from cities like Moscow. The true figure is likely to be far higher.
Ukrainian war communications have also seized on the racial disparity in mobilisation targets, highlighting the plight of the Crimean Tatars, who oppose Russian rule. "This is a conscious effort to destroy the Crimean Tatar nation," said Ukraine's president, Volodymyr Zelenskiy, during his nightly video address on 24 September. 
Ethnic minority groups comprise 20% of the contemporary Russian population. Russia did not become the biggest country in the world without previous conquest, annexation and colonisation of indigenous land, as well as people. Though the Russian Federation today is smaller than the Russian empire was at its height in the 19th century, it still governs populations it has historically oppressed like the Tatars, Chechens, Yakuts and Bashkirs, and has deep influences over neighbouring countries once directly under its colonial control. 
Imperial legacies. 
Russian power has been consolidated through Russification – a set of official and unofficial policies that have historically enforced Russian culture on the vast numbers of ethnic minorities living in its empire. This legacy is still felt today. In 2017, for example, Tatar lawmakers were instructed by the Russian Education Ministry to adopt new measures according to which daily, mandatory Tatar-language classes were replaced by non-mandatory classes limited to two hours per week. This led to an outcry in Tatarstan, and fuelled wider worries that smaller, indigenous languages may disappear altogether.
Today, Russian politicians claim neighbouring countries including Ukraine are, in fact, occupying "historically Russian land". In a now-deleted Telegram post, Dmitry Medvedev, deputy chair of Russia's Security Council, claimed earlier this year that "Russians founded the first settlements in the wild lands of Northern Kazakhstan" and that "Kazakhstan is an artificial state", while Putin himself revealed his imperial ambitions in an essay published last year, prior to the invasion of Ukraine.
In contemporary Russia, ethnic minority groups have been systematically discriminated against, whether through economic inequality or direct hate crimes. Central Asian gastarbeiters experience horrific working and living conditions, as well as frequent violence, particularly at the hands of neo-Nazis. 
Long-brewing historical tensions in Russia's republics, where many indigenous populations have long lived in discontent and reject federalism, are now bubbling to the surface once more. Women in Dagestan have been bravely protesting mobilisation. "Our children are not a fertiliser," they chant. In Yakutsk (the capital city of the Sakha Republic), hundreds also came out onto the streets to protest "genocide".
"I've seen some activists and journalists, in Buryatia especially, say this is the beginning of the end of their existence as an ethnic group," Erica Marat adds. Indeed, many – including the former Mongolian president who has made a rare statement opposing the war – are now asking if there are more insidious efforts to eradicate ethnic minority groups by using them as cannon fodder in the war. 
Widespread demonstrations resisting the forced mobilisation in some of the republics – regions with significant North and North-Eastern Asian native populations – reflect that, for many, Russian imperial rule never ended. Seperatist feeling in these fragmented republics could cause trouble internally, weakening Russia on the home front. For Central Asian countries, this round of conscription provides even more reason to loosen political ties with Russia – especially as the Kremlin faces some of the most outright defiance it has in years. Whatever happens next, though, it's certain that the poorest and minorities are likely to bear the brunt.
Diyora Shadijanova is a multimedia journalist and an editor at gal-dem magazine.