Labour Bans Three Kurdish Attendees From Conference While Cosying up to Turkey
Atlanticism is back, baby.
28 September 2022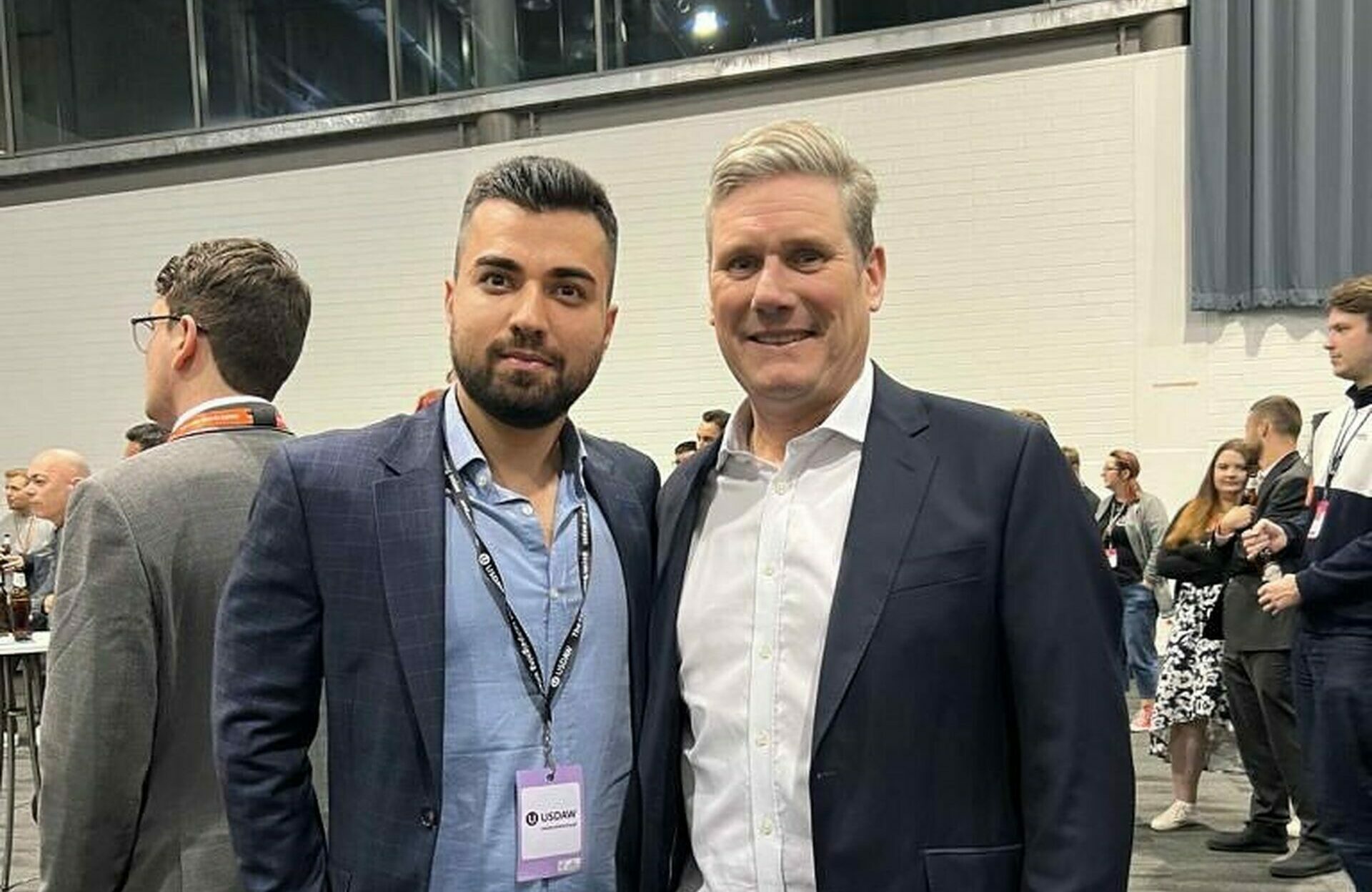 President of The Circle Foundation Enes Guzel pictured with Keir Starmer at Labour party conference, September 2022. The foundation focuses on UK-Turkey relations. Photo: The Circle Foundation
Three Kurdish attendees were turned away from this year's Labour party conference, among them a former local mayor. All had travelled to Liverpool and were refused entry at the door, the party claiming they had failed security clearance.
The decision has raised questions about undue influence within the party of groups affiliated with the Turkish state.
Ali Gul Ozbek is a Kurdish Alevi former Labour councillor who between 2015 and 2017 served as mayor of Haringey, a London borough home to a large Kurdish community.
Ozbek has been attending party conference for 14 years without issue. "This year, all of a sudden, I couldn't get a pass."
"I thought it must be a mistake," he told Novara Media. "I've been a member for longer than 90% of MPs."
Also refused entry was British-Kurdish activist Elif Sarican (the third activist declined to be interviewed by Novara Media). Sarican was due to speak at a Unite fringe event about the trade union campaign to free imprisoned Kurdish leader Abdullah Öcalan.
I was only told as I went to conference services to collect my pass. Apparently I did not pass the necessary security checks.

In the absence of a clear explanation it is difficult not to believe that this may be connected to Turkey's increased repression of Kurds globally. https://t.co/sIHYKzadpG

— elîf (@elifxeyal) September 26, 2022
Sarican has attended six previous conferences, many of which featured Freedom for Öcalan events. This year, when she attempted to collect her pass, she was refused – and denied the opportunity to appeal. "The opaqueness of it all is very worrying," she told Novara Media.
The Labour party did not respond to Novara Media's request for comment.
Turkish state influence.
Both Ozbek and Sarican note that while this is the first year either had any problems accessing the conference, it is also a year in which Turkish state influence has become far more visible.
The Circle Foundation is a London-based think-tank focused on UK-Turkey relations. The organisation attended last year's conference but ramped up its presence this year, holding two fringe events and a roundtable of MPs, including former Labour general secretary Iain McNicol.
Meanwhile, its president Enez Guzel was pictured at the conference with Keir Starmer and London mayor Sadiq Khan.
President @EnesGuzel42 has met with the Leader of the @UKLabour @Keir_Starmer at the #LabourConference2022 and informed him about the work of the Circle Foundation and the fringe events that we organised at the #LabourPartyConference.#Lab22 pic.twitter.com/onLHx8CBnB

— Circle Foundation ⭕️ (@circlefound_uk) September 27, 2022
The Circle Foundation describes itself as focused on Turkey's foreign and security policies. The think-tank claims independence from the Turkish state, however its views are clearly aligned with those of Turkey's ruling Justice and Development party: in September last year, the organisation published a blog praising Azerbaijan's invasion of Karabakh in Armenia.
Currently, the Turkish state is engaged in a concerted effort to ramp up the centuries-long repression of its Kurdish minority using its leverage within Nato.
Turkey is currently in talks with Nato applicants Sweden and Finland to extradite individuals linked to the Kurdistan Workers' party (PKK), the militant group Öcalan co-founded. Turkey was among the sole objectors to the Nordic countries joining the alliance, making its consent contingent on extradition treaties.
The PKK has been designated a terrorist organisation by the UK government since 2006, a proscription extended by Priti Patel in 2020. Yet with campaigns like Freedom for Öcalan continuing to openly support the Kurdish liberation struggle, there is room to go further.
Sarican questions whether The Circle Foundation's heightened presence at Labour conference is a part of a broader diplomatic effort: "It seems like this year, there's an increase in organisations run by people who are very close to the Turkish state," she said.
If so, Turkey is pushing at an open door within the Labour party, whose new leaders are keen to distance themselves from the socialist internationalism of the Corbyn years towards an Atlanticist tradition of trade agreements and military alliances.
Labour hawks.
Earlier this year, Starmer threatened to expel Labour members and to discipline MPs who criticised Nato. In his conference speech on Tuesday, Starmer described Labour as "the party of Nato" and promised to "rebuild our alliances".
Sarican said it has become clear which alliances he's referring to. She noted that only a few months ago, Starmer shared a statement to mark Newroz, Kurdish new year. Now, she said, "they're selling out the Kurdish people in the name of trade with Turkey".
Clare Baker is international officer for Unite and secretary of the Freedom for Öcalan campaign. In a statement to Novara Media, she said: "We are obviously deeply concerned that our fringe speaker Elif Sarican and a number of Kurdish activists were refused entry to the Labour party conference. We are waiting to hear the reason for the refusal and the local MP will be raising this with the police."
"In the absence of a clear explanation, it is difficult not to believe that this may be connected to the increased repression of Kurdish people globally."
Rivkah Brown is a commissioning editor and reporter at Novara Media. She is also the editor of Vashti.