Don't Pay Took Down Kwasi Kwarteng
The campaign posed an 'existential threat' to the energy sector.
18 October 2022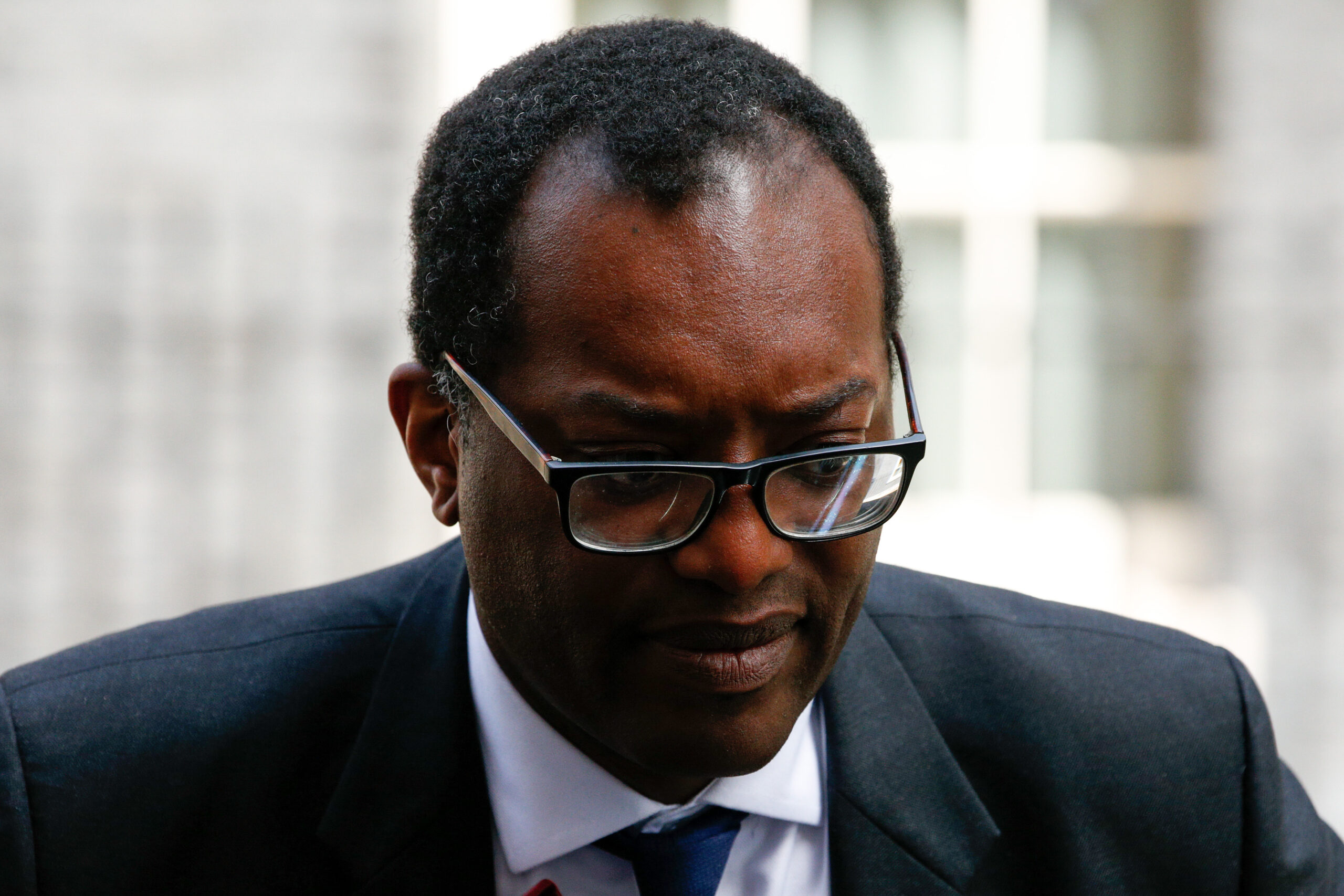 Kwast Kwarteng outside Downing Street. David Cliff/NurPhoto
Last Friday prime minister Liz Truss called chancellor Kwasi Kwarteng back from an IMF meeting in New York and sacked him. In the aftermath most commentators attributed his fall to the "bond markets", treating them like a natural phenomenon which buffeted the chancellor back to "reality" the way turbulence might have buffeted his plane on the way back to Heathrow. But while "the markets" were the medium through which the political crisis unfolded, few have recognised the key role played by campaigners in the government's downfall.
Don't Pay UK, a campaign group which aims to spark the mass non-payment of energy bills, was started by three friends over a pint in a London pub just five months ago. From such humble beginnings, it grew at a spectacular rate and reached far beyond the usual circles of the organised left. By 11 August over 100,000 had pledged non-payment and more than 31,000 had signed up to be organisers.
Recently uncovered documents have revealed that the threat the campaign presented was pivotal in forcing the Truss government into an energy price guarantee costing £150 billion over the next two years. That commitment was so big it made the rest of the government's programme impossible to deliver under current fiscal conditions. Kwarteng's decision to nonetheless push ahead led to his fall. The prime minister is soon likely to follow, and the Conservative party has itself been thrust into an existential crisis.
The long and the short of it is this: Without the Don't Pay campaign Kwarteng would still be chancellor and the Tories would not be trailing by 30 points in opinion polls. So, how did this startling but obscured victory come about?
Don't Pay has followed an unusual but effective strategy of collecting individual household pledges to cancel their direct debits to energy companies. Crucially, the campaign made clear those pledges wouldn't be triggered until a million had been collected. It's a tactic that lowered the risks of joining in and allowed trust in collective action to build. After all, one person defaulting on their energy bill is a problem for that household, but a million people refusing to pay is a problem for the energy company.
Don't Pay aimed to start its payment strike on 1 October as the next energy price rise came into effect. While this clear deadline made tactical sense, it severely reduced the time available to build the campaign. By early September the pledge number hovered around 200,000. A huge number, but a long way off the ultimate target.
Any hope of a last-minute surge of support was crushed by the 8 September government announcement of a new energy price guarantee, saving the average household £1,000. Two weeks later, when Don't Pay was forced to abandon the 1 October trigger date, the ambitious target of a million pledges seemed like a serious mistake. But last week we discovered the opposite is true.
The website openDemocracy used an FOI request to gain access to a presentation the energy firm E.ON made to the Department for Business, Energy and Industrial Strategy (BEIS) in August. In it E.ON admits that Don't Pay presented an "existential" threat to the energy supply sector which "will result in further major supplier failures." Don't Pay's ambition forms a key part of their reasoning. "A million customers cancelling their direct debits on 1 Oct means a £265m loss per month across the energy retail sector meaning a £45m loss per month for E.ON alone."
E.ON, of course, has its own interests and we can't take its claims at face value, but polling in early September showed a massive 1.7 million households, encompassing over three million people, intended to cancel their energy bill direct debits on 1 October. More than half of that number said they were inspired to do so by the Don't Pay campaign. These numbers add up to an astounding success. By forming an organised expression of a widely felt sentiment, Don't Pay had brought the privatised energy supply market to the brink of collapse. There is little doubt that this incredible leverage forced the government's hand and produced a much larger and more universal price cap than it would have freely chosen.
It can be hard to recognise when campaigns and social movements win because such victories are often messy and contradictory affairs. While the energy price guarantee promised to reduce bills, and would therefore save lives, the government refused to pay for it through a windfall tax on energy company profits. That means the huge public expenditure involved will act, in effect, as a subsidy for the private energy sector paid for through government borrowing. While Kwarteng's "mini-budget" – with its unfunded tax cuts targeted at the wealthy – was the straw that broke the camel's back, it was the price cap that loaded the camel to breaking point. Its £150bn price tag dwarfs the £2.3bn cost of abolishing the 45% highest rate of tax and the £18bn cost of cancelling next year's corporation tax rise.
By finding the leverage through which to assert the interests of ordinary bill payers, Don't Pay closed the available space for the Truss government's programme and put it on a collision course with the bond markets. For the campaign, however, its early victory was experienced as a loss of momentum.
On Monday, the new chancellor Jeremy Hunt announced the reversal of Kwarteng's mini-budget and most of the tax cuts it contained. He also announced the curtailing of the energy price guarantee limiting average annual energy bills to £2,500. That will now end in April 2023 rather than October 2024 and average bills are expected to leap to £4,347 in six months' time. This gives Don't Pay a new deadline.
E.ON's presentation confirmed the ability of a million non-payment pledges to break the energy supply market. If Don't Pay can demonstrate the requisite level of support before next April it can force another policy U-turn. As the Tories are now seeking to use the bond market panic as an excuse to impose austerity, the demand to pay for renewed energy bill support through a windfall tax on energy companies could become irresistible.
The bond markets are not a natural phenomenon. Their veto over government policy has been carefully constructed by years of institution building aiming to encase economic decision-making away from democratic pressure. But their power also rests on certain assumptions made by policymakers. Key amongst these is a certainty that the working class will be unable to assert its interests.
Yet inflationary periods, such as the one we're currently experiencing, have historically seen explosive leaps in the levels of working-class organisation and the growth of trade unions, when collective action is demonstrated as a route to the maintenance of living standards. With green campaigns, such as Just Stop Oil, also escalating their actions on energy policy, the left has a real opportunity to defeat the coming wave of austerity, whether from the Tories or a post-election Starmer government, and change the balance of forces in the country.
Keir Milburn is a writer, researcher and political activist. He also co-hosts the #ACFM podcast on Novara Media.