Campaigners Say Germany's €49 Public Transport Ticket Doesn't Go Far Enough
People on the lowest incomes will miss out.
11 November 2022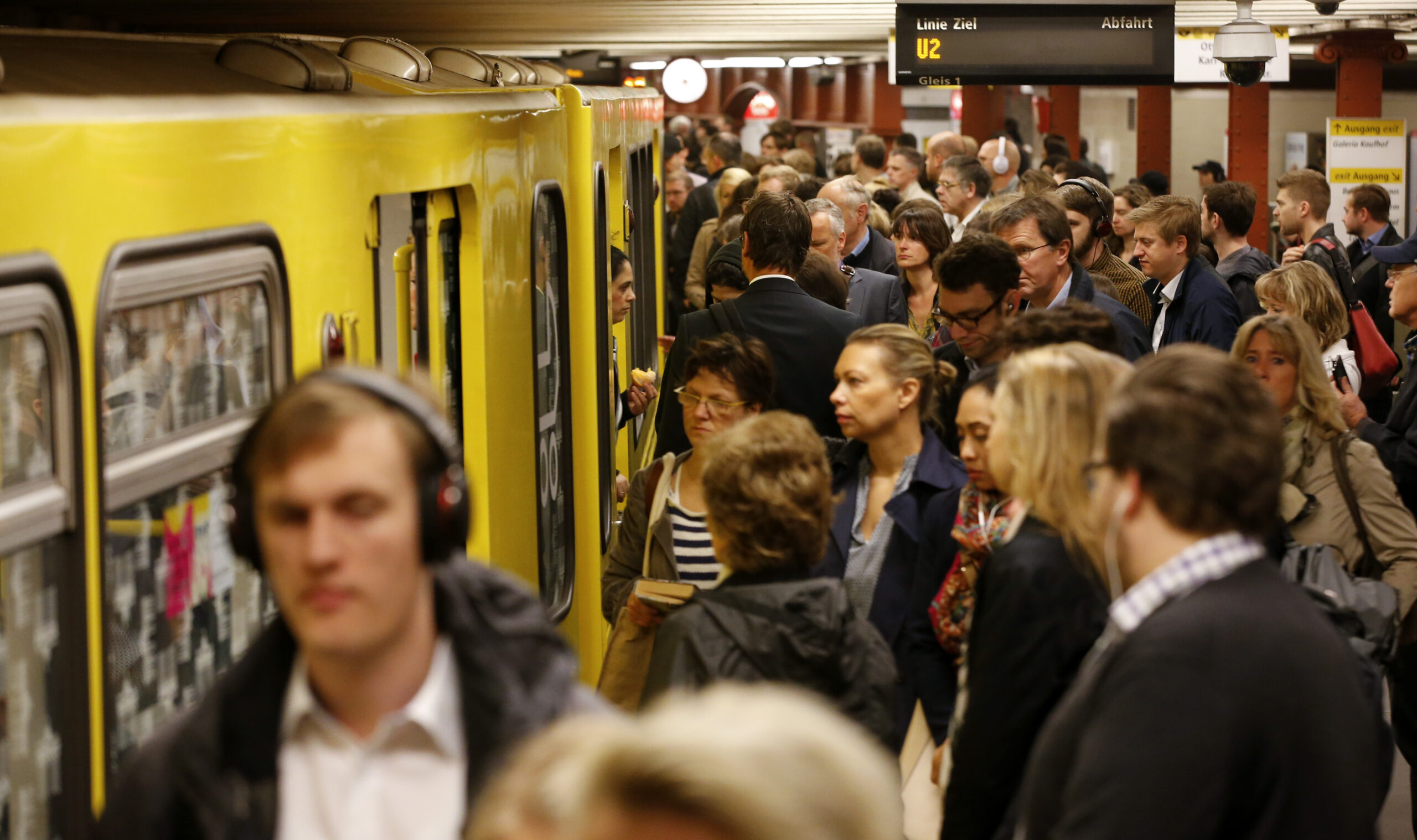 Germany's government are introducing a new €49 tariff to help cushion the public from the cost of living crisis. Fabrizio Bensch/Reuters
In 2023, public transport in Germany will become significantly cheaper with the introduction of a €49 monthly transport ticket. Equivalent to around €1.60 a day, holders of the 'Deutschlandticket' will be granted 'unlimited travel' on short and medium-distance public transport, including trains, buses and trams.
The initiative is an attempt by the German government to offset the financial impacts of the rising cost of living after a successful trial of a €9 monthly ticket this summer, valid across not just intercity public transport but regional routes too.
In some areas, a cheaper ticket will be rolled out – politicians in Berlin, for example, announced this week that a version of the €9 ticket would return for those on lower incomes until the end of March 2023 but would only cover specific zones in the city.  
Despite some praise for the changes to transport pricing, there is concern that the increased price of the now-permanent ticket will fail to reach those most affected by the economic squeeze. Now, campaigners are calling for a wider return of the €9 pass.
39-year-old Malte, who is on benefits and based in Hamburg, was one of those who found the €9 ticket to be not just a bonus, but a lifeline. Following the death of his stepmother this year, Malte assumed caring responsibilities for his disabled father, who lives outside the city. This has meant extensive daily travel, which would have been too expensive if not for the €9 ticket. 
"[Without it], I wouldn't have been able to do that on a day to day basis without getting into debt," Malte tells Novara Media.
Lower prices for lower incomes.
Malte is far from alone in his appreciation for the €9 ticket. As well as covering travel routes across the nation, anyone – including tourists – was able to purchase the pass, and according to the Association of German Transport Companies (VDV), around 52 million were sold in total. 
But research suggests that despite its widespread availability, the €9 ticket had the biggest impact for those on low incomes, receiving state support. A survey of 1,157 residents in Erfurt, central Germany, found 90.4% wanted to spend more time on leisure activities, but the main factor preventing them from doing so was the cost of transport. With the €9 ticket, nearly 68% on monthly incomes of €500 or less reported being on the go more often; just under 59% of people on €1,250 or less per month said the same.
"There's a strong correlation between income and being able to do more activities with such a ticket," says Matthias Gather, a professor in transport policy and regional planning at Fachhochschule Erfurt, and co-author of the study. "A €49 ticket, and even a €29 ticket, wouldn't help people [on the lowest incomes] because budgets are already so tight that an extra €20-40 makes a vast difference, he explains. Further research in Hamburg into the €9 ticket revealed findings in line with Gather's results.
Beyond financial relief, the ticket also improved psychological wellbeing. Cawo*, a Somalian refugee interviewed in the Hamburg study, emphasised the health benefits she felt from having a ticket that was both cheap, and valid across the whole transport system. "For three months I was out and about without having to worry," she says. "That was really important for my body and mental health."
A focus on impoverished communities alone doesn't reveal the full impact of the ticket. Its introduction was partially credited with Germany's slight dip in inflation in July, and self-reported data from August also suggests it helped to reduce carbon emissions equivalent to those emitted by about 350,000 homes in a year. 
Dr Eva Heinen, a professor in transport studies at the Technical University, Dortmund, says these outcomes seem probable, although cautions against blanket statements. "I would say in those three months, if the self-reported changes are correct, [the €9 ticket] has reduced emissions," says Heinen. 
Yet it's also possible, she says, that a long-term €9 ticket could, in fact, lead to more emissions. "If you make [public transport] cheaper […] definitely in the long term, it will increase travel," she says. Whether that increases or decreases emissions depends on various factors that are hard to predict, she adds.
But environmental campaigners say an increase in public transport emissions is nothing compared to privately-used vehicles. "There's no way that you don't put the €9 ticket into action if you're saying that you want to save the environment," says Theo Schnarr, a member of activist group Letzte Generation. Letzte Generation belongs to the same A22 network of civil resistance projects as Britain's Just Stop Oil chapter, and since October it has made the €9 ticket one of its core demands.
Despite admitting her personal bias as a consumer, Heinen believes the €9 ticket was a good intervention. Everyone agrees, but there are different opinions on how one should be implemented in the future. Burkhardt and Schnarr believe a €9 ticket should remain universal and accessible to everyone. Gather, on the other hand, doesn't necessarily think that's the right way to do it. 
The
€
9 fund.
While campaigning for the €9 ticket to be reinstated, activist groups have also come together to develop a stop gap solution – the €9 Fond. The concept is simple: subscribers pay €9 into a fund on a monthly basis and don't purchase transport tickets. If a member is ever caught by ticket inspectors, the fund pays the fine, thus members are only ever paying €9 to travel. Though new to Germany, this kind of initiative has already been seen in France and Sweden. 
"We decided if the government doesn't want to provide [the ticket] for €9, then we'll do it ourselves," says Mario Burkhardt, one of the brains behind the scheme. He stresses that those involved in the initiative don't actively advocate for people not to buy a ticket – as that would be illegal – rather, they recognise that some might have no choice not to pay more than €9, and the fund offers them a way of travelling without fear of fines. 
Burkhardt recognises that there's a limit to what the €9 Fond can achieve – it's not going to result in more tracks, improved access to transport for rural communities, or better services. "All we have the possibility for is to show that there's a huge demand for this type of transportation and for this type of ticket," he says.
Jack McGovan is a writer based in Berlin, covering politics and climate.