Should We Boycott the Qatar World Cup?
Changing the game will take more than a tournament-long protest.
14 November 2022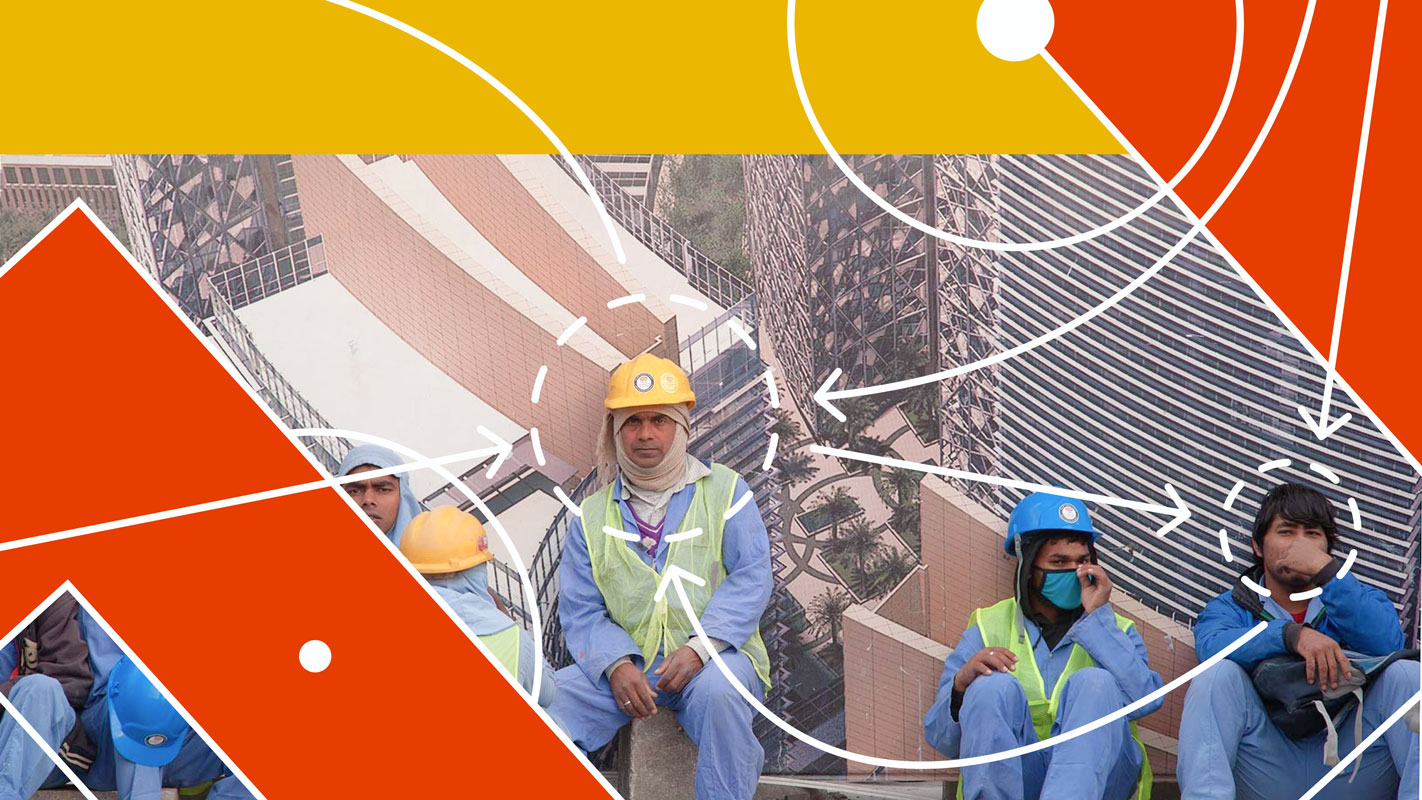 Around 6,500 migrant workers have died in Qatar since the country won its bid to host the World Cup. Photo: Alex Sergeev/Wikimedia. Design: Pietro Garrone/Novara Media
On 20 November, the World Cup will kick off in Qatar when the hosts play Ecuador at the Al-Bayt Stadium in Al Khor. Many thought this day would never come. The announcement a decade ago that Russia would host the 2018 World Cup was met with anger, but the awarding of the 2022 tournament to Qatar the same day was met with disbelief.
How did a dictatorship with a poor record on human rights and with little footballing history or existing infrastructure win the bidding process? How could Qatar, a tiny desert country with deadly summer temperatures and a population of just 313,000 citizens – albeit living alongside 2.3 million migrant workers – host the world's most popular sporting event?
The answer to the first question is straightforward: FIFA, football's international governing body, is a cesspit of corruption. What we all already knew was confirmed in the summer of 2015 when the US Department of Justice indicted several of its leading executives. Then, in 2017, German media published detailed allegations of corruption around Qatar's World Cup bid. 
The answer to the second question is also a familiar tale, written, as Karl Marx might put it, in letters of blood and fire. The Guardian estimates around 6,500 migrant workers have died in Qatar since the country won its bid to host the World Cup. Those who've survived have few rights, and live and work in squalid conditions for meagre pay. There are also serious concerns around the rights of women and LGBT people in Qatar. 
As a result, there have been calls for a boycott of the competition, along similar lines to calls for boycotts, divestments and sanctions (BDS) against the Israeli state. The BDS movement was developed by Palestinians partly due to the ineffectiveness of traditional forms of organising against the Israeli occupation of Arab lands. It's endorsed by much of Palestinian civil society, and has a clear set of demands around freedom, justice and equality for Palestinians. 
We take calls for a boycott of the Qatar World Cup seriously. Close friends of ours have said that they can't bring themselves to watch the tournament, and we respect this. But while we absolutely should recognise and respond to the problems posed by the Qatar World Cup, is boycotting it really our best course of action?
When do boycotts work?
A boycott, in which people voluntarily withdraw or abstain from something as an act of protest, works best when it inflicts some economic loss on a target, or otherwise builds support for a campaign which can pressure its target to change.
Among the most famous international boycotts were those against apartheid South Africa in the 1970s and 1980s. These assumed various forms, including trade embargoes, an artistic boycott, and the boycott of Barclays bank. Most relevantly, a sporting boycott saw the protest and sabotage of rugby and cricket tours such that by 1990 South Africa, had been expelled from every major world sports federation. When Margaret Thatcher undermined international sanctions in the mid 1980s, activists in Britain flooded supermarkets telling shoppers to "look at the label" to avoid buying South African goods. 
These actions certainly brought pressure on the regime, and isolated the country's ruling white elite. Ultimately, though, apartheid in South Africa was brought down by uprisings and civil disobedience within the country itself. Indeed, while boycotts can be effective as part of a wider repertoire of action, they're rarely successful on their own. In the case of Qatar, this wider repertoire is absent. Qatari law bans workers from forming unions or staging protests, and migrant workers face such insecurity that most are too frightened to speak to journalists, let alone organise a movement like BDS. 
What's more, while some local authorities – Paris, for instance – have announced they won't broadcast matches in public places, there's no sign of an emerging international boycott of Qatar that would be in any way equivalent to the boycotts of South Africa or Israel. Indeed, in the case of the World Cup, organising one would be difficult. The tournament will be covered by dozens of TV stations paying huge sums for the screening rights, who will sell advertising slots to other companies. An effective boycott would require not just a boycott of Qatar or FIFA, but the goods and services being sold by every advertiser. This would demand a huge collective effort, beginning with some serious research – which clearly isn't going to happen in the next few weeks.
But this doesn't mean it shouldn't happen at all. In fact, the spectacle of the Qatar World Cup could spur something more long lasting than just a tournament boycott. 
The political and economic forces at play in this World Cup are fundamentally the same as those ruining football between tournaments. While corrupt money from around the world floods into elite football, the Premier League in particular has suffered the distorting influence of teams funded by the almost bottomless sovereign wealth of Gulf dictatorships. As such, the Qatar World Cup could be a good entry point into a much bigger conversation about the current state of football – and what we can do about it.
Changing the game.
There is, of course, much existing discussion on the topic. But this discussion often fails to lead to action. Notable exceptions – NUFC Fans Against Sportswashing, who oppose the Saudi-ownership of their club and the financialisation of football more widely, as well as Fans Supporting Food Banks – should be looked to as a basis from which to build. The biggest obstacle to transforming football, however, is the fatalism of the majority of fans. Despite surges of activism, such as the revolt against the European Super League, most fans can't imagine that football could ever be anything other than corrupt – or this corruption is simply glossed over by reference to 'innate human greed'.
If we're to move beyond this, we might find inspiration in unexpected places. The second wave feminist movement which swept the world in the 1960s and 1970s was based on the formation of consciousness-raising groups, which brought women together to discuss their problems and experiences. In participating in these groups, women quickly realised that many of their problems were shared. This led them to the conclusion that these problems must have structural causes, not individual ones, as might previously have been thought. Indeed, structures that once seemed natural and unchangeable were suddenly revealed to be historically contingent, and as such – in principle – were changeable.
In many ways, this is the degree zero of politics: discussing our experiences with others to identify the structures and forces that shape them. Why shouldn't we do the same with our shared experiences of watching and playing football? We, the authors of this piece, have attempted to start this process ourselves – but for it to have any real impact, it would need to happen all over the football world. 
Some of these discussions will be hard. Fan conversations about the allegations against players including Cristiano Ronaldo, Thomas Partey and Benjamin Mendy often descend quickly into club partisanship. The same is true of Jürgen Klopp's recent comments about the difficulties of competing with clubs backed by petrostates. But all that's required to change them is for leftwing fans to stop leaving their politics at the turnstile.
Whether we boycott the Qatar World Cup or not, the workers who died building its stadiums will still be dead. But with proper organisation, we might prevent such barbarism in future. In fact, we might transform football altogether through coordinated fan action around everything from ticket prices to corruption to the sexism and homophobia still rife in the game. This all starts with proper discussions about where football sits within politics and economics. As Marx might have said, fans of the world, unite – you have nothing to lose but your fatalism.
This piece is part of Pro Revolution Soccer, a Novara Media series on football, the Qatar World Cup, and how we can change the game.
Keir Milburn is a writer, researcher and political activist. He also co-hosts the #ACFM podcast on Novara Media.
Tom Williams is a socialist writer, educator and organiser.