Mick Lynch: 'Corruption' is to Blame for Lack of Progress in Rail Dispute
Also Jeremy Hunt.
9 December 2022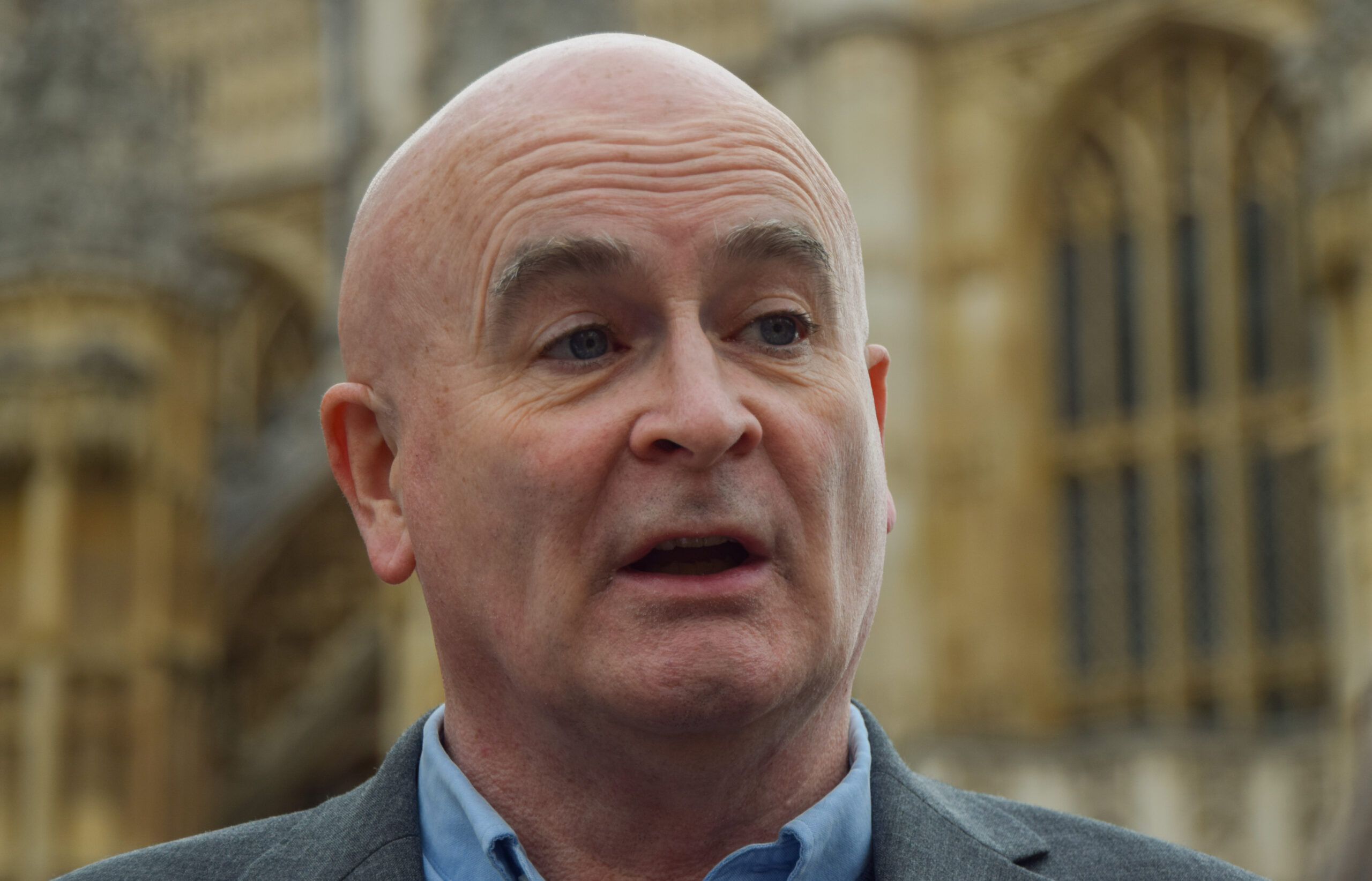 RMT general secretary Mick Lynch outside parliament, November 2022. Vuk Valcic/Reuters
The public should by furious at the "corruption" that is preventing a deal on pay and conditions for rail workers, Mick Lynch said, as he blame chancellor Jeremy Hunt for blocking negotiations.
The RMT general secretary told a press conference on Thursday: "This negotiation and this dispute is one of the most corrupt set-ups you will ever see in corporate life in Britain."
Railway companies "will not settle, cannot settle and have got no motivation to settle because they're not losing any money" because the government is indemnifying them against losses of revenue, with taxpayers' money.
"When the public and the hospitality industry finds out, they shouldn't be screaming corruption. More than that they're screaming about Michelle Mone."
RMT workers will take industrial action around the Christmas period as part of an ongoing dispute. 48-hour strikes have been announced announced for 13 and 14 December, 16 and 17 December and 24 to 27 December
Lynch said the government is "deliberately" provoking rail strikes with derisory offers.
"They may as well come in with a fish and slap me round the chops with it and say, 'how do you like that?' That's what they're doing," he said.
At a select committee on Wednesday, transport secretary Mark Harper was quizzed over whether 10 Downing Street added a clause about implementing Driver Only Operation (DOO), in order to scupper any potential deal.
"This union will go down on the issue of DOO", Lynch said.
"It's not just that they're saying, 'this [DOO] might be a consequence, or a side effect', they're saying the RMT has to sign a thing saying, 'there will be driver only operation and that will be the optimal mode of operating a train on that network'. And they know that I can never do it."
"They are deliberately doing this because they want industrial action. They want this image going on over Christmas that somehow organised working people are the enemies of this country."
Lynch suggested that Hunt is influencing negotiations. He said: "I'm talking to people that are not in control. Jeremy Hunt's in control – you all know that."
Lynch also accused other departments of meddling in the dispute. The Rail Delivery Group – the membership body representing train operators – needs permission from the department for transport to make changes to the offer. "And they're not getting permission, because what happens at the DfT is that they have to send a round robin to all the other departments and say, 'this is what we're going to propose'. So the Treasury has a look at it, obviously – the kingpin – number 10, may look at it. I don't know if it goes that far, but they're involved."
"If you take one of the most important departments, obviously [it] is health. It's not just because it's health, it's because they've got a million employees in the public sector."
"So we're caught between an ideological position that they've got, and their own disposition towards the public services."
Described the farcical state of the negotiations, Lynch said it takes "days and days and days to get answers". Lynch said that it took Harper five days to send him a letter which was "basically a press release that said, 'I'm a facilitator, not a negotiator'."
The department for transport, he said, is "not trusted in Whitehall by the other departments".
Lynch said: "I told Mark Harper, 'you need to reassert your independence as a department', because everyone, the employers, the industry, and Whitehall is treating this department with contempt. It's like a department in special measures… They think they're not capable of running this industrial relations dispute."
Commenting on the government's proposals to roll out minimum service requirements across the public sector – curbing the rights of NHS workers, firefighters, teachers and border officials to strike – Lynch said: "This government, every time they lose an argument they change the law."
"So if people want to protest against them, they say you're not allowed to do that anymore. If people want to take industrial action, they'll say it's illegal.
"We do everything within the law. And we've beat every hurdle they come up with since 1980, on the Tebbit's law. So what they do then is go 'well we'll change it again'.
"They may as well say, 'you've got to shut down and join the AA' or something, because they're not allowing debate and they're incapable of winning an argument about what's going on in society.
"People know this is an unfair and unequal society and the trade unions at the moment – because of the vanilla flavour of the Labour party – are the best form of resistance to what's going on. So we've got to keep going."
The Department for Transport has been approached for comment.
Simon Childs is a commissioning editor and reporter for Novara Media.